By

Margaret Flores
April 22, 2020
As communities across the world and in California mitigate health risks during the COVID-19 pandemic, we are shifting our content strategy and will not encourage any travel or social activities during this time. We will, however, continue to shine a light on and celebrate the many beautiful aspects of our State with the intention of being a source of inspiration and joy during this difficult period. We will also be providing tips and resources specifically related to the COVID-19 pandemic safety measures in the coming weeks. Thank you for reading, and stay safe!
April 22, 2020, officially marks 50 years of celebrating Earth Day. While many of us may have originally planned to attend an Earth Day event, clean up our local parks, plant a few community trees, or simply spend the day outdoors to commemorate Mother Earth today, this year is a bit different due to the COVID-19 pandemic. But if there's a silver lining to the current lockdown, it's that the air quality is improving in numerous California cities, with Los Angeles experiencing its cleanest air quality in decades last month.
It's also critical to remember that we should all be conscious of our carbon footprints every single day—not only on Earth Day 2020. While learning how to reduce our carbon footprints may seem like a hefty or futile undertaking at first, small steps often lead to larger, more sustainable lifelong habits. And as we've seen over the last couple of weeks, our impact on the planet is undeniable.
So, if you're looking for simple changes you can make at home right now, these 13 eco-friendly tips can help you make a positive impact on the planet: small but important things like purchasing environmentally friendly products, utilizing reusable products you already have, and lowering your daily water and energy consumption.
Though Earth Day only comes once a year, these lifestyle changes are beneficial for the other 364 days—and the years to come—so there's no better time than now to start (or improve) your sustainable-living journey. Here's how.

1. Say no to plastic straws and water bottles


Last year, California became the first state to ban full-service restaurants from handing out single-use plastic straws unless a customer asks for one—don't be that person, and don't purchase plastic straws at the store. Instead, buy reusable, stainless-steel metal straws to use when you need them.
Another simple fix: Stop drinking out of plastic water bottles and buy reusable water bottles, which are all the rage right now. Many California-based outdoor companies offer durable, stainless steel and glass water bottles so you can keep one-time-use, disposable items off of the beaches, away from the streets, and out of the landfills.
2. Swap out your paper products


Rather than buying disposable paper towels or napkins, invest in a cloth alternative. Stocking your home with cloth napkins and reusable tea towels can save trees, significantly save you money over time, and reduce landfill waste.
3. BYOB


Bring your own bag, that is. According to the Earth Policy Institute, a trillion single-use plastic bags are used every year around the world—nearly two million a minute! Here in California, single-use plastic shopping bags have been banned and shoppers are charged a fee for paper bags, encouraging consumers to bring their own reusable ones instead.
Reusable shopping bags are an easy way to leave a smaller carbon footprint, so buy a few to bring with you on your trips to the grocery store. You can also use reusable produce bags for your fresh fruits and veggies in lieu of the small plastic bags at the store. Speaking of groceries…

4. Green your groceries


There are other ways to maximize your next shopping trip while minimizing the waste you produce. In addition to bringing your own reusable bags, bring glass jars or containers from home so you can scoop items in bulk bins—such as nuts, coffee beans, or grains—into them. Your food will not only stay fresher longer, but you'll also eliminate any plastic trash you would have accumulated.
You can reduce your plastic waste even further by buying whole fruits and veggies instead of pre-chopped produce in plastic containers. Yes, we know cutting butternut squash and pineapple can be a pain, but until all product packaging is 100 percent recyclable, this is a great way to bring down the amount of waste caused by grocery shopping.
It also helps to purchase items from California brands that are doing their part to lower their carbon footprints, too. Look for goods with the fair-trade label—San Francisco's Dandelion Chocolate and Ritual Coffee Roasters—which signifies the product was sustainably sourced and fair wages were paid to the producers. Similarly, buying organic ensures that sustainable methods were used while farming, less damage was done to local ecosystems, and harsh pesticides were not introduced to the food you're eating.
5. Go to an eco-friendly dry cleaner


Most dry-cleaning businesses use harmful chemicals. Though your clothes may be clean when you pick them up, it may not be comforting to know that the products used to do so can harm the environment, so consider looking for environmentally friendly dry cleaners in your city.

6. Purchase sustainable products


As a consumer, you have the power to put your money where your heart is, so buy items from companies that are following environmentally friendly practices. From choosing natural skincare products and nontoxic nail polish to purchasing ethically made shoes and eco-friendly swimwear, you can lower your carbon footprint by investing in sustainable fashion and beauty products.
7. Skip the takeout cutlery


This one can get a little tricky to get the hang of, as it doesn't always seem intuitive to decline takeout cutlery. But like many of the other tips on this list, it's all about being mindful as consumers. So if you don't feel like breaking out your cookbooks and want to order takeout instead (hey, sometimes a girl just needs a good DoorDash delivery, especially during trying times like these), try to remember to say or note that you don't want plastic utensils and straws, reuse the containers if possible, and compost as much waste as you can.
8. Give your home a green makeover


Going "green" doesn't necessarily require you to get on your roof to install solar panels. There are smaller switches you can make, including buying energy-efficient light bulbs that can even save you some money in the long run. While you're at it, fix leaky faucets to cut down on water waste, repair any malfunctioning products to lessen the amount of waste heading to the dump, and recycle e-waste such as old phones and batteries.

9. Start a garden


With many of us sheltering-in-place at home, there's never been a better time to begin growing your own veggies. Developing a green thumb can not only save you money, but also reduce food waste. If you live in an apartment, even something as simple as an herb garden on your windowsill is a great start.
10. Turn off your faucet


Did you know you can save up to eight gallons of water a day—or more than 200 gallons per month—by simply shutting off the faucet when brushing your teeth? Similarly, you can conserve a lot of water while washing your hands; just turn off the tap for those 20 seconds you're scrubbing with soap.
11. Unplug your appliances


Yes, your household appliances are wasting energy even when they're not turned on. So, make the small effort to unplug your coffee maker, toaster, lamps, phone chargers, and other items when you're not using them.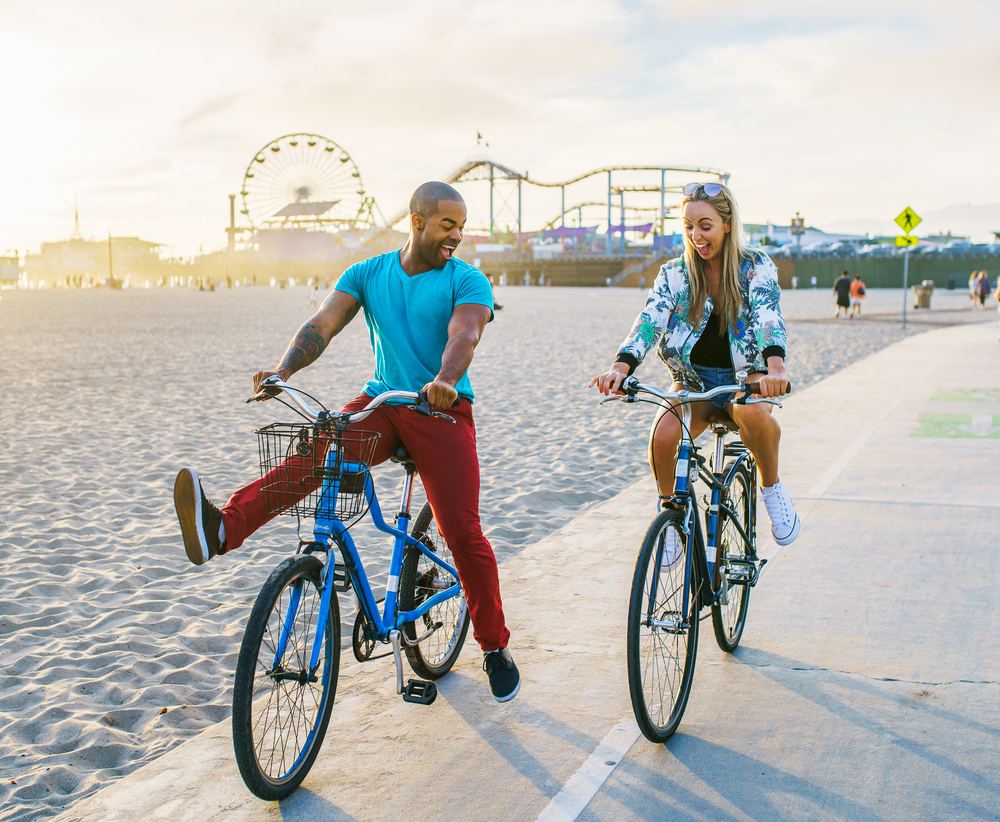 12. Ditch the car


Even if you're not doing much driving these days, you'll likely be commuting to work again once the COVID-19 pandemic ends, but we can be more conscious of how we're getting to the office. To help keep the air clean, try organizing a carpool with co-workers who live near you, use a rideshare app, take public transit, or ride a bike if possible. The fewer cars on the road, the less pollution (and traffic) there'll be—plus, think of all the gas money you'll save!
(And we don't blame you for craving a California road trip, but the next time you want to cruise down the Pacific Coast Highway or Historic Route 66, follow our tips for an eco-friendly road trip.)
13. Go paperless


Everything is online these days. Consider how much paper you can save by simply getting bank statements and bills sent electronically and paid the same way.
This list is far from exhaustive, but these are easy lifestyle changes you can start implementing today. What other tips do you have for lowering our carbon footprints and going green? Share them with us in the comments below.