While the mention of the Central Coast may conjure up images of the Monterey Bay Aquarium, road trips to Big Sur, and a weekend in Carmel, the region is also known for some pretty epic surfing. From reef breaks and beach breaks to point breaks and river-mouth swells, the long stretch of Pacific Ocean along California's Golden Coast has it all.
The drastic coastline changes that occur between Monterey and Santa Cruz make for incredibly distinct regions that offer something for everyone. So whether you are wanting to learn how to surf or are looking to upgrade to pro-status, you can find your perfect wave in the Central Coast.
Santa Cruz County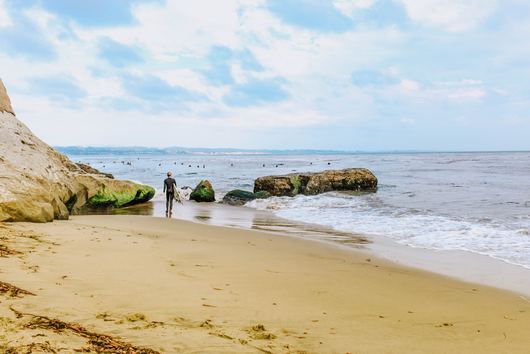 Santa Cruz is filled with plenty of incredible surf shops and spots. Its unique position along the California coastline allows the wind and waves to behave differently than they do anywhere else in the state.
Steamer Lane
Steamer Lane is one of the most classic Central Coast surf destinations, made surfable by its distinct geography. The swells meet the northwest winds offshore to create some truly epic 10-foot point breaks.
But because of its location, Santa Cruz's Steamer Lane is not a great place to learn how to surf. Judgemental eyes can be felt from every direction along the region's towering cliffs, and the good waves are greeted by dozens of other surfers looking to capitalize on them while they have the chance.
Cowell's
While Steamer Lane is legendary, Cowell's is the go-to Santa Cruz surf spot due to its long reef breaks that ease into shore. The onlookers here tend to be more accepting and less on the lookout for world-class surfers, making it a more laid-back place. Cowell's location near the Santa Cruz Beach Boardwalk also attracts tourists, but they traditionally stick close to shore.
Pleasure Point
Like Cowell's, Pleasure Point is filled with reef breaks, but thanks to its location on the eastern edge of Santa Cruz, it is more secluded than other surf spots in the coastal town. The variety of waves at this beach also makes it ideal for surfers of all skill levels.
Monterey County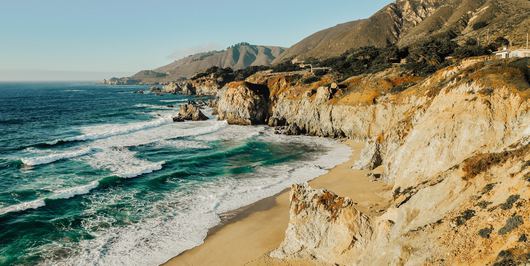 Monterey is a stunning destination with endless activities. From relaxing on the sandy shores, to finding the perfect waves, to spending some time in Carmel-by-the-Sea, there is plenty to do at all times of the day.
The terrain here is also considered to be among the most beautiful in the entire state—and there are plenty of world-class golf courses and million-dollar homes to prove it—but the waters are surprisingly uncrowded. With so much rugged beauty in Big Sur and beyond, the surf can get pretty choppy, making it a prime destination for experienced surfers.
Asilomar State Beach
Full of reef breaks and consistent waves, Asilomar State Beach is great for intermediate surfers. But the popular spot also draws droves of kayakers and tourists, so be prepared to dodge your fellow water-sports enthusiasts.
Carmel Beach
Known for its ideal surfing conditions during the fall and spring (the waves in winter and summer can be disappointing), Carmel Beach offers some of the best Monterey County waves to ride into the sunset.
San Luis Obispo County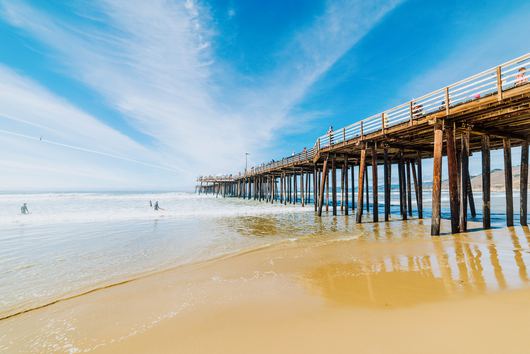 San Luis Obispo County boasts 85 miles of coastline bordered by long swells in the Pacific and by sandy beaches and dunes on land. The temperate climate and incredible fall surf make it the perfect destination post–Labor Day, when the majority of tourists have tucked in for the season.
Cayucos Beach
Unlike many other Central Coast beaches, Cayucos shines during the summer (when south swells flow in) and the spring (when the region experiences north wind). Fall is still the star when it comes to surf conditions, however, and the warm temperatures pair with the west swells for picture-perfect surfing.
Pismo Beach
This gorgeous stretch of sand is a hot spot for tourists and surfers alike, so the waters can get crowded, especially in the fall when epic beach breaks occur. Though the surf can become unpredictable, Pismo Beach can accommodate both beginner and experienced surfers alike.
Santa Barbara County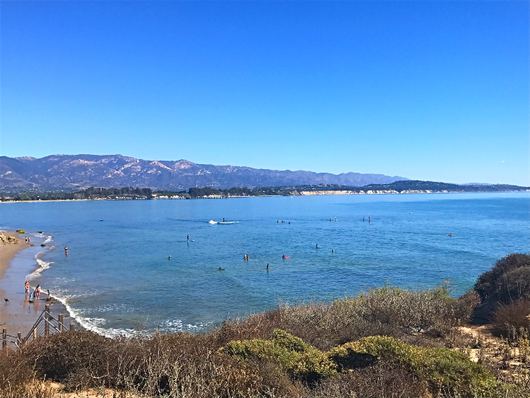 While we consider Santa Barbara County to be a part of the Central Coast, its unique surfing conditions break the region in half: The lower portion from Point Conception and below has Southern California surfing traits, while the section above Point Conception offers typical Central Coast waves. With questionable surf in Santa Barbara year-round, consider creating a backup plan—like grabbing donuts and coffee at one of the local eateries.
Sandspit
Though the surfing destinations in Santa Barbara are limited, this beach draws crowds when the swells are good. But leave this spot to the pros; the six-foot groynes and beach breaks bring surfers ashore forcefully. Despite its tumultuous conditions, when Sandspit peaks in the autumn, you can bet that hundreds of surfers will make their way out to join you in the Central Coast surf.