The next Bachelor is … Peter Weber! After months of waiting and dozens of rumors swirling about fan favorites Weber and Mike Johnson, we finally know who the 2020 Bachelor will be. During the Bachelor in Paradise finale on Tuesday night, host Chris Harrison announced Weber as the official pick for the 24th season of ABC's romantic reality TV series The Bachelor—and it's sure to be another dramatic season.
Weber is a California native who grew up in Westlake Village, just a few minutes away from the Bachelor Mansion. The Delta Airlines pilot has always been inspired by his parents' love story—they met while working on a flight together 30-plus years ago—and is excited to start his own, stating, "I have all the faith in the world that this can work for me, and I know it's going to". We sure hope he's right, because we are just not prepared for any more heartbreak.
For those who missed out on the last season of The Bachelorette, Weber captivated hearts when he showed up to the Bachelor Mansion in uniform, and he continued to charm Bachelor Nation with his sweet demeanor. Unfortunately, he was sent home with a broken heart after Hannah Brown chose more time with Tyler Cameron and Jed Wyatt.
But now, Weber has another chance to head to the Bachelor Mansion in hopes of finding love. After admitting he tried to sneak onto the property when he was growing up, he said on Tuesday, "Now, opening night, I'm going to be there with limos coming in and meeting however many women—that's just crazy to me".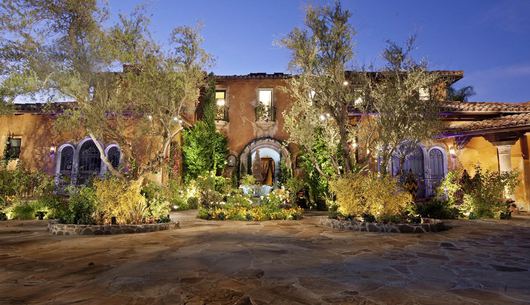 Of course, he's not alone in trying to sneak a peek. Villa de la Vina—aka the Bachelor Mansion—is one of the well-known destinations in the Los Angeles area. Though many believe the extraordinary property is owned by ABC, the 7,590-square-foot home with six bedrooms, nine bathrooms, indoor and outdoor fireplaces, and an infinity pool is actually owned by Marshall Haraden, a contractor and business owner who built it for his family in 2004.
Even before the construction was completed, ABC's production team fell in love with the property and made arrangements to move the family (and their personal items) out of the house during the show's 42 days of filming per season. Nestled in the Santa Monica Mountains, just inland from the stunning town of Malibu, it is easy to see why this Mediterranean-inspired home turns heads.
As Weber gets ready for his journey on The Bachelor, the house is prepared for a journey of its own: The master bedroom is turned into the deliberation room, the den is transformed into the rose ceremony location, and the grand driveway is sprayed down with water so it sparkles on television.
While ABC revealed some of the women who may be vying for Weber's rose on the upcoming season of The Bachelor, we're still waiting for the official contestants to be released, so there's still time to apply if you think he could be your perfect mate. And despite the extensive interview process, we always end up with at least one wacky choice. (Coincidence? I think not.) So, until we get to see Weber's journey take flight in January, we'll be rooting for the California girls.