By

California.com
October 04, 2019
The eighth annual Desert Daze returns to Lake Perris this October, bringing a weekend of loud music and camping to the Joshua Tree region—without the selfie-obsessed crowds that flock to some of California's other music festivals. Here's what you need to know about Desert Daze if you want to go.

When
Camping: Thursday, October 10 through Sunday, October 13
Performances: Friday, October 11 through Sunday, October 13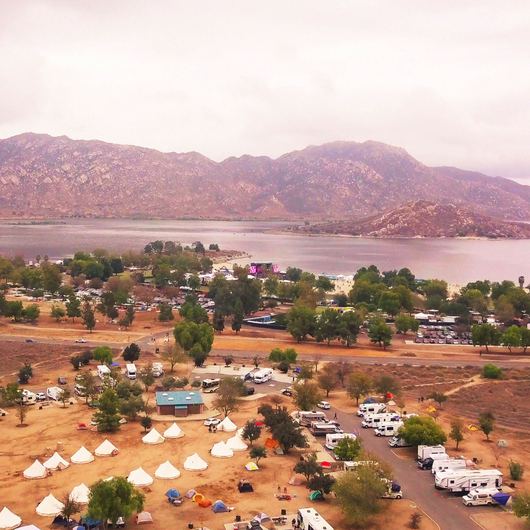 Where
Moreno Beach at Lake Perris State Recreation Area, which is located about 1.5 hours southeast of Los Angeles, between the San Jacinto and San Bernardino Mountains.
Desert Daze Tickets
Passes are available for a single day (starting at $99) or for the whole weekend (starting at $289). Camping, parking, and upgrades are also available, so get your tickets before they're gone.
Musical performances by the Wu-Tang Clan, The Flaming Lips, Ween, and Devo take center stage at the festival, while dozens of other artists, Q&As, immersive art, and film screenings keep the entertainment going throughout the weekend. Desert Daze 2019 offers performances on multiple stages, including a stage on the beach, one on the lawn, one in the campgrounds, and one large tent stage.
Also take advantage of the Mystic Bazaar in the Camping Village, where you can practice yoga, soak in sound baths, join a class or plant walk, and experience everything Desert Daze has in store. This unique festival has become a Southern California staple for a reason, and you won't want to skip out on it.
Desert Daze 2019 Lineup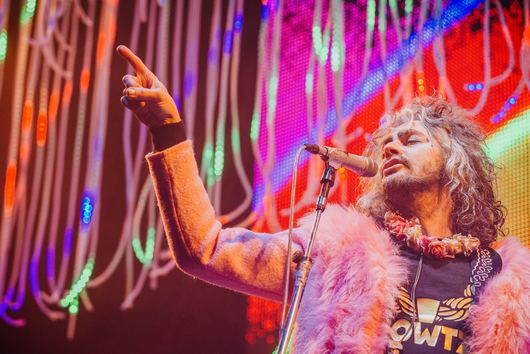 Friday, October 11
The Flaming Lips (performing The Soft Bulletin)

Stereolab

Animal Collective

Fred Armisen

WITCH

W.I.T.C.H.

Connan Mockasin and Friends

DIIV

Crumb

Atlas Sound

Metz

Jessica Pratt

Wand

Mdou Moctar

Post Animal

Faye Webster

Part Time

Jonathan Bree

Sessa

Frankie and the Witch Fingers

Al Lover

Triptides

Sanctuary Stage Artists: Christopher Cichocki, Kid 606, Tom Hall, Byron Westbrook, Devin Sarno, Mitchell Brown, Ellen Phan, Conscious Summary, Wave
Saturday, October 12
Ween (performing Chocolate & Cheese)

Devo (kicking off the band's farewell tour, The Beginning of the End)

Flying Lotus 3D

The Locust

Parquet Courts

Temples

Connan Mockasin and Friends

Pussy Riot

Psychedelic Porn Crumpets

Nick Hakim

Viagra Boys

Altin Gün

Big Business

Surfbort

The KVB

Klaus Johann Grobe

Anika

Lumerians

JJUUJJUU

Dumbo Gets Mad

Black Water Holy Light

Trupa Trupa

Automatic

Sanctuary Stage Artists: Cristopher Cichocki, Dntel, Pod Blotz, Cruel Diagonals, The Eternal Chord featuring Gabie Strong, Jim Haynes, Rotary Ect, Jeff Frost, George Jensen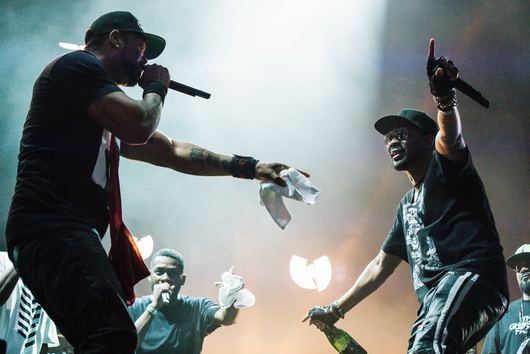 Sunday, October 13
Wu-Tang Clan (performing 36 Chambers)

Khruangbin

The Claypool Lennon Delirium

The Black Angels

Alvvays

Dungen (performing Ta Det Lugnt)

Shintaro Sakamoto

Moses Sumney

Lightning Bolt

Dead Meadow

White Fence

Jakob Ogawa

Jerry Paper

George Clanton

Blanck Mass

Froth

Sasami

Richard Rose

The Paranoyds

Particle Kid

Winter

Kills Birds

Sanctuary Stage Artists: Cristopher Cichocki, Randy Randall, Ensemble Economique, Sana Shenai, White Boy Scream, Ellen Phan (Hypnosis Session), Zachary Paul, Live for Each Moon
Check out the newly-released set times and start planning your weekend now.