By

California.com
December 05, 2019
Dreaming of California's beaches may evoke vivid images of captivating white sands meeting sparkling turquoise waters as the warm rays of the sun dance across idyllic landscape. While this imagery may perfectly represent several of California's beaches—including San Francisco's quirky Baker Beach, the ever-beautiful Malibu Beach, and the enviable La Jolla Shores—there are a few outliers with nontraditional characteristics. From giant rocky arches and glimmering glass shores to cascading waterfalls and purple sands, the Golden State is full of surprises. Check out these interesting coastal destinations that we dare to say make up the best beaches in California.
Black Sands Beach, Sausalito
While the quaint town of Sausalito garners plenty of attention—and for good reason—the nearby mile-long stretch of Black Sands Beach tends to fly under the radar. Because of the somewhat remote position and the 0.3-mile hike needed to reach the shoreline, this beach is dedicated to adventurers. Located in the Golden Gate National Recreation Area, close to the famed Point Bonita Lighthouse, Black Sands Beach presents a slice of island life on the mainland, with coarse black sand and few souls in sight.
To get here, drive along the one-way Conzelman Road, park at the Upper Fisherman's parking lot, and follow the trail for an easy trek down to the beach. This landmark is best observed during low tide when more sand is visible, but be warned: Clothing is optional here; the tide can come in quickly, so it's best to avoid falling asleep on the sand; and the way back up the hill takes about twice as long as the way down, so come prepared with plenty of food and water to sustain your energy.
Schooner Gulch State Beach ("Bowling Ball Beach"), Point Arena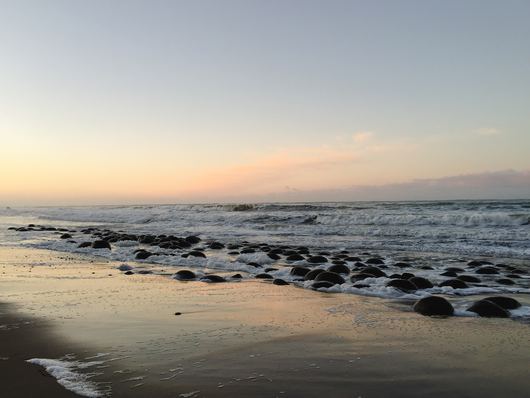 Nestled along the Mendocino Coast off of Highway 1, Bowling Ball Beach is exactly as picturesque as it sounds: When the tide rolls out, the large rocks reveal themselves in all their glory. These nearly perfect spheres are between two and three feet in diameter and have been naturally sculpted over millions of years. To view them, drive three miles south from Point Arena on the Pacific Coast Highway (PCH), and park on the west side of the road. Follow the trail from the parking lot down to the beach, but note that the geological formations are only visible at low tide, so plan accordingly.
Devil's Punchbowl, Russian Gulch State Park, Mendocino
Though this famous location is technically a sinkhole and not a full-fledged beach, it involves water brushing up against the shoreline, so it totally counts. The state park offers 15 miles of trails, which take you through forested regions and offer plentiful opportunities to enjoy the coastal vistas, but the 0.75-mile Headlands Trail will take you directly to the beauty of Devil's Punchbowl. The 100- by 60-foot basin is visible today thanks to a collapsed tunnel that used to lead from Russian Gulch State Park's inland location to the ocean. Pack a picnic so you can sit nearby and take in the views for longer, but remember that there is no way down to the water from the trail (and more importantly, no way to get back up), so don't attempt to touch it.
Glass Beach, Fort Bragg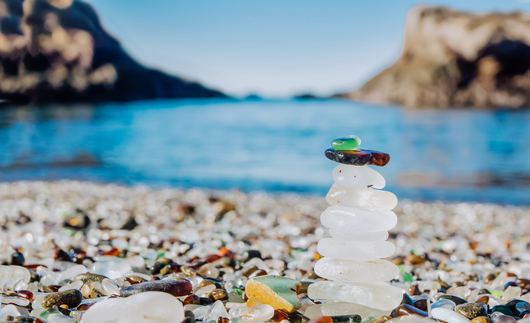 Glass Beach is one of the better-known beaches in California, likely because its gorgeous shores are speckled with glass pebbles rather than traditional sand. While the circumstances that created this unique spectacle are not so beautiful—it arose from years of dumping garbage in this coastal location—the result is quite astonishing. Visit during sunrise or golden hour to snag the best views and photos, but remember to leave the actual glass behind.
To get to Glass Beach in Fort Bragg, head north on Highway 1 from the downtown area, turn onto West Elm Street, and find the parking area a few blocks west of the highway on Glass Beach Road. Walk along the Glass Beach trail for 0.2 miles until you stumble upon the shore.
Hole-in-the-Wall Beach via Panther Beach, Davenport
Located northwest of Santa Cruz, Hole-in-the-Wall Beach is one of the Central Coast's best-kept secrets. While the shores themselves are fairly ordinary, the impressive part about this California beach is the journey to get there. Beaches are typically accessible from a parking lot or a roadway, but this destination is nestled alongside Panther Beach and is only accessible through a naturally occurring archway carved in the rock wall that separates the two beaches.
McWay

Beach, Big Sur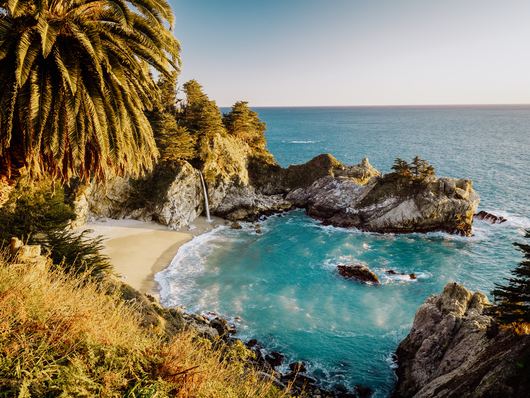 Thanks to its convenient location off of Highway 1, McWay Beach is one of Big Sur's most popular tourist destinations. As if the brilliant turquoise waters and frothy sea foam weren't enough to make McWay Beach worthy of a stop, McWay Falls flows directly onto the beach—and into the ocean at high tide. Though there are no pathways down the 80-foot cliffside that separates the McWay Waterfall Trail from McWay Beach, this spot is a must-see. Follow signs on the PCH to McWay Canyon, just south of Julia Pfeiffer Burns State Park's central location.
Oceano Beach, Oceano
Where else in California can you drive onto the sand to stake out your ideal beach-dwelling spot? Actually, nowhere but here. Situated just south of Pismo Beach, California (and the Pismo Beach dunes), Oceano Beach is about as unique of an experience as you can get. Once you get used to seeing vehicles parked next to you, there isn't much here that you can't view at the other nearby beaches, but Oceano is definitely worth a visit.
Pfeiffer Beach, Big Sur
There is endless beauty throughout Big Sur, but the northern end of Pfeiffer Beach is otherworldly. Because sand is comprised of minerals, it is not surprising that the hue changes from beach to beach depending on the surrounding rocks. But purple sand is another story entirely and is exactly what you will behold at this unusual Big Sur beach. Thanks to the manganese garnet tucked into the rocks around the northern tip of Pfeiffer Beach, the sand is purple rather than the typical tan color. Take as many pictures as you want while you're there, but remember to leave the actual sand behind.
Point Reyes Shipwreck (Tomales Bay Shipwreck), Inverness
Like the Devil's Punchbowl, the Inverness Shipwreck is not technically a beach, but there's a photogenic boat beautifully perched on the shores of Tomales Bay—and that's close enough in our book. The abandoned ship resides in Inverness, a small town near Point Reyes National Seashore, and has never been removed or cleaned because it is so popular among photographers. Though it may seem tempting, climbing on the ship is not advised; the rotting wooden planks could disintegrate at any moment, so consider other photo ops while you're there.
Venice

Beach, Los Angeles

Out of all the beaches in Los Angeles (and all the beaches in California, for that matter), Venice Beach is undoubtedly one of the most distinct. Along with the beautiful white sands and warm(ish) waters, the roller skaters, quirky performers, and Muscle Beach bodybuilders make this beach a spectacle to behold. Though the neighboring Santa Monica Beach is renowned for its pier and put-together vibe, there is something special about Venice Beach that needs to be experienced at least once.