By

California.com
July 31, 2019
From shredding waves and nailing kickflips, to hiking and biking through the forests, the active California lifestyle is built around outdoor adventures. This sense of wonder is perfectly captured by some of the state's best shoe brands, which have continued to innovate in order to craft the most durable, comfortable, and responsibly made shoes on the market. So before heading out on your next backpacking, rock climbing, or straight-up-chillin' vacation, take a look at these shoes for men—and let your feet rest as easy as your mind.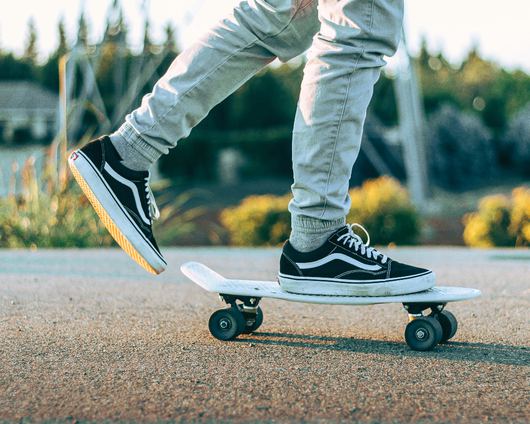 VANS
Headquarters: Costa Mesa
Established: 1966
It doesn't get much more Californian than Vans. Since the company first opened for business in Anaheim manufacturing made-to-order shoes, Vans has attracted the quintessential California skateboarders. As the brand added more styles to its catalog and grew its popularity throughout the state, BMX riders got in on the action, too, further elevating the hip factor that Vans has always portrayed. Unfortunately, this expansion came at a cost, and the company filed for (but quickly recovered from) bankruptcy.
Once Vans was back on its feet, the brand's image thrived—leading to additional styles such as snowboard boots, which further encouraged physical activity; the Vans Warped Tour, which showcased the hottest bands and became the longest-running concert in America; and the Vans Triple Crown Series, which highlighted the best sports talent in California. Today, Vans is one of the most widely recognized California shoe brands that still retains its California-cool essence.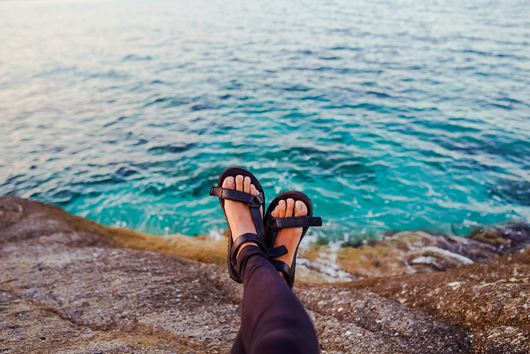 Teva
Headquarters: Goleta
Established: 1984
With a design that prevents them from floating away, Teva shoes have always been built for adventure. Whether you're hiking trails, white-water rafting, or walking around town, Teva's comfortable sandals, boots, and sneakers are prepared to embrace California's terrain. As one of the brands under Deckers Outdoor Corporation's umbrella, passion and love of the laid-back lifestyle lie at the core of the business, making these your go-to shoes for every kind of exploration.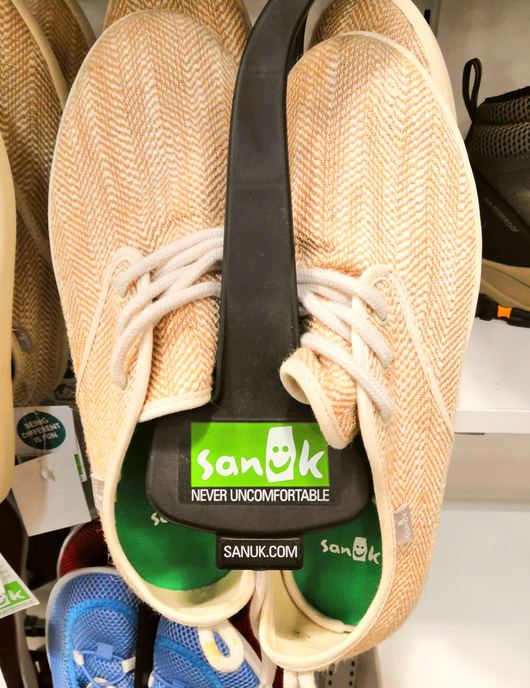 Sanuk
Headquarters: Goleta
Established: 1997
For a fun take on the traditional sandal, Sanuk is the brand to turn to. Whether you are in need of flip-flops for a beach trip with the guys or some comfy slip-ons for your next grand adventure, this Deckers-owned company is there to guide you to your happy place and put a smile on your face. While you may not get any style points for these bad boys, your toes will thank you.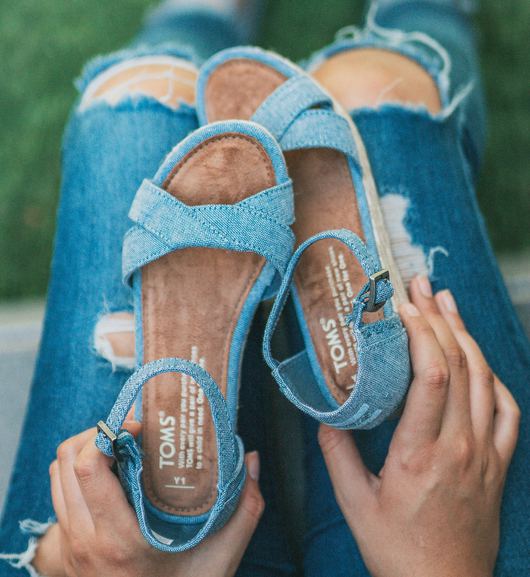 Toms
Headquarters: Santa Monica
Established: 2006
Best known for its one-for-one model, Toms has pioneered the ethical shoe industry in California, donating over 80 million pairs of shoes since the certified B Corporation began. What started as a simple desire to help children across the world has turned into a global phenomenon with unbelievable impact. Pick up a pair of classic slip-ons, or upgrade to the desert boots for a work-appropriate look—but don't forget to check out the sunglasses and apparel, too, so you can see all that Toms has to offer.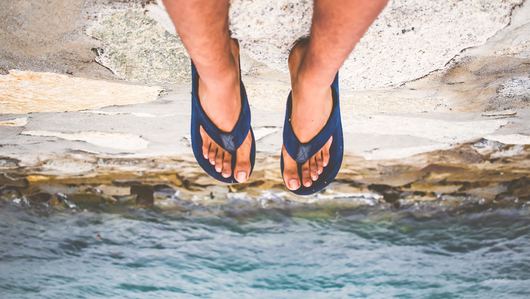 REEF
Headquarters: Carlsbad
Established: 1984
What started as a comfortable, high-quality sandal that could live up to the founders' party lifestyle has turned into a staple beach-culture brand offering everything from hats, to boardshorts, to sneakers. The quirky styles embrace freedom and fun, but behind the scenes, REEF is hard at work protecting and restoring the beaches that inspired the brand in the first place.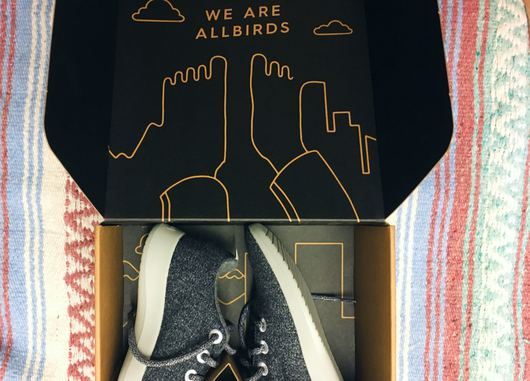 Allbirds
Headquarters: San Francisco
Established: 2014
Crafted from natural materials and shipped in recycled packages, Allbirds is not your typical sneaker brand. This certified B Corporation is committed to producing an ethical product that is as comfortable as it is environmentally friendly—and that's saying a lot considering that wearing these shoes feels like walking on clouds. Whether you are looking for the best running shoes you've ever worn, seeking a pair of walking shoes that will not wreck your feet, or trying to find a stylish pair of kicks that positively impact the world around you, Allbirds is the answer.