As the days grow longer and the temperatures rise, little sounds better than savoring every drip of a melting ice-cream cone and jumping into the tepid, turquoise waves of the Pacific Ocean to wash it all off.
The delicate flavors of lavender, salted chocolate, and golden rose ice creams beckon for the good vibes and cool breezes of summertime, and they are so enticing they ought to be classified as vegan essentials—but vegan ice cream can be hard to find.
While there are some traditional creameries that serve up vegan ice-cream options, shops that make it a point to produce solely vegan flavors provide peace of mind. Thankfully, California has countless places where you can indulge your sweet tooth without compromise.
Here are some of the best vegan ice-cream shops throughout the state to help you through National Ice Cream Month—and beyond.
California's Best Vegan Ice-Cream Shops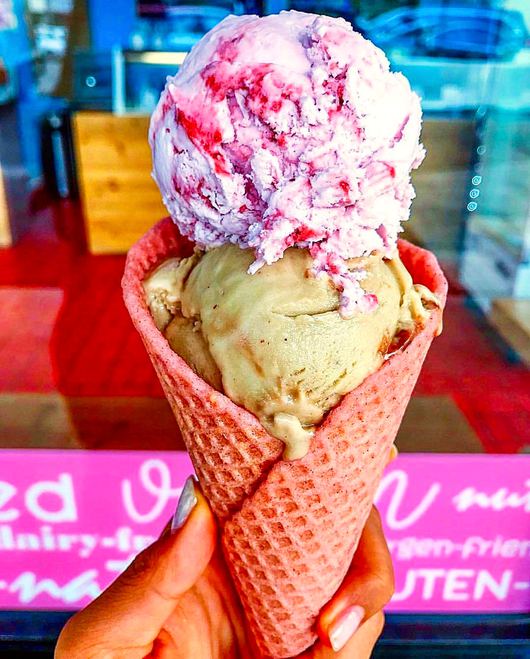 Cocobella Creamery
Located in Hollywood, the all-vegan Cocobella Creamery crafts frozen treats for cones and cakes. Each ice cream starts with luscious coconut milk, cane sugar, and vanilla before being mixed with additional ingredients to elevate the flavors to a whole new level. All of the offerings are entirely vegan and gluten-free, making this creamery the perfect place to scarf down some childhood favorites without fear. Try a scoop of the salted caramel (made with house-made caramel sauce), or the hand-torched marshmallows and graham cracker crumbles of the toasted s'mores; you may never crave any other forms of ice cream again.
Yoga-Urt
For your vegan soft-serve fix in Southern California, head to Yoga-Urt in Echo Park or Glendale. This creamery is known for its rotating menu of 25-plus flavors—all of which are crafted from organic ingredients and are free of dairy, gluten, and soy. To complement the overall philosophy, Yoga-Urt focuses on sustainability and even uses biodegradable serving utensils.
Choose between the coffee karma, salted caramel zen, lavender blossom, and coconut chai (or get a little bit of each); with so many flavors available, a single visit is never enough.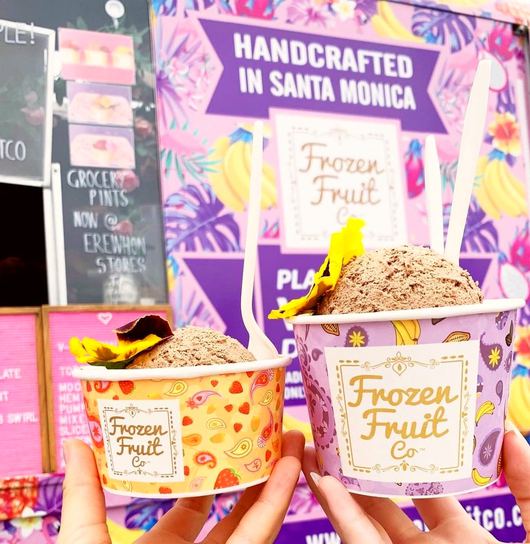 Frozen Fruit Co.
Frozen Fruit Co. has arguably the best vegan ice cream in Los Angeles. Get a taste of the daily rotating flavors by visiting the Santa Monica shop or finding Truckie—the company's charming, bright-pink truck—which is L.A.'s first entirely plant-based ice-cream truck.
All of the flavors are vegan, plant-based, dairy-free, soy-free, gluten-free, artificial sugar–free and made daily at the Santa Monica storefront. Opt for the savory-sweet salted chocolate (made with only coconut milk, cocoa, dates, and sea salt), the banana bread (comprised of bananas, coconut milk, and dates), or the classic chocolate mint (created with coconut milk, cocoa, dates, and peppermint) for a fully decadent experience without the guilt.
Kokolato
Situated in Uptown Oakland, Kokolato is chock-full of superfoods, crafting frozen goodies from organic, gluten-free, non-GMO ingredients that are fair trade whenever possible. You might find such unusual ingredients as Irish moss, raw cacao, aloe vera, young wild coconut, moringa oleifera, and coconut sugar throughout the menu, rather than the less healthful sugars and milks. Sample the smoky vanilla to taste the unique profiles imparted by the Indonesian soil where the vanilla beans are grown, or try the Hot Mamma for an incredible trip into tangy balsamic vinegar, spicy black pepper, and sweet strawberries.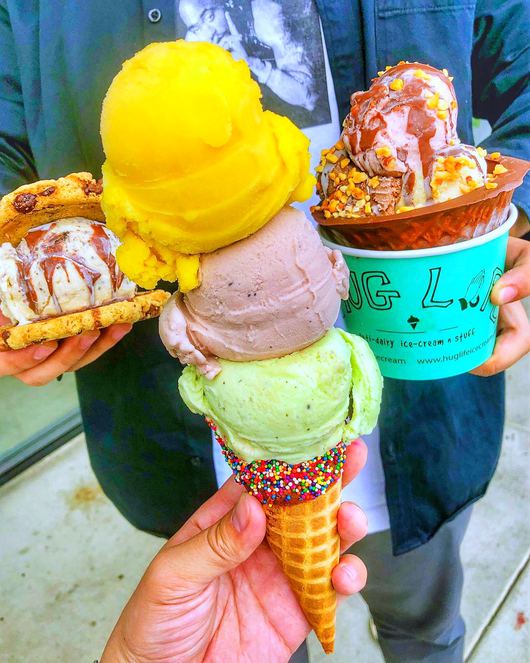 Hug Life
Frustrated by the lack of options that aligned with their plant-based lifestyles, a group of friends set out to create the Tupac Shakur–inspired Hug Life—an "anti-dairy" ice-cream shop with locations in Garden Grove and Orange. Unlike most vegan ice-cream brands that stick to a single plant-milk base, Hug Life uses a combination of coconut, soy, and almond milks to craft their various flavors.
Order a scoop of the Sesame Street for the most unusual ice-cream flavor you may ever try: The gluten-free and nut-free flavor features roasted black sesame and activated charcoal, with a dash of dark chocolate. For something slightly more familiar, but still adventurous, opt for the Tajín-topped mango chamoy or the creamy Earl Grey ice cream.
Feeling extra hungry? Choose the brownie a la mode, which comes with brownies, two mini scoops of ice cream, your choice of topping, and a drizzle of sauce.
Mr. Dewie's Cashew Creamery
Head out to Albany, the Emeryville Public Market, or Oakland's Glenview District to get your hands on the organic, all-natural ice-cream creations at Mr. Dewie's Cashew Creamery. Due to the owners' own dietary restrictions, the company specializes in frozen treats that are free of gluten, dairy, and soy. Each creation begins with a cashew milk base that is sweetened with organic evaporated cane juice; many flavors also include organic vanilla extract and kosher salt. Try the standard vanilla for something familiar, or go crazy with the caramel almond crunch or turmeric ice-cream flavor.