If the thought of California cuisine does not instantly evoke images of avocados, it probably defaults to french fries (think California burritos), making National French Fry Day as big a love affair as Valentine's Day. The smooth, creamy insides of the potato are protected by the perfectly crunchy, golden outsides sprinkled with just a touch of salt. This delicious vessel is the ideal base for creativity, offering enough flavor to hold its own next to a burger but not enough to overpower additional toppings. With so many possibilities—from poutine fries, to indulgent cheese fries, to Mexican-inspired elote fries, to steak fries, to Indian-influenced tikka masala fries—there are endless opportunities to try something new in the Golden State.
While the plethora of creative toppings at Get Fried Fry Cafe in Santa Clara and the french fry–stuffed burritos at Man vs. Fries pop-ups in Oakland and Livermore have earned themselves honorable mentions for the Bay Area, the true heart of California's french fry scene can be found about six hours south, in Los Angeles. So instead of hunting for deals on National French Fry Day—taking place on July 13 this year—consider popping into a few of these L.A. gems for a more satisfying celebration.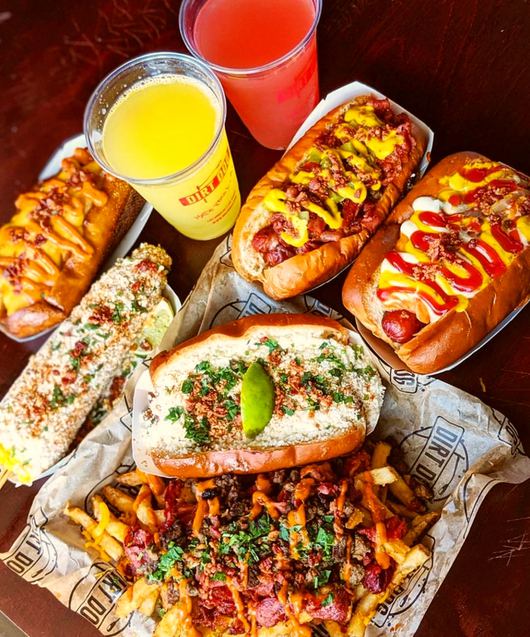 Dirt Dog
Get ready for some tough decisions at Dirt Dog. With all the fry combinations you can dream up, choosing just one is a true feat. For a basic introduction, go with the "dirty" fries—classic skin-on fries tossed in limón-chile seasoning and served with "Ketchatio", a combination of chile ketchup and Tapatio. But it's hard to top the elote fries, featuring lime mayo, corn, cotija cheese, cilantro, bacon bits, and chili powder. If you opt for the basic salt-and-pepper fries, however, make sure to get a side order of the "dirty corn" so you can taste all the flavors of the elote fries in a more traditional way.
République
The structure that now holds the incredible République was built by Charlie Chaplin in 1928 and was originally occupied by offices and boutiques. Much like the historic building itself, the menu items at the French restaurant have been stripped down to their traditional components and redesigned to fit chef Walter Manzke's vision. Head in after 11 a.m. on the weekends to try the perfectly balanced fries that come alongside the dry-aged beef burger and the po' boy sandwich.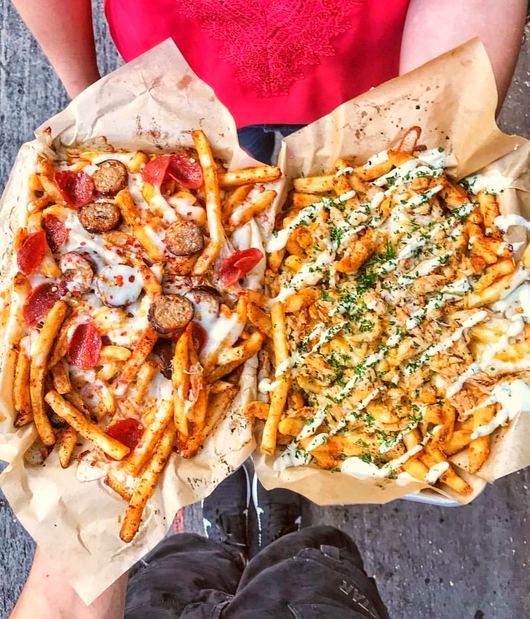 Fry Madness
As you would expect, Fry Madness is all about french fry creations. More unexpected, however, is the long list of innovative menu items—which includes everything from the buffalo chicken wing fries with mozzarella cheese; to the spiced lobster fries with charred shishito peppers, tomato cream reduction, and crispy green onions; to the classic garlic-parmesan fries; to the s'mores sweet potato fries with brownie bits, torched marshmallows, and caramelized bananas. Grab some of the lemon-basil aioli or the chipotle mayo for an extra punch of flavor (and don't forget the napkins).
Father's Office
With locations in Culver City, Santa Monica, and Downtown L.A., there are plenty of opportunities to try the french fries at Father's Office. Order the pomme frites to indulge in the explosive accompaniment of garlic-parsley aioli, and you may wonder where they have been your whole life. After devouring the basket of french fries, indulge in the doughnut fries for a modern take on the classic dish. Sprinkled with sugar and served alongside raspberry ketchup, these sweet fries are out of this world.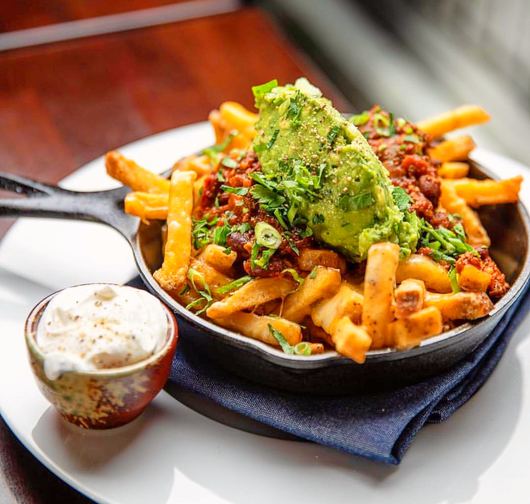 Preux and Proper
Speaking of poutine, Preux and Proper has the art of crafting high-quality comfort food down to a science, and the poutine fries are a top choice here—and for good reason. Perfectly seasoned, hand-cut fries are drizzled with gravy and served alongside burrata, collard greens, and coleslaw. Head in to taste the difference that a sustainably sourced, from-scratch kitchen can make.
Badmaash
While french fries may not be top of mind when you walk into an Indian restaurant, they may become all you think about after you experience the culinary artwork at Badmaash. If you want to go all-out, the chicken tikka poutine fries are an absolute must. Hot fries are seasoned with masala, topped with cheese curds, layered with savory beef gravy, piled high with tandoori chicken tikka, and garnished with cilantro. For a more tame option, go for the masala potato fries served with paprika mayo. (But seriously: Try the poutine fries.)