By

California.com
October 25, 2020
Vibrant city life, righteous waves, and acres of greenery can all be found in San Diego. The southernmost part of sunny California boasts luxurious neighborhoods, stunning Pacific Ocean vistas, rolling hills, and shrub-studded canyons. Whether you're looking for a San Diego weekend getaway or a place to plant roots, "America's Finest City" doesn't disappoint. Here are the San Diego neighborhoods you have to check out.
The Best Neighborhoods in San Diego
With only a population of over 34,000, San Diego's downtown is a bustling and exciting region but remains one of the more affordable places to live in San Diego. You can easily make your way to Balboa Park, Seaport Village for shopping and dining, and the Museum of Contemporary Art San Diego. With plenty of culture and entertainment for people of all ages, it's no wonder downtown San Diego is a popular destination for visitors and locals alike.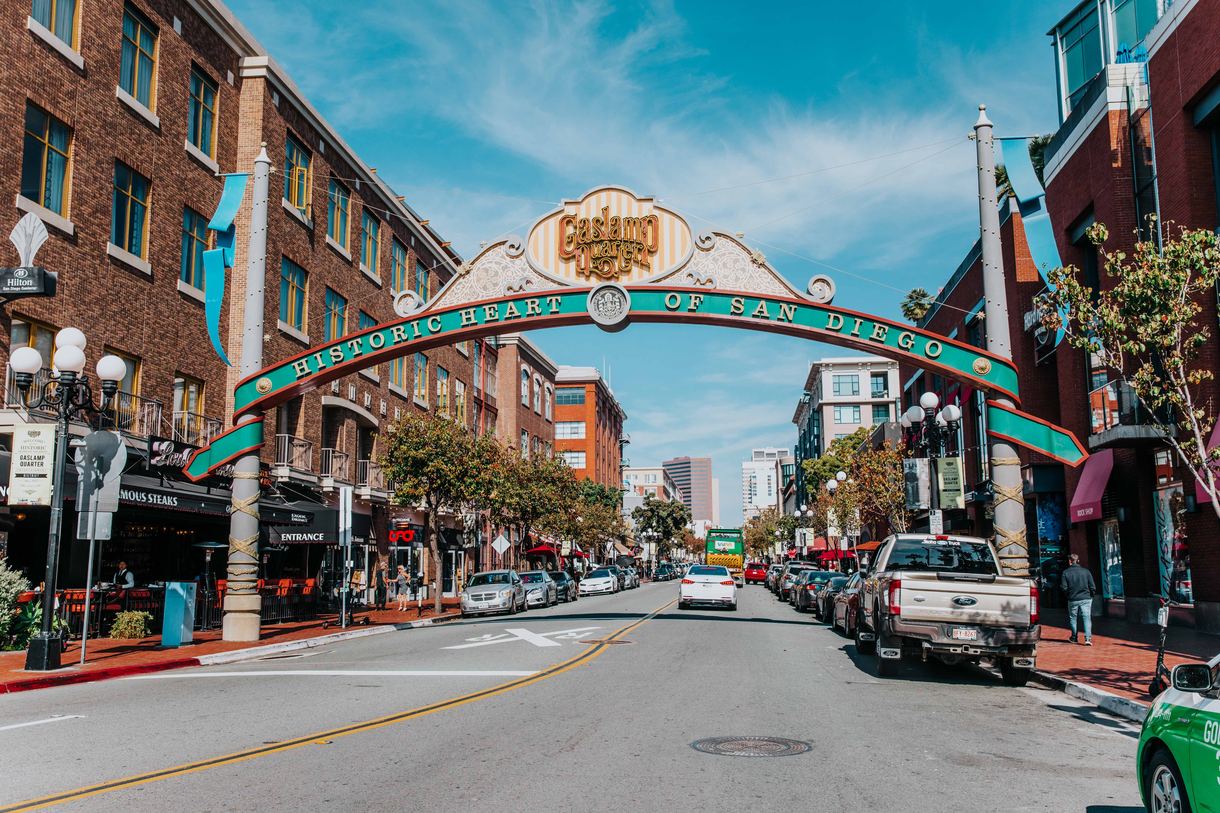 Gaslamp District, San Diego
Median home price: $425,499
Downtown San Diego's historic, 16.5-block Gaslamp District, also known as the Gaslamp Quarter, is a hot spot for the younger crowd. The lively district is known for its diverse restaurant scene, boutiques, museums, and nightlife. Explore these bustline streets and head to Horton Plaza Park to experience living life to the fullest.

Little Italy, San Diego
Median home price: $503,525
Found in northwest downtown San Diego, Little Italy will momentarily transport you to the romantic canals of Venice and the colorful buildings of Cinque Terre. A dynamic dining scene can be found here, too—not only is Little Italy home to farmers markets and gourmet restaurants, but also to "Top Chef Alley." It'll be difficult to pull yourself away from this area. Filippi's Pizza Grotto, Juniper & Ivy, and The Crack Shack are just a sample of the divine eateries that await here.
East Village, San Diego
Median home price: $523,352
As the name implies, East Village—known for being home to the San Diego Padres baseball team—is found on the east side of San Diego's Gaslamp District. Although Padres fans love East Village, the neighborhood is also full of college students frolicking around the public library. A mix of modern high-rises and Victorian-era houses, the neighborhood is a juxtaposition of the contemporary and the classic.

Central San Diego Neighborhoods
Palm trees are not just by the beach. Central San Diego neighborhoods offer beach-like environments and close proximity to downtown. Though the Pacific Ocean isn't inches away from your backyard, Balboa Park (which is quite a gem) and plenty of other San Diego attractions are.
Normal Heights, San Diego
Median home price: $531,900
This neighborhood is anything but "normal." A residential neighborhood perfect for up-and-coming families, Normal Heights is full of hip and trendy eateries, cafes, and boutiques. To experience where the magic happens, head to Adams Avenue.

Bankers Hill, San Diego
Median home price: $752,430
Gorgeous homes line the streets of Bankers Hill; the homes often date back to the 19th century. As you walk around the neighborhood, you'll really feel its historic vibes. The beauty of Bankers Hill lies within its streets, and you can practically walk anywhere you want. The homes here are within close proximity to cafes, restaurants, and parks—including Balboa Park.
South Park, San Diego
Median home price: $797,731
Nestled between Balboa Park and the I-15, South Park is primarily home to the slightly older crowd (you won't find many millennials here). But with its tree-lined streets, beautiful parks, charming eateries, and an abundance of coffee shops, South Park is a great place to raise a family.

Mission Hills, San Diego
Median home price: $1.2 million
Another family-friendly neighborhood, Mission Hills is home to gorgeous views overlooking Old Town San Diego and San Diego Bay—not to mention stunning architectural styles—and is walking distance from downtown. So, this upscale neighborhood is a wonderful place to call home (if you can afford it). Locals spend their Saturday walking around the popular Pioneer Park and enjoying delicious meals at the elegant restaurants.

North San Diego Neighborhoods
The northern section of San Diego is primarily dedicated to the tech world; many biotech companies are located here. Although they're more career-oriented than other parts of San Diego, these northern neighborhoods still boast family-friendly areas that are perfect for newlyweds and couples looking to add a little bundle of joy to the mix.
Kearny Mesa
Median home price: $596,329
For an escape from city life, head to Kearny Mesa for the ultimate suburban San Diego environment. Although the neighborhood has its fair share of offices and commercial buildings, Kearny Mesa is quiet and serene in the evenings. Residents enjoy the retro, vintage feel.

Carmel Valley
Median home price: $1 million
Carmel Valley is the place to be for families with kids. Let go of the typical San Diego feel, and embrace Carmel Valley's micro-city vibe. The neighborhood has an excellent education system and classic two-story houses, so it's a coveted place to live for families. Carmel Valley is one of those places where residents can live, work, and play without having to venture far. With shopping destinations, restaurants, movie theaters, hotels, parks, and other amenities in Carmel Valley, fun from home has a new meaning.