By

California.com
June 27, 2020
San Francisco is an incredible destination for locals and tourists alike, offering numerous entertainment venues, cultural attractions, scenic parks, specialty coffee shops, and most importantly, ample opportunities. The S.F. Bay Area's booming tech industry provides many appealing jobs, so young professionals are constantly moving to the region.
But the Bay is also home to some of the most expensive cities in California—and other cities in the region are experiencing similar real estate trends—so if you're looking to rent or buy a home here, the process can be overwhelming. Luckily, there are still some cities with cheap rent in the Bay Area.
The cheapest Places to Live Near San Francisco

We used data from real estate company Zumper to find the best affordable places to live in California that are located near the iconic city of San Francisco.

VALLEJO
Distance from San Francisco: 31.9 miles
Average one-bedroom monthly rent: $1,450
The largest city of Solano County, Vallejo is the most budget-friendly city in the Bay Area, with one-bedroom rents averaging $1,450. The city has twice been the capital of the Golden State. Besides offering the cheapest rent in the region, Vallejo also has an award-winning amusement park—Six Flags Discovery Kingdom—with over 40 rides that will take your breath away. Other local attractions include the Vallejo Naval and Historical Museum, Benicia State Recreation Area, and San Pablo Bay National Wildlife Refuge.
SAN PABLO
Distance from San Francisco: 19.8 miles
Average one-bedroom monthly rent: $1,500
One of the oldest Spanish settlements in the region is nestled in West Contra Costa: San Pablo. This city is among the cheapest places to rent in Northern California and among the most affordable suburbs of San Francisco. San Pablo is known for its growing residential and business community. Along with public schools, colleges, and health care institutions, the city also offers hiking, fishing, and picnicking in San Pablo Reservoir, Tilden Regional Park, and the Kennedy Grove Regional Recreation Area.
CONCORD
Distance from San Francisco: 31.4 miles
Average one-bedroom monthly rent: $1,750
Concord is also one of the affordable places to live near San Francisco. The city is located in Contra Costa County, just northeast of S.F., and offers a range of amenities and attractions such as shopping centers, farmers markets, outdoor concerts, and playgrounds. You can also enjoy hiking trails and historical areas like the Black Diamond Mines Regional Preserve, Mount Diablo State Park, and Iron Horse Regional Trail. For more family-friendly fun, check out the water slides at Six Flags Hurricane Harbor.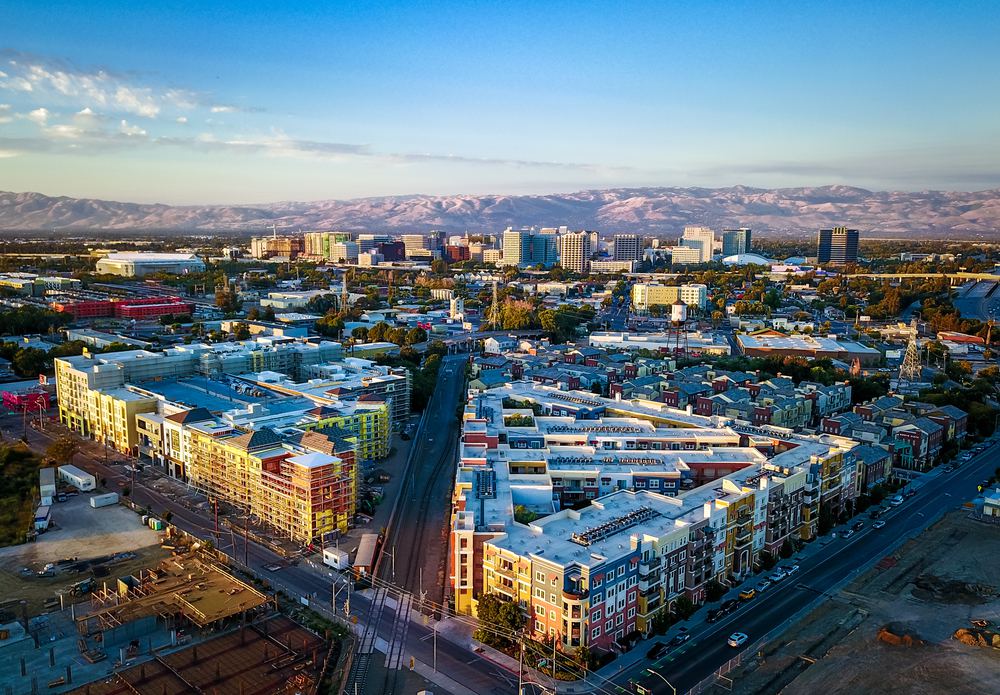 SAN JOSE
Distance from San Francisco: 55.1 miles
Average one-bedroom monthly rent: $1,970
The third-largest city in California, San Jose is among the most affordable places to live near Silicon Valley. San Jose is one of the biggest technology hubs in the Bay Area and is dotted with European-style landmarks and a quaint historic downtown district.
The city's nonprofit educational institution, The Tech Interactive, assists with and encourages a hands-on IT experience by offering workshops, labs, books, and more. Other top South Bay attractions include the Winchester Mystery House, Happy Hollow Park & Zoo, Children's Discovery Museum, and Filoli Historic House and Garden.
ALAMEDA
Distance from San Francisco: 14.3 miles
Average one-bedroom monthly rent: $2,210
The city of Alameda doesn't just offer cheap apartments in the Bay Area—it also serves as an amazing place to live. With its mix of urban and suburban environments, it offers something for everyone: highly rated public schools, a beautiful year-round climate, family-friendly parks, windsurfing destinations, and gourmet restaurants. Even better, it has a tight-knit community, various educational opportunities, and commute options with two ferry terminals.
Other Alameda attractions include the USS Hornet - Sea, Air, and Space Museum (which features exhibits from the NASA Apollo Moon exploration mission), the Pacific Pinball Museum, and Robert W. Crown Memorial State Beach. If you want to spice up your Sundays in Alameda, you can view the aquarium and marine life exhibits at the Crab Cove Visitor Center, then linger until closing to watch the gorgeous sunset.
DUBLIN
Distance from San Francisco: 35 miles
Average one-bedroom monthly rent: $2,360
Tucked between the rolling hills of the Tri-Valley region, Dublin is a great city to live in. It is affordable, safe, and family-friendly. Housing in the city is thriving, new restaurants and businesses are always opening, and shops are being constructed on every street. The commute to San Francisco is easy, too, thanks to two nearby BART stations.
There is also an incredible range of opportunities for outdoor adventure, with steep canyons, lush biking trails, and wonderful parks surrounding the city. The climate is pleasant year-round, but if it gets too hot, you can chill at the Emerald Glen Park and the Dublin Wave Waterpark.

WALNUT CREEK
Distance from San Francisco: 25.3 miles
Average one-bedroom monthly rent: $2,390
Walnut Creek is another option for those seeking affordable apartments in the Bay Area. The city is in the East Bay, with easy access to many major cities such as San Francisco, Oakland, Sacramento, and San Jose. Among the biggest advantages is its accessibility by BART, but Walnut Creek also offers a charming downtown, historical buildings, first-class shops, restaurants, standout coffee shops, cultural attractions, entertainment venues, and parks.
Spend your Walnut Creek weekend roaming the Gardens at the Heather Farm to enjoy the sweeping view of flowers, or head to the Ruth Bancroft Gardens & Nursery to see the collection of more than 2,000 cactus, succulents, trees, and other wonders.
Would you move to one of these cities in the Bay Area? Let us know in the comments below!