By

California.com
March 05, 2021
As California mitigates health risks during the COVID-19 pandemic, some travel restrictions may remain in certain communities. Call the local and regional tourism offices to learn more about the restrictions in your intended destination. Thank you for reading, and stay safe.
When you think of Southern California, waterfalls might not be the first thing to cross your mind. But, come spring, the region becomes home to a plethora of cascading wonders and panoramic waterfall hikes—all you have to do is look. While it's hard to say which one's the best, here's a roundup of can't-miss waterfalls in SoCal that are worth your time and energy.
The Best Waterfalls in Southern California

Holy Jim Falls
Located in the Cleveland National Forest, Holy Jim Falls is one of the most visited waterfalls in Southern California—and possibly the most breathtaking one in the Golden State. Its hiking trail doesn't require much energy, making it ideal for a laid-back family trip.
A loud-mouthed resident of the area—nicknamed Cussin' Jim—is thought to be the catalyst for the waterfall's name. His friends and neighbors, quite amused by the irony, began calling him "Holy Jim". One day, when government workers asked about the landowner, "Holy Jim" was voiced as a joke that became forever ingrained.
While on your way to Holy Jim Falls, watch out for the potholes around the last five miles or so. If you have a high-clearance vehicle, it will serve you well as the paved road turns bumpier towards the end. If you have a lower-clearance car, don't worry—the trip is still manageable. You need a parking pass for the Cleveland National Forest which can be obtained online.

Eaton Canyon Falls
Located in the San Gabriel Mountains, the delightful Eaton Canyon Falls is one of the most-visited waterfalls in SoCal. With a drop of around 40 feet, this year-round attraction is a must on your itinerary. Hiking to Eaton Canyon Falls means viewing scenic gems as far as the eye can see.
The trail leads you through a narrow canyon all the way to the stunning gorge. With Eaton Canyon Falls, every site is a selfie opportunity among nature's wonders. While meandering, keep an eye out for smaller waterfalls tucked away behind the thick, lush trees.
If you want to bask in nature's tranquility on your own, consider visiting at earlier hours. The later it is in the day, the less chance you have to admire one of the best waterfalls in Southern California by yourself.

Millard Falls
Located in the San Gabriel Mountains, you can access this 50-foot showstopper by way of a lovely canyon. Among the unique features of Millard Falls is its boulder-top, which makes for a breathtaking view—especially after heavy rainfall.
Make your way to the waterfall by parking at the Millard Campground Trailhead parking lot. Make sure to follow the signs—your path twists and turns along the crystal creek. Fresh air and singing water will prove therapeutic as you keep to the canyon.
Once you reach the waterfall, allow yourself a moment to take in all its glory. A large cliff rock on its right side grants you a front-row seat to the cascading wonder.
Waterfall Hikes in Southern California

Paradise Falls
Location: Wildwood Regional Park, Thousand Oaks
Level of difficulty: Moderate
Distance: 2.7 miles
Time: 1 hour and 20 minutes
Route: Loop
Dogs allowed: On leash
Out of all the waterfalls in SoCal, Paradise Falls is among the few to offer year-round visits. Several downhill hikes lead you to the 40-foot falls. Directions are marked by signs all around Wildwood Regional Park, making it near impossible to get lost. The return leg along the banks of Indian Creek will prove more relaxed in comparison—charming picnic areas provide a place to rest or have a snack on this waterfall hike in Southern California.

Escondido Falls
Location: Escondido Canyon Park, Malibu
Level of difficulty: Easy
Distance: 3.7 miles
Time: 2 hours
Route: Out and back
Dogs allowed: On Leash
If you're looking for an easy hike along a glorious, shaded trail, then look no further than Escondido Falls—one of the best waterfall hikes in Southern California. You might find the first mile or so rather unconventional; stunning Malibu mansions are the main attraction as you begin your hike.
Rural paradise awaits as the trail descends to a dirt road marked "Edward Albert Escondido Canyon Trail and Waterfall". Marvel at the lush trees and wildflower beds on your way through one of Southern California's most renowned hiking trails featuring a waterfall.

Trail Canyon Falls
Location: Angeles National Forest, Tujunga
Level of difficulty: Moderate
Distance: 4.8 miles
Time: 2 hours and 30 minutes
Route: Out and back
Dogs allowed: On leash
The San Gabriel Mountains are home to one of the most picturesque waterfalls in SoCal. After a moderately-rated hike through water crossings and sycamore trees, you're rewarded with the 30-foot Y-shaped wonder that's Trail Canyon Falls. Before kicking off your return leg, take a moment to enjoy the breathtaking mountainous view unfolding ahead.
Waterfalls in Southern California You Can Swim In

Cedar Creek Falls
Southern California has no shortage of waterfalls you can swim in, and Cedar Creek is amongst the area's most popular. Once little-known, growing social media attention placed this stunning waterfall among San Diego's most photographed spots.
The hiking trails at Cedar Creek Falls go downhill first and uphill on the way back—not what you'd usually expect. The rustic dirt roads lead you down to a scenic canyon surrounded by hills stretching as far as the eye can see. The three-hour hike is likely to consume a great deal of your energy, so make sure to stock up on water and snacks.
At about a hundred feet, the waterfall flows into an idyllic pool—perfect for a refreshing swim. While a quick dip can be rejuvenating, don't wear yourself out as you still have an uphill hike to get through.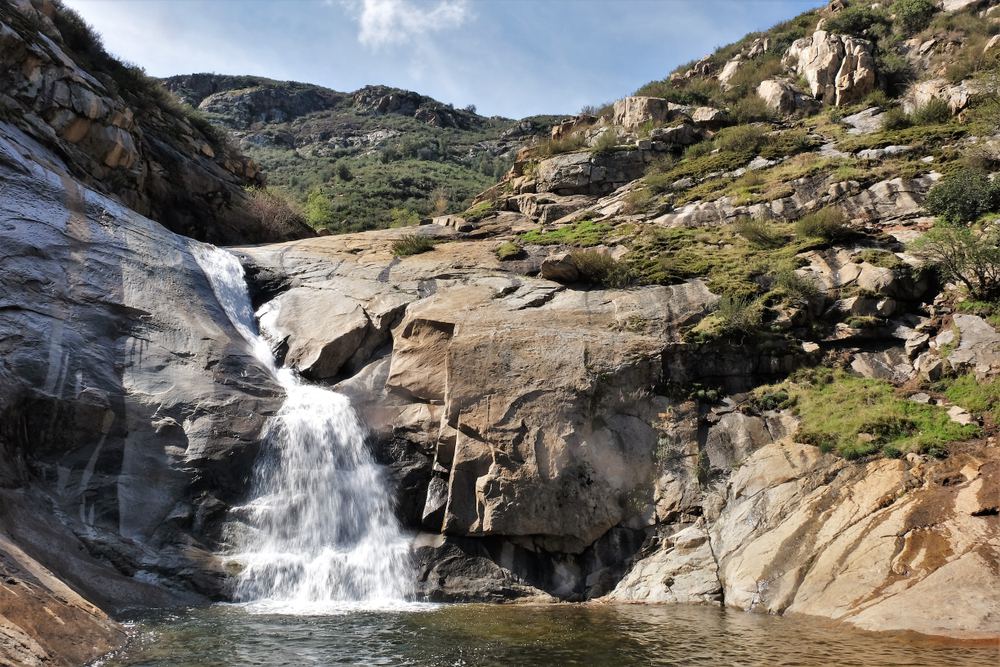 Three Sisters Falls
Located 30 minutes south of Julian, the Three Sisters Falls is one of SoCal's finest remote hiking trails. Three sequential, beautiful waterfalls greet you with pools of water, which is exactly what you need for a summer swim. Despite its captivating surroundings, this area is not devoid of challenges—steep trails and slippery tracks earned it a high difficulty ranking.
Your hike starts at the parking lot, heading along a flat trail with a shaded area perfect for a picnic. The journey gets more difficult as you proceed, so hiking shoes with a good grip are recommended. Though ropes have been installed to fight the steepness, hiking poles are a sure way to make your trip faster.