By

Fran Endicott Miller
December 12, 2019
Guests at the newly opened Berkeley Boathouse are likely drawn to the sweeping, picturesque views of the Berkeley Marina waterfront and San Francisco skyline, but it's the food that will ensure repeat visits. Executive chef Matthew Thomas, formerly of Limewood Bar & Restaurant at the Claremont Club & Spa, has created a menu to please every palate, with a vast selection of delicious items.
Showcasing California cuisine with global influences, The Berkeley Boathouse offerings include an assortment of small plates, flatbreads, sides, composed salads, and entrées—each made with fresh, local ingredients from California and Bay Area purveyors. Highlights include seared scallops with celery root purée, Romano beans, fresh corn, pancetta, and russet potato; house-made ricotta cavatelli with four-mushroom conserva, lollipop kale, pickled shallot, Parmesan, burrata, lemon zest, and chive; vegetable risotto with seared baby zucchini, balsamic blistered tomatoes, parsnip threads, and basil oil; and the Boathouse Cobb with bacon lardon, avocado, cherry tomatoes, egg, Moody blue cheese, breakfast radish, and honey crème vinaigrette.


Don't miss the brussels sprouts, either; chef Thomas elevates the humble vegetable to delectable status with his use of kung pao sauce, peanuts, sesame seeds, and chili threads. Similarly, the sublime sweet corn soup starring cumin crema, California chili oil, crispy corn tortilla, cracked black pepper, and micro cilantro deserves a spotlight. And the artistically presented grilled artichoke is also a must-try. (Tip: Dine with a group and order multiple items; dishes are designed with sharing in mind.) Top off your meal with the luscious crème brûlée trio featuring chocolate ginger, espresso, and lemon flavors.
But back to that Bay view. Food aside, motivation for a Berkeley Boathouse visit is indeed its waterfront perch. Located within the spectacularly remodeled DoubleTree by Hilton Berkeley Marina, the restaurant and its massive outdoor patio offer some of the most stunning waterfront views in the East Bay. Watch the setting sun from the restaurant interior, where floor-to-ceiling windows allow for unobstructed panoramas. Or, gather on the 2,000-square-foot deck, where a wood trellis provides shade on warmer days and a fireplace and cozy seating areas offer warmth during the colder months.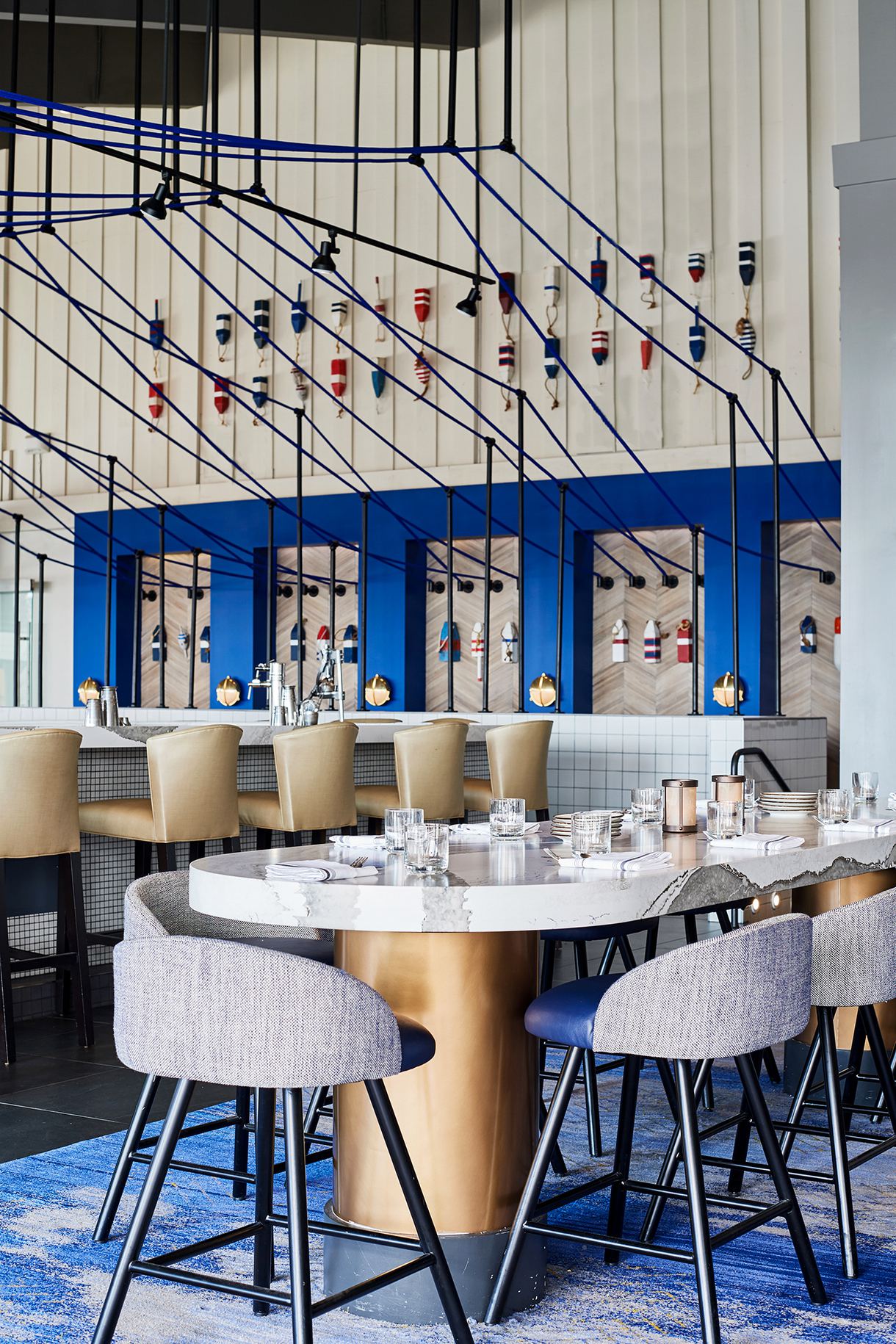 The restaurant's color palette exudes a fitting nautical theme, with deep ocean blues and muted grays contrasting with accents of brass and white. The use of woven textiles, mixed metals, water-like surfaces, varying stone patterns, and nostalgic artifacts such as buoys and oars further evoke an authentic boathouse vibe. An array of table configurations, including high tops and bar seating, make for additional seating options. And the gracious, accommodating staff provide a memorable experience.
A hotel restaurant does not often garner a 'destination dining spot' designation, but The Berkeley Boathouse deserves such a classification. Go for the food; go for the views. Neither will disappoint.