By

Mackenzie Hutson
August 14, 2019
Pink peonies sit next to twigs of eucalyptus as bright buttercups mingle among the baby's breath. Something about colorful flowers brings a child-like wonder to the forefront, personifying the blooms into Alice in Wonderland-style singers. Some stalks call for you, begging to become a part of the next bouquet, while others blend in and create balance amongst the bolder buds. Though the art of floral arrangements is not a new concept, a few Bay Area florists are bringing it to a whole new level by emphasizing ethical, California-grown, handcrafted flower bouquets—and completely changing the game. Here's where to pick up your next floral arrangement in the Bay.
Ampersand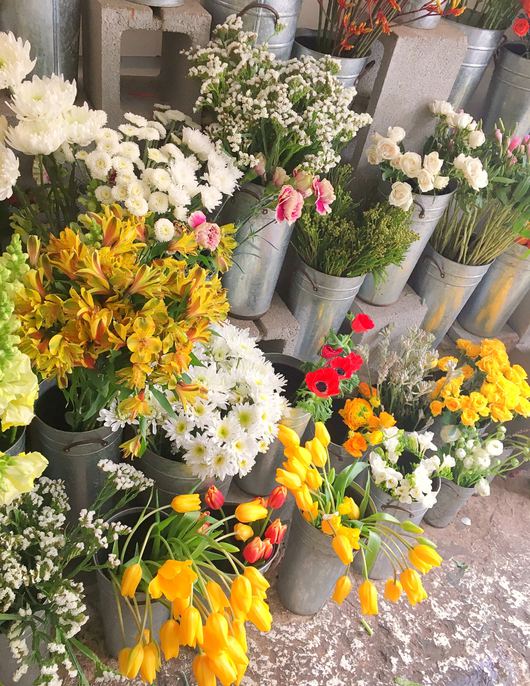 Location: Mission District, San Francisco
Tucked inside a turquoise barn, Ampersand is a Mission District standout. Whether you are looking to send flowers to someone in San Francisco, searching for a cute spot to grab your date's favorite flowers, or designing an event or wedding, this local florist does it all. Focused on California-grown blooms, Ampersand is ready to wrap, place, and install every type of bouquet and floral arrangement imaginable.
Walking into this quaint shop instantly feels like home. From the inviting and vibrant exterior, to the calming white interior walls, to the comfy couch and rug arranged to look like a living room, there is something incredibly welcoming about the space. And then there are the flowers: Pops of color explode from every vase as a wide variety of blooms engulf the space, tempting passersby to explore their creativity. While it is tempting to stop by every week for just a small bouquet, trust the florists to go above and beyond for a birthday party or wedding—everything they do is exquisite, so there is no way you will be disappointed.
Farmgirl Flowers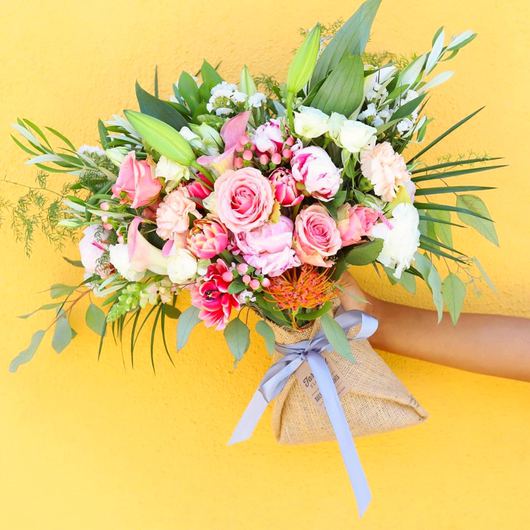 Locations: SoMa and Potrero Hill, San Francisco
Offers: Online flower delivery
Farmgirl Flowers is one of the best-known Bay Area florists and has undoubtedly changed the way we think about flower arrangements. This floral company began with the mission of using solely American-grown flowers and making each bouquet in-house, concepts that have revolutionized the industry and put a focus on ethical flowers.
To compound these efforts, Farmgirl Flowers created burlap-wrapped bouquets, which reuse the burlap coffee bags from local coffee roasters—reducing the company's carbon footprint and helping to eliminate waste in the community. Since the company is located in one of the best coffee regions in the country, acquiring these materials is not a problem, but the impact is phenomenal.
Providing nationwide shipping to the contiguous United States—as well as same-day bicycle and van deliveries throughout San Francisco, Daly City, Brisbane, Colma, South San Francisco, and San Bruno—Farmgirl Flowers is an easy choice for American-grown bouquets. Check out the extensive selection on the florist's website, and find the perfect bouquet to bring to every special person in your life (including yourself!). Or, shop for your ideal wedding bouquet and boutonniere to pull your shindig together.
The Bloom Bar Co.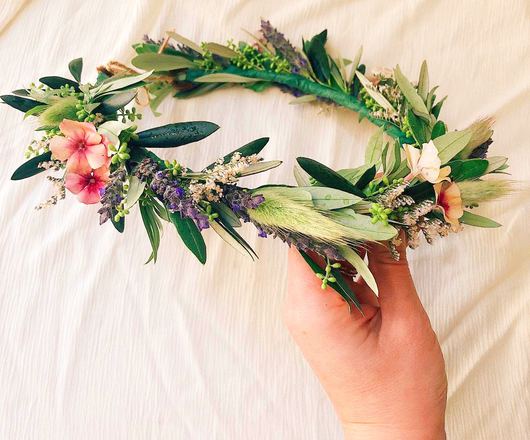 Location: Sunol
Provides: Online flower delivery, on-site weddings
Specializing in flower crowns and offering flower delivery in the East Bay Area, The Bloom Bar Co. represents the best of California's floral selection. Grown in owner Anjuli Pine's gardens alongside her ranch full of chickens, bunnies, dogs, and cats, every floral arrangement is inspired by the local landscape and designed with love. Since the flowers are locally grown, their availability depends on the season, but they are sure to fit every occasion.
The Bloom Bar Co. is a dreamy local business that has blossomed from its early beginnings on Etsy into a full-fledged independent florist dedicated to curating each piece to complement its owner. With gorgeous flower crowns starting at $50, bouquets available for delivery, and a passion for designing events—including weddings, birthdays, and bridal showers—this Bay Area standout will likely become your new favorite florist.