Its captivating aromas fill the air, energize spirits, and provide the extra push we need to start our days: Coffee is more than just a drink—it's a way of life—so taking your date to one of the best coffeehouses in Los Angeles has likely crossed your mind. If you've already visited Menotti's, Alfred Coffee, and Bodhi Leaf Coffee Traders, it's time to start exploring some of the other incredible Los Angeles coffee shops that know how to do a lot more than sling a decent shot of espresso and provide a backdrop for Instagram photos.
While the best coffee shops in L.A. are expanding across the country, our favorites have deep roots in the region and are not only California-based, but also Los Angeles–grown. These standout coffeehouses have tailored their interiors and menus to showcase local tastes that reflect the surrounding community, making them some of the coolest date spots in L.A.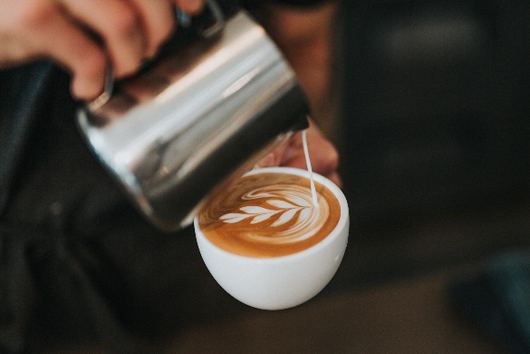 Go Get Em Tiger
Location: 827 East Third Street, Los Angeles
While Go Get Em Tiger's Arts District location doesn't have a ton of seating, it's still an ideal date spot in L.A.—and it will earn you major cool points. The brick exterior, modern decor, and spacious floor plan ooze rad hipster vibes (in the best possible way).
Aside from the traditional mochas, classic cappuccinos, and interesting almond-macadamia latte, the Go Get Em Tiger menu also features a wide range of food, which is served from 7 a.m. to 4 p.m. Order the avocado toast adorned with pickled kohlrabi and micro greens, or get the honey yeast–raised waffles with fruit and ricotta for an experience both you and your date will remember.
Civil Coffee
Location: 5629 North Figueroa Street, Los Angeles
When it comes to the L.A. coffee scene, it doesn't get much better than Civil Coffee. As soon as you walk inside, there's something that transports you to a simpler world full of incredible coffee—the way it was meant to be. The warm, welcoming space provides a friendly backdrop for a first date and every other date that comes after.
Get there before 2 p.m. to try the Arroyo, a delightful mixture of espresso and lavender syrup, and add the oat-hemp milk for a balanced, craveable combo. While the coffee holds its own, the culinary creations at this café are also showstoppers that will have you coming back. Plan on grabbing a few items; your taste buds (and your date) will thank you. Consider ordering the Civil breakfast sammie—featuring a sunny side-up egg, mozzarella, greens, and sweet peppers on an English muffin—but don't miss out on the build-your-own toast or the blueberry-maple fried chicken and waffles.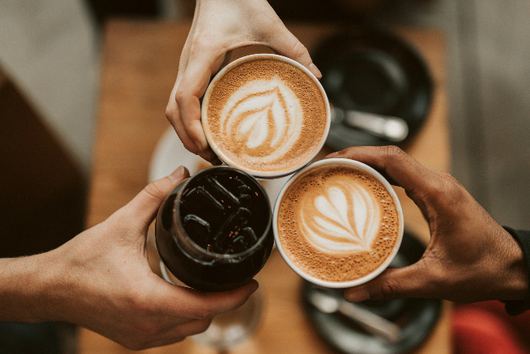 Bar Nine
Location: 3515 Helms Avenue, Culver City
Bar Nine is dedicated to delivering the best-quality coffees from around the world to Los Angeles County. The open, industrial floor plan is simultaneously inviting and public, making it the perfect place to meet up with anyone you swiped right on.
Take a look at the seasonal coffee selections—all of which are directly sourced and roasted in-house—before ordering a cappuccino with house-made hazelnut milk. In addition to the gorgeous aesthetics, it's hard to not appreciate the seasonality and care that is put into every item on the menu. Order the avocado toast to share; pureed and sliced avocados, micro radishes, and Swiss chard are all piled on top of sourdough bread. Add an egg to the equation, and you're all but guaranteed to have a good time.
Daydream Surf Shop
Location: 1588 Monrovia Ave, Newport Beach
Whether you're a full-time surfer or a coffee aficionado, Daydream Surf Shop supplies all the good vibes you need to ensure the date will go well. With a natural, airy, beachy atmosphere, it is all but impossible to feel uneasy in this laid-back environment. Every aspect of the shop is thoughtfully designed and curated with ethical business practices and real humans in mind—but quality lies at the heart of it all.
With a rotating list of coffee options and a seasonal menu, Daydream Surf Shop always has something new to try. Order the lavender oat-milk latte if it's available, sample one of the new coffee mocktails (which highlight the special tasting notes of each coffee roast), and try to plan your date around a public coffee cupping for an experience that is truly unique.
While you're there, become a member of the Daydream Research Center—where you can try out the various types of surfboards to see which one works best for you—and pick a surf spot to go to for your next date.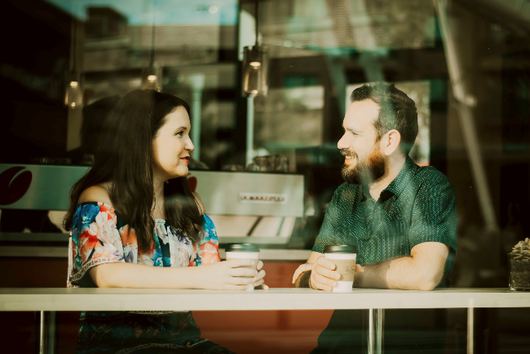 If the date goes well, head to a museum, make the most of your time in L.A., or take a sightseeing tour together.
Heading out of town to meet someone? Check out our favorite coffee date spots in Oakland and San Diego.