By

California.com
May 22, 2020
As communities across the world and in California mitigate health risks during the COVID-19 pandemic, we are shifting our content focus and not encouraging any travel or social activities during this time. We will, however, continue to shine a light on and celebrate the many beautiful aspects of our State with the intention of being a source of inspiration and joy during this difficult period. Thank you for reading, and stay safe.
The sun is shining, the wind is blowing, and a vacation state of mind is taking hold—making it an opportune time to explore California's windsurfing destinations. With dozens of spots to choose from along the shores, getting started requires the tough decision of where to go first. While inexperienced windsurfers ought to start out with a few lessons, seasoned athletes can head out to the Golden State's lakes, rivers, bays, and beaches for some out-of-this-world windsurfing.
Windsurfing is a combination of surfing and sailing, requiring ideal wind and water conditions. Contrary to popular belief, windsurfing doesn't demand massive amounts of upper body strength or years to get the hang of; after a few weeks of practice, most beginner windsurfers graduate into the intermediate classification and feel confident enough to go out onto open water. So if you're new to the sport, don't worry. California is the perfect place to learn. Thanks to the wide variety of waterways here, there are endless places to get your feet wet on relatively calm waters.
The Best Places to Go Windsurfing in California

Though finding the best spot to go windsurfing is a hotly debated topic, there's no denying that California has many incredible destinations. From the Sacramento–San Joaquin River Delta in Northern California to Cabrillo Beach's Hurricane Gulch in Southern California, you won't want to miss the chance to ride these Golden State waves.

Alameda
Alameda's Robert W. Crown Memorial State Beach is perhaps the best place for beginners to get acquainted with their new windsurf sail, practice their balance, and generally get the hang of the new sport. Complete with warm, shallow waters; onshore winds; and a long stretch of beach without rocks, this windsurfing spot offers ideal conditions for newbies.
Sacramento–San Joaquin River Delta
The Sacramento–San Joaquin River Delta is a world-renowned windsurfing hot spot. Brannan and Sherman Islands attract particularly large droves of visitors looking to improve their skills and experience the Delta. Since the waterway lies between the Sacramento Valley and the Bay Area, this section of California has unique weather patterns, including a hearty breeze that inspires windsurfers and other water sports enthusiasts. For the best shot at prime wind conditions, stop by between May and August (though you might get lucky in April and September, too).

Davenport Beach
Located along Highway 1, just north of Santa Cruz, Davenport Beach is an experienced surfer's paradise known for its incredibly strong winds. Kitesurfers and rookie windsurfers tend to stay away, leaving the best swells for top-notch windsurfers. With a convenient location about an hour southwest of San Mateo, this beach makes for a good day trip. Stop by between May and August to see why it's a California favorite.
Newport Beach
Southern California is known for its plethora of incredible surf spots, so it comes as no surprise that it has become a prime windsurfing destination as well. Unlike traditional surfing, windsurfing is quite pleasant on flat water, making Newport Harbor a viable destination. Since it's inside a harbor, staying afloat takes a bit of effort—entertaining even seasoned professionals as they tack and jibe their way around. It offers a challenge for intermediate and experienced windsurfers alike, so make sure to mind your speed in these monitored waters, and see if you have what it takes to maneuver in tight quarters.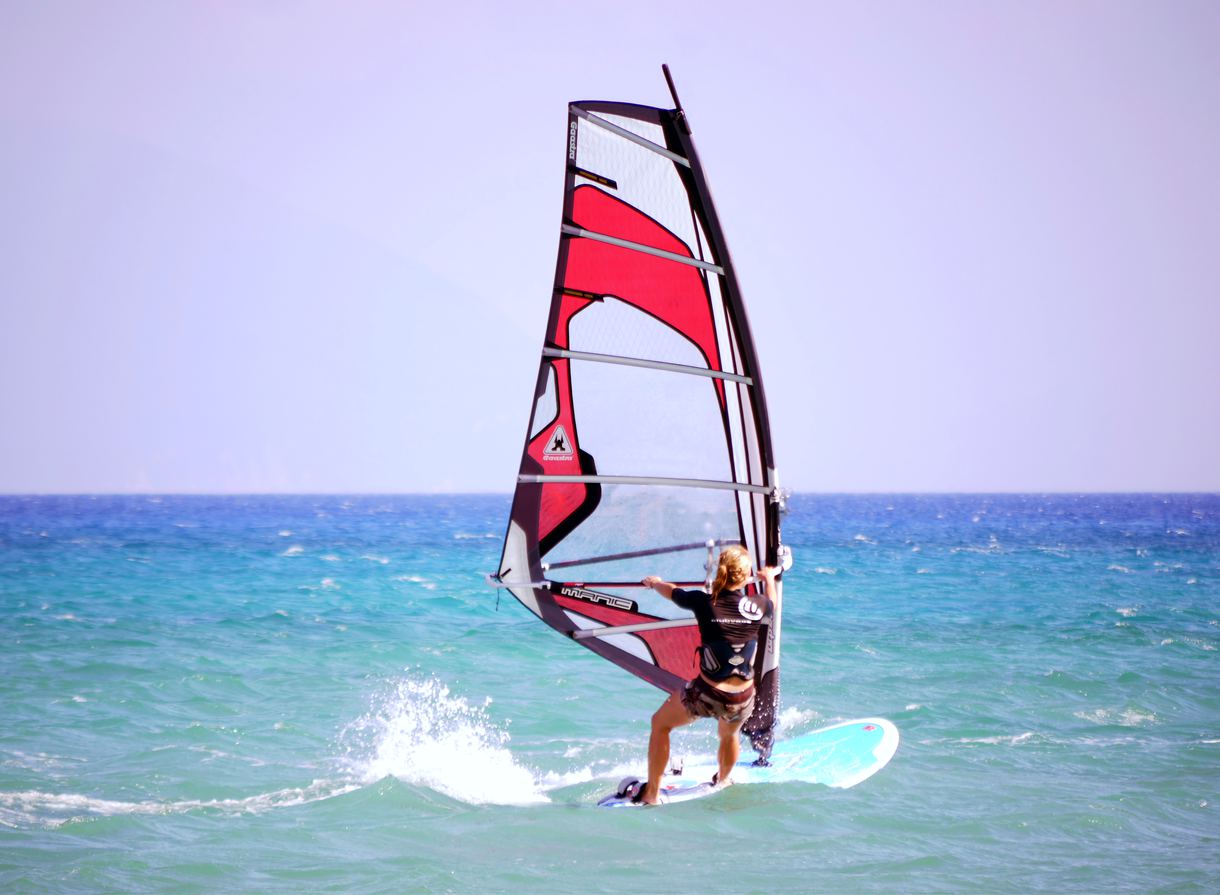 San Mateo
As one of the windiest spots in the Bay Area, San Mateo's Third Avenue is an incredibly popular kiteboarding and windsurfing destination. Along with blustery conditions, this channel is known for its turbulent six- to eight-foot waves—making it a risky spot for beginners but a dream for truly experienced windsurfers. If you dare to brave the elements here, go with a friend and look out for the other athletes taking on the swells.
Coyote Point is another popular locale in San Mateo, and with a windsurfing school nearby, you'll have everything you need to cruise around the Bay Area's waterways. Home to one of the region's longest windsurfing seasons, this spot can get quite crowded and parking can be a challenge, but those who break out into the open water experience some of the best windsurfing around. While the peak season lasts from April through September, March and October can also provide great opportunities for windsurfing—just check the wind and weather reports before committing to this coveted destination.
Cabrillo Beach
Situated southwest of Long Beach, Cabrillo Beach has earned quite the reputation as a windsurfing hot spot. With its cliffsides, harbors, and continuous breezes, this locale is surfable nearly year-round. The region known at Hurricane Gulch is a particular favorite, as its predictable winds take the guesswork out of a good day on the water. The westerly winds increase on this section of coastline thanks to its unique position, leading to a windsurfing experience you won't get even a few miles away. The water also tends to be flat, so with little swells, windsurfers, sailors, and kite surfers tend to have little competition for the gulch.
Whether you're a beginner about to set sail for the first time or you're a seasoned pro with many years of windsurfing under your belt, California is home to locations of all kinds for improving your skills. There's a unique combination of land, coastline, and river deltas here, so you never know where the wind might take you next, but it's sure to be an exciting ride. If you've had the chance to experience these windsurfing spots—or you've found your own favorite destinations—let us know in the comments below.