The fresh scent of coffee flows through the air as the brilliant colors of oysters on the half-shell, baked shakshouka, and berry-topped pancakes bring delighted smiles to the diners' faces. This mixture of breakfast and lunch feels so whimsical and comforting in such a widespread city that it's nearly impossible to skip brunch in Los Angeles.
Since there are so many brunch spots to choose from in the L.A. area, we searched far and wide to find the best brunch places so you can skip the clicking and get right to chowing down.
Best Girl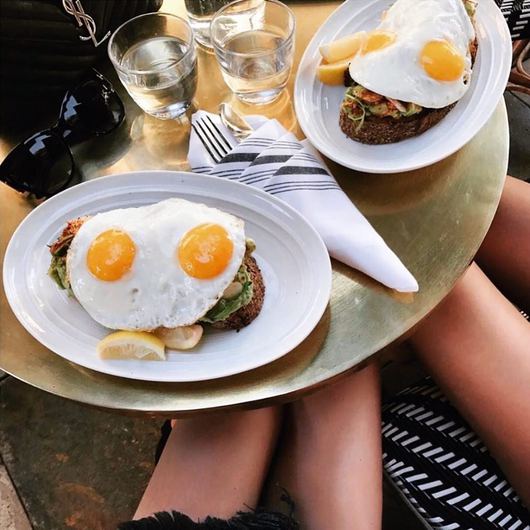 Location: 927 South Broadway, Los Angeles
Chef Michael Cimarusti and executive chef Ed Carew join forces at this eccentric DTLA brunch joint—which also happens to serve breakfast, lunch, and dinner daily—to channel the Los Angeles vibes. Tucked inside the Ace Hotel, Best Girl cooks up a selection of unexpected dishes such as banana buckwheat griddle cakes with cultured butter; crab cakes with remoulade, house-made pickles, and frisée; and potato latkes with smoked salmon, caperberries, and trout roe. As far as brunch in downtown L.A. is concerned, it doesn't get much better than this.
Go Get Em Tiger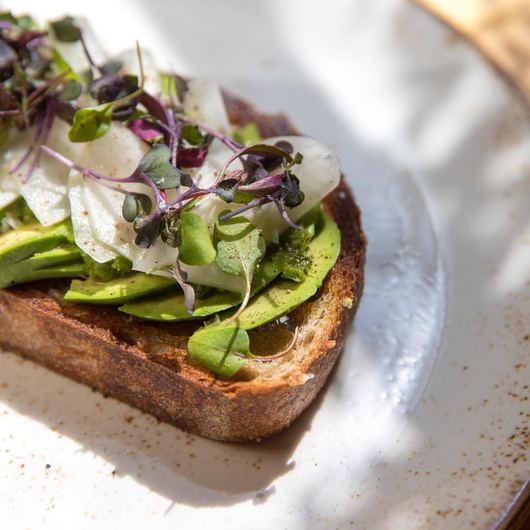 Location: 827 East 3rd Street, Los Angeles
Along with brunch favorites like avocado toast and a chorizo breakfast burrito, Go Get Em Tiger also offers reimagined classics to bring you the best California flavors. Try the yeast-raised waffles with fruit, ricotta, and honey or the overnight oats with coconut milk, chia pudding, sunflower seed butter, seeded granola, and pomegranate. With additional locations in the Larchmont, Los Feliz, Highland Park, and DTLA neighborhoods—as well as at The Music Center Los Angeles and the Grand Central Market—Go Get Em Tiger makes it easy to get your coffee fix and top it off with some brunch.
Margot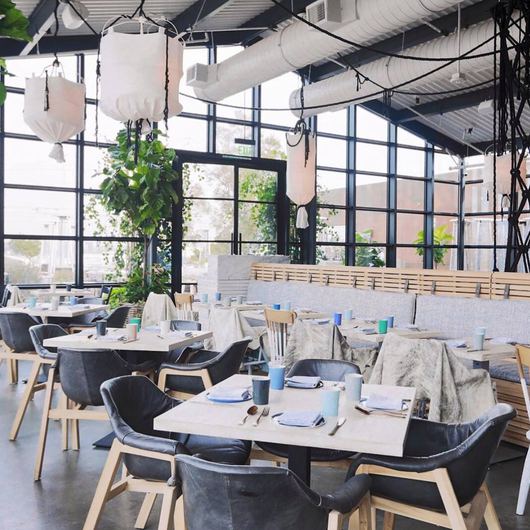 Location: 8820 Washington Boulevard, Suite 301, Culver City
Perched atop Platform, Culver City's boutique retail center, Margot presents the perfect excuse to enjoy a rooftop brunch in Los Angeles. Complete with 360-degree views, nautical accents, and firepits, this eatery does not disappoint—especially when it comes to the food. For extra decadence, order the black-truffle scrambled eggs with truffle conserva, Parmesan, and focaccia. Or, go with the porchetta Benedict featuring zippy smoked paprika, savory hollandaise, and fresh arugula. When it comes to brunch in Culver City, this is the place to be.
Redbird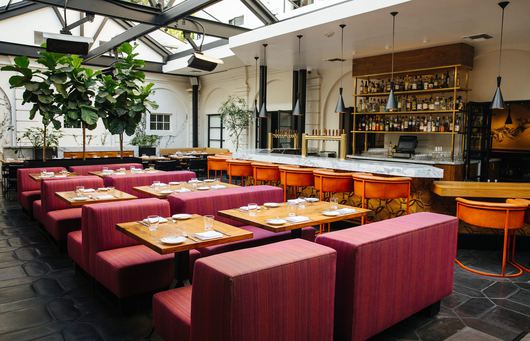 Location: 114 East Second Street, Los Angeles
Redbird is one of the most unique places to have brunch in Los Angeles. Located inside the former rectory building of the cathedral-turned-event-venue Vibiana, this restaurant has mastered the mid-century modern vibe as well as the ability to craft an extraordinary menu. Between the shrimp and grits with chipotle mole and a soft-boiled egg; the duck-confit chilaquiles adorned with avocado and a fried egg; and the Basque baked eggs featuring short ribs, piquillo peppers, and Ossau-Iraty sheep's-milk cheese, it's nearly impossible to choose just one dish. But no matter what you start with, finish the meal with the french toast topped with coconut custard, soy caramel, and spicy cashews for a transformative experience.
The Rose Venice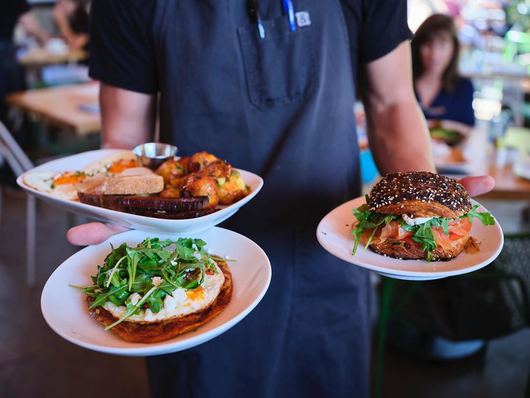 Location: 220 Rose Avenue, Venice
For Southern California cuisine with an international twist, look no further than The Rose Venice—there is a plate waiting to tantalize your taste buds. Opened in 1979 and refreshed in 2014, the iconic restaurant highlights seasonal, local food crafted by chef Jason Neroni. Take your time perusing the menu, but don't forget to take a look around at the hanging houseplants decorating the space. Choose between the pizza with roasted peaches, scallions, 'nduja, and burrata; the Spanish octopus ceviche with hibiscus-agua chile, avocado, and cilantro; and the crispy brussels sprouts with Parmesan, kale pesto, and fried eggs.
République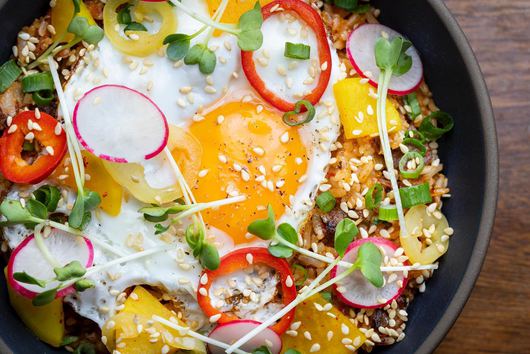 Location: 624 South La Brea Avenue, Los Angeles
When it comes to Sunday brunch in Los Angeles, République makes for a deliciously upscale choice. Housed inside a building that was originally constructed by Charlie Chaplin, the restaurant serves up decadently innovative dishes: Mission figs, hazelnuts, and wildflower honey adorn the ricotta toast; Sonoma duck leg, pickled fresno chiles, and fried eggs dot the adobo fried rice; and perfectly cooked fries sit alongside the dry-aged beef burger with caramelized onions and American cheese (available after 11 a.m.). Opt for a cultural escape with the croque madame, kimchi fried rice, chorizo sopes, or shakshouka—this eatery's cuisine has the ability to transport you anywhere in the world without you ever having to leave the best state.
Superba Food & Bread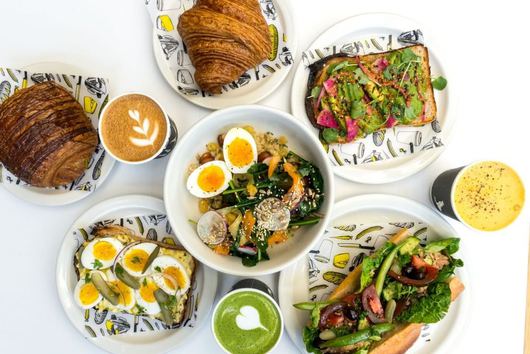 Location: 1900 South Lincoln Boulevard, Venice
Tucked away in the neighborhoods of Venice and El Segundo, Superba Food & Bread is deeply committed to making good food accessible, so you don't have to worry about breaking the bank here. Whether you are trying to stay on your keto diet (get the keto plate starring beef brisket, turkey sausage, sunny-side-up eggs, and avocado) or are seeking something indulgent (go for the fried chicken sandwich with slaw and jalapeño aioli), this eatery has you covered. Can't wait until the weekend to experience brunch at this L.A. hot spot? Stop by during the week for the prosciutto toast with arugula and olive oil or the Oaxaca cheese omelette with tomatillo salsa.
For even more brunch spots, check out our favorites near San Francisco with Do You Even Brunch, Bro? The Ultimate Guide To The Best Bay Area Brunches.