Rich hollandaise drips down the plump whites of an artfully poached egg as the arugula, feta, ham, and English muffin greet one another. Fluffy, fresh-from-the-fryer beignets are dusted with powdered sugar as a freshly poured latte is carefully carried to its table. A deep sigh of simple pleasure can be heard at the neighboring table, as the couple ponders the rest of their weekend plans while finishing off a cup of elderflower tea. After plenty of anticipation, each of your dishes are brought to the table, and glasses are raised and clink together in delight as you cheers to brunch.
The Bay Area's culinary landscape is nothing if not enviable; from Michelin-starred eateries to French-inspired cuisine that sparked a farm-to-table revolution, the region is home to numerous innovative, world-renowned chefs. And now, there's another reason to experience the Bay's exceptional epicurean offerings. With its large population and millennial-minded trends, the region has fully embraced one of the best ideas since sliced bread: brunch. So wherever you are in the Bay Area, a fantastic brunch spot is nearby.
Here are the best brunch restaurants in San Francisco, Oakland, Berkeley, and beyond.
Best Brunch in San Francisco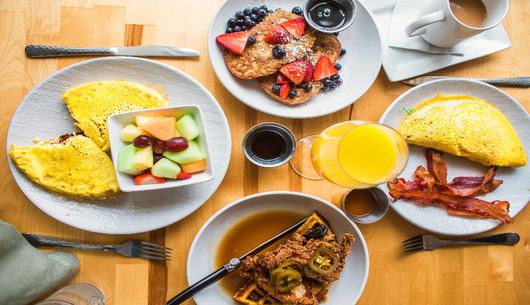 Marlowe
Every inch of Marlowe is intentionally designed, from the hexagonal white-tiled floors, to the wooden tables, to the curated menus—with each backdrop offering an aesthetically pleasing angle for showing off the stunning dishes.
Spark your curiosity with the aged provolone, spicy pickled jalapeño, and savory bacon of the warm deviled eggs before moving on to the craveable Guittard chocolate toast accented with a drizzle of Spanish olive oil, a sprinkle of Aleppo pepper, and a dash of sea salt. Continue your culinary journey with the perfectly cooked Angus ribeye and over-easy eggs—all balanced by the bright chimichurri sauce and smashed fingerling potatoes. Wash it all down with the unique West Bay Sparrow, a refreshing combination of pineapple juice, hibiscus, and lemonade that will leave you dreaming of tropical summer days.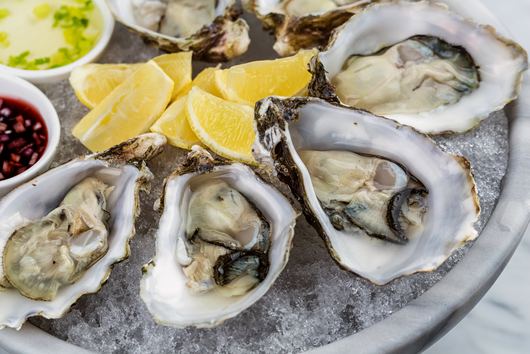 Foreign Cinema
Foreign Cinema is as much a destination as it is an experience. So, settle in and prepare to be transported to another world by the plethora of flavors you are about to experience. Begin with an order of the baked lavender goat cheese, a delightfully delicate dish served with marinated beets and toasted bread. These welcoming flavors will ease you in, acting as an aperitif for the forthcoming California oysters. Choose between a half dozen or a full dozen for the table as you get ready for the main course.
If the savory creations are calling, opt for the chorizo baked eggs featuring herbed polenta, summer escarole, mojo verde, and queso fresco. But if you're craving something sweeter, order the baguette French toast topped with Rose Diamond nectarines, indulgent maple mascarpone, and a sprinkle of cocoa nibs; it's unlike any other French toast you've ever had before. No matter which direction you go in, the winning dishes here will bring you back weekend after weekend.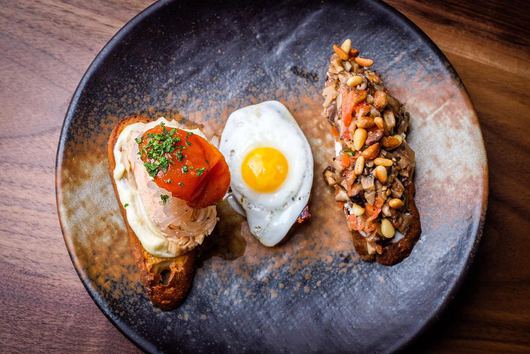 The Pawn Shop
This SoMa eatery combines the delicious flavors of brunch with the cool factor of a speakeasy. To even get in the door, you must find the golden phone at 996 Mission Street, pick it up, and speak with the "pawn master". While the secrecy is half the fun, the other half is the intricate food. Rather than ordering individual meals, get a variety of dishes for the table so you can sample several items. Trust us, you'll want to try as much as possible.
Start with the rustic avocado tartine, a comforting dish featuring creamy avocado topped with arugula, escarole, pistachio-avocado paste, a perky poached egg, a splash of refreshing citrus vinaigrette, and decadent hollandaise sauce. Continue on with the bright notes of the eggs Benedict, comprised of crushed tomato, rosemary Manchego, arugula, avocado, and poached egg—all perched atop a buttery house-made biscuit. End your incredible dining experience with the vanilla-infused brioche French toast drizzled with maple syrup, salted caramel, and chocolate syrup.
Best Brunch in Oakland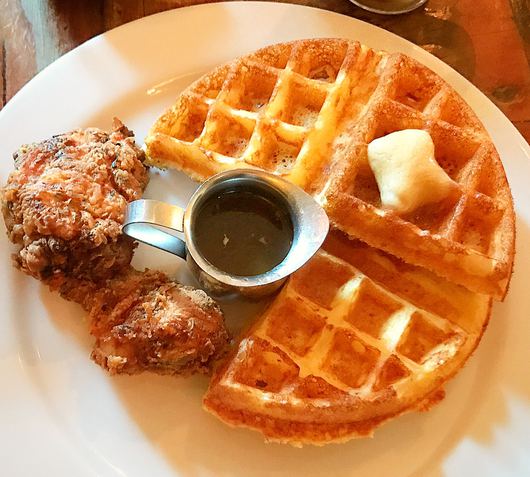 Brown Sugar Kitchen
This East Bay eatery is doing brunch right, thanks to the award-winning chef-owner: Tanya Holland, who primarily uses locally grown, seasonal, and organic ingredients to create comforting, high-quality dishes. While the Brown Sugar Kitchen menu changes with the seasons, don't skip out on the smoked mashed yams with a crater of brown-sugar butter, if it's available. Another must-try item is the famous buttermilk fried chicken and cornmeal waffles, served with brown-sugar butter and apple-cider syrup. No joke, it will totally change your life. For a brunch dish with extra protein, opt for the smoked pork hash topped with two poached eggs. Regardless of what you order, the soul food fare will leave you satisfied and fueled up for exploring Oakland.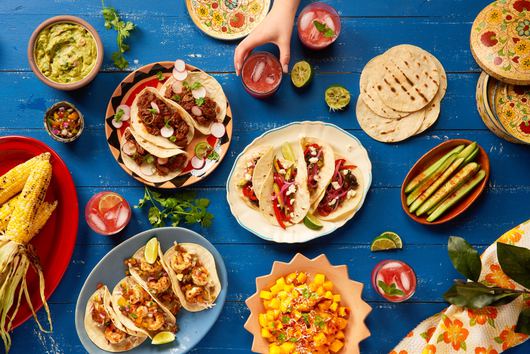 Cosecha
Cosecha brings together local, seasonal, colorful ingredients in its traditional Mexican dishes. Tucked away inside the 100-year-old Swan's Market in Uptown Oakland, this eatery takes food seriously, crafting everything from scratch every single day—including the tortillas used in everything from the mouthwatering tacos to the innovative quesadillas. Head in for Saturday brunch to savor the chilaquiles adorned with salsa roja, scrambled eggs, avocado, crema, and cotija cheese. Or, indulge in the mushroom quesadilla loaded with sautéed mushrooms and Oaxacan cheese (and on the pan-seared pork belly).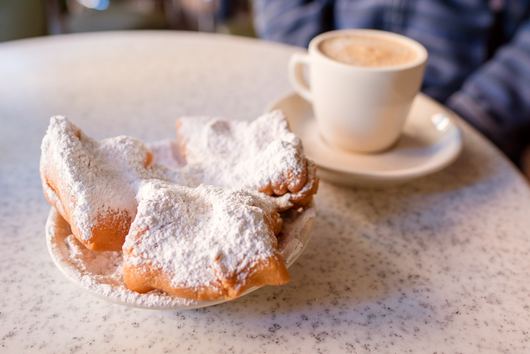 Flora
Housed inside the Art Deco, silver- and blue-glazed terra-cotta building of the Oakland Floral Depot, Flora exudes elegance with every bite. Check it out for weekend brunch to try the sweet and savory house-made cornbread with agave-jalapeño butter or the deviled eggs featuring unusual fava bean cream, curry, chives, and lime zest. The "green eggs" and ham is absolutely worth trying, too; the farm-fresh eggs are fried in local wild nettles and served alongside fra'mani ham, perfectly crisp pain de mie toast, and distinct paprika oil.
Best Brunch in Berkeley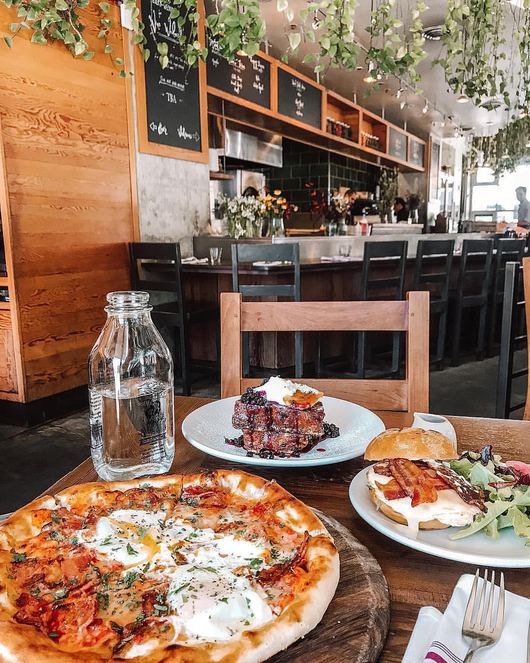 Gather
Creating a positive impact lies at the heart of everything Gather does. From choosing to work out of the David Brower Center—the most environmentally friendly building in the East Bay—to using only local and sustainable ingredients, the restaurant puts a great deal of thought into its overall philosophy.
Begin your brunch with the unique doughnuts featuring peanut butter miso caramel, cinnamon, and sugar as you peruse the rest of the menu. The brunch pizza is the perfect next course—the delicate crust is topped with eggs, bacon, caramelized onion, and oregano—though you can't go wrong with the sunny side-up eggs, braised greens, and pork sausage gravy stacked atop fluffy biscuits, either. Regardless of which entrée you order, finish the morning meal with a macchiato and a warm chocolate-chip cookie for a little slice of heaven.
Best Brunch in San Jose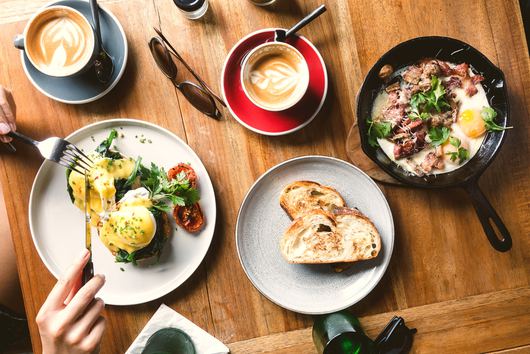 The Breakfast Club at Midtown
For a fantastic brunch in the South Bay, drive over the The Breakfast Club at Midtown. While the eatery serves up plenty of classics, the signature red-velvet pancakes draw crowds and keep them coming back. Served with powdered sugar, whipped cream, a cream-cheese drizzle, and chocolate chips, these pancakes are incredibly indulgent. Order the Florentine eggs Benedict for a lighter meal; poached eggs mix with sautéed spinach for a healthy option that feels luxurious.
Best Brunch in Walnut Creek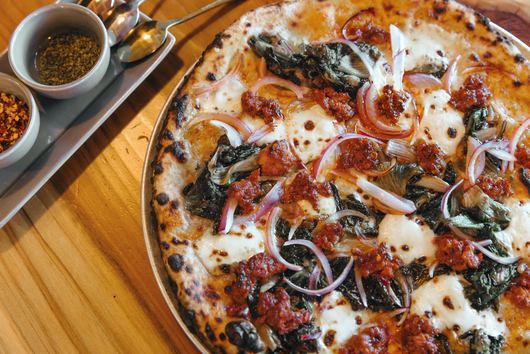 Main Street Kitchen
Situated amongst the quaint boutiques and eateries of Downtown Walnut Creek, Main Street Kitchen is a step above the rest. With a strong dedication to local and seasonal cooking, this joint serves up elegant, farmers market–fresh meals such as the old-fashioned potato hash. Featuring house-made fennel sausage, crispy Yukon potatoes, savory red onions, and exquisite sunny side-up eggs, this dish is a crowd favorite—and for good reason. Arrive early to try the house-made glazed donuts with your lavendar latte; these sweet treats are so incredible that they regularly sell out. Too late for brunch? Head in for dinner; you won't be disappointed. Order the cheese platter for the table and a wood-fired pizza just for yourself.
Best Brunch in Lafayette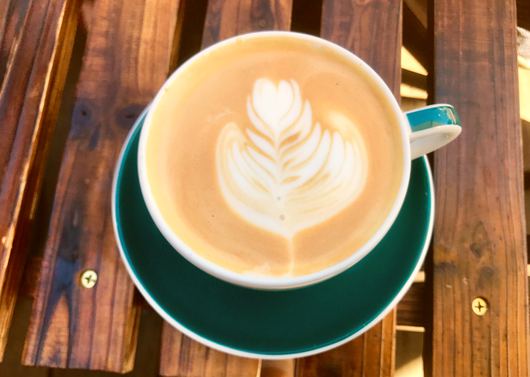 Sideboard
Head to this quaint eatery on weekend mornings to experience some of the best breakfast and brunch favorites. Try the breakfast mac for a ridiculously indulgent mac and cheese piled high with two fried eggs and savory bacon to discover your newest guilty pleasure. Or, go with the more traditional eggs Benedict, whose tangy feta and balsamic vinaigrette provide a nice surprise. No matter which main course you order, you must follow it up with the beignets. Served with house-made preserves and dusted in powdered sugar, these decadent treats are worth the wait. Make sure to get a latte from the coffee bar, too, and see your caffeine dreams come true when you see a large cup brimming with exquisite espresso.