Whether you're cruising along the coastline overlooking the waves in Malibu, crossing the Golden Gate Bridge from San Francisco to Sausalito, or following the winding and scenic road into Big Sur, you won't have to venture too far to find a local seafood spot. Regardless of where you are in the state, there is an exceptional seafood joint (or two) worth a pit stop on any road trip.
You likely don't need an excuse to hop on the Pacific Coast Highway with your convertible top down and your radio turned up, but if you're looking for one with enough gusto to convince your friends to jump in and join you, these seafood eateries are incredible enough to do just that.
The Best Seafood Restaurants in the San Francisco Bay Area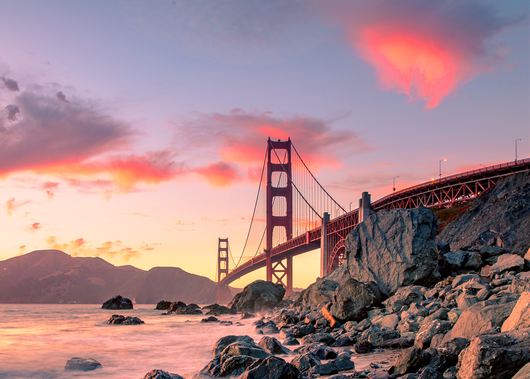 The Bay Area serves as the ideal jumping off point for this edible outing due to its northern location—not to mention its culinary prestige and sweeping ocean views. So rev your engine in Sausalito to commence your scenic seafood escape, and steadily work your way down the California coast.
Sausalito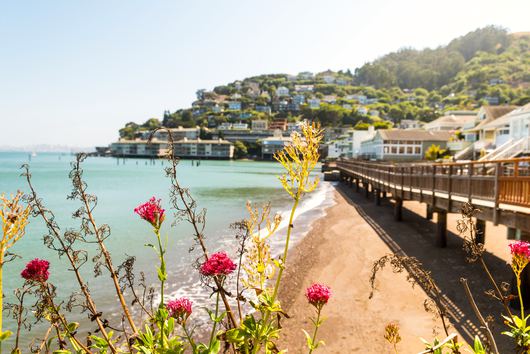 Fish
Fish is the place to be when it comes to sustainable seafood. The waterfront restaurant not only houses its own fish market, but also offers fresh, world-class seafood dishes—and it certainly takes its ingredients seriously.
The eatery carefully evaluates the fishermen, their fishing vessels, and their fishing methods before working with them, so every sea creature served comes from a trusted, sustainable source. Fish also maintains relationships with small-scale farmers who tend the seasonal, organic fruits and vegetables served in the restaurant. Its dedication to sustainability has not gone unnoticed; Fish was recognized by the California Legislature Assembly for its commitment to protecting the wild fish populations and supporting the regional economy by cultivating relationships with local growers and fishermen.
Diners can often taste the difference in the delectable dishes such as the Portuguese red chowder loaded with linguica, clams, smoked paprika, tomatoes, and organic Sausalito Springs watercress. Start with a cup of this hearty soup, then keep the party going with three of the wood-fired BBQ oysters garnished with lemon and chives. From here, the Peacemaker sandwich is the most logical (and delicious) choice. Fresh oysters are coated in cornmeal, cooked until crispy, placed atop generous slices of ham, topped with shredded lettuce, and tucked between a peasant bun slathered in Tabasco mayo. Leave some time to relax, look out onto the water, and savor every bite of local, organic gelato inside the affogato.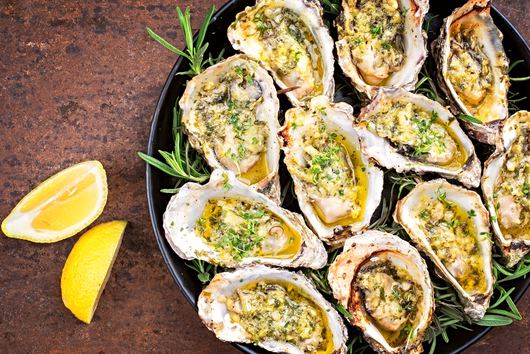 Salito's Crab House & Prime Rib
Salito's Crab House & Prime Rib is a venerable dining destination. The quaint restaurant is full of character—from the black-and-white checkered floors, to the gleaming marble counters, to the white-and-blue cabana booths, to the vast patio overlooking the Bay—with great food to boot. Start off with the house-made kettle bread or the skillet-roasted cheese bread, and if you are feeling extra adventurous, grab the yellowtail carpaccio to share. This is a favorite appetizer known for its expertly shaved slices of fish, olive oil ponzu sauce, and a touch of citrus to balance it all out. The next dish ought to be the Cioppinolito. This entrée truly has it all; from mussels, to potatoes, to shrimp, to olives, to calamari, to yams, this compilation of ingredients shouldn't work together, but it somehow does. Satisfy your sweet cravings by sharing a plate of the freshly made beignets—perfectly fluffy and lovingly coated in powdered sugar—but grab the salted caramel vanilla crunch cake for yourself. This decadent dessert is joyfully sweet and likely to become your guilty pleasure.
San Francisco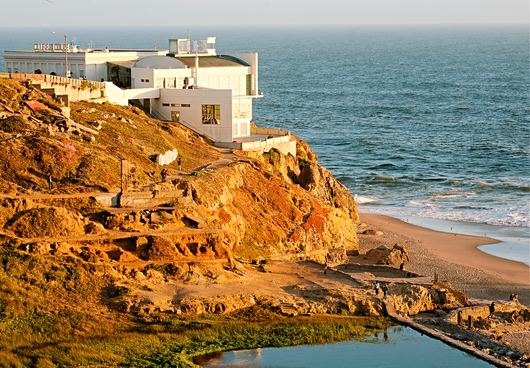 Sutro's at the Cliff House
The seasonal, local menu at Sutro's has the innate power to create a mouthwatering reaction in an instant. The Yukon gold potato soup with smoked ham preps the palate with rich flavors and texture, while the Dungeness crab cakes add a bit of spice to life with their accompanying chipotle aioli. Move on to the decadent bacon-crusted salmon adorned with apples and rainbow chard, served with dreamy potato purée, and drizzled with a tangy mustard sauce for an otherworldly experience. Make sure to leave room, however, for the delectable frozen lemon soufflé featuring blueberries, citrus shortbread, aged balsamic, and a hint of cracked black pepper.
Hog Island Oyster Co.
A certified B Corporation and the proud growers of hand-raised shellfish along Tomales Bay, Hog Island Oyster Co. knows how to do seafood right. With an ever-changing menu reflecting only the freshest ingredients, this famed eatery is unlike any other. Start off with a half-dozen raw oysters or a grilled garlic butter oyster served with Worcestershire, lime juice, and chili flakes. Then, go for the silky chowder brimming with Manila clams, delicious bacon, hearty potatoes, rich cream, and aromatic vegetables. Round out the meal with an oyster po'boy filled with crispy, cornmeal-crusted oysters and Hogwash slaw and served with a side of Old Bay fries.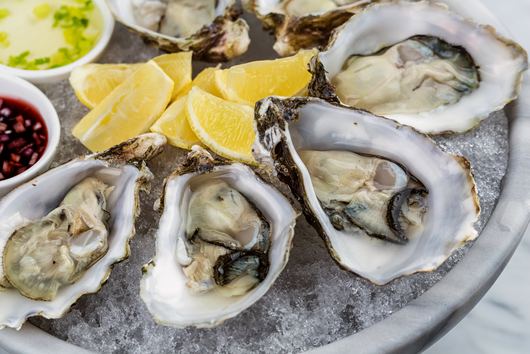 Leo's Oyster Bar
Walking into Leo's Oyster Bar instantly transports you away from the gritty city streets and into an old-school tropical paradise. Every inch of this eatery sparks joy, from the waitstaff, to the decor, to the food itself. Ordering only a single dish at this exquisite restaurant would be a shame, so be prepared to sample it all. Begin with Leo's deviled egg. This perfect bite is filled with creamy yolk and topped with a crispy wing fried oyster, resulting in a culinary experience that is the epitome of opulence. Pick up some oysters on the half shell (it is an oyster bar, after all) and delight in the accompanying mignonette and green chili cocktail sauces. Next up is "Leo's Louie"—a hearty salad featuring crab, bay shrimp, fennel, gem lettuce, and sieved egg—which is light enough to leave you feeling uplifted, yet tasty enough to make you want to order it again. Finish off the night by sharing the Ocean Bouillabaisse. With mussels, scallops, clams, shrimp, and halibut, this dish will quell every seafood craving and become a new favorite.
Central Coast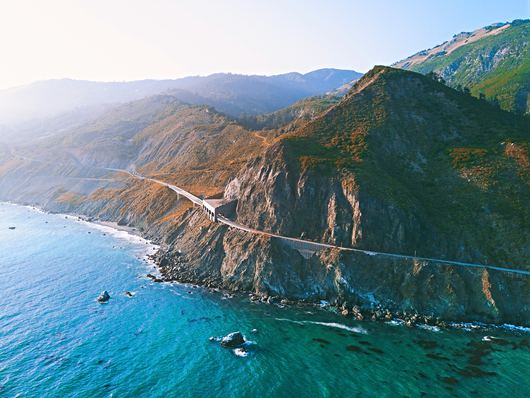 The twists and turns of Highway 1 take you from San Francisco to Big Sur, where the bright ocean views are complemented by luscious trees that shade the road and add an air of mystery along with excitement. Any car is sure to find pleasure on the winding road that weaves toward and away from the sandy beaches below. The journey takes about four hours and rewards you with 90 miles of coastline to explore between Carmel and San Simeon. With so much to see and do in this region, you (and your car) will want to stay for a few days in the wide-open wilderness. Whether you go straight to a campground, check in to a hotel, or head over to the art galleries and boutiques, make sure you get a taste of the local seafood restaurants before leaving.
Big Sur
Sierra Mar at Post Ranch Inn
Perched atop a 1,200-foot cliff overlooking the Pacific Ocean, Post Ranch Inn is home to the Sierra Mar restaurant, where visitors can enjoy awe-inspiring panoramic views and indulge in some of the best locally foraged cuisine the state has to offer. Each evening, four-course prix fixe and six-course tasting menus are offered. These ever-changing selections highlight the freshest fish, produce from the on-site garden, and seasonal selections of accoutrements from the nearby farms and mountains. Enjoy gourmet small plates like beet-cured salmon tartare accented by bright Meyer lemon and crunchy nori tempura; gently seared black cod atop a bed of seasonal vegetables; and an intriguing combination of sweet wild berries, savory balsamic vinaigrette, and delicate mascarpone.
Morro Bay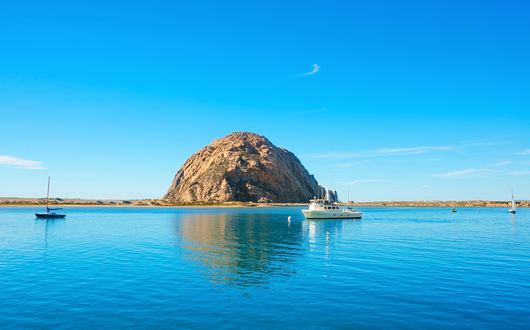 From Big Sur, continue south along Highway 1, driving past the grandiose Hearst Castle in San Simeon and into Morro Bay. While a sadness may overwhelm the senses at the thought of leaving the incomparable Big Sur behind, fear not; this feeling will soon be replaced by the awe of seeing Morro Rock. There is nothing quite like witnessing all 576 feet of ancient volcanic rock protruding out of the ocean's surface, dotted with birds and encircled by a floating otter or two.
The Galley
Situated along the harbor, The Galley is the perfect respite with sweeping views—and even better plates. This Morro Bay eatery prides itself on providing patrons with high-quality seafood prepared simply and served with local, farm-to-table vegetables that have never been treated with pesticides. This attention to detail and dedication to excellence can be tasted in every sumptuous bite, whether you order the luxurious oysters on the half shell; seared scallops with shallots, garlic, and butter; creamy clam chowder; or crave-worthy butterflied prawns.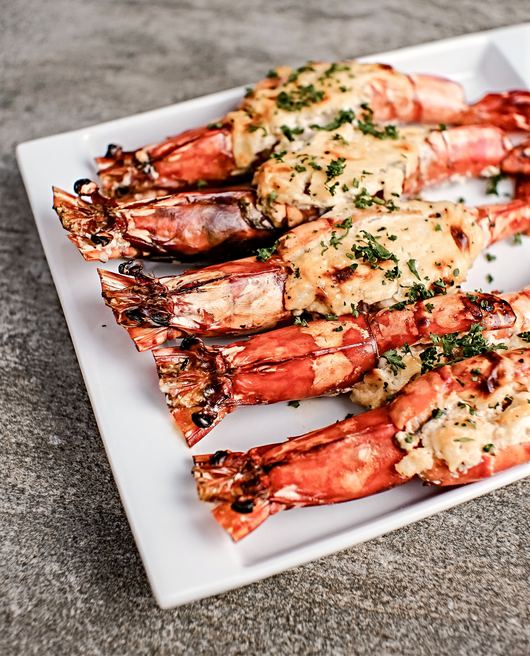 The Best Seafood in the Los Angeles Area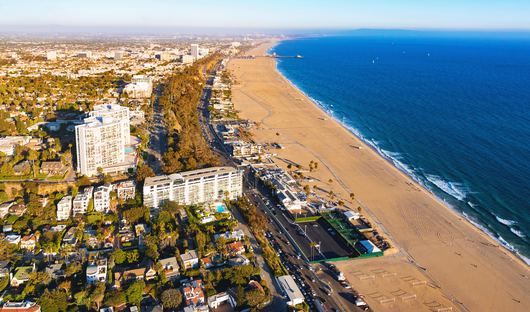 Another four-and-a-half-hour drive along the coast from Morro Bay will take you through the beloved towns of San Luis Obispo, Pismo Beach, Santa Barbara, Ventura, Malibu, and Santa Monica before cutting inland to Los Angeles. Though the journey may seem long, the incredible food and laid-back culture of Southern California will quickly make you forget about the lengthy drive. Sit back, look out at the blue waters and white foam of the crashing swells, and revel in California's beauty.
Malibu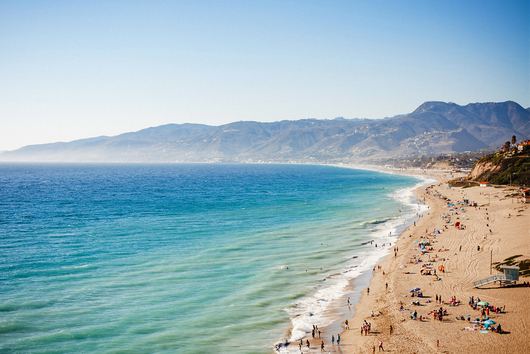 Geoffrey's Malibu
The Malibu coastline features an expanse of turquoise ocean waves, salty air, and a sophisticated beach vibe. Geoffrey's Malibu takes advantage of all the region has to offer, boasting panoramic ocean views, beautiful fire pits, and classic California cuisine with a twist. Kick off the epicurean journey with the spicy fried oysters served on the half shell and the lobster egg roll with red Thai curry sauce. Then freshen up with the salad of golden beets tossed with herbed goat cheese, microgreens, candied walnuts, and tangerine walnut vinaigrette before diving into the seafood paella. This impeccable dish holds everything you could hope for: Fresh clams, scallops, prawns, and mussels are paired with the savory flavors of chorizo and chicken, all of which are brought together with the intense elegance of saffron-infused rice.
Neptune's Net
This Malibu classic has been dishing out superior seafood plates since the '50s and is an undeniable stop on any California seafood road trip. Neptune's Net is a homey, unpretentious eatery full of history; opened by retired NASA astronaut Eastman Jacobs, the joint is a longtime favorite with an outdoor patio, making it a perfect spot for meeting locals and sighting celebrities. Opt for the crab cakes, world-famous New England clam chowder in a sourdough bread bowl, and the seafood ceviche with scallops, calamari, shrimp, and avocado for a taste of the coastal lifestyle.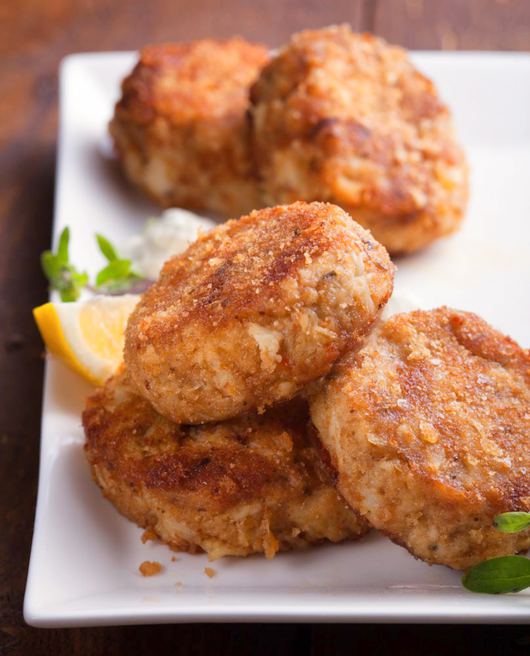 Duke's Malibu
Located at the beach's edge in Malibu, Duke's serves up a wide range of surfers' favorites. Tempt your taste buds with the decadent Maui onion soup adorned with melted Gruyere and Parmesan croutons or the creamy, white cheddar lobster mac and cheese. Feel your palate jump for joy with every bite of the world's only sustainable lobster tail drizzled in drawn butter and served alongside herbed rice and roasted asparagus. Don't forget to order a slice of the Hula pie before you leave; featuring a chocolate cookie crust, the creation is filled with macadamia nut ice cream, drizzled with chocolate fudge, and topped with whipped cream and macadamia nuts.
Santa Monica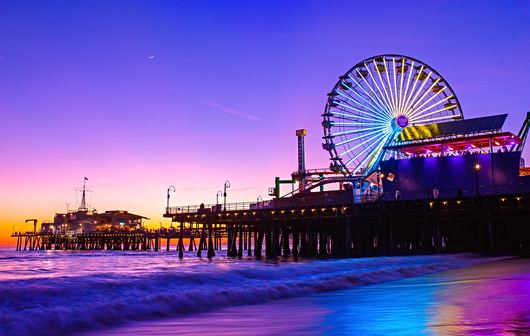 The Lobster
Fresh, local, seasonal ingredients and an affinity for spiny lobsters has kept Santa Monica landmark The Lobster afloat for nearly a century. Perched atop a bluff overlooking the Santa Monica Pier, this eatery lies at the junction of the iconic Route 66 and the Pacific Ocean. Begin the evening with the charred octopus accompanied by edamame hummus, pickled baby fennel, and black garlic aioli. Once you have stimulated your taste buds, order the lobster and corn chowder for savory spoonfuls of bacon, heirloom potatoes, lobster, and wild fennel. The grilled American lobster with fresh herbs, lemon, and garlic butter is up next; it's an ideal ending to the meal.
Los Angeles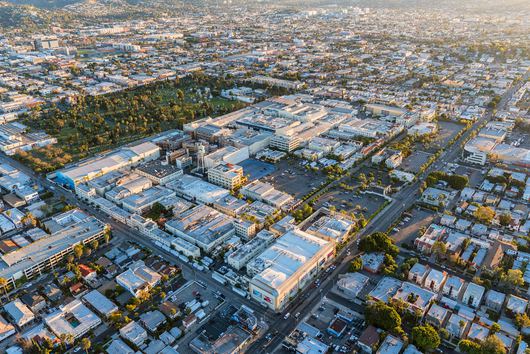 Providence
The award-winning Providence is a top seafood restaurant in the heart of Los Angeles. With sustainable practices at its forefront, Providence crafts exceptional plates starring pristine, wild-caught seafood. Taste the caliber with an order of oysters on the half shell, and doll them up with mignonette or cocktail sauce consommé. Continue with the seasonally driven tasting menu for an array of culinary surprises. The innovative dishes may include black cod prepared with artichoke and mint; king salmon with fava beans, asparagus and rhubarb; and a chocolate peanut butter mousse beside raspberry bell pepper sorbet.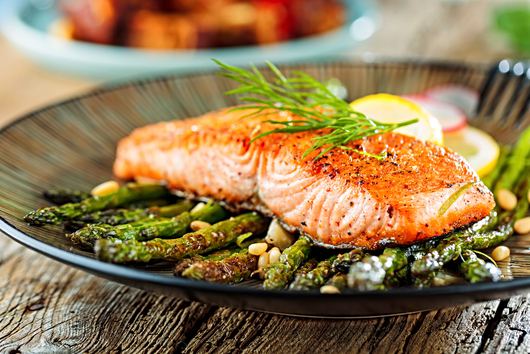 If curiosity gets the best of you, continue south toward San Diego to explore the best seafood restaurants for yourself, or head back up north to San Francisco, sampling all the shacks, food trucks, and fine-dining establishments that catch your fancy along the way.