By

California.com
March 18, 2021
As California mitigates health risks during the COVID-19 pandemic, some travel restrictions may remain in certain communities. Call the local and regional tourism offices to learn more about the restrictions in your intended destination. Thank you for reading, and stay safe.
While the Golden State is hailed for its expansive shoreline, California has no shortage of winter recreational activities. The snow-laden scenery of California's ski resorts evoke sweet childhood memories for many residents. Home to one of the best winter resorts in the nation, the Golden State boasts sunny winters and plenty of powdered slopes—perfect for California snowboarding adventures.
With plenty of destinations to choose from, get ready to set out on an unforgettable California snowboarding journey. You can finally stop searching for incredible places to snowboard in California and start planning your trip because these winter hotspots will surely make for fun getaways.
Where to go snowboarding in Northern California

Snowboarding in Mammoth
Home to California's best ski resorts, Mammoth Lakes is a mecca for snowboarding in California. Wintertime here is fun and particularly long. The panoramic views of grand mountain ranges make snowboarding in Mammoth Mountain a memorable experience.
This winter destination provides the perfect backdrop for your snow adventures. On your way to the top, you'll enjoy a bird's-eye view from the gondola lifts. When you're not riding down the snow-covered surface, skiing and snowmobile tours ought to be your go-to activities.

June Mountain
If you're looking for a family-friendly destination, Mammoth Mountain's sister resort is the best choice. June Mountain's less crowded slopes attract families looking to spend quality time with their kids. The resort offers a wide range of slopes for all skill levels—1,500 acres of varied terrain are at your fingertips. Popular with skiers from SoCal, the snowy resort consists of two mountains: Rainbow and June mountains.
June Mountain has 35 trails, the majority of which are ideal for beginners and intermediates. And the best part? Children under 12 get to ski and snowboard for free. With two terrain parks and a 22-foot superpipe, snowboarding in California has never been this good.

Dodge Ridge
Though smaller than other snowboarding destinations, Dodge Ridge has everything you need for a fun winter break. A closer alternative to Lake Tahoe, this ski resort is only three hours away from the San Francisco Bay Area.
Spending your weekend here makes for great family vacations, too. The slopes are uncrowded and perfect for first-timers.
With 862 skiable acres, 67 runs, 1,600 vertical feet, and eight chair lifts, Dodge Ridge has a lot to offer—including many trails for cross-country skiing and snowshoeing. Next time you want to go snowboarding in California, ditch the Tahoe crowds and explore this overlooked destination.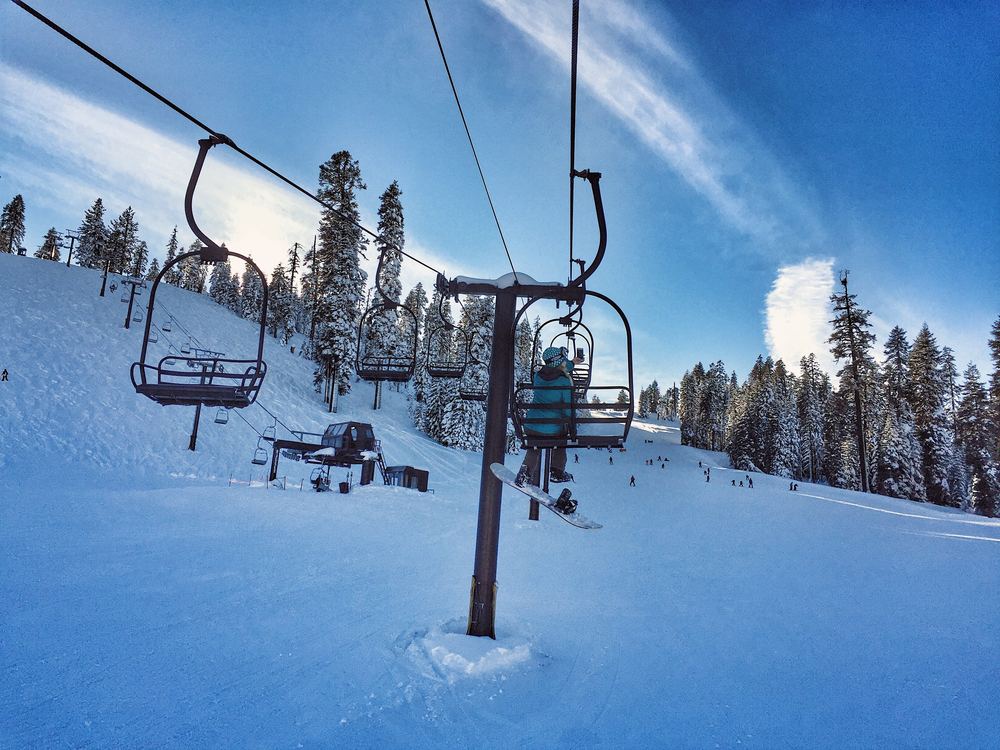 Badger Pass Ski Area
Badger Pass Ski Area should be on everyone's Northern California snowboarding bucket list. Only three national parks in the U.S. have recreation areas and Badger Pass is one of them. As one of the oldest ski resorts in California, Badger Pass is open from mid-December through mid-March. The resort's well-groomed terrains are suitable for both beginners and intermediate snowboarders.
Badger Pass provides 22 miles of groomed cross-country track and 90 miles of marked trails, too. The affordable ski and snowboarding destination boasts rewarding panoramas as you make your way down the slopes. Admire Yosemite's beauty while experiencing action-packed winter adventures.
Mount Shasta Snowboarding
Mt. Shasta Ski Park is Northern California's best-kept secret. Arguably the best off-trail riding area, this winter destination offers over 30 trails and 425 acres of skiable area. With three triple chairs, one rope tow, and a conveyor lift, the ski park is the ultimate spot for a fun-filled winter vacation. Mt. Shasta Ski Park allows night skiing on 14 trails accessed by two lifts.
Two separate terrain parks of varying difficulty allow visitors of all skill levels to enjoy skiing and snowboarding. With a wide range of winter activities, snowboarding at Mount Shasta is nothing but a load of fun.

China Peak Mountain Resort
Located on the south shore of Huntington Lake, China Peak Mountain Resort caters to skiers and snowboarders of different skill levels. Many locals claim that this is the most convenient place to snowboard in California—especially for beginners.
The winter vacation spot offers seven chairlifts and 1,679 vertical feet. China Peak Mountain Resort is home to the best freestyle terrain in the state. If you're able to handle the features at Ullman's Alley, head over to Tollhouse Park for a more challenging ride.
Great Places for Snowboarding in Southern California

Big Bear Snowboarding
Big Bear Mountain Resort is perhaps the most famous Southern California ski resort. Home to the most rideable terrain in the region, the winter resort provides access to over 400 skiable acres, 26 lifts, and more than 55 runs.
When snowboarding at Big Bear, you'll experience the best adventures a mountain resort can offer. Snow Summit and Bear Mountain are Big Bear Lake's snowboarding hotspots.
SoCal's only half-pipes are also found in Bear Mountain. Housing the largest learning area in the southern region, Bear Mountain has award-winning terrain parks and 748 permitted acres. Snow Summit, on the other hand, offers more than 240 acres of skiable terrain and 31 trails of various skill levels.

Wrightwood Snowboarding
Forget about snowboarding in San Diego, Mountain High Resort in Wrightwood is the place to be. Home to three separate mountains, the resort currently features 26 trails and a world-class terrain park. Elevate your winter experience here by night skiing or snowboarding.
For a proper Wrightwood snowboarding experience, head over to the West Resort—the most popular area in Mountain High. The East Resort provides longer runs and offers a more alpine snowsports experience, but if you're just starting out, the North Resort is the best option. With plenty of activities to engage in, turn your action-packed day into a winter weekend getaway.
Lake Arrowhead Snowboarding
When planning a California ski tour, make sure Lake Arrowhead is on your radar. Get a taste of a classic winter experience at Snow Valley Mountain Resort, nestled just 30 minutes from the lake. Snowboarding at Lake Arrowhead is a must-do activity during the colder months.
Nestled between Lake Arrowhead and Big Bear Lake, Snow Valley Mountain Resort is SoCal's oldest continually operating ski resort. From beginner slopes to steep descents, the resort features three terrain parks of varying difficulties.

Mount Baldy Snowboarding
Though snowboarding in Los Angeles isn't possible, Mount Baldy Resort is less than an hour away. Boasting 26 trails, four chair lifts, and access to over 4,000 acres of terrain, the ski resort offers one of the best snowboarding experiences in SoCal. This winter destination is ideal for beginners and advanced riders alike.
Alta Sierra Ski Resort
Just an hour away from Bakersfield, Alta Sierra Ski Resort is a SoCal hidden gem with expansive landscapes and family-friendly fun. While the trails are relatively short, they're fit for both beginners and intermediates. The ski resort features two lifts, seven runs, and a tubing park.