By

California.com
November 20, 2020
Picture this: You're cruising down the highway blasting your favorite road trip tunes on your way to the best camping destination in the Golden State. You arrive at the campground, settle in, and make the most of your day before it's time to roast marshmallows by the campfire. Except, there's something missing—a good old-fashioned camping playlist to set the perfect tone.
While the crackling fire warms the night, play your upbeat feel-good California songs to amplify your awe-inspiring camping experience. It doesn't matter whether you're camping at home or in the heart of a redwood forest; these camping music playlists will get everybody singing along.
The Best Camping Playlist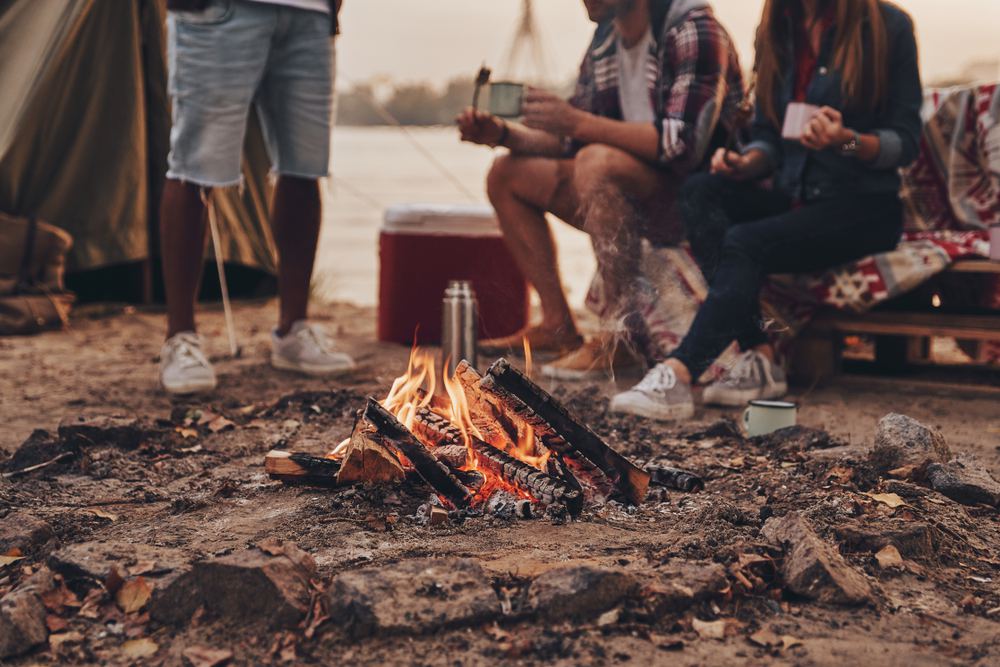 There's nothing better than listening to folksy sing-alongs, indie masterpieces, and acoustic tracks under a star-lit night sky. As you embark on outdoor adventures during the day, the evenings call for a campfire music playlist to create a tranquil atmosphere. The games you play, the bonds you build, and the memories you make are all done around the campfire. Naturally, you need the best camping playlist to underscore the invigorating experience. Make s'mores and tell stories to each other under the stars while the music adds to the rustic ambience.
1. "Redbone" by Childish Gambino
2. "Maybe California" by Tori Amos
3. "Under the Bridge" by Red Hot Chili Peppers
4. "Pretty Girl From San Diego" by The Avett Brothers
5. "I Left My Heart In San Francisco" by Tony Bennett
6. "Bixby Canyon Bridge" by Death Cab For Cutie
7. "Bless You California" by The Beau Brummels
8. "Mendocino" by Kate And Anna McGarrigle
9. "Have You Ever Seen The Rain" by Creedence Clearwater Revival
10. "Beverly Hills" by Weezer
11. "She's So California" by Gary Allan
12. "California Nights" by Lesley Gore
13. "Ode To L.A." by The Raveonettes
14. "Big Sur" by The Thrills
15. "It Never Rains In Southern California" by Albert Hammond
16. "Heads Carolina, Tails California" by Jo Dee Messina
17. "Queen of California" by John Mayer
18. "California Soul" by Marlena Shaw
19. "The Zephyr Song" by Red Hot Chili Peppers
20. "Everything I Wanted" by Billie Eilish
21. "Los Angeles, I'm Yours" by The Decemberists
22. "Going To California" by Led Zeppelin
23. "California Girls" by The Beach Boys
24. "We Belong Together" by Los Lobos
25. "The Longest Wave" by Red Hot Chili Peppers
Coachella Camping Playlist

Not all camping experiences take place in the great outdoors—camping at music festivals redefines the activity, adding a whole new dimension to it. The iconic star-studded Coachella Valley Music and Arts Festival camping weekend is non-stop fun; both tent and car camping options are available as well as glamping opportunities in furnished yurts. You don't have to wait all day for the festival highlights. While you're setting up your own desert oasis, blast some of the best hits from the performing acts and prepare for an unforgettable weekend. We made it easier for you to get in the partying mood with this Coachella camping playlist.
1. "The Bomb" by Pigeon John
2. "Pyramids" by Frank Ocean
3. "Everything Is Embarrassing" by Sky Ferreira
4. "Unforgettable" by French Montana featuring Swae Lee
5. "Feral Love" by Chelsea Wolfe
6. "Nuthin' But A 'G' Thang" by Dr. Dre featuring Snoop Dogg
7. "Want You Back" by HAIM
8. "Sit Next To Me" by Foster The People
9. "Testify" by Rage Against The Machine
10. "Violet" by Hole
11. "1, 2, 3, 4 (Sumpin' New)" by Coolio
12. "Freedom" by Beyoncé featuring Kendrick Lamar
13. "Divers" by Joanna Newsom
14. "Crime Pays" by Freddie Gibbs and Madlib
15. "Stupid In Love" by Waves
16. "Payphone" by Maroon 5 featuring Wiz Khalifa
17. "Like That" by Doja Cat featuring Gucci Mane
18. "Midnight In A Perfect World" by DJ Shadow
19. "La Respuesta" by Becky G and Maluma
20. "Supersonic" by J.J. Fad
21. "Freedom Form Flowing" by Gift Of Gab featuring R.A. The Rugged Man and A-F-R-O
22. "3005" by Childish Gambino
23. "Much" by Busdriver
24. "Insane In The Membrane" by Cypress Hill
25. "Frank Lucas" by Freddie Gibbs and The Alchemist featuring Benny The Butcher
Stagecoach-Inspired Camping Playlist

Every country music fan has dreamed of going to Stagecoach Festival and camping the weekend there. As the best-known country music festival in the whole world, it curates a powerful lineup of performers that are both mainstream and relatively unknown. The festival has been headlined by many legendary artists such as The Eagles, Willie Nelson, and the one and only Taylor Swift. Besides blowing people's minds with awesome music, Stagecoach also showcases a variety of food and beverages to enjoy over the course of the weekend. Whether you've already attended the festival before or simply desire to create the atmosphere when you're camping, here's a Stagecoach playlist that'll bring back fond memories.
1. "Too Little Too Much" by Nikki Nelson
2. "Got It Bad" by Rachele Lynae
3. "Not That Far Away" by Jennette McCurdy
4. "Take The Keys" by Leah Turner
5. "Me After You" by Maia Sharp
6. "Great Big Woman" by Candye Kane
7. "Every Man I Love Is Either Married, Gay, Or Dead" by Kacey Jones
8. "In My Life" by Susan Anton
9. "Right Where I Need To Be" by Gary Allan
10. "Fortunate Son" by Creedence Clearwater Revival
11. "Between The Lines" by Sara Bareilles
12. "Again And Again" by The Bird And The Bee
13. "What A Fool Believes" by Doobie Brothers
14. "The Devil Keeps Grinning" by Gary Jules
15. "Today I Started Loving You Again" by Merle Haggard
16. "Jet Airliner" by The Steve Miller Band
17. "Bloody Nose" by Earlimart
18. "Dixie Chicken" by Little Feat
19. "Stuck On A Boat" by Port O'Brien
20. "I Need A Dollar" by Aloe Blacc
21. "Pushin' Too Hard" by The Seeds
22. "For What It's Worth" by Buffalo Springfield
23. "Yesterday Once More" by The Carpenters
24. "Turn! Turn! Turn!" by The Byrds
25. "Teach Your Children" by Crosby, Stills, Nash & Young

BottleRock-Inspired Camping Playlist

BottleRock Napa Valley is yet another music festival that'll inspire a bomb camping playlist. Many famed artists have performed some of their best concerts at this festival—Imagine Dragons, No Doubt, Stevie Wonder, and even Gipsy Kings have taken the stage. It's no wonder why you want to create a BottleRock playlist; all of the coolest bands have made multiple appearances here. Play your favorite festival jams while you're in the great outdoors.
1. "Bedroom Eyes" by Dum Dum Girls
2. "Heart Of Gold" By Neil Young
3. "Jane Says" by Jane's Addiction
4. "Somebody's Baby" by Jackson Browne
5. "Wimp" by The Zeros
6. "Meet Virginia" by Train
7. "The Joker" by The Steve Miller Band
8. "Freak On A Leash" by Korn
9. "I Hate Myself For Loving You" by Joan Jett And The Blackhearts
10. "Manic Monday" by The Bangles
11. "Falling Awake" by Gary Jules
12. "Turnstile Blues" by Autolux
13. "Sour Smoke" by Comets On Fire
14. "Joey by Concrete Blonde
15. "Drop In Drop Out" by Charlie And The Moonhearts
16. "Just A Girl" by No Doubt
17. "Kangaroo Court" by Capital Cities
18. "Our Lips Are Sealed" by The Go-Go's
19. "Go Robot" by Red Hot Chili Peppers
20. "Taste" by Ty Segall
21. "Teenage Rebel" by Annihilation Time
22. "Ugly" by The Exies
23. "Nights In White Satin" by The Dickies
24. "Reach Out" by George Duke
25. "Wake Up Call" by Maroon 5