California is home to a wide variety of landscapes—encapsulating everything from rugged coastal bluffs, to old-growth redwood forests, to arid desert plains—making for diverse, unique camping experiences you can't get anywhere else. Whether you're looking for a remote hot spring escape, an upscale retreat in the woods, or a getaway overlooking the Pacific Ocean, the state has you covered. So set up those reservations, invite your friends and family, and prepare to spend the summer (and beyond) in the California wilderness.
White Wolf Campground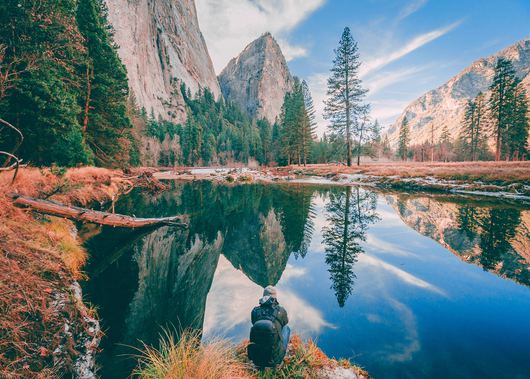 Stay the weekend at White Wolf Campground to fully enjoy the towering trees, granite monoliths, babbling rivers, and stunning waterfalls that make Yosemite National Park an iconic California destination. Tucked away at the northern end of the park, about 8,000 feet above sea level, White Wolf provides a more traditional approach to camping (though there are bathrooms with flushing toilets and clean drinking water). The campground is also bordered by seasonal creeks and offers trail access to both Harden and Lukens Lakes.
The 74 campsites are available on a first-come, first-served basis, so ensure you plan accordingly and arrive early to stake out the largest and most private locations, including sites 22, 23, and 28. Though you can't reserve campsites in advance, you can make reservations at White Wolf Lodge for dinner (or for a night's stay in the quaint cabins to appreciate some more modern comforts). It's best to come between July and September, when the weather is temperate and road closures are less likely.
Mendocino Grove
Ease your way into the camping season with a weekend away in Mendocino Grove. This high-end glamping site provides all of the amenities of luxurious hotels and competing glampsites—without the sky-high prices. Elegant safari tents reside atop wooden platforms; comfortable beds are adorned with cotton sheets and cozy down comforters; lanterns light up the abode and set the tone; and sling-back deck chairs create the ideal environment for stargazing as the fire gets started.
About a three-hour drive north of bustling San Francisco, Mendocino Grove serves as the perfect respite from daily life. With access to hot showers and organic bath products, you will be far from roughing it, but the intimate destination and canopy of trees encourage relaxation in a way that only nature can provide.
Kirk Creek Campground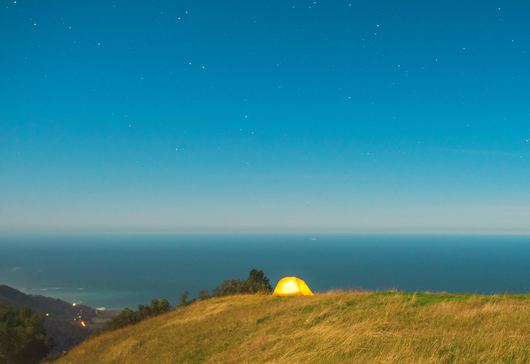 Perched 100 feet above the Pacific, Kirk Creek Campground was made for rejuvenation, featuring 40 campsites that overlook the expansive Big Sur coastline. Head down to the rocky beach to experience the local surf culture, hike into Los Padres National Forest to connect with the region's history, and catch the sunsets to understand why California is the best state to live and play in.
Kirk Creek Campground is open year-round, so don't worry if you can't secure a campsite in the summer, especially since winter is when the coast truly comes alive; watch the migratory whales from just outside your tent, or drive five miles to Sand Dollar Beach (Big Sur's largest sandy beach) to see the action up close.
Crowley Lake Campground
Wide-open spaces, star-filled skies, looming mountains, and sparkling lakes greet visitors at Crowley Lake Campground in Mammoth Lakes. While the isolated region is exquisite in its own right, Wild Willy's Hot Springs adds an extra special touch to a weekend away. Surrounded by the Sierra Nevada and patches of sagebrush, the two geothermal hot springs will wash away your troubles and transport you to a distant place, all without leaving the state.
Pfeiffer Big Sur campground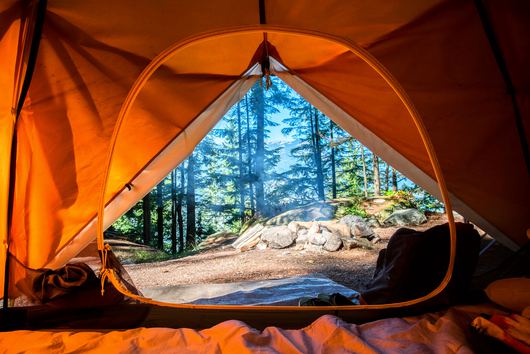 Pfeiffer Big Sur State Park holds the largest public campground in the area, with 189 campsites bordering the Big Sur River. Tucked away from the beach, Pfeiffer Big Sur Campground offers the shelter of the forested valley floor as well as easy access to various hiking trails and swimming spots. Due to its ideal location right off Highway 1, this campsite is an extremely popular destination, so it's highly recommended to reserve your place at least six months in advance.
Horse Flats Campground
Settled deep inside the Angeles National Forest, Horse Flats is a remote campground perfect for escaping the congestion of Los Angeles. Complete with 26 campsites, four horse corrals, and hitching posts, this campground is an equestrian's dream. However, Horse Flats does not have any water facilities, so make sure to bring enough for cooking, drinking, washing up, and putting out campfires. Also bear in mind that the high elevation, Jeffrey pine trees, and shady conditions make for cool nights, so it's not a bad idea to bring an extra blanket or two, either.
Francis Beach Campground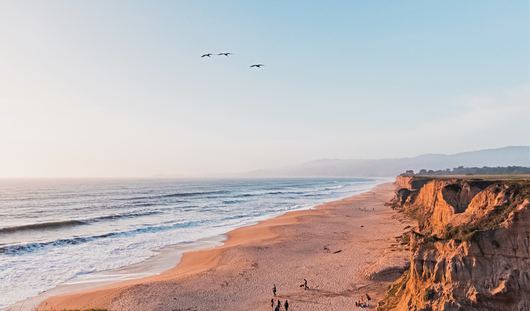 Nestled along the exquisite coastline of Half Moon Bay State Beach, Francis Beach Campground is home to 52 campsites, a multitude of trailheads, and plenty of activities to keep you busy. Whether you are in the mood for a scenic picnic, a day out on the water, a relaxing hike, or horseback riding, you will find endless possibilities in Half Moon Bay.
Francis Beach provides all of the basic camping necessities, with the additional benefits of hot showers and incredible ocean views. Since this destination is highly coveted, make sure to reserve a campsite well in advance—up to six months ahead of time—particularly if you want to stay over the weekend.
Brown's Town Campground
Situated near the Nevada border, just north of Death Valley National Park, Bishop is home to Brown's Town Campground, which feels more like a resort than a rural destination. With 150 grassy campsites available, Brown's Town is the ideal place to camp with the whole family; the hot showers, horseshoe pits, access to electricity, coin-operated laundry, and TV room help ensure the entire group remains satisfied.
Black Rock Campground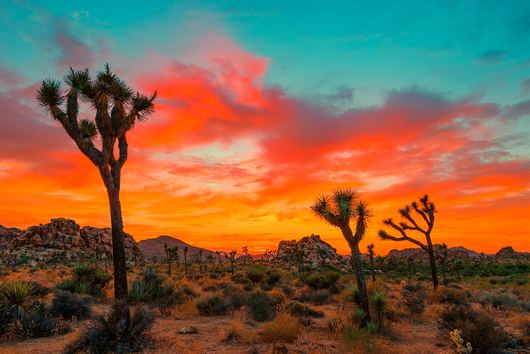 Though desert camping is not typically what you might imagine when you think of camping in California, there is something extremely powerful about staying in the stark, arid landscape of Joshua Tree National Park. Between the sandy ground, dramatic trees, and massive rocks protruding from the earth with a commanding prowess, this destination is special to behold.
Set up camp at Black Rock Campground to take in the beauty of the iconic Joshua trees and famed rocks shaped by the omnipresent desert winds, flash floods, and heavy rains. The impressive sunrises and sunsets are enough to draw photographers and travelers alike year-round, but it is recommended to plan a multi-day trip to Joshua Tree either before June or after September due to the staggering heat. Regardless of when you visit, make sure you keep an eye out for the elusive bobcats and mountain lions, along with the lizards, rattlesnakes, scorpions, and desert tarantulas.
Kelso Dunes Mine
Kelso Dunes Mine is home to the largest natural sand deposits in the entire Mojave National Preserve. These dunes are impressive to the eye, but they also draw visitors because they are known to produce a "singing" sound. You can hear it by running—especially when the conditions are extremely dry—but take care to not disturb the indigenous brush.
When visiting these remarkable dunes, you will need more than a single day to explore the area. Organize a multi-day trip between October and June (when the climate is bearably warm), pack tons of water, and gas up the four-wheel-drive car, because this camping trip is going to be unlike any other. To get there, drive four miles west from Kelbaker Road along the unpaved Kelso Dunes Road until you come across the marked trailhead. Continue driving for 0.25 miles, and you will see the Kelso Dunes campsite at the southern side of the road.
Kennedy Meadows Campground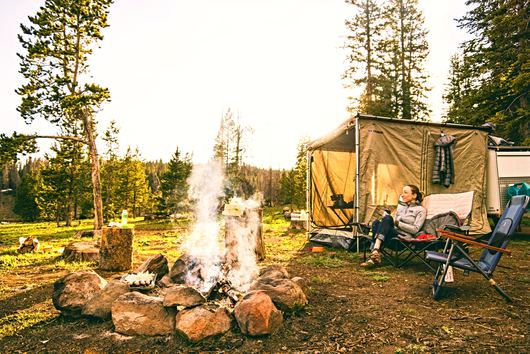 Kennedy Meadows Campground resides northeast of Bakersfield in the Inyo National Forest, near the southern fork of the Kern River. Given its central location along the Pacific Crest Trail, Kennedy Meadows is the perfect place to meet backpackers, learn more about the state, and get inspired to spend more time exploring the wilderness. The 37 campsites are open year-round, some of which are shaded by juniper and pinion, making the area feel even more remote. Due to its distant location, there is no cell service or potable water on the premises. There is, however, a general store nearby where you can shower, do laundry, and buy basic items such as ice.
With so many campgrounds available throughout the year, there's no shortage of possibilities. So pull out your calendar, pick up some maps, and pack your gear for the next adventure. Happy camping!