When you find yourself lounging atop a pink inflatable flamingo as the warm rays of sunlight dance across the clear pool water and beads of condensation fall away from your glass of freshly squeezed lemonade, you know you have reached the epitome of California summer days. With the turquoise waters reflecting their every movement on the white deck and the birds of paradise swaying in the breeze, you can be transported to a faraway place without ever leaving your backyard. Since the yard is an extension of your home, everything in it should reflect your personality—including the pool.
Whether you are building a brand-new pool in your yard or seeking simple ways to spruce up an existing swimming hole, your style can be incorporated into an exquisitely designed modern structure. And this year's trends have something for everyone, whether you find inspiration in Moroccan tiles, Spanish rooftops, celebrity-style infinity pools, or the stark contrast of colorful sushi on a dark plate.
Dark Interiors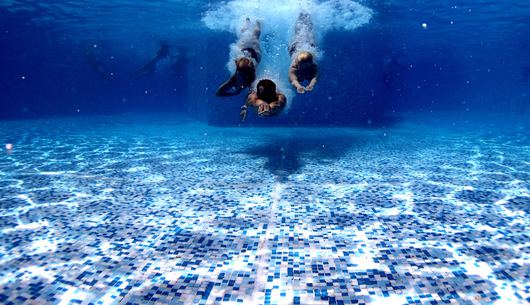 Step away from the traditional white-bottomed pool that keeps the water cool, and line the inside of the pool with deeper colors. The darker tones allow the unique hue of the water to come through and give the pool a slightly warmer temperature. By using plaster, pebbles, or tiles, the water line matches the edge of the darker interiors, creating visual interest.
Glass Tiles
Placing glass tiles along the inside of the pool or adding them as an accent above the water's surface can greatly impact the way light reflects off the pool. Since the reflective surface of the tiles is similar to that of the water, light shines from every angle, creating a sort of glow. With an endless range of color options, glass tiles can be the perfect way to integrate your style into your backyard.
Geometric Shapes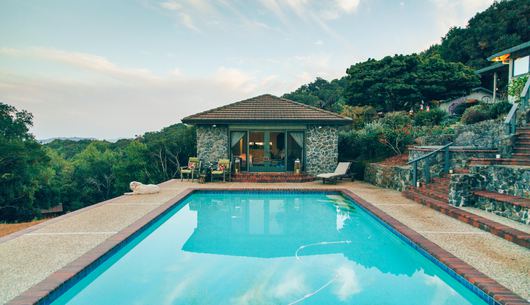 Though there is nothing wrong with curved edges, this year has seen a return to simple geometric-shaped swimming pools that can fit just as easily in a small yard as they can on a large plot of land. The unique shapes of these pools have a distinctly modern feel and can be dressed up in any number of ways, from adding pops of color to incorporating one-of-a-kind water features. An angular pool also reflects a worldly viewpoint, mirroring the designs of pools found across the globe—from Uruguay, to Marrakech, to Spain—and embodying the simplicity of modern architecture and the culture of ancient civilizations.
Moving Water
Water features have always been popular, particularly with hot tubs, but they are now finding themselves in all kinds of pool designs. From bubblers, to jets, to raised perimeter overflow, to infinity-edge pools, these features keep the water swirling, adding an extra layer of stimulation and instantly drawing the eye to the pool.
You can even install a small-scale version of Las Vegas' Fountains of Bellagio or Disneyland's World of Color with jutting water jets synchronized to lights and music. While this may seem like quite the production, it creates added value from an otherwise stagnant water feature. These water movements create entertainment value and are a great way to surprise dinner guests or pool party patrons.
Turn Up the Heat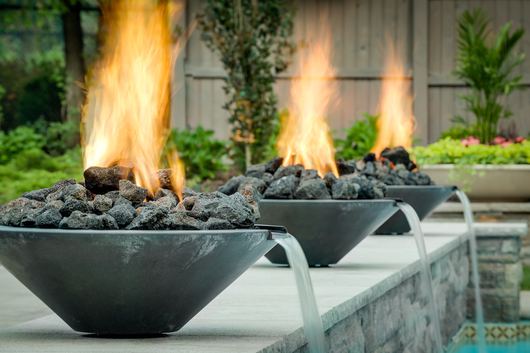 Fire has made its way into pool designs and can be an easy way to modernize an existing structure. Featuring electric ignitions, these functional designs require little maintenance. From fireplaces complemented by flowing water features, to bowls of fire, to fire pits along the edge of the water, there are plenty of ways to incorporate this trendy element.
Make a Splash
Splash pad play surfaces have made their way into homes, offering spouts of water and fun surprises. Unlike traditional pools, these water features are not contained, making them much safer for kids to play in and helping you stay cool when the summer sun beats down on the state. While these features do not replace traditional pools, they do make a great complement to existing swimming pools and are ideal for families with children.
Going Green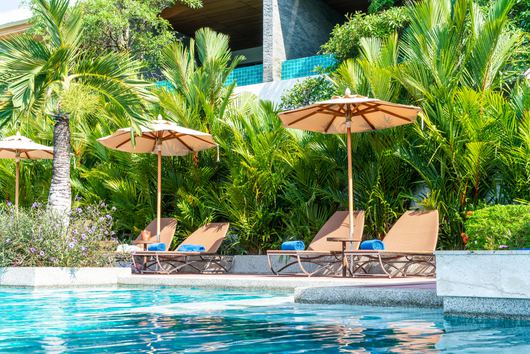 California is fortunate to have the power to create natural energy in many forms throughout the year. With solar and wind power coming in at the top, homeowners and designers are increasingly discovering ways to incorporate more sustainable practices into traditional home designs. Hydraulic designs, heat pumps, and salt chlorine generators have swept across the pool design landscape and are likely to become more prevalent over the years.