By

California.com
August 20, 2020
As California mitigates health risks during the COVID-19 pandemic, some travel restrictions may remain in certain communities. Call the local and regional tourism offices to learn more about the restrictions in your intended destination. Thank you for reading, and stay safe.
The Golden State is home to 2,153 native species, subspecies, and varieties, and there's no better place to view the rich collection of flora than at California's best gardens. Verdant and colorful oases, the botanical gardens of California allow tourists and locals alike to appreciate the natural diversity of the state.
The extraordinary landscapes of the state's botanical gardens ooze with charm and serenity, bringing a whole new meaning to aesthetic beauty and leaving you in awe. Improve your mental and physical health by soaking up the wisdom of these plants. While there are countless magnificent gardens across California, here are the most beautiful ones you shouldn't miss.
The Best California Botanical Gardens
Los Angeles County Arboretum and Botanic Garden

Address: 301 North Baldwin Avenue, Arcadia
Hours: 9 a.m.–7 p.m.

Parking: There are designated parking locations near the front entrance.

Pricing: $5–$15
Founded in 1947, the 127-acre Los Angeles County Arboretum and Botanic Garden consists of biogeographical plant collections from Africa, Australia, Madagascar, and the Canary Islands. As you stroll through the arboretum, you'll find yourself fixated on the variety of gardens that'll inspire you to grow and design your very own outdoor area.
The wildlife here is just as breathtaking. Peacocks roam the gardens of the Los Angeles County Arboretum as if they own it. Turtles on eternal vacation sunbathe on the flat rocks. The arboretum also offers garden yoga and forest bathing so people can discover the outdoors and connect with California's nature. A leisurely walk among the vivid colors of the botanical gardens will make you feel refreshed and recharged.
Ganna Walska Lotusland

Address: Cold Spring Road, Montecito
Hours: 10 a.m.–3 p.m.

Parking: Directions and parking instructions are sent to visitors when tours are booked.

Pricing: $25–$50
Originally intended as a retreat for Tibetan monks, Madame Ganna Walska's 37-acre estate was transformed into Ganna Walska Lotusland. The well-known opera singer and socialite designed and expanded the gardens throughout the years, successfully creating a paradise in the hills of "The American Riviera." Now home to more than 3,000 local and non-native plants, Lotusland boasts a wide variety of species, including palms, bromeliads, and cacti; the garden's vast collection of succulents also attracts enthusiasts from around the world.
A stroll through Lotusland's innovative gardens will leave you astonished. Admire the flora of the botanical gardens—such as rare cycads, water lilies, aloes, and enchanting lotuses—while the surrounding sunbirds, hummingbirds, and butterflies enhance the plants' unparalleled beauty. The extraordinary array of species is a must-see, so book a tour in advance to experience the exceptional beauty of Madame Ganna Walska's legacy.
Huntington Library, Art Museum, and Botanical Gardens

Address: 1151 Oxford Road, San Marino
Hours: 10 a.m.–5 p.m.

Parking: Free parking and bike racks are available.
Pricing: $13–$36
Featuring 16 astounding themed gardens, the Huntington Library, Art Museum, and Botanical Gardens cannot be missed when in California. The botanical living collections of the gardens are the basis of Huntington's educational programming, which includes botanical lectures, gardening workshops and demonstrations, and plant sales similar to those found at community gardens. This garden is also a sanctuary to nearby wildlife thanks to the orchids, camellias, cycads, and bonsai found here.
While there are several themed gardens, the Desert Garden is a particularly impressive sight to see. Packed with cacti and succulents, it includes more than 5,000 species of desert plants within 60 landscaped beds. The delightful Shakespeare Garden transports you back in time to the English Renaissance era, as some of the plants were cultivated in England during the playwright's time.
Other standouts include the four-acre lily ponds, which are surrounded by papyrus, lotuses, and water lilies and are inhabited by turtles, bullfrogs, Japanese koi, and an occasional mallard family. When visiting, see if you can attend a lecture, children's workshop, family-friendly event, or performance.
Mendocino Coast Botanical Gardens

Address: 18220 North Highway 1, Fort Bragg
Hours: 10 a.m.–4 p.m.

Parking: Free parking is available.
Pricing: $8–$15
Mendocino Coast Botanical Gardens is Fort Bragg's most scenic landscape. The botanical gardens have quite a collection of rhododendrons, fuchsias, conifers, camellias, and magnolias (one of the first flowering plants in the world). Avid birdwatchers in California regularly visit the Mendocino Botanical Gardens, too. Red-throated loons, double-crested cormorants, hawks, sandpipers, plovers, and swallows are among the 180 bird species spotted here.
When you feel like taking a break from all the walking, stop for a cup of coffee at the on-site Rhody's Garden Café, which overlooks the Perennial Garden. The botanical gardens' blissful environment exhilarates visitors; it's as if they're wandering in a utopia. Here, you can also attend classes on flora and fauna, take part in volunteer opportunities, shop book and plant sales, and attend festivals.
university of California Botanical Garden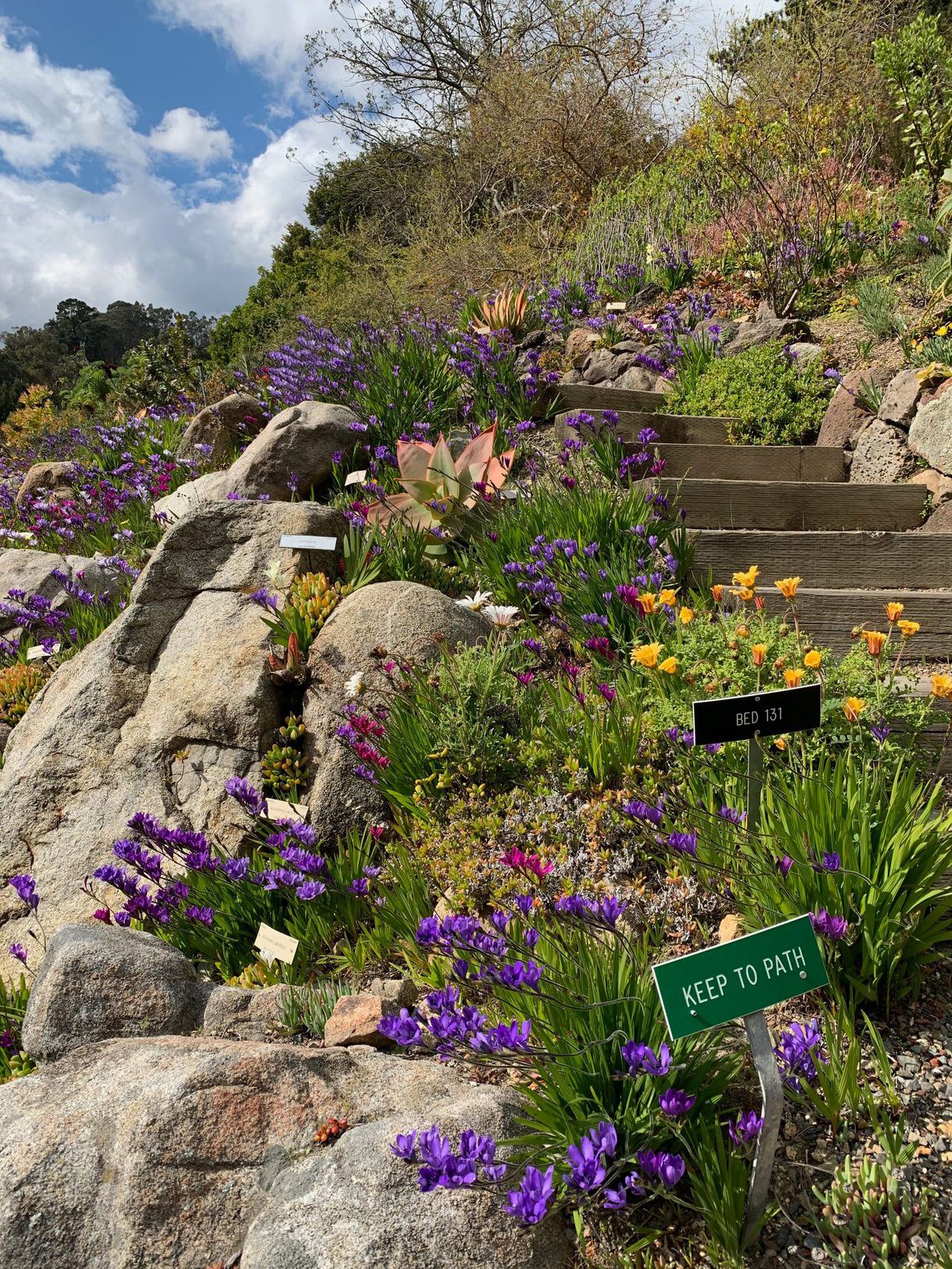 Address: 200 Centennial Drive, Berkeley
Hours: 12–5 p.m.

Parking: Paid parking is available.
Pricing: $7–$15
The University of California Botanical Garden is a 34-acre landscape encompassing over 10,000 plant species from every continent. Having one of the largest and most diverse collections in California, the botanical garden has geographic, ethnobotanical, and taxonomic exhibits. The Chinese Medicinal Herb Garden—which consists of over 100 herbs—is alone worth the visit; the horticultural and landscape plants here are commonly used in the practice of traditional Chinese medicine.
The English-style Garden of Old Roses is another paradise, overflowing with roses, hollyhocks, foxgloves, petunias, and penstemons. Besides Bay Area locals and tourists, regular visitors to the UC Botanical Garden include newts, birds, lizards, foxes, and coyotes. Book a tour, learn about natural fibers and dyes, attend the spring plant sale, and master herbal tea-blending in this beautiful Berkeley botanical garden.
Descanso Gardens

Address: 1418 Descanso Drive, La Cañada Flintridge
Hours: 9 a.m.–8 p.m.

Parking: Free parking is available.
Pricing: $5–$15
Descanso Gardens is a 150-acre oasis that features native oak woodlands, a rose garden, a Japanese garden, and one of the largest concentrations of camellias in the world. (Deers, mountain lions, bears, snakes, and squirrels are found in Descanso, too.)
Immerse yourself in the beauty of California's nature by strolling past lilacs, maple, and cherry trees. The tulips of Descanso Gardens resemble a floral carpet—multicolored and vibrant. The Ancient Forest is as magical as it sounds; observe earth's earliest types of flora here.
When visiting, don't forget to drop by the museum, modern art gallery, cafe, and gift shop. Descanso Gardens also frequently holds events such as morning yoga, weekend walks, storytime for kids, gardening tutorials, and annual festivals.
South Coast Botanic Garden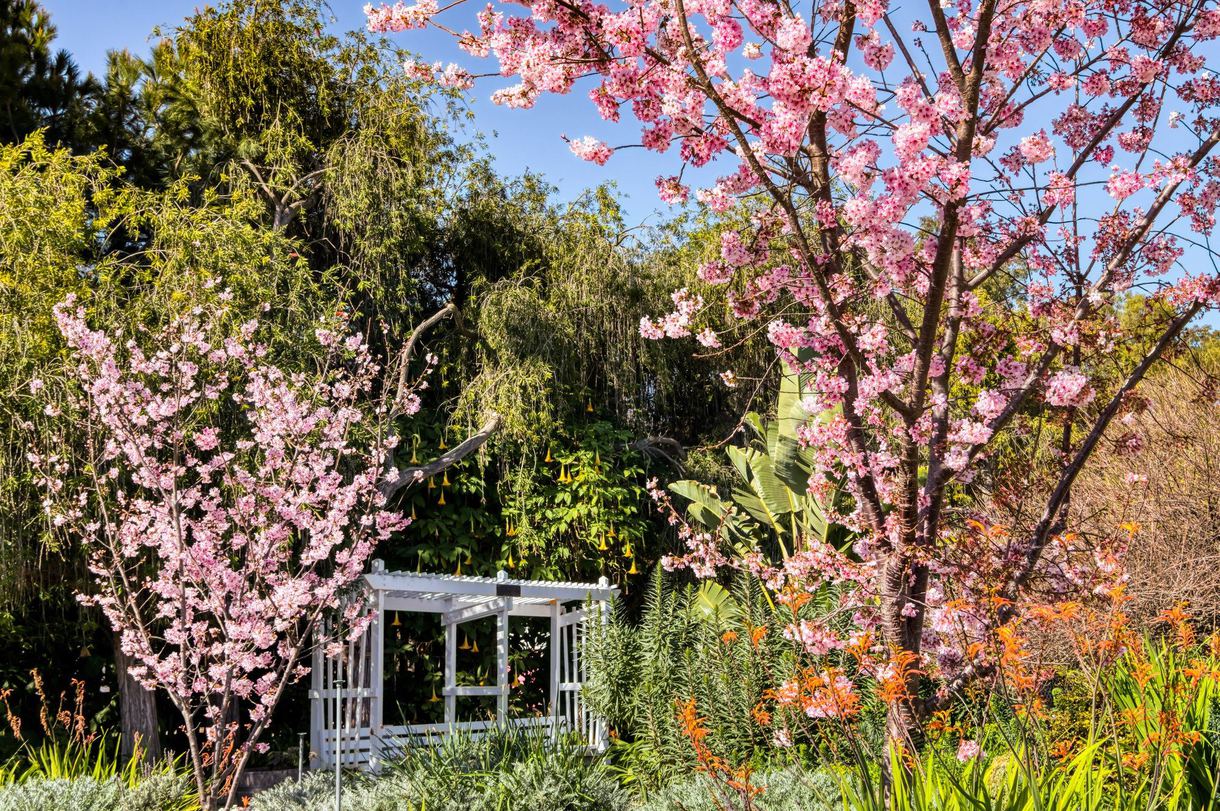 Address: 26300 Crenshaw Boulevard, Palos Verdes Peninsula
Hours: 8 a.m.–8 p.m.

Parking: Free parking is available.
Pricing: $5–$15
The 87-acre South Coast Botanic Garden is home to year-round blooming trees and shrubs. The garden is filled with peace, solitude, and outstanding landscapes. Activities at South Coast Botanic Garden are endless: day camps, family field trips, mountain biking, museum tours, and concerts may be enjoyed here.
One of the grounds' highlights is the Moreton Bay fig trees, with their distinguishable hulking buttress roots. The Garden of Senses is also among visitors' favorites—people are encouraged to see, smell, and touch the plants. Walk the bridge and explore the beguiling dollhouse at the Children's Garden (an exciting place for all ages). Located at the center of the garden, the artificial lake attracts waterfowls and over 200 species of birds.
San Diego Botanic Garden

Address: 300 Quail Gardens Drive, Encinitas
Hours: 10 a.m.–5 p.m.

Parking: Free parking is available.
Pricing: $10–$18
Formerly known as Quail Botanical Gardens, the San Diego Botanic Garden is a 37-acre landscape featuring one of the largest bamboo collections in the United States. If one California desert garden isn't enough to satisfy your craving, there are three to see here.
Visitors are also often eager to check out the garden's tropical rainforest to view its spectacular waterfall—this is one of the most sought-out areas. Over 5,000 varieties of tropical, subtropical, and California native plants engulf the garden. Birdwatchers frequently catch a glimpse of rock pigeons, black phoebes, bushtits, and house finches.
San Diego Botanic Garden holds a number of events throughout the year, too, including the Botanic Wonderland, Holiday Nights in the Garden, and a fall plant sale. Children can even go on a scavenger hunt in the garden.
Virginia Robinson Gardens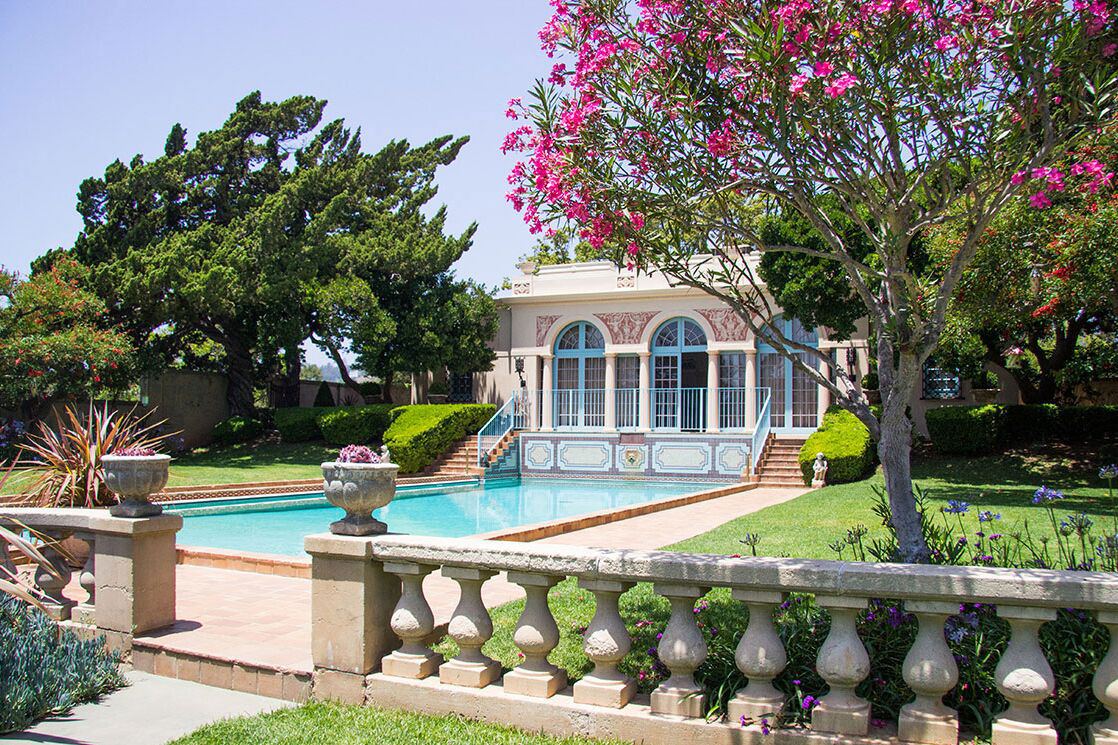 Address: 1008 Elden Way, Beverly Hills
Hours: 9 a.m.–5 p.m.

Parking: Park for free with advanced reservations; no street parking is permitted.
Pricing: $5–$15
An eloquent combination of picturesque landscape and architectural masterpiece, the Virginia Robinson Gardens takes you back in time. Known as one of the first homes in Beverly Hills, the estate has five unique botanical gardens: Italian Renaissance Terrace Garden, Formal Mall Garden, Rose Garden, Kitchen Garden, and Tropical Palm Garden.
When visiting the gardens, you'll learn about the mansion's significance, how the era's ultra-elite lived, and the grand history of Beverly Hills before it became the home of Hollywood celebrities. Explore the luxurious lifestyle of the 20th century, and admire the multi-level garden decorated with ornamental fountains. The best time to visit is in spring, right when the Rose Garden is in full bloom.