By

Mackenzie Hutson
August 10, 2019
Summer is truly the best time of the year, with days spent lounging on sandy shores, warm evening breezes, good vibes, plenty of sunshine, and an unspoken buzz of excitement. Though the tantalizing California sunshine may convince you that the season never ends, the crisp fall air, cozy blankets, pumpkin spice lattes, and the scent of cinnamon are closer than they appear. But before we give in to the sweater weather, it's time to toast to the tanlines, salty air, and sandals that have woven themselves into every summertime memory. While it's hard to bid adieu to the season, go out with a bang by throwing one final hurrah.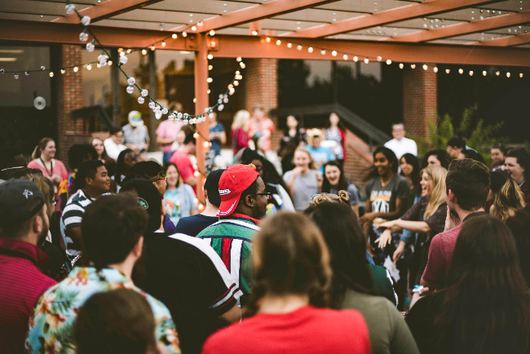 Decor
Whether you're planning a backyard barbecue, pool party, relaxed picnic, or beach bonfire bash, the guests' first impressions are heavily influenced by the decor, which sets the tone for the entire event. Picking a theme can greatly help when choosing decorations and the layout for the party. Regardless of which direction you decide to go in, creating various areas with specific purposes will help the party to flow. With this in mind, there are a few elements that simply scream summertime in California.
Picnics
Lay out a blanket, add a couple of throw pillows, and grab a picnic basket—which can hold extra utensils and napkins for guests—to transform the space into an intimate dining area. Sticking to a cohesive color palette will help create continuity, all while designating a specific purpose for the space.
Twinkle Lights
Whether you wrap them around trees or affix them to overhangs, string lights will illuminate the entire area and add a touch of whimsy. Lanterns can also easily dress up the party and convey a theme without requiring much work. Place a battery-operated candle inside both paper and glass lanterns before hanging them throughout the space to create a fun, inviting atmosphere.
Tablescapes
Every party needs a focal point, and tablescapes provide the perfect centerpiece. Mix together flower arrangements, tiered food displays, stacks of dishes, jars of utensils, and pitchers of beverages on top of a patterned tablecloth for the ideal combination of beauty and functionality. This is a great way to keep everything centrally located while also conveying your theme. Going for a backyard barbecue theme? Opt for a red gingham tablecloth, sunflowers, and rinsed-out tin cans for utensils. Want a beachy theme? Use a beach blanket as a tablecloth, substitute pampas grass for flowers, incorporate driftwood accents, and turn jars of sea glass into utensil holders.
Fire Pits
There is something so comforting about sitting around a fire with loved ones, sharing stories and reminiscing about the good times. Once the temperatures begin to cool, a fire pit is a great way to warm up a party and bring people together as the night winds down.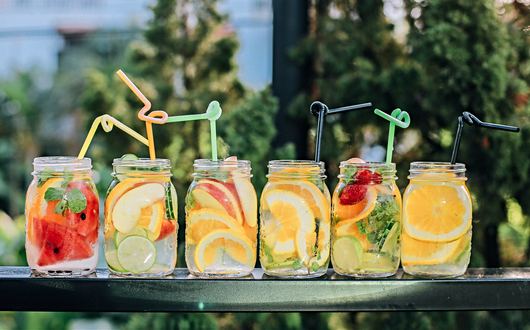 drinks
Creating the perfect summer drink is about staying hydrated and adding a splash of color. Dress up basic beverages such as water, lemonade, and tea by using seasonal fruits and herbs to keep guests of all ages happy.
Rose Water
Combine sliced strawberries, a dash of rose water, rounds of lemon, and still or sparkling water to create a flavorful punch—without the sugar.
Fruity Freeze
Before the party, cut fruits into cubes (or use a melon baller) to create spheres, then freeze them on a tray. Place in sparkling water or tea to add flavor and cool down drinks without diluting them.
Alternatively, blend fresh fruit or lavendar with lemonade, pour into ice or popsicle molds, add whole raspberries or strawberry slices, and freeze before the event. For some extra fun, throw in a dash of pomegranate syrup, which will add color and complexity to the drink as it melts over time.
Moscow Mule Mocktail
Combine freshly squeezed lime juice, sliced plums, and fresh thyme in a copper mug. Stir in organic Seabold Ginger Beer, serve over ice, and garnish with a sprig of thyme and a slice of plum on the rim.
Blackberry Mojito Mocktail
Place freshly squeezed lime juice, mint leaves from the garden, and ripe blackberries in a glass, and muddle for one minute. Add a splash of Sonoma Syrup Co.'s Meyer lemon–infused simple syrup, and fill glass with sparkling water. Garnish with frozen blackberries and fresh mint leaves, and serve with a paper straw.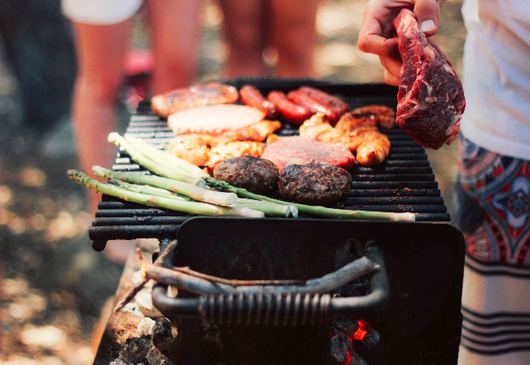 Food
Perhaps the most important part of pulling together an end-of-summer party is choosing the right foods to serve. While the possibilities are endless, sticking with seasonal produce will lead to a more flavorful and colorful end result. Of course, it's not really a California summer party without a grill or an open fire, so heat it up and get ready to cook outside.
Corn
Grilled corn is a must-have staple when dining alfresco, so don't shy away from it. Cook each ear until there is just a twinge of char all the way around the outside, then allow the guests to doll it up as they wish. To get more mileage out of the corn, cut every ear into three or four rounds, stick a skewer in the end of each one, and enjoy an easy-to-eat snack. Make sure to think about the toppings ahead of time, and lay them all out with serving spoons. Butter, lemon juice, and sea salt is a classic choice; olive oil, lime juice, and cilantro is a zippy option; and mayo, cotija cheese, and chili powder is the combo you never knew you needed.
Avocados
Avocados are so adored in California that it is practically unacceptable to exclude them from any get-together. Toast thick slices of levain bread on the grill until golden brown; top with smashed avocado tossed with olive oil and lemon juice; sprinkle with flaky salt, pepper, and red chili flakes; and get ready to be praised for your incredible main dish: avocado toast.
If you wish to highlight the seasonal avocados in a more subtle manner while still doing them justice, consider creating guacamole three ways. Start with three containers of smashed avocado. Then, add some of Yo Tambien Cantina's salsa picante (if you can get your hands on some) to one of the containers; otherwise, a locally made salsa verde will do. In the next container, combine sea salt, fresh lime juice, finely chopped white onions, freshly minced garlic, and chopped jalapeño before topping the mixture with chili powder and cotija cheese. For the third container, mix together salt, lemon juice, chopped cilantro, finely chopped red onion, small cubes of mangos and pineapples, and chopped jalapeño for a tropical take on the classic.
Peaches
Fresh, juicy peaches perfectly personify a California summer, but grilled peaches bring a whole new level of decadence and serve as a delicious side dish. Cut the peaches in half, grill them skin side up until golden brown, place them on a platter, and finish them off with a drizzle of balsamic vinegar and a sprinkle of chopped basil and prosciutto.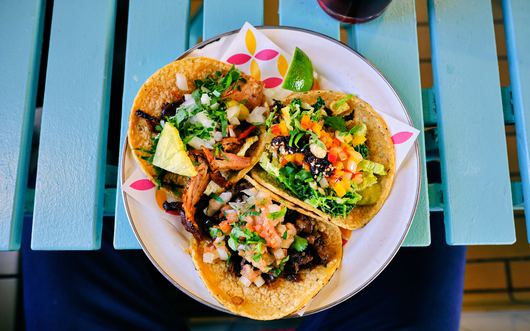 Tacos
While tacos may not be the first dish you think of when planning a barbecue, their customizability and unlimited flavor will leave everyone with a smile on their face. Whether shrimp, chicken, or carne asada is on the menu, consider what to serve ahead of time so there is plenty of time for marinating. Make sure to include some citrus and olive oil in your marinade, but otherwise, feel free to get creative. Lime juice and chili, orange juice with garlic and pepper flakes, or lemon juice with mango and cilantro are all particularly good options for tacos.
No matter how you decide to season the meat, ensure you have adequate toppings for guests to design their own tacos. Sliced radishes, chopped kale, crema, salsa, and guacamole are great basics that go with practically everything.
Melons
For a refreshing appetizer, cube watermelon and cantaloupe into bite-sized pieces. Then, add cubed cucumbers, halved cherry tomatoes, olive oil, flaky salt, and a coating of cotija cheese to create a balanced dish.
Burgers
We couldn't write about a summer bash without including an old classic: burgers. With grass-fed beef patties readily available and tons of meat alternatives, practically everyone can enjoy a properly cooked burger—plus, it's one of the simplest meals to prepare on a grill. To make it easy for guests (and yourself), use a rubber stamp on parchment paper to indicate how well done the burgers are; as each patty comes off the grill, place it on the corresponding paper so guests can grab whichever one they wish.
Get creative with the toppings. Fresh arugula with chopped apples and balsamic vinaigrette, pickled beets with goat cheese, and rings of pineapple with garlic aioli make for interesting combinations that your guests are sure to remember.
Placing bowls of condiments with labeled popsicle sticks allows guests to customize their burger in style, too. Bonus: These sticks double as serving utensils, cutting down on waste.
S'mores
Set up a s'mores bar so guests can craft their own combinations while bonding around the fire. Providing multiple types of California-made chocolate allows guests to get creative with their s'mores; pick up Dandelion Chocolate's Guatemalan Cahabón, Guittard Chocolate Company's 91% Cacao Nocturne Extra Dark Chocolate, and Ghirardelli's Blood Orange Sunset Bar for unexpected pairings that work well with traditional graham crackers and homemade marshmallows.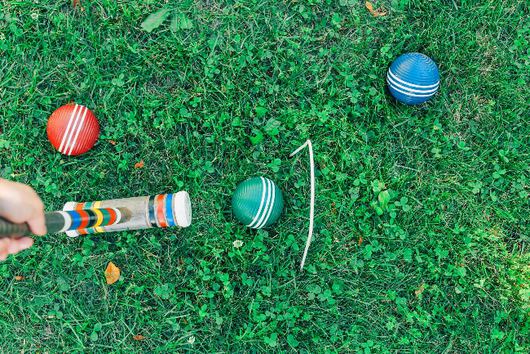 Games
Keep guests entertained by providing some fun outdoor activities.
Cool It Down
Though the temperatures have dropped since the height of summer, the sun is still beating down during the day, making water balloons the perfect party addition. Opt for biodegradable water balloons (just in case you aren't able to find all of the broken pieces), fill them up, and let the partygoers get wild.
Heat It Up
Once it starts to cool down, classic lawn games—such as cornhole, frisbee, and croquet—make for great activities, especially since they are easy to set up and can be played both in large and small groups. Add backyard Jenga for some extra entertainment; you can even write questions or dares on the pieces that players must answer or do before their turn is over.
Now that everything is ready, sage is burning in the fire pit to keep the bugs away, and guests are starting to arrive, it is time to chill out and enjoy the fruits of your labor.