As California mitigates health risks during the COVID-19 pandemic, some travel restrictions may remain in certain communities. Call the local and regional tourism offices to learn more about the restrictions in your intended destination. Thank you for reading, and stay safe.
The Golden State has an abundance of iconic landmarks—even its streets are coveted tourist attractions. These roads show people that the journey is just as exciting as the final destination. Encompassing the state's spirit and soul, these famous California streets have plenty of stories to tell. Hollywood Boulevard is L.A.'s red carpet. The Embarcadero is S.F.'s beating heart. With so many locations to choose from, here are popular streets in California worth visiting.
California's Famous Streets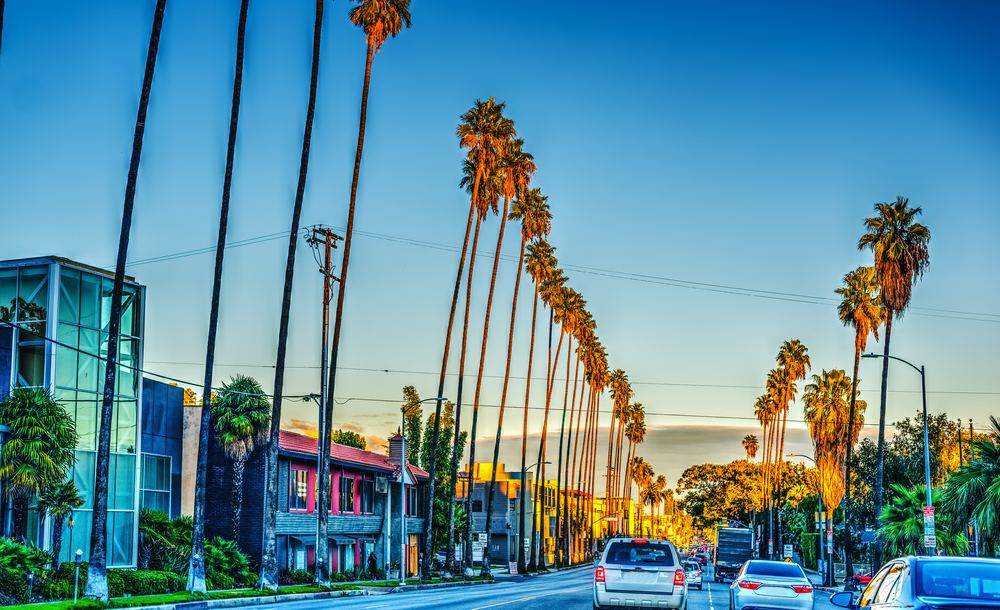 Sunset Boulevard
If you're looking for famous California streets with palm trees, this is it. Sunset Boulevard is a major thoroughfare passing through Beverly Hills, West Hollywood, and several areas in Los Angeles. This popular street in California is home to the Sunset Tower Hotel—a roaring '20s artifact embodying Hollywood glamour. Elizabeth Taylor, John Wayne, and Marilyn Monroe were frequent visitors.
Sunset Boulevard used to be overrun with rockstars; nowadays, the iconic street is home to the best photo ops in Los Angeles. The many attractions along the boulevard offer modern alternatives to the classic Sunset Strip experience.
Telegraph Avenue
This street starts in historic Downtown Oakland and ends at the southern edge of UC Berkeley's campus. The story behind Telegraph Avenue's name is quite simple—the telegraph line constructed between Oakland and Martinez ran along this road. In 1869, Oakland's first horsecar line was also built along this famous California street.
Home to many 19th century firsts, Telegraph Avenue features historic buildings and murals next to Korean BBQ spots, art galleries, and yoga studios. Stroll along this street to explore some of the coolest neighborhoods in Oakland.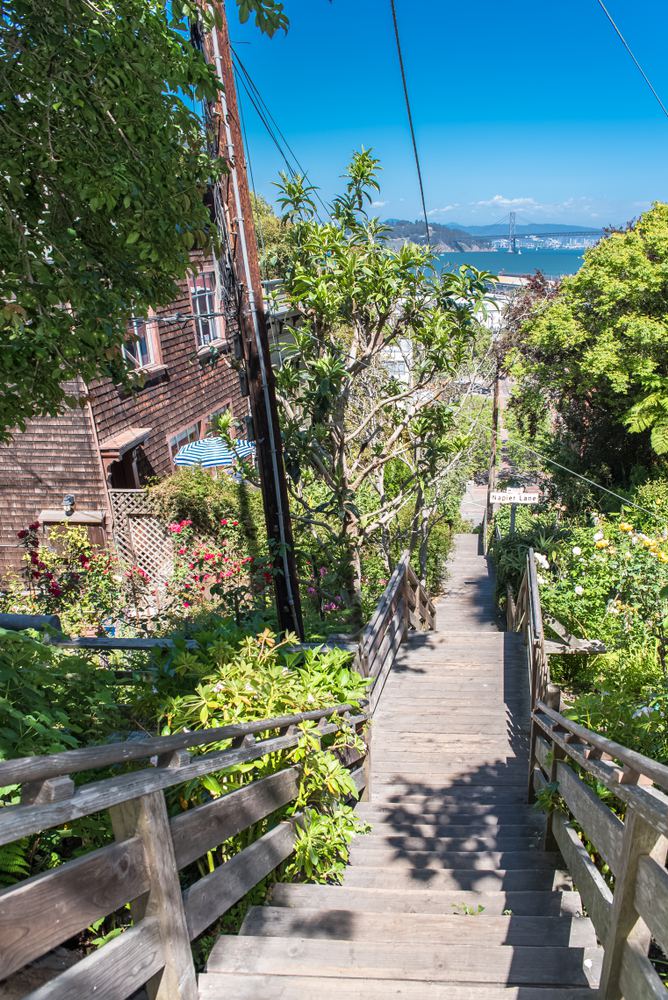 Napier Lane
Nestled among colorful cabins and art-deco houses, this famous California street is the only wooden road in San Francisco. Featured in Dark Passage—a film noir starring Humphrey Bogart—Napier Lane winds through quaint gardens and past homes perched on idyllic terraces. This mini urban jungle boasts striking views of Telegraph Hill, best enjoyed when on a refreshing walk.
San Francisco's Famous Roads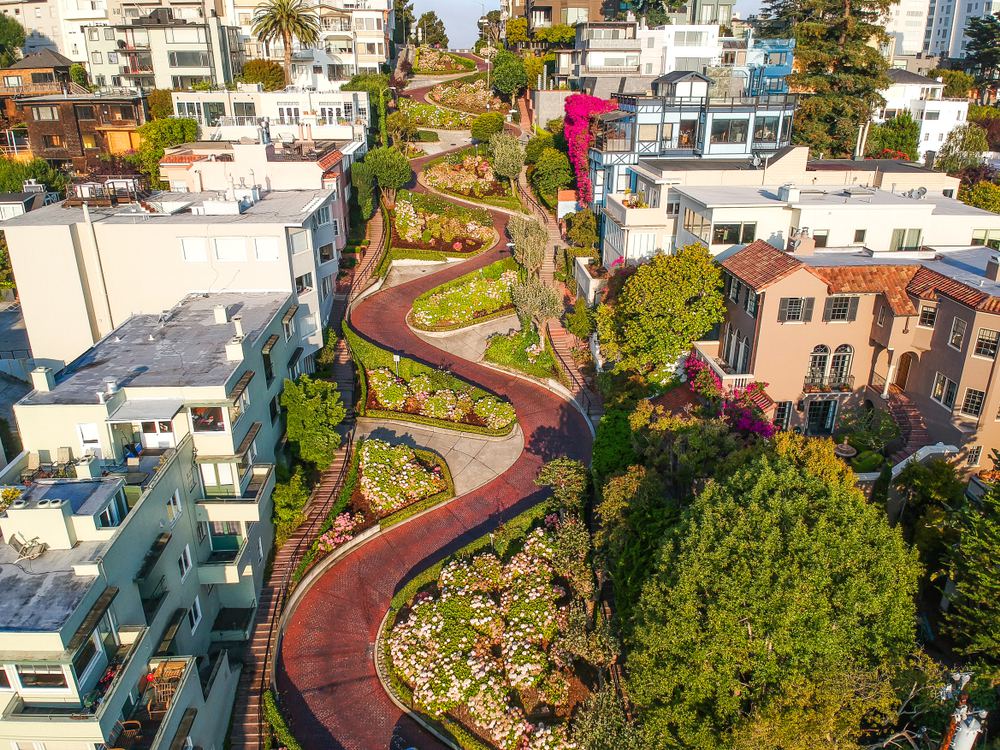 Lombard Street
While featuring undeniable aesthetic appeal, the flower-laden zig-zags of Lombard Street serve a purpose. Its switchbacks were built to ensure the street's safety. Set amidst a beautiful neighborhood, this famous road in San Francisco is a must-see. As the city's most scenic street, this S.F. landmark is home to its most expensive real estate. The "Crookedest Street in the World" is a tourist hot spot with breathtaking views of San Francisco and beyond.
Castro Street
Located in San Francisco's historic LGTBQ+-friendly neighborhood, Castro Street is named after politician José Castro. This famous road in San Francisco boasts pride flags at every turn. Castro Street runs south through Noe Valley towards Glen Park.
The Castro Street Fair is held here every year on the first Sunday of every October. Harvey Milk was the icon behind the LGBTQ+ street festival—he gathered over 5,000 protesters in response to local merchants' discriminatory policies. Nowadays, Castro Street is an epicenter for the worldwide LGBTQ+ community.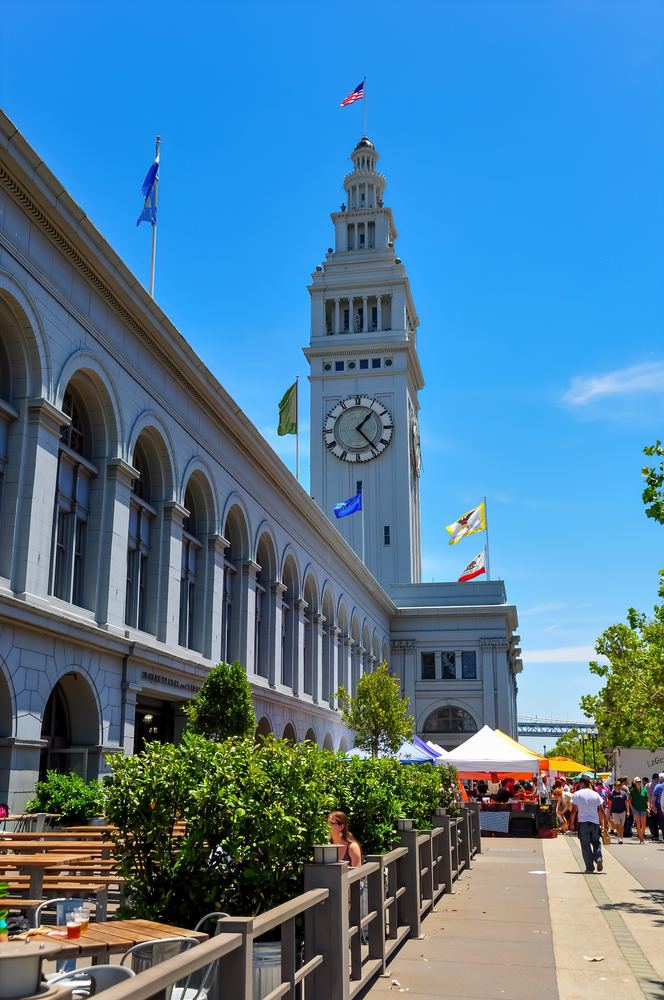 The Embarcadero
Considering all the attractions found on this roadway, the Embarcadero may as well be an entertainment plaza. As one of the liveliest streets in S.F., the street offers one of the best walks in the city. The Embarcadero features an abundance of restaurants, shops, and must-see attractions in San Francisco along the wide walkway. The Ferry Building, Pier 39, Fisherman's Wharf, and ferry rides to Alcatraz are just a few of the wonderful stops. Stroll along this iconic landmark and soak in the stunning bay views.
Famous Streets in Los Angeles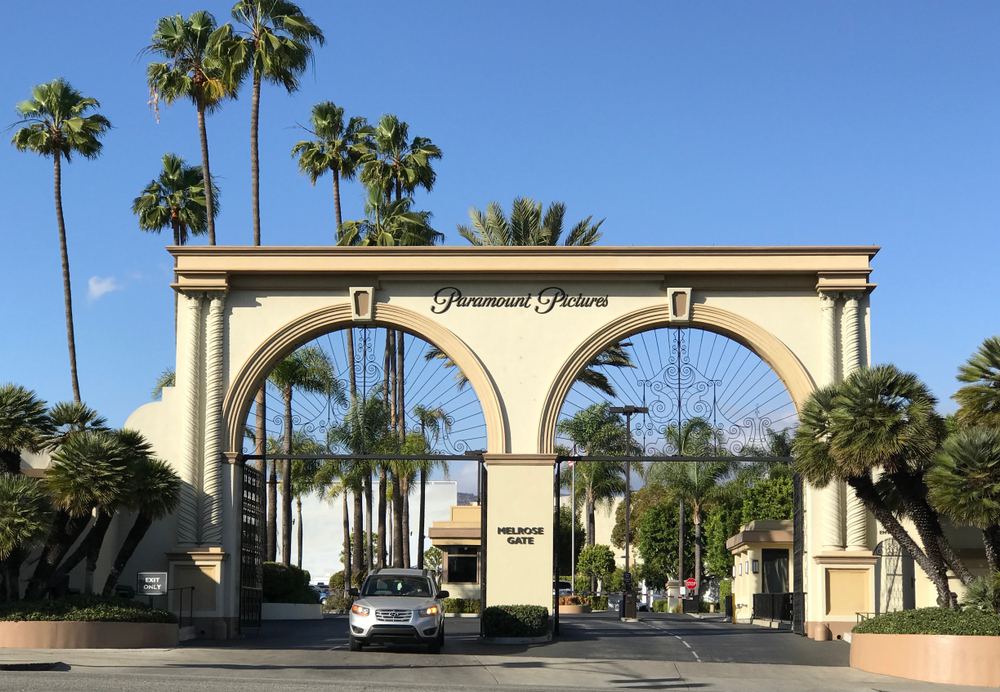 Melrose Avenue
Starting at Santa Monica Boulevard, Melrose Avenue is a famous shopping street in Los Angeles. Paved in 1909, a nostalgic ranch owner named the street after a town in Massachusetts. Melrose Avenue is the birthplace of new wave and punk in Southern California. In no time, the street attracted underground retailers and creative restaurateurs. The press even went on to call Melrose Avenue "the new Rodeo Drive."
To this day, vintage stores and hipster spots maintain the unmatched vibe of this famous California street.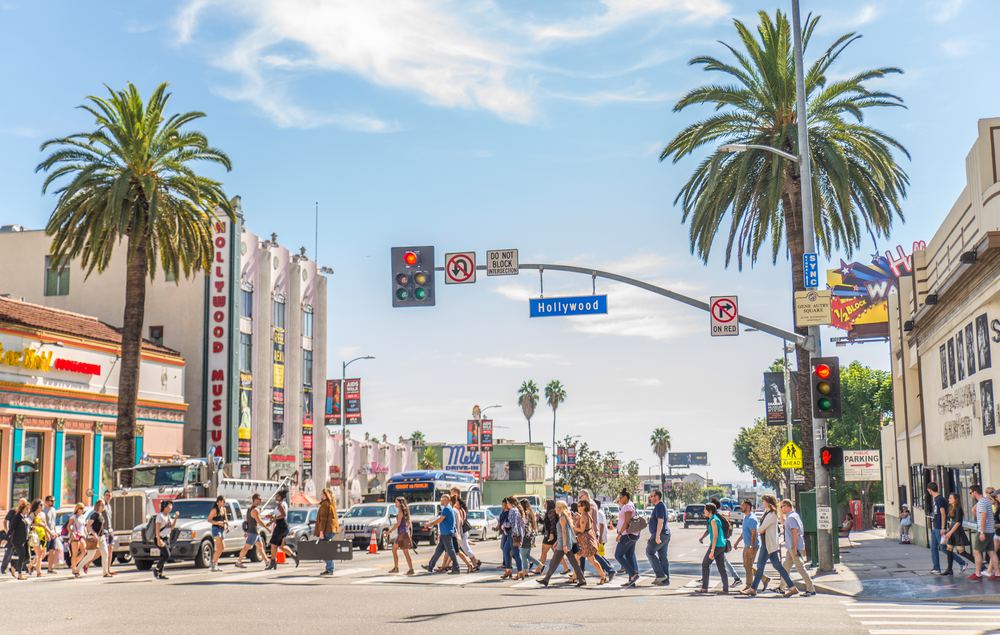 Hollywood Boulevard
No matter how touristy, no SoCal trip is complete without paying a visit to one of the most famous streets in Los Angeles. The palm-studded Hollywood Boulevard is the first thing that comes to mind when talking about the City of Angels. Other than the legendary Hollywood Walk of Fame, the street features a range of iconic buildings and attractions. Grauman's Chinese Theatre offers visitors a glamorous old-fashioned movie experience.
The Dolby Theater and the luxurious Hollywood Roosevelt Hotel add more color to this historic street. Every year during the holiday season, Hollywood Boulevard transforms into a Christmas-themed destination—essentially becoming "Santa Claus Lane."
Mulholland Drive
Tucked between the Santa Monica Mountains, Mulholland Drive rings a bell for many. Named after civil engineer William Mulholland, the famous L.A. street was the focus of David Lynch's eponymous film. Featured in a number of other movies, songs, and novels, Mulholland Drive captures the spirit of Hollywood.
Celebrities like Marlon Brando, Warren Beatty, and Bruce Willis used to reside on this street—Jack Nicholson lives on Mulholland Drive up to this day. While there's very little chance you'll meet him, this iconic L.A. street is worth the visit anyway.
Beverly Hills' Famous Streets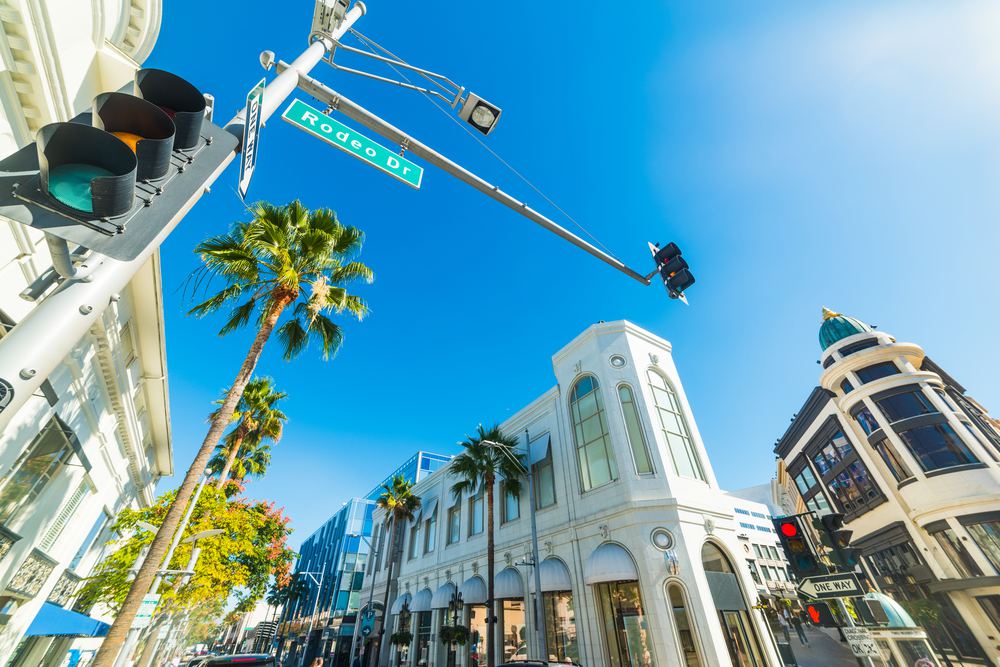 Rodeo Drive
Rodeo Drive is perhaps Beverly Hills' most famous street. With its first store established in 1961, Rodeo Drive now features more than 100 international luxury brands. All three blocks amaze tourists with sophisticated designs—each store is unique and harmonized into a beautiful web of fashion and architecture.
The infamous boutique store scene from Pretty Woman was filmed on Rodeo Drive. This famous street in Beverly Hills is a true experience if you haven't been—it's a shoppers paradise.
Santa Monica Boulevard
Santa Monica Boulevard passes through Beverly Hills, Century City, Westwood, and West Hollywood. This famous California street has long inspired artists. Here, good times are always guaranteed. Every drive on Santa Monica Boulevard ends with hitting the beach. Rollerbladers skate on the boardwalk by Santa Monica State Beach while families play a friendly game of volleyball.
Whether you visit this famous street to see the West Hollywood Memorial Walk or snap pictures for the 'gram, Santa Monica Boulevard is a must-see in SoCal.