Before getting into the weeds of the wedding planning process, all soon-to-be brides want to take note of what's hot—and what's not—to ensure their decor, floral, and fashion choices are on trend. Since wedding trends are constantly evolving, each year's celebrations will be distinctly different from previous (and future) years, adding to the existing arsenal of big-day ideas and giving newly engaged couples innumerable sources of inspiration. And 2019 is shaping up to be an exciting year, as nontraditional floral components, moody palettes, statement lighting, and standout invitations take center stage. See what else is trending on our list below, and prepare to get inspired for your special day.
Going Dark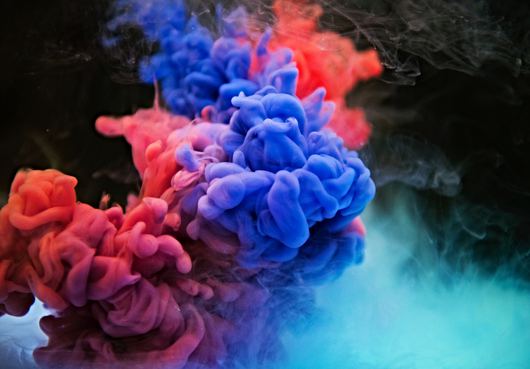 Say bye-bye to blush and pastel. Though these hues dominated the scene in recent years, weddings are getting edgier in 2019, as moodier accents take over and couples become more adventurous with their color palettes. Prepare to see darker, über-saturated tones—such as midnight blue, deep emerald, and rich burgundies—regardless of the season. Metallics are set to make more appearances at upcoming weddings, too, so be on the lookout for iridescent details on everything from charger plates to flatware.
Classic Hits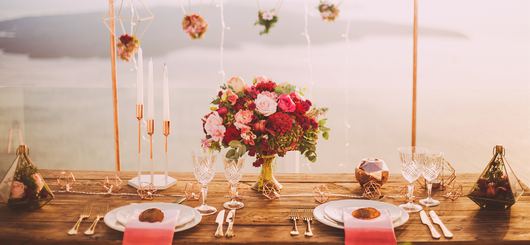 Simple yet elegant design elements are also on the rise, with many couples opting for more traditional looks featuring such quintessential items as candlesticks, monogrammed linen napkins, Battenburg lace overlays, and crystal stemware. If you'd like to add a bit of flair to your classically minimalist aesthetic, you can incorporate floral arrangements with architectural shapes as well as natural elements like stone, wood tones, and marble. (Chalk it up to the Meghan Markle effect, but this trend is making its way into the bridal fashion world, too.)
Big Blooms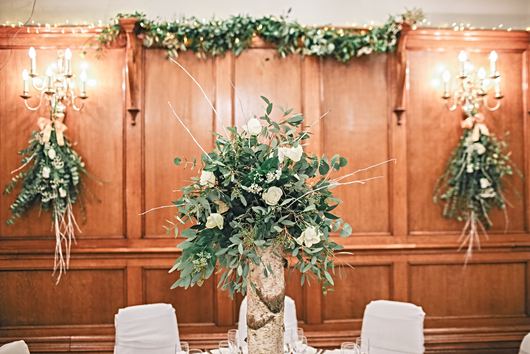 Thanks to the royal wedding, larger-than-life floral installations are popping up everywhere, too. Whether you place one above your entrance door, drape one across your ceremony arch, or hang one from the ceiling, a large display of lush, whimsical flowers is bound to be a big hit. You can also incorporate some verdant foliage to brighten up the blooms and add an extra dose of drama.
Pops of Pampas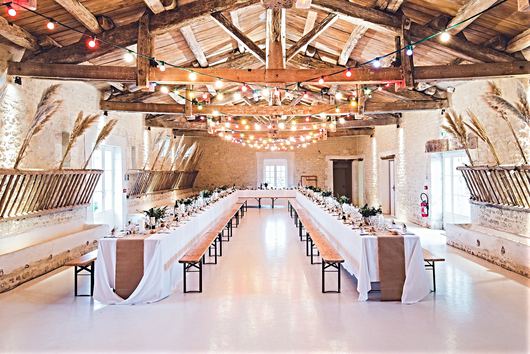 If your budget restricts you from elaborate floral installations, don't despair: You can flesh out a simple flower arrangement with unexpected additions—such as pampas grass and wheat—and still be on trend (and within your price range). These alternatives to fresh blooms are chic, unfussy, and provide another layer of depth to the design. From highlighting the aisle at your ceremony site to creating a boho vibe at your reception, flowering plants like pampas can elevate any part of your wedding.
Inside Out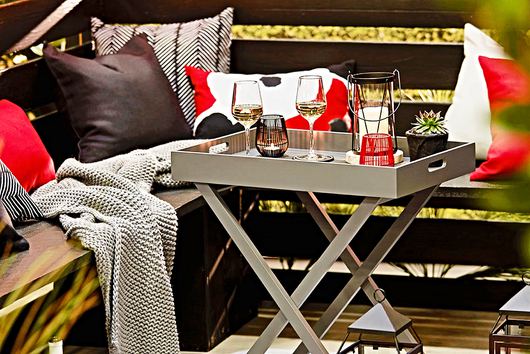 While the idea of bringing the outside in isn't going anywhere, there is a growing desire to bring the inside out, so to speak. In an effort to make outdoor venues feel more homey and cozy, couples are transforming spaces into open-air lounges and living rooms complete with comfy couches, chairs, poufs, throw pillows, coffee tables, and blankets. Regardless of your overall theme and aesthetic, you can achieve the look you want and provide a unique experience for your guests.
Flashing Lights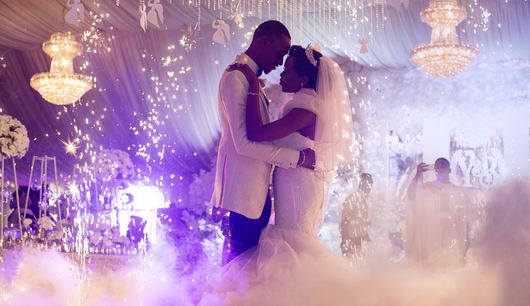 Unique lighting modalities are also coming to the forefront in 2019, as an increasing number of couples are getting creative with lighting and thinking beyond traditional options such as string lights. Give uplighting an upgrade by incorporating more bespoke options—like neon installations, basket lanterns, and subtly colored taper candles—into your reception space and outdoor lounges to (literally) brighten up your wedding.
Quirky Cakes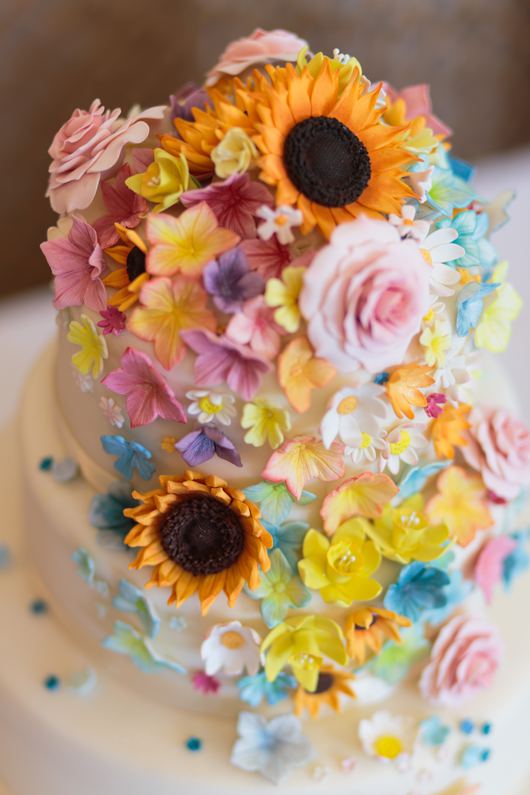 Cupcakes and doughnuts had their moment last year, but towering cakes are back—and they're bigger and bolder than ever. Dessert displays are now being pushed aside for statement-making cakes featuring stunning designs that are rich in texture—thanks to rippled icing, sugar flowers, and decorative finishes—and eye-catching colors like gold, bronze, pale blue, and soft gray. The shape of the confection is evolving, too, with bakers crafting sculptural creations with nontraditional configurations and varying sized tiers. Sometimes, it's hard to tell if it's even a cake!
Keepsake Place Cards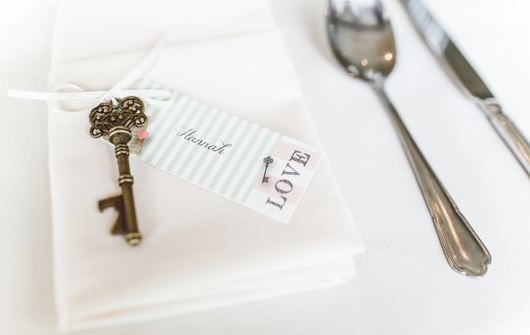 Ditch the boring black-and-white place cards, and get creative with your seating assignments. Guide your guests to their respective tables by writing their names on gold animal figurines, small acrylic slabs, fringed cards, or shot glasses. If you're having a smaller wedding, you can even replace them with handwritten notes, which allow you to show your appreciation and add a special touch to your wedding. There truly is no shortage of possibilities, and your loved ones can treasure your pick as a post-wedding keepsake.
Inventive Invitations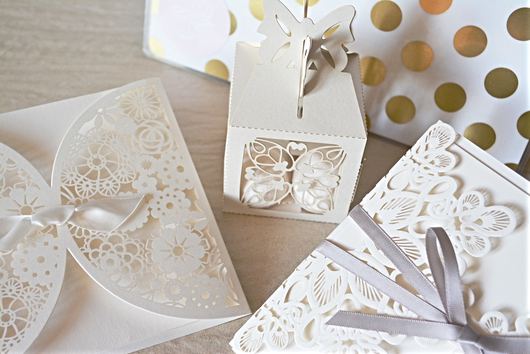 Invitations set the stage for an epic party, and many couples are making the most of this opportunity by creating unique wedding stationary. Whether you choose custom hand-illustrated designs, chic typography, or colorful sketches that tease to your wedding theme, sending guests an imaginative, playful invitation is a great way to get them excited about the big day.
Whether you only stick to the trends of this year or infuse them with some past trends that speak to you, follow your arrow and ensure your wedding is reflective of you and your partner. It's also important to pick wedding vendors who will honor your vision and work with you to give you the wedding you've dreamed of. It is your day, after all.