Turning onto Highway 1 with the tunes turned up, you start to experience the change: The invigorating coastal breeze cools ever so slightly, flowing through your hair and igniting the senses as you take in the miles of picturesque coastline devoid of development, where there are no condos, no shops, and best of all, no bus tours in sight. That's when you know you've arrived in Point Reyes.
While it's only an hour and a half north of San Francisco, the coastal utopia makes you feel as though you're in a faraway land, and there are few places like it in California. President John F. Kennedy established the Point Reyes National Seashore in 1962, officially protecting the 5,965-mile coastal expanse rich in wildlife, spectacular scenery, and verdant forests. The region's undulating landscape—vibrant green in the spring, golden yellow in the fall—is also dotted with homegrown farm stands, family-run organic dairy farms, and sustainable grass-fed-cattle ranches run by fourth-generation owners. And the collection of beloved restaurants scattered around Point Reyes take full advantage of its riches.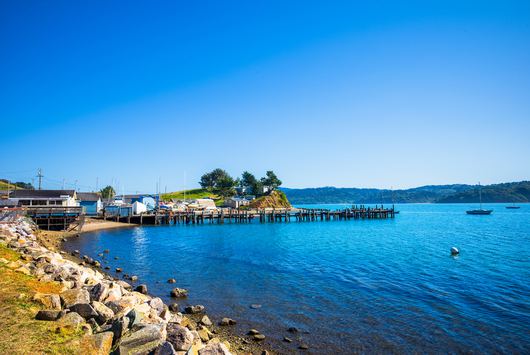 Point Reyes is also home to unique, tight-knit communities. With its cluster of stamp-size towns—including Bolinas, Inverness, Inverness Park, Marshall, and Point Reyes Station—the area has the type of spirit that can only exist and thrive in a protected place, remaining wild with summer fog as thick as its fragrant pine forests and crisp air as salty as the oysters that are plucked from its pristine waters. And at times, it feels as though you have it all to yourself.
Sure, you'll encounter some tourists hiking the trails, circling for beach parking on rare 80-degree weekends, or eating prized oysters and local fish at roadside seafood shacks. But otherwise, Point Reyes is relatively crowd-free, especially considering it's not far from the highly populated San Francisco Bay Area. Once you pass Stinson Beach, the city grind fades away and is replaced by the peace and slow pace of the coastal countryside. Here's what to do after arriving in stunning Point Reyes.
Getting There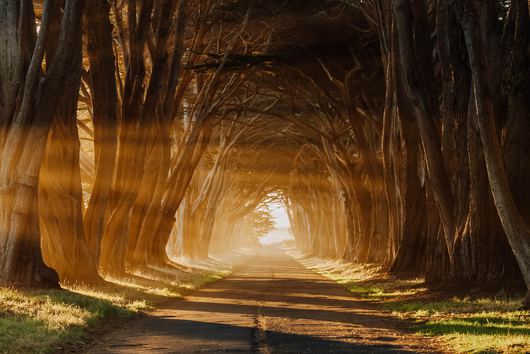 Hop on the 101 from San Francisco, then cruise along Highway 1 until you reach the town of Olema. While there are various types of accommodations in the Point Reyes region—including quaint Airbnbs, welcoming inns, and backcountry campgrounds—Olema House Point Reyes is the top choice for travelers seeking luxe yet laid-back digs. Spread across four acres, Olema House offers two dozen guest rooms, all of which look out toward the Point Reyes National Seashore and afford views of Olema Creek.
Check in to your cozy, coastal-inspired suite complete with heated floors, a whirlpool tub, and a fireplace so you can drop off your bags and freshen up. Though it may be difficult to draw yourself away from the relaxation-inducing property—especially when the expansive lawn with Adirondack chairs and a fire pit beckons—the call of nature is stronger, so you'll soon feel compelled to explore the wonders of the region.
Day 1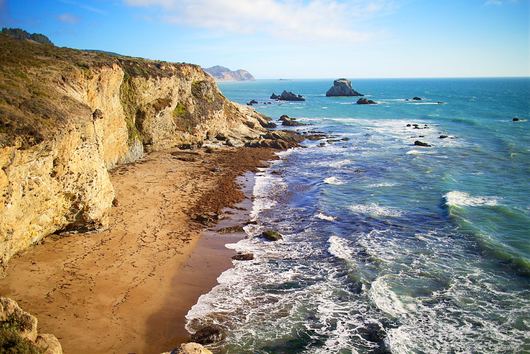 Afternoon
Grab a quick bite at the historical Due West tavern, located right beside Olema House, then embark on the five-minute drive from Olema to Bear Valley Visitor Center, where friendly rangers will help you make the most of your time in the Point Reyes National Seashore. Wander through the ecological and historical exhibits to learn more about the region before hitting the trails. There are numerous pathways to explore, but regardless of the route you pick, make sure you grab a map from the visitor center—chances are you're going to need it. Cell service is iffy (at best) in this remote expanse, but embrace it wholeheartedly, and you'll soon start to feel comfortable with the idea that you're disconnected from the outside world. So enjoy the peace and quiet, get lost in thought as you traverse the gorgeous wilderness, keep an eye out for deer, and remember how much fun it can be to read a paper map (and fold it up correctly).
If you visit the national seashore later this fall, drive down the road to the Point Reyes Lighthouse and Visitor Center. The famed landmark will soon shine brighter than ever before, thanks to a
$5 million, yearlong restoration project that's slated to end on October 1. Built in 1870, the 16-sided, 35-foot-tall tower is the most-visited site in the area and is great for whale watching in the winter months. Make sure to give yourself ample time to reach the lighthouse. Though it's only 21 miles away from the Bear Valley Visitor Center, the road is curvy, so the drive can be slow-going. Allow at least 45 minutes for the journey, 15 minutes for the (mostly uphill) walk from the parking lot to the lighthouse, and one to two hours for touring the premises. Dress appropriately, too; the structure is perched on a cliff above the crashing waves of the Pacific, so the walk will be windy and cold.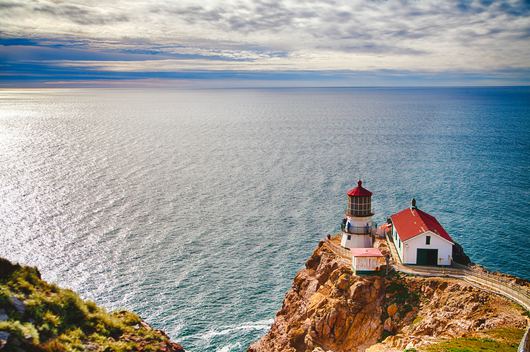 On the way out, stop by Drakes Beach if time permits. Sheltered by white sandstone cliffs, this four-mile-wide swath of sand has been a longtime favorite among Point Reyes visitors, but it rose to new levels of fame after the 2018 government shutdown: With park rangers unable to access the property, a colony of elephant seals took over the vacant shores. As you make your way to and from Drakes Beach, keep an eye out for Tule elk, which can be spotted in the area on occasion. Hunted nearly to extinction in the 1800s, these creatures were reintroduced in the region in 1978, and now around 450 roam freely, especially in the northern sections of the national seashore. Linger until the sun starts to sink into the horizon, and watch as the sky transforms into breathtaking hues of red, orange, and purple.
Evening
After being out in nature all day, you'll likely be ready to warm up and refuel, so hop back in the car and return to the creature comforts of Olema House. Once you're showered and ready to hit the town, head to the nearby Osteria Stellina for dinner. The upscale yet unpretentious Italian eatery beautifully captures the essence of the region in every seasonal dish by highlighting locally sourced, organic ingredients. (In fact, the restaurant touts that
95 percent of its menu is sourced from West Marin.) Juicy nectarines lie atop a bed of fresh greens and tangy feta; Tomales Bay oysters and mussels mingle with black cod and calamari in a rich, saffron-laced seafood broth; and locally foraged nettles are sprinkled beside fresh mozzarella, Yukon gold potatoes, and garlic on a wood-fired pizza.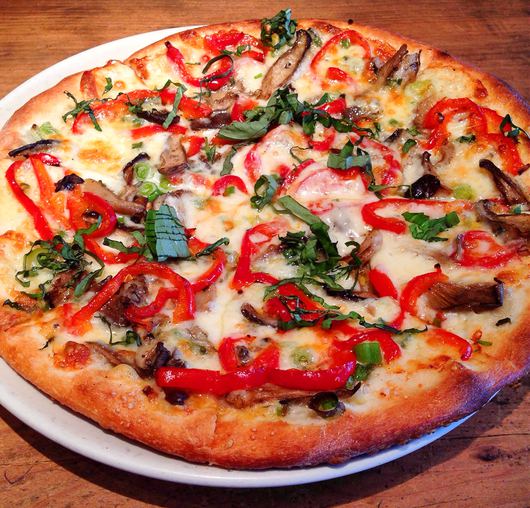 The rich tapestry of local flavors doesn't end with the entrées; leave enough room for dessert so you can savor such decadent treats as the warm chocolate cake laced with dulce de leche and the ice-cream sandwich featuring a scoop of sea salt caramel gelato tucked between two chocolate-chip cookies.
Hunger satiated, it's time to retreat to your home away from home. Lounge by the outdoor fire pits and reminisce about your first day in Point Reyes, grab a beverage at Due West, or simply relax in your suite with a good read before turning out the lights.
Day 2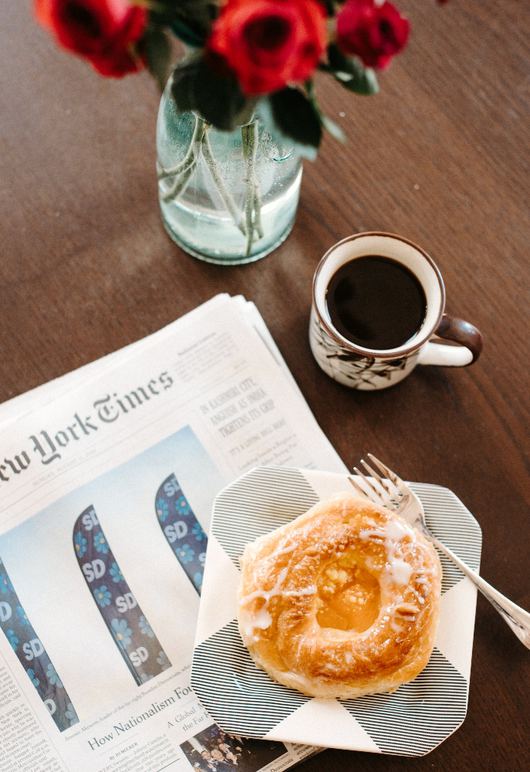 Morning
Rise and shine to join the morning line at Bovine Bakery. Situated in Point Reyes Station, this nearly 30-year-old establishment is the go-to spot for locals needing a strong cup of organic, fair-trade coffee and a handmade pastry to power their days on the trail or at the beach. While you won't find any espresso here, you will find everything from fresh-baked pain au chocolat and savory croissants to orange-chocolate scones and fluffy blueberry-banana muffins—more than enough to satisfy any craving and provide the energy needed for the day ahead.
Coffee in hand, wander around the rest of Point Reyes Station, the main hub offering a collection of family-owned eateries, a renowned bookstore, a yoga studio, and a handful of boutiques. Browse for fashion-forward, artisanal clothing at Susan Hayes Handwovens; discover organic bedding, sleepwear, decor, and accessories at Coyuchi; pick up your next beach read at Point Reyes Books; and grab picnic supplies at the award-winning Cowgirl Creamery.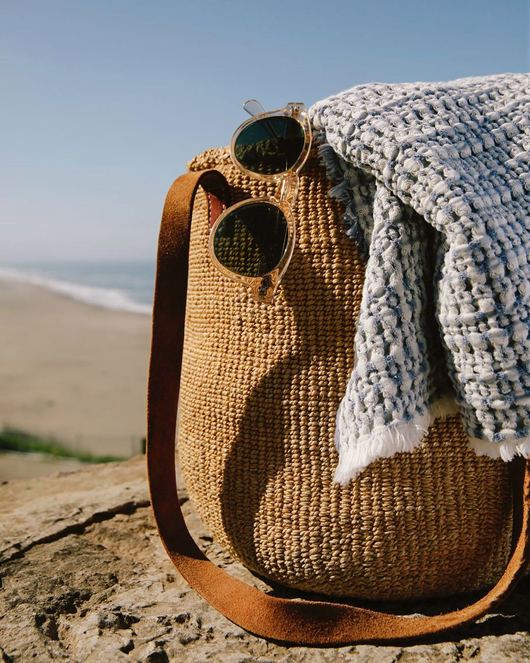 Then, it's time to leave civilization behind and immerse yourself in nature at Tomales Bay State Park. The 2,000-acre expanse boasts a handful of easy-going hiking trails affording spectacular ocean views as they lead through sweeps of coastal oak trees, across lush meadows, and past herds of Tule elk. From the Jepson Trailhead, walk about two miles until the path turns sandy, and you'll have arrived at Heart's Desire Beach. Tucked away on the eastern edge of the Point Reyes National Seashore, the pristine stretch of sand and small patch of lawn make this scenic hideaway perfect for enjoying a picnic, so pull out your Cowgirl Creamery Mt Tam cheese, artisanal charcuterie, and sourdough loaf to reward your efforts.
If you'd rather explore the area on the water, Point Reyes Outdoors has you covered. Take a kayak or stand-up paddleboard tour with an expert guide, or simply get a rental to traverse the shimmering bay waters on your own. On your tranquil paddle, you might just see harbor seals pop their heads out of the water or witness massive elephant seals basking in the sun along the shore.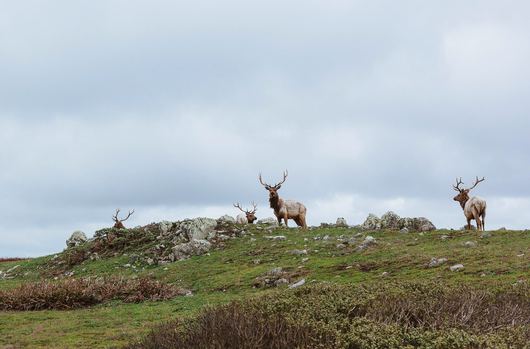 Afternoon
Whenever oyster hour calls—and by the sheer force of simply being in Tomales Bay, it inevitably will—go get your fix. There's a reason these waters are home to buttery Kumamotos and smoky-sweet Pacifics, not to mention prized salmon and halibut and schools of anchovies. It's called upwelling: when nutrient-packed, cold, deep water rises and replaces warmer shallow waters, creating a diverse, healthy marine and wildlife ecosystem.
To get a taste for yourself, try to score a hand-carved wooden seat on the heated patio at Saltwater Oyster Depot in Inverness, which serves up broiled bivalves with fermented Fresno chiles and with roasted tomatoes in a white-wine sauce. Or, take a drive along the bay to the unassuming Marshall Store, where you can slurp 'em Rockefeller-style, with garlicky spinach, cheese, and bread crumbs. About a mile north is the famed Hog Island Oyster Co., where a tiny oyster-charcuterie café operates out of an old, upright wooden boat (but if you haven't made a reservation for a waterfront picnic table in advance, you'll likely be out of luck).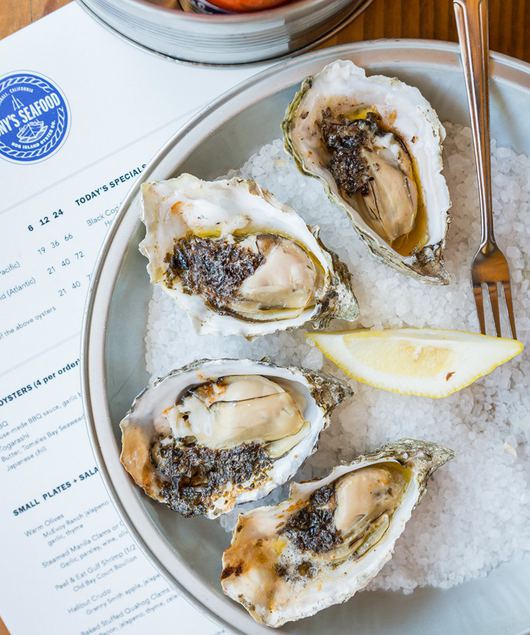 After shucking and slurping to your heart's content, head to Limantour Beach to walk off your mid-day snack. The soft ribbon of sand makes this picturesque spot ideal for exploring. As you stroll along the water's edge, keep an eye out for harbor seals bobbing in the waves and for the shorebirds feasting in the surrounding wetlands. Snap a pic as the sun begins to set; the region's omnipresent clouds hovering above the glimmering ocean make for dramatic sunsets. Once you muster the strength to pull yourself away from this beautiful slice of paradise, slowly make your way back to Olema House to get ready for the night ahead.
Evening
Spend your last night in the region at the Station House Cafe. A Point Reyes classic, the lively restaurant dishes up delectable New American fare starring sustainably grown, organic ingredients sourced from local businesses such as Marin Sun Farms, Straus Creamery, Point Reyes Farmstead Cheese, and Big Mesa Farms, among others.
Sit out on the lush garden patio and kick off the evening with an artisanal drink and an order of the local mussels, using the slices of toasted rustic bread to soak up the rich broth spiked with saffron and white wine (trust us, you won't want this heavenly concoction to go to waste).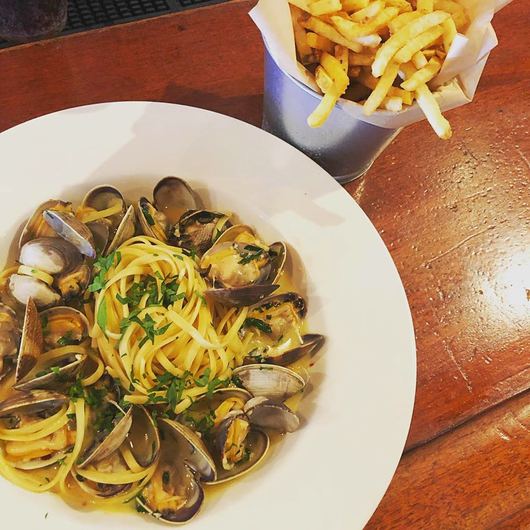 Continue the epicurean adventure with the linguine and clams—featuring manilas interlaced with handcrafted noodles dressed in fresh herbs, garlicky butter, and piquant chile flakes—or with the Mexican-inspired dish of Mary's organic chicken smothered in mole poblano, sprinkled with sesame seeds, and accompanied by house-made salsa fresca.
End the meal on a sweet note with the warm apple-blueberry crisp or with the indulgent brownie sundae complete with whipped cream, hot fudge, and caramel sauce. Linger a bit longer to enjoy rockin' live tunes and a nightcap before bidding adieu to Point Reyes Station.
Day 3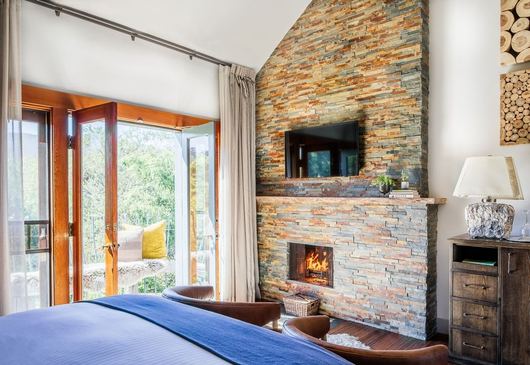 Morning
Upon waking at Olema House, you definitely won't feel ready to leave and return to reality, especially as you gaze out at the surrounding trees framing the lush garden and lawn below. But if you want to make the most of your precious remaining hours in Point Reyes, you must pull yourself from the plush bed, pack your bags, and hit the road.
Drive 20 minutes down Highway 1 to Bolinas for breakfast at Coast Cafe, a cozy, coastal-inspired wooden shack serving weekend brunch classics. Whether you cut into the crispy bacon waffles and house potatoes or the Dungeness crab and avocado eggs Benedict doused in creamy hollandaise, you're bound to leave satisfied and energized. After your hearty meal, spend a few minutes meandering through downtown Bolinas, a quiet enclave with an age-old California ethos.
If you're not prepared to leave the region quite yet (we wouldn't blame you) and are up for a bit of an adventure, take a 15-minute detour to Alamere Falls. The majestic, 40-foot-tall waterfall cascades down towering ocean bluffs—one of the few falls in the world to do so—making it a special sight to witness. Note that the trek is roughly 14 miles round-trip, and the descent can be quite difficult if you're not prepared, so make sure you wear appropriate shoes, bring a jacket, and pack plenty of water. Though the hike is long, it is well worth the effort; you'll take in spectacular scenery as you walk past seasonal wildflowers and verdant grasses along the coastal pathway.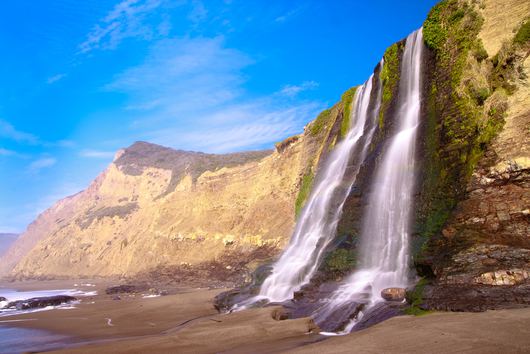 Arriving at Alamere Falls and watching the rushing water tumble down the cliffs and flow into the wide-open ocean is nothing short of blissful, so spend some time soaking up your final moments in the Point Reyes region. Take a deep breath, embrace the refreshing breeze blowing around you, listen to the soothing sound of the crashing waves, and bring the feeling home with you.