By

California.com
September 26, 2020
As California mitigates health risks during the COVID-19 pandemic, some travel restrictions may remain in certain communities. Call the local and regional tourism offices to learn more about the restrictions in your intended destination. Thank you for reading, and stay safe.
"Nature's peace will flow into you as sunshine flows into trees. The winds will blow their own freshness into you, and the storms their energy, while cares will drop away from you like the leaves of Autumn."

― John Muir, The Mountains of California
Connect with your inner wild child in Gold Country's Land of Giants. Tucked between Tulare and Fresno Counties, Sequoia and Kings Canyon National Parks have fascinated humanity for decades, so venture off to California's most magical parks and experience serenity like nowhere else. Get lost in the neighboring parks totaling over 850,000 acres, which encompass the deepest canyon and the tallest mountain in the contiguous United States, more than 200 caves, and the earth's largest living single-stem trees. The landscapes of each park vary, too. Traverse the rugged terrain and experience diverse weather conditions—while wildflowers are blooming in one part, a steep elevation gain can suddenly lead you into a snow-covered forest.
So, adventurers: Pack up your hiking gear (prepare for 20- to 30-degree variations), and make your way to nature's inspiring surroundings. You'll be able to feel the anticipation rising as you drive along Highway 180, leading east from Fresno to reach the Big Stump Entrance. Or arrive at the Ash Mountain Entrance, which lies along Highway 198 near the town of Three Rivers—the narrow and winding road past the entrance station signals the start to your adventure. Pick up your trail maps at any visitor center in Sequoia or Kings Canyon National Park, and get ready to explore.
Our favorite spots in Sequoia and
Kings Canyon
National Parks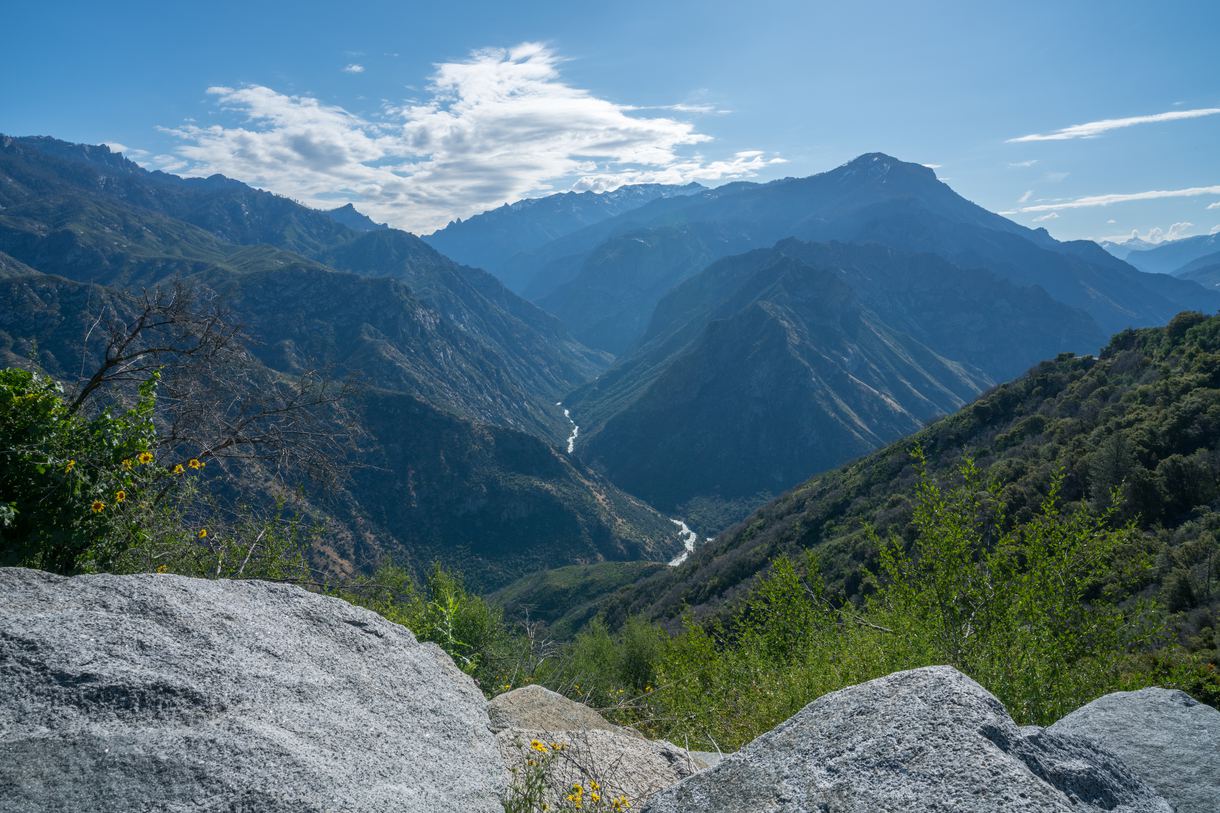 1. Visit the General Sherman Tree at the Giant Forest of Sequoia National Park. With its 275-foot height and 36-foot diameter, this Sequoiadendron giganteum is the world's largest tree by volume.
2. Let the "Nation's Christmas Tree" at the Grant Grove in Kings Canyon National Park lift your spirits.
3. Descend 4,000 feet while driving along the Kings Canyon Scenic Byway until you reach the desert-like terrain.
4. Venture to Cedar Grove—Kings Canyon's lowest point—and revitalize yourself at the Mist Falls, which drops at a mesmerizing 45 feet.
5. Join the 45-minute tour of Crystal Cave to witness naturally created ornate marble, stalactites, and stalagmites.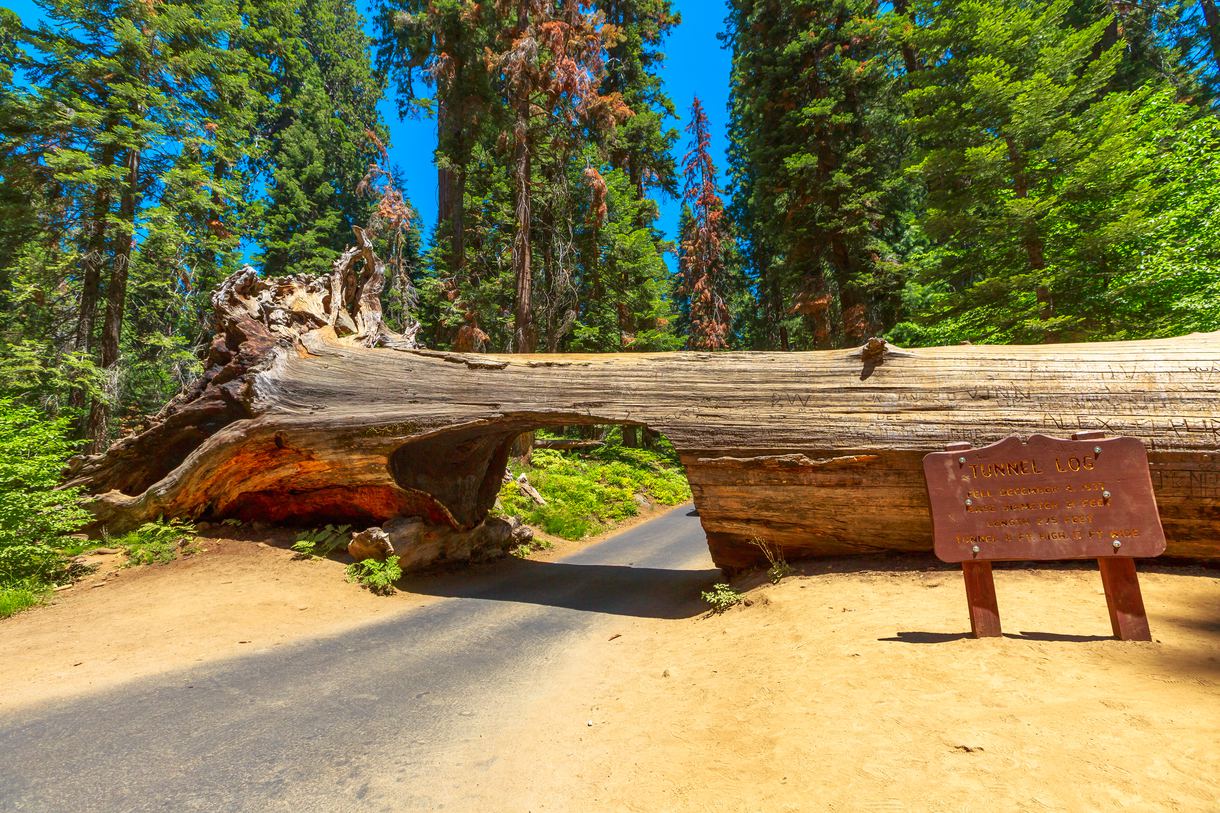 6. Drive through Sequoia National Park's 2,000-year-old "Tunnel Log," located along Crescent Meadow Road in the Giant Forest.
7. Stop by the Giant Forest Museum in Three Rivers to learn about the story of the giant sequoias.
8. Picnic at the Hospital Rock Picnic Area and explore its surroundings—outdoor exhibits, Native American pictographs, and the nearby Paradise Creek.
9. Look for the ruins of perhaps the oldest remaining structure—Crabtree's ruined cabin in the Mineral King area—along your hike to the White Chief Bowl.
10. Savor your blue cheese pecan salad or burger at the Silver City Resort Restaurant. Wrap up your adventure with fresh organic produce from California while admiring the rich history of Silver City.
Things to do in
Sequoia National Park

Head to America's second-oldest national park for an adventure-packed getaway on the western slope of the Sierra Nevada range. Hike amidst massive, cinnamon-hued sequoias and climb the 1,000=foot Moro Rock near Giant Forest.
Escape from everyday life with the moderate out-and-back Marble Falls Trail, which will fill every waterfall enthusiast's heart with joy. Start at Potwisha Campground in the foothills and make your way through oaks, cottonwoods, redbuds, and dogwoods. Traverse past small creek crossings and banded rocks. Spot the lookout station of Milk Ranch Peak and finally reach Marble Falls. Revitalize at the cascade before making your way back to the trailhead.
Venture along the Tokopah Falls Trail at Lodgepole—offering an easier hike for all cascade lovers—to witness the 1,200-foot falls tumble down from granite cliffs. Embark on this easy, 3.7-mile out-and-back trail from just beyond the Marble Fork Bridge in Lodgepole Campground and follow the Marble Fork of the Kaweah River. Cross forest meadows, two bridges, and rocky moraine before finally reaching the roaring Tokopah Falls. Bask in the sun and let the rushing falls soothe your soul before returning to the campground.
Traipse through a forest of giant sequoias along an educational walk around Round Meadow near the Giant Forest Museum. The Big Trees Trail is a 0.75-mile loop trail with descriptive panels about the sequoia ecology. Wander along the meadow's outer edge and take in the enormous size of these old-growth sequoias.
After visiting the Giant Forest Museum, hop into your car and drive north along Generals Highway for 2.4 miles, then turn right onto Wolverton Road and continue for 0.6 miles to reach the main parking area near the General Sherman Tree. Descend a half-mile trail to reach the world's largest tree—let it whisper its 2,000-year-old wisdom in your ear. Venture off for another 0.2 miles to the Sequoia Tunnel Tree for a cool photo op before returning to your car.
Explore the 11-mile trail to Franklin Lakes and wonder how the rainbow-colored metamorphic rocks attracted miners in the 1870s. Seek solitude in the meadows of the Mineral King Valley instead of silver. You'll conquer a 3,500-foot elevation gain to reach Franklin Lakes. Take a rejuvenating swim in the alpine lake before making your way back. Or, continue on to Franklin Pass, Rattlesnake Canyon, the Kern Canyon, and Mt. Whitney for a backpacking trip to find inner peace.
Other backpacking trails include the Alta Trail (which leads you through forests and meadows), the High Sierra Trail (which leads you along rugged terrain), and the Long Meadow Trail (which arrives at Summit Lake). The wilderness of Sequoia National Park is diverse and powerful. Recharge amidst these nearly immortal giant trees, and get inspired just like the many greats before you did.
Where to stop in
Kings Canyon National Park

Visit the deepest canyon in North America and prepare for gorgeous vistas of the Sierra Nevada. When you're not driving along the Kings Canyon Scenic Byway, traverse the many trails through Cedar Grove in Kings Canyon. The namesake to Kings Canyon National Park is the river gorge—which is even deeper than the Grand Canyon—where Kings River's headwaters originate.
Follow the short loop trail to Grant Grove. See for yourself why this giant has been attracting thousands of visitors to celebrate its majesty. Gaze up into the sky to follow the 267-foot trunk of the world's second-largest tree. Guess the 29-foot-wide giant's age when reaching its base, and imagine its strength and perseverance in life.
Continue on along the Sunset and Dead Giant Loops to explore the grove's outer edges before driving forth to Grant Grove Village. Follow the two-mile out-and-back path to the top of Buena Vista Peak. Absorb the 360-degree views of Redwood Canyon, spot the Buck Rock Fire Tower, and make out the contour of the High Sierra surrounding you.
Feel the immense willpower radiate through Redwood Canyon when traipsing barefoot through one of the largest sequoia groves. Let your spirit be free along 16 miles of trails, and explore the relationship between fire and the sequoia forest. Are you an earth or a fire sign? It's going to be hard to decide after this transcendental experience.
The Cedar Grove has a special treat prepared for all water signs: Roaring River Falls, Mist Falls, Sheep Creek Cascade, and Grizzly Falls—any of these hikes will wash your worries away. From soft streams and emerald-colored pool to flowing rapids and rushing cascades, this place will have you in seventh heaven.
Explore Kings Canyon River by saddling one of the magnificent steads at the Cedar Grove Pack Station. Liberate your soul as your horse guides you through meadows and alongside the creeks of Cedar Grove. Trot along Grant Grove routes that lead to the General Grant Tree, North Grove, Lion Meadow, and Dead Giant Loop. Gain a drastically different perspective of your surroundings on these guided horseback rides through Kings Canyon National Park.
Places to stay near Sequoia & Kings Canyon National Parks

Spend your nights surrounded by the soaring sequoia trees, deep canyons, and towering cliffs of Sequoia and Kings Canyon National Parks. Camp in the Sequoia National Forest on your search for solitude, and unplug from big city life amidst the royal dwellers.
Pack your gear and head to Hume Lake Ranger District, Kern River Ranger District, or Western Divide Ranger District for free dispersed camping. While fire restrictions are common in the summer, the night sky and serene scene make unplugging child's play. Travel through the untamed wilderness and find a spiritual connection with the earth.
Or, lay your head at the Bearpaw High Sierra Camp for luxury vistas of the Great Western Divide. Glamp according to Sequoia tradition—with breakfast, dinner, and dessert—as it has been done for over 75 years now. Hike the 11.5-mile High Sierra Trail starting from Crescent Meadow to reach your dream destination, and spend the night in one of six tented cabins.
You can also opt to reside at the John Muir Lodge in Grant Grove Village for a comfortable getaway. Experience rough-hewn, open-beam ceilings; get cozy at the redwood mantel stone fireplace; and read a few pages of John Muir's Our National Parks before drifting off into vivid dreams of the world outside your window.
Another option is to stay at the Montecito Sequoia Lodge in Giant Sequoia National Monument and take in the old-school national park lodge vibe. Unwind at the former girls' leadership camp while making use of modern accommodations—private baths and decks, floor-to-ceiling windows with unparalleled views of the forest, and a delectable buffet. Nature couldn't be more relaxing.
Top Campgrounds in
Sequoia & Kings Canyon National Parks

Sentinel Campground
Location: Along Highway 180, near Cedar Grove Visitor Center in Kings Canyon National Park
Amenities: Fire ring, picnic table, large bear-proof food storage box, drinking water, flush toilet
Activities: Hiking, horseback riding, wildlife watching
Fees: $22 per night
Number of sites: 82 sites for tents, RVs, and trailers
Dogs allowed: Yes, but on-leash. Consider leaving your loyal companion at home this time. Pets are not allowed on trails, and it's not safe for them to interact with wildlife.
Cold Springs Campground
Location: Along the east fork of the Kaweah River, near the Mineral King Visitor Center in Sequoia National Park
Amenities: Large bear-proof food storage box, picnic table, potable water, vault toilets, pay telephone
Activities: Hiking, boating, fishing, wildlife viewing
Fees: $12 per night
Number of sites: 40 sites for tents only
Dogs allowed: Yes, but on-leash. Consider leaving your loyal companion at home this time. Pets are not allowed on trails, and it's not safe for them to interact with wildlife.
Potwisha Campground
Location: Along the Middle Fork of the Kaweah River, four miles from the Ash Mountain Entrance Station
Amenities: Picnic table, fire ring, bear-proof food storage box, pay telephone, drinking water, flush toilet
Activities: Hiking, fishing, wildlife viewing
Fees: $22 per night
Number of sites: 42 sites for tents, RVs, and trailers
Dogs allowed: Yes, but on-leash. Consider leaving your loyal companion at home this time. Pets are not allowed on trails and it's not safe for them to interact with wildlife.