The mention of Napa and Sonoma Valleys often conjures images of fine wines, acres of vineyards, and regal winery estates. While they are among the greatest wine destinations in the world, these two vibrant and diverse regions offer much more than world-class vinos. In fact, there are numerous people who come to Wine Country without hitting up all the wineries and tasting rooms that often fill weekend itineraries. Whether you are not drinking due to pregnancy, health, or spiritual reasons, you can find plenty of alcohol-free activities in Napa and Sonoma Valleys. From hiking in the hills, to shopping at upscale boutiques, to learning new skills, to relaxing in hot springs, there are various alternative experiences that can make for a memorable day (or weekend) among the vines—even sans vino. Here are the top 11 things to do.
1. Go Up, Up, and Away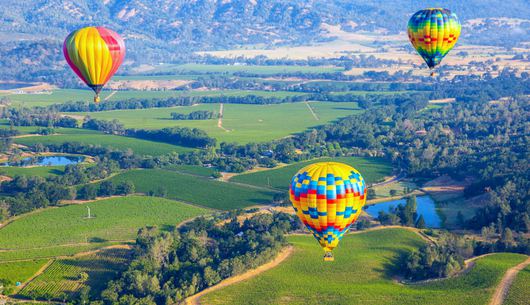 You know the saying: Early bird gets the worm—and early risers in Wine Country are often rewarded with a bird's-eye view after waking up at the crack of dawn to soar above the region in the basket of a hot-air balloon. Whether you are in Napa or Sonoma Valley, there are numerous hot-air balloon companies that can take you on a ride through the clouds, giving you the opportunity to take in dramatic views of the vineyards, mountains, forests, and coastline as the California sun spreads across the land. Though you're flying high in the air, the ride is smooth, relaxing, and peaceful—and it's easy to feel worlds away.
2. Visit Wineries that Offer More Than Wine
It may seem counterintuitive to visit a winery if you're not there to drink wine, but don't fret: Many properties offer a little something extra to appeal to visitors who are not imbibing. Nondrinkers can explore the Tuscan-inspired castle housing Castello di Amorosa winery, tour the historic wine caves at Schramsberg Vineyards, enjoy an Italian picnic at the gorgeous V. Sattui Winery, take in panoramic views from an aerial tram at Sterling Vineyards, or admire film memorabilia at Francis Ford Coppola Winery. And art buffs can't miss Hess Collection, Hall Wines, Robert Mondavi Winery, and Mumm Napa Valley—which all boast world-class sculptures, contemporary paintings, awe-inspiring photography, and more stunning artworks.
3. Admire Local Art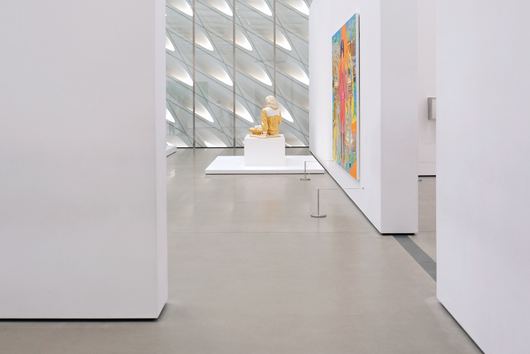 Speaking of art, the di Rosa Center of Contemporary Art is another cultural hot spot, featuring one of the most extensive art collections in Northern California, thanks to its eccentric late founder, Rene di Rosa. Tucked away in the Napa hills, the property's 200-plus acres are comprised of three separate galleries with modern works by Bay Area artists as well as an outdoor sculpture garden with color pieces. To fully experience the museum's vast collection, sign up for the two-hour tour well in advance.
4. See a Show
Wine Country attracts award-winning singers, orchestras, dance troupes, theater groups, and comedians throughout the year, so there are ample opportunities to see top-notch performances. Some of the best entertainment venues in Napa Valley are the iconic Uptown Theatre and the historic Napa Valley Opera House—which both host concerts, plays, and dance shows. And in Sonoma Valley, the Green Music Center is home to two gorgeous halls that provide astounding acoustics for musical acts, while the Luther Burbank Center for the Arts is an expansive complex showcasing both visual and performing arts.
But summer is the prime time to catch a show in Wine Country. The region is a perfect spot to revel in warm evenings, and places like Veterans Park in Yountville and Silo's along the downtown Napa waterfront have nightly live music during summer months. Several wineries, too, host musical performances between June and August, including Oakville's Robert Mondavi Winery, Healdsburg's Rodney Strong Vineyards, and Sonoma's Gundlach Bundschu. Many visitors also flock to Wine Country for its beloved annual festivals, such as Music in the Vineyards, Festival Napa Valley, Country Summer Music Festival, and Napa Porchfest.
5. Get Muddy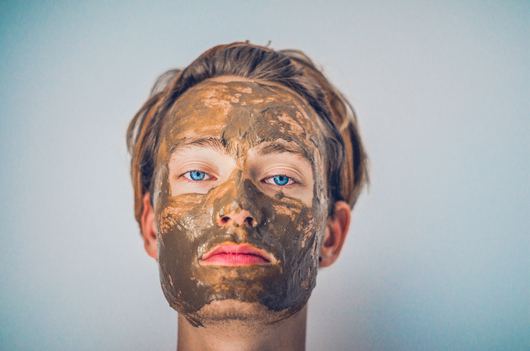 If relaxation and rejuvenation are what you're after, look no further than Calistoga. Nestled at the northern end of Napa Valley, the town sits near a wealth of natural mineral hot springs and is well-known for its luxe destinations that provide an array of revitalizing treatments with detoxifying benefits. There are a number of spas and resorts that offer mud baths—a mix of hot spring water and natural minerals infused with rich volcanic ash and peat—as well as massages and body wraps, making Calistoga an ideal place for a romantic retreat or a getaway with a group of girlfriends. A popular spot is the venerable Indian Springs, where there are four on-site thermal geysers and hot mud soaks (clothing optional) spread across the property's 16 acres. For those feeling more modest, the incredible Calistoga Ranch Spa offers such unique treatments as the "Calistoga Mud Wrap", a dry brush exfoliation, and the "Sense of Place", a mud mask of volcanic ash painted onto your back.
(Tip: While you're in Calistoga, you can also visit Old Faithful Geyser—the other two geysers with the "old faithful" title are in Wyoming and New Zealand—which sprays steam and scalding water about 60 to 90 feet into the air every 15 to 30 minutes.)
6. Savor Locally Made Olive Oil
Thought Wine Country only grew grapes? Think again. The area's climate also lends itself well to producing quality olive oils, and Napa Valley is home to one of the top spots for tasting this liquid gold. The grand, beautiful Round Pond Estate is not only an acclaimed winery, but also an olive mill—one of the only two in the region—that crafts small-lot olive oils from imported Mediterranean olive trees. Owned and operated by the second generation of the MacDonnell family, Round Pond creates a variety of gourmet olive oils infused with everything from blood orange, to Meyer lemon, to garlic, to rosemary, to basil. Stop by the estate to tour the mill; learn about cultivation, harvest, and production methods; and of course, taste the final product (along with artisanal vinegars and light bites). You can also savor Napa's blossoming olive-oil renaissance at Long Meadow Ranch, Napa Valley Olive Oil Manufacturing Company, and Olivier Napa Valley.
7. Take a Cooking Class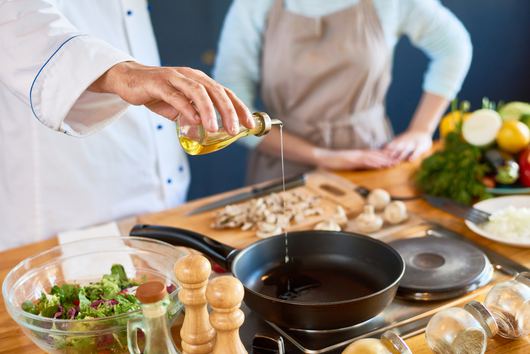 Whether you already love to cook or simply want to learn how, the CIA at Copia and CIA at Greystone have a class for you. These premier Napa Valley culinary institutions offer a mind-boggling assortment of hands-on experiences for anyone who likes to make (and eat) delicious food. The classes at each location are led by knowledgeable, engaging chefs and range from two-hour dim sum–making classes, to five-hour culinary bootcamps, to full-on dinner experiences celebrating California's bounty. If you'd rather sit back and watch, sign up for a cooking demonstration to see chefs in action and gain cooking tips in the process.
8. Enjoy the Great Outdoors
Home to verdant rolling hills, lush forests, rushing rivers, and unique natural landmarks, Wine Country offers endless opportunities for outdoor adventure. Top spots for nature lovers and hiking enthusiasts are Wantrup Preserve, Archer Taylor Preserve, and Dunn-Wildlake Ranch Preserve—all of which are owned by the Land Trust of Napa County. Founded in 1976, the organization protects more than 73,000 acres of local land and even offers year-round guided tours for hikers of all skill levels. Hood Mountain Regional Park and Preserve, situated at the northern end of Sonoma Valley, is another popular destination with a labyrinth of outstanding trails. Hikers should also consider visiting the Petrified Forest in Calistoga, where they can admire majestic redwood giants that were turned to stone more than three million years ago after a volcanic explosion.
There's no shortage of possibilities for cyclists, either, who can choose from several Napa routes, including the moderate, scenic 12-mile Lake Hennessey ride and the leisurely 11-mile Old Toll Road. The Napa Valley Vine Trail is another favorite among cyclists, who enjoy the picturesque ride from Kennedy Park all the way to Yountville. (Eventually the trail will run from south Napa all the way to Calistoga—the whole length of the Napa Valley.) In Sonoma Valley, one of the most famous routes is the 30-mile Dry Creek and Alexander Valley loop, which starts and ends in Healdsburg and rewards riders with spectacular scenery; if 30 miles seems too intense, just explore a small section of the trail. Those desiring more relaxed rides should also check out local adventure companies offering easygoing bike tours.
In warmer months, getting out on the water is another fun pastime for both locals and visitors. Whether you want to kayak or canoe down the Russian River with Fido; swim in the brilliant-blue lagoon at Spring Lake Regional Park; fish for trout, largemouth bass, and catfish in Lake Berryessa; or paddleboard on the tranquil waters of the Napa River, there are plenty of places to splash around and get a unique perspective on Wine Country's natural splendor.
9. Take a Train Ride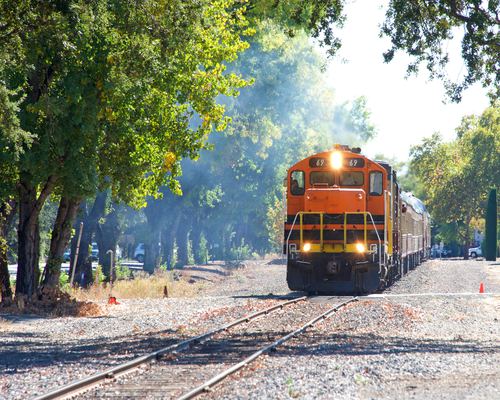 Get transported back to an elegant era as you step aboard the acclaimed Napa Valley Wine Train, where you can savor a multi-course meal of superior California cuisine as you admire the stunning landscape from a refurbished antique Pullman railcar. While rides are often combined with winery tours, they don't need to be, and with both lunch and dinner options available, the train offers a truly unique way to experience the Napa Valley.
10. Shop 'Til You Drop
Those in need of some retail therapy are in luck. From the high-end boutiques of St. Helena, to the varied shops surrounding downtown Healdsburg, to the cute clothing and specialty stores in Yountville, there's no shortage of shopping destinations in Wine Country. Downtown Napa is a particularly popular spot for shoppers, as its myriad streets are lined with retailers selling the latest fashions along with locally made foods and sweets, beautiful pottery, luxe leather goods, organic skincare products, and handcrafted jewelry. In addition, the town's famed Oxbow Public Market is a favorite among residents and tourists alike, boasting a lively atmosphere and a sprawling space filled with local produce, organic ice cream, artisanal cheeses, fine silks, quirky greeting cards, cookbooks, and everything in between.
11. Go on Safari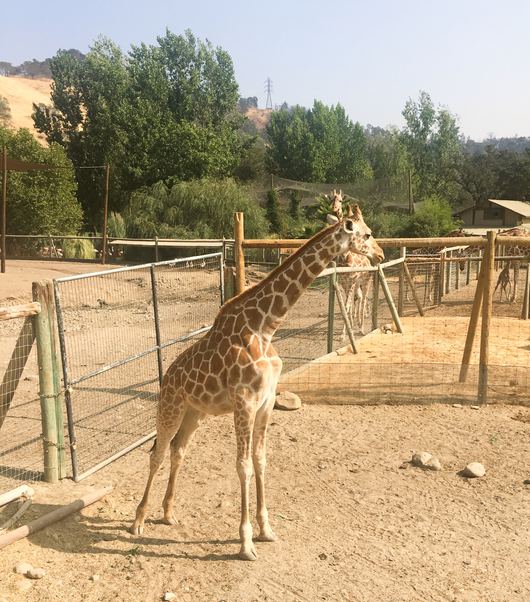 Yes, you read that right. For a wild experience on the outskirts of Wine Country, head to Safari West. This renowned 400-acre preserve is home to over 90 exotic species, including cheetahs, giraffes, lemurs, rhinoceros, and antelopes. Climb aboard a safari vehicle to explore the Sonoma Serengeti, enjoy a meal while surrounded by wildlife, and spend the night in a luxe tent and fall asleep to the sounds of nature.