By

California.com
December 07, 2020
It's officially time to bust out the blue and white decorations: Hanukkah is right around the corner. Though the latkes may be the stars of Hanukkah, there's so much more to the holiday than just the delicious traditional food. Commonly known as the Festival of Lights, the eight-day celebration is also commemorated with the lighting of the menorah, games, and gifts.
Hanukkah, which means "dedication" in Hebrew, celebrates the rededication of the Holy Temple in Jerusalem in the 160s BC. Back then, the Jewish peoples of Judea were ruled by the Syrian king Antiochus, who ordered the population to worship Greek gods instead of practicing their own beliefs. A small army of the Jewish population—the Maccabees—rebelled against the religious persecution and regained control over the Temple, which was seized and used as an altar for Zeus; thus, thankfully, they were able to keep their Jewish identity.
Everything You Need to Know About Hosting Hanukkah Celebrations at Home
The best way to celebrate Hanukkah is at home, surrounded by family, friends, and loved ones—honoring the true spirit of the holiday. How's what you need to know about Hanukkah and how to commemorate the holiday.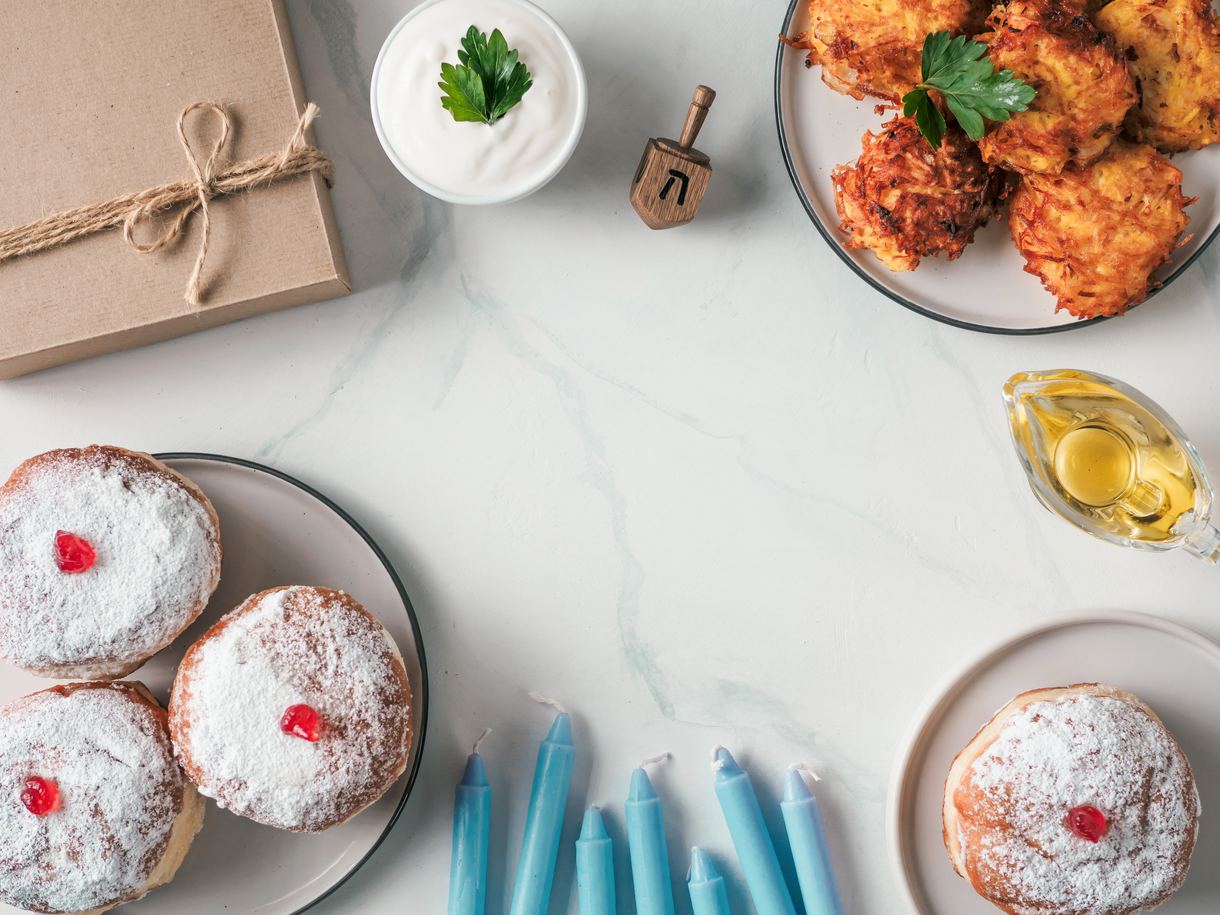 How long is Hanukkah?
The dates of this Jewish holiday are determined by the ancient Hebrew calendar, which is based on a lunar cycle. While it falls on the same day every year on the Jewish calendar—the 25th of Kislev—it's not perfectly in sync with the Gregorian calendar. Hanukkah can fall anywhere between late November to late December. This year, the Festival of Lights kicks off on December 10 and ends on the evening of December 18.
The celebrations last eight days, thanks to the miracle experienced by the Maccabees during the rededication of the Second Temple whilst fighting for their beliefs. The Maccabees lit the menorah in the temple—they believed they only had enough oil to keep the menorah's candles burning for one day. However, the flames continued flickering for eight nights, leaving the warriors ample time to find a fresh supply.
Hanukkah menorah
So, what exactly is a menorah? Also known as hanukkiah, the menorah is a lampstand that has nine branches. Eight of the branches symbolize the miracle of the oil, while the ninth is known as a helper candle (shamash) that helps keep the other candles lit. People usually place the menorah near a window so it can be seen by passersby—publicly honoring the miracle.
The Hanukkah menorah candles are lit one by one. On the first night of the holiday, the candle on the far right of the menorah is lit along with the shamash. A candle is then lit each night, from left to right, after reciting two blessings.

Hanukkah dreidel
A dreidel is a four-sided spinning top used in a traditional game played on Hanukkah. There is a Hebrew letter on each side of the dreidel—Nun, Gimmel, Hey, Shin. The letters are the first letters in the phrase Nes Gadol Haya Sham, which translates to, "A great miracle happened here."
How to Play
All players are given equal amounts of game pieces; a minimum of 10 pieces per person. The game pieces can be any small object such as coins and nuts—Hanukkah gelt (chocolate coins) are popular items of choice. Players take turns spinning the dreidel. Each letter on the dreidel symbolizes an action like "take all" or "put a coin in." When a player loses all of their pieces, they are out of the game. At the end of the game, the person with the most pieces wins.

Hanukkah gifts
Even though giving and receiving gifts aren't traditional aspects of this religious holiday, many people still do it when celebrating Hanukkah. After all, who doesn't like to show their love and affection for others with gifts?
Many people pass out gelt along with other gifts on Hanukkah. Holiday-themed items are common presents as well. If you feel like you need some inspiration on what to gift your loved ones on the special day, check out the best eco-friendly gifts from California companies or this helpful holiday gift guide for everyone on your list.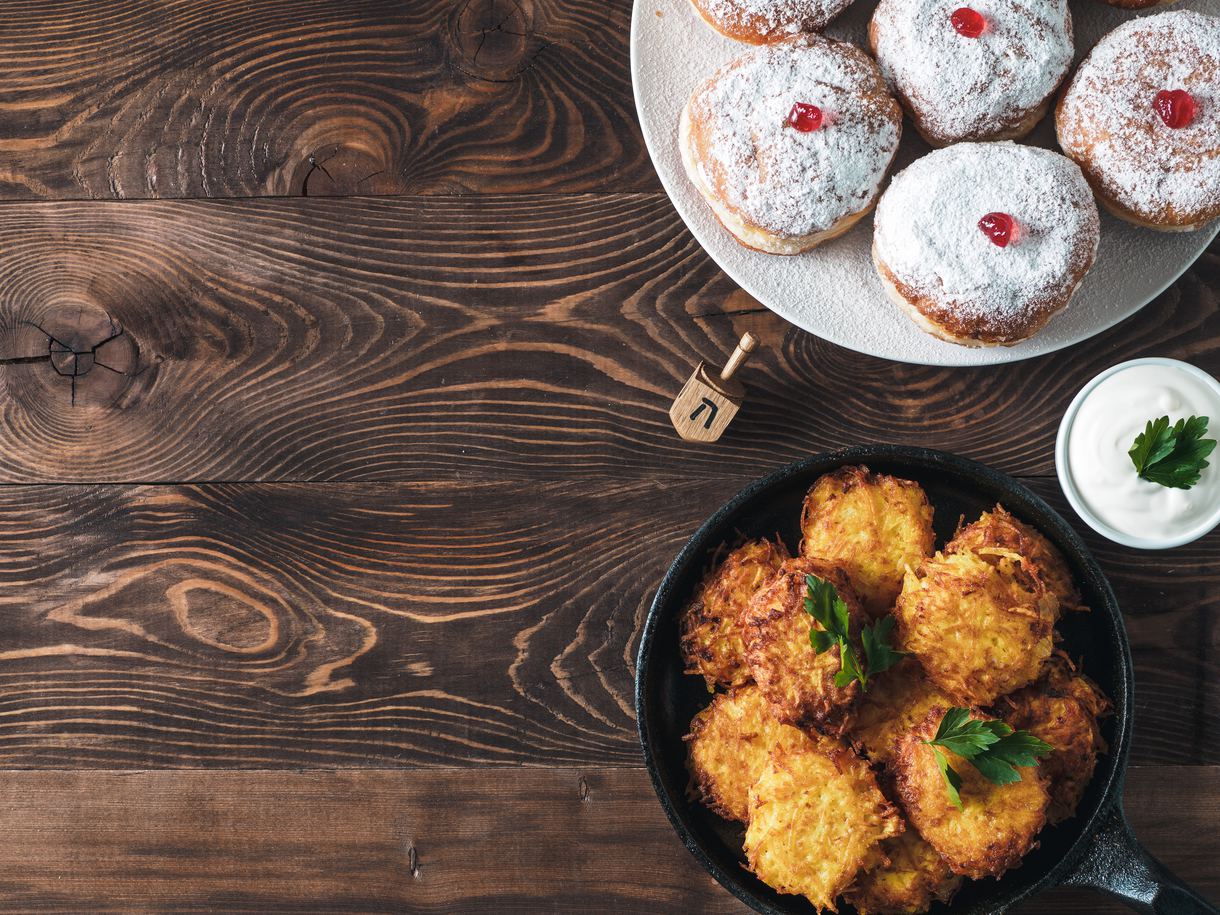 Traditional Hanukkah food
If you're anything like us, you look forward to an abundant table full of traditional Hanukkah foods every year. There is nothing quite as fulfilling as stuffing your face with kugel and donuts and almost slipping into a food coma afterward. Some of our favorite essential Hanukkah recipes are actually rooted in meaningful traditions. Impress your Bubbeh this year by whipping up a traditional recipe with a side of historical and religious knowledge.

Classic Potato Latkes
Fried foods are an important part of the traditional Hanukkah menu; the oil used for frying is meant to represent the small amount of oil that kept the menorah lit for eight days. No one can resist a crispy-on-the-outside, soft-on-the-inside classic potato latke. This recipe from Tori Avey is sure to impress.
Prep time: 30 minutes
Cook time: 30 minutes
Total time: 60 minutes
Servings: 24 latke pancakes
Ingredients
2½ pounds potatoes
1 large onion
1½ cups avocado, peanut, or grapeseed oil
¼ cup schmaltz (optional)
¾ cup breadcrumbs
2 eggs
1 tablespoon potato starch
1¼ teaspoon salt
½ teaspoon pepper

Directions
1. Cut potatoes into large pieces, then shred them using a hand grater or a food processor with a shredding attachment. Place grated potatoes in a large bowl, and immediately cover with cold water.
2. Finely shred onions with a hand grater or food processor. Place on a tea towel.
3. Drain potatoes and combine with onions on the towel. Twist the towel to secure the bundle, and squeeze firmly to remove any excess liquid. Transfer potatoes and onion to a bowl. Mix again, making sure they are evenly combined.
4. In a skillet over medium heat, add oil to reach a depth of ⅛ inch. If you're using schmaltz, add that as well. Heat to about 365 degrees Fahrenheit.
5. While the oil is heating up, add breadcrumbs, eggs, potato starch, salt, and pepper to the potato mixture. Combine well.
6. Scoop up around 3 tablespoons of the mixture and shape into a compact disk. Place disk carefully into the hot oil, frying two to three minutes per side, until browned and crispy.
7. After removing latkes from the oil, place them on a drying rack. Serve immediately, if possible.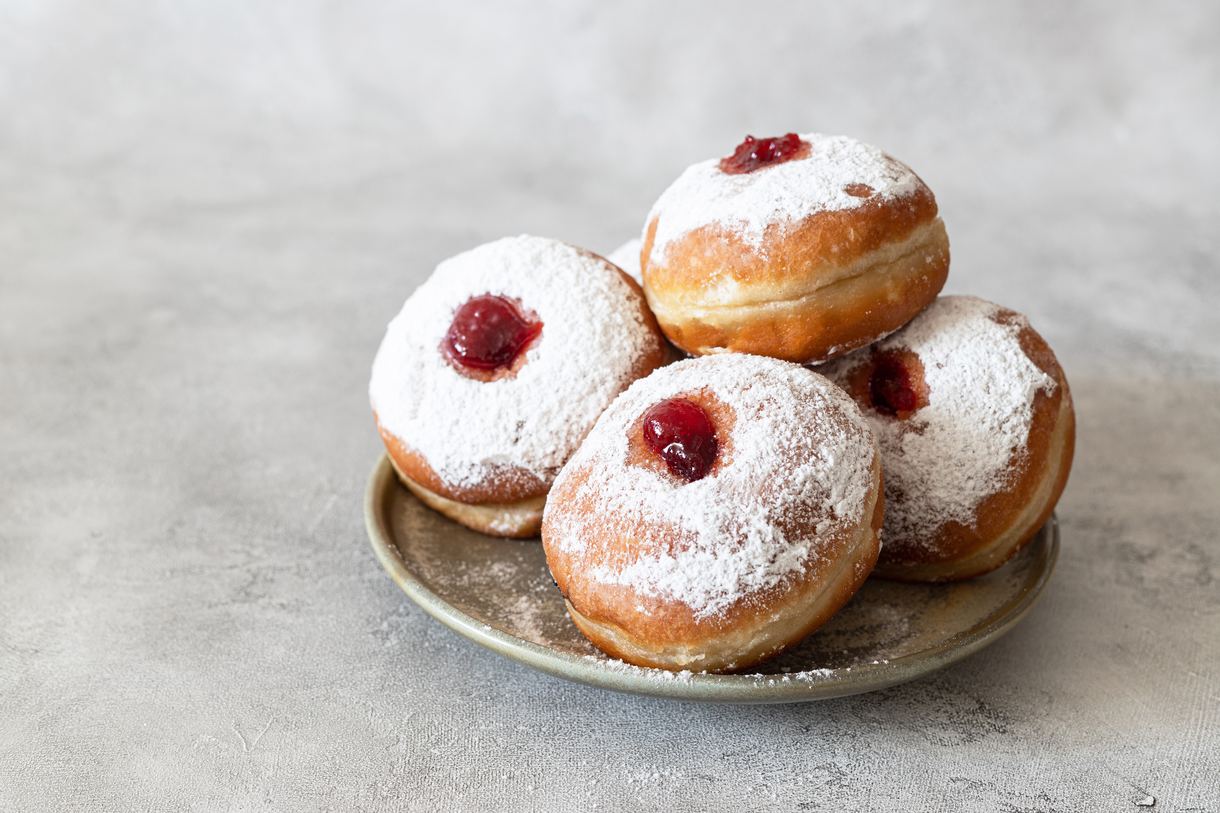 Hanukkah donut
Hanukkah jelly donuts, also known as sufganiyot, are among the most beloved Hanukkah foods. This recipe from Hilah Cooking is as traditional as it gets.
Prep time: 2 hours
Cook time: 10 minutes
Total time: 2 hours, 10 minutes
Servings: 16 donuts

Ingredients
1 package active dry yeast
¼ cup and 1 tablespoon of sugar
2 tablespoons warm water
1 whole egg
2 egg yolks
½ cup whole milk
1 tablespoon lemon juice
½ teaspoon salt
1 teaspoon vanilla extract
3–4 cups all-purpose flour, divided
6 tablespoons butter, room temperature
4 cups peanut or canola oil
1½ cups jam (strawberry, apricot, cranberry) from a California fruit farm
Powdered sugar, for dusting

Directions
1. Whisk together yeast, 1 tablespoon of sugar, and warm water. Let sit for five minutes, or until foamy. Then, add egg, yolks, milk, lemon juice, salt, vanilla, and 2 cups of flour. The mixture should have a soft texture at this point.
2. Cut butter into ¼-tablespoon bits and gradually mix them with the dough. Once all the butter is fully incorporated, add another cup of flour until the dough begins to pull away from the bowl.
3. Transfer dough to a floured surface and knead until smooth, for about five minutes. Place the kneaded dough into a buttered bowl, cover with a cloth, and let it rise for about one hour.
4. Roll out the dough to a ¾-inch thickness. Cut out 2- to 3-inch round pieces, cover with a cloth, and let rise for 40 to 45 minutes.
5. In a large pan over high heat, heat oil until it reaches 350 degrees Fahrenheit.
6. Once the desired oil temperature is reached, fry the round pieces of dough for one minute on each side (until golden brown).
7. Let the fried donuts cool on a paper towel or drying rack for a few minutes.
8. Fill a piping bag with your jam of choice. Poke the tip into the top of the Hanukkah donut, gently filling in the donut until the jam starts poking out.
9. Sprinkle donuts with powdered sugar and serve.