Having experienced many California music festivals in the past, including Vans Warped Tour in Ventura and BottleRock Napa Valley, it's fair to say I had high expectations for Outside Lands, but I never could have imagined just how exceptional it would be. Aside from having the most beautiful weather, this San Francisco extravaganza combined everything good in the city—from fantastically diverse food options, to heart-racing musical talent, to the nicest event staff—resulting in the best music festival experience I've ever had. Here's a breakdown of my day.
11 a.m.
Heading over to Outside Lands from the East Bay is not for the faint of heart. Arriving at the BART station is always an interesting experience, and you can never be sure what you will encounter. But luckily for me, the most exciting part of this particular ride was spotting all of my fellow festival-goers, who were brimming with anticipation on opening day. These riders couldn't stop talking the entire 45-minute ride—spilling everything about needing to head to the box office to pick up their wristbands; needing to purchase a single-day ticket for Saturday; coordinating plans with their friends on FaceTime; sharing that they were most excited to see Blink-182 (a sentiment my man and I very much shared, too); and discussing what outfits they almost wore instead of the bandanas, ripped jeans, and combat boots they donned in front of us.
11:47 a.m.
Once we arrived at the Civic Center BART station, everyone dispersed and headed to different exits, though we all knew we would end up at the same place eventually. I had to make a quick stop to pick up my wristband, and as soon as I came into contact with the amazing Outside Lands employees, I knew I'd feel right at home at the festival.
12:10 p.m.
Feeling even more jazzed about the day, I call an Uber to take us to the front gates in Golden Gate Park, officially starting my first experience at this festival that I've heard so much about throughout the six years I've lived in the Bay Area. The ride from the closest BART station to the park takes about 20 minutes, but with so much to look at during the drive, the time seems to fly. The Victorian homes line the streets, showing off their personalities with gingerbreading and pastel colors, as the festival crowd walks by in neon orange and green.
12:30 p.m.
We're dropped off a few feet away from the corner of the festival gates, thanks to a fortuitous red traffic light. We quickly make our way across the street and begin to feel giddy, knowing that we have made it and that luck seems to be on our side today. The box office is straight ahead, and since there's barely any line, we make our way to the front to pick up my partner's ticket before heading inside.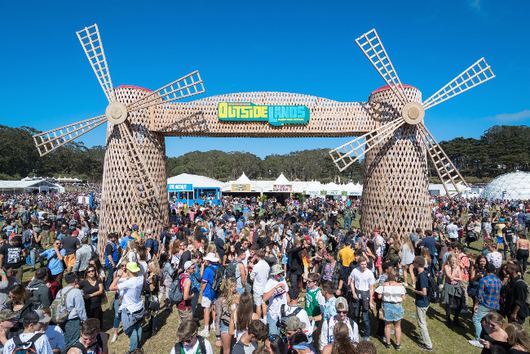 12:35 p.m.
The barricades line the right side of the pathway, and as we walk this long, seemingly never-ending route, we find ourselves annoyed for the first time. (Why is there such a long walk between the box office and the entrance? Why does everyone walk so slowly?) But we catch ourselves in these thoughts and compliment a lady with a tiger tattoo instead of asking these unnecessary questions out loud.
1 p.m.
We pass through security and share a few laughs with the guards, before I embarrassingly leave my water bottle at the entrance and have to turn back to get it from them. Hoping to leave the awkward moment of the day behind me, we continue inside, past Ranger Dave, and hook a right to see what's going on at the Sutro stage. We quickly become interested in the groovy music of The Seshen—not to mention the brilliant blue hair of its lead singer—which is made up of San Francisco Bay Area natives. After listening to a few songs, we continue strolling through the venue, knowing that there is so much more to see.
1:25 p.m.
After walking up and over hard-packed, sandy grounds littered with large rocks, I never would have guessed that we'd end up at the top of a grassy polo field. The huge space is surprisingly empty, so we take advantage of this time to walk through the Hint water booth to smell the fruity scents, drink flavored-water samples, and take pictures with neon signs of phrases like "I love you berry much" and "tropic like it's hot".
Beyond this booth are numerous food vendors in the Taste of the Bay Area, all waiting to serve the customers they know will eventually show up. I grab a crispy fried chicken sandwich from Proposition Chicken while my man heads to the next booth over for the rarely found Southpaw BBQ pulled-pork sandwich. With our hands full, we walk over to the family-style tables to scarf it all down; both sandwiches are incredibly filling and exactly what we wanted to fuel our adventures. As an added bonus, this vantage point allows us to see the Long Beach natives of Half Alive perform as we eat. The colorful background works perfectly with the band's 90s-inspired outfits, and the creative dance moves transport me to the imaginative assemblies of my childhood.
2:04 p.m.
Once we finish every last bite, we walk around the venue to see what else there is to discover before the next band hits the Lands End stage. We discover dozens of other food options—including the mythical cotton candy on churro sticks—and take note of the coffee tent, which will undoubtedly come in handy later in the day.
2:15 p.m.
With the next act heading to the stage, we make our way through the crowds and over to Lands End so I can get into the photo pit in time for the show. Anxiety and excitement flood my body as I approach the entrance to the pit and think: What if I do it wrong? What if nobody takes me seriously? But I show my sparkling wristband and am let right through. Panic and self-doubt run through my mind for a minute before I realize how incredibly lucky I am to find myself here, just a few feet from the stage. P-Lo takes the stage, and I jump into action and start snapping photos.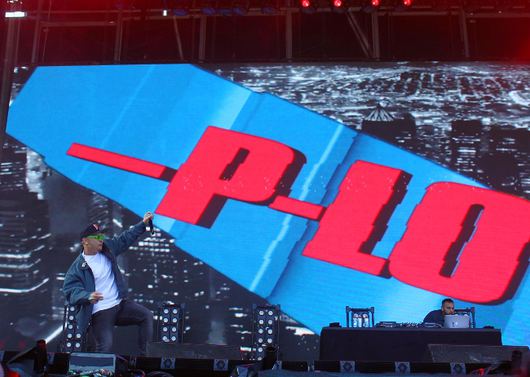 2:23 p.m.
P-Lo is clearly a Bay Area favorite (which makes sense because he's from the East Bay city of Pinole), with fans singing along and raising their hands in the air as they listen to the energetic performer. The set includes all of the crowd favorites such as "Bblu" and "Feel Good", but his performance becomes instantly memorable when he brings out Stomper, the Oakland Athletics' mascot, a few songs in. Though it started out small, the crowd continues to grow as the set goes on, and everyone on the Polo Field stops eating so they can get their groove on and belt out the lyrics.
2:50 p.m.
Though the set hasn't ended, I am in desperate need of water, so we wander off to find the nearest station to fill up our Camelbak. We finally find it at the top of the Polo Field, and after a single sip, I start to feel alive again. We stop by the ApplePay booth and pick up a super cute pink-and-gray blanket for an astounding $2.
3:05 p.m.
I am already regretting the blanket decision—with nowhere to put it during the rest of the festival, I am carrying it, sweating on it, and figuring out creative ways to hold it in the porta potties without letting it touch anything. Thank goodness it's cute.
3:30 p.m.
Before we know it, it's time to head back to the Lands End stage to catch The Neighbourhood. Being so close to the leopard-print-wearing Jesse Rutherford—the lead singer of this Newbury Park band—makes my heart flutter (and my 2013 self incredibly proud). While I had high hopes for this performance, its position between the high-energy P-Lo and the anticipated Lil Wayne make the set feel a bit underwhelming. Though the artists themselves did not falter, I couldn't help but get flashbacks to BottleRock a few years ago, when Death Cab for Cutie took the stage after The Struts—who put on an unforgettable performance—and the set felt like a downer. Even with this unfortunate planning, Rutherford's majestic voice will stay with me for years to come.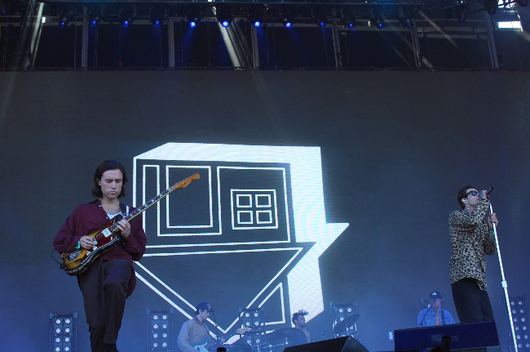 4:20 p.m.
Trying to process my feelings from the last few performances, we decide to step away from the musical stages for a bit. After figuring out the confusing venue signs that point in every different direction, we make our way past Cheese Lands and over to the Gastro Magic stage to catch the last bit of Susan Feniger and Adam Duritz, who had prepared tacos—that a staff member was handing out while wearing a hamburger costume. Though we didn't get to the front soon enough to pick up tacos for ourselves, the opportunity to sit down in the open, grassy area is thoroughly appreciated.
4:45 p.m.
While we wish we could relax for a bit longer, the time has come to walk back to Lands End. On the way, we pass Masego's set, which has drawn a fairly large crowd, but we have places to be, so we can't stay.
4:55 p.m.
The Polo Field is so much more populated now than it was when we arrived, and it is clear that everyone has made it out to see Lil Wayne. I scurry around the masses to find my way to the pit, thinking I will be late. Luckily for me, all of the set times are behind by 20 minutes due to delays earlier in the day, so I haven't missed a second. DJ T.Lewis is doing his best to entertain the upset crowd waiting for Lil Wayne's performance, but the tension is palpable.
5:15 p.m.
After what feels like forever, Lil Wayne finally makes his appearance, donning a color-block tracksuit, his signature blonde dreads, and of course, his famous grill. As his incredible energy flows throughout the venue and smoke fills the stage, the crowd seems to feed off of his performance, letting go of the frustration felt just moments before. His spirits are clearly in the right place as he names out rules for life and raises his arms in the air, but it is hard not to focus on some of the insensitive lyrics and sound clips.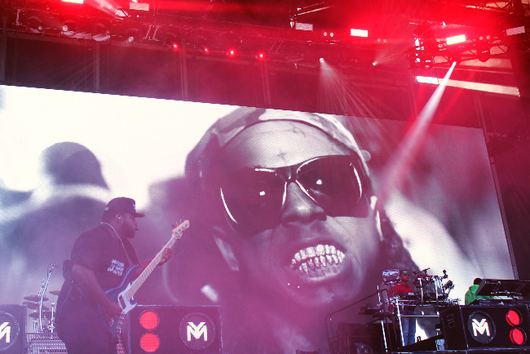 6 p.m.
After a confusing set, I am even more hyped for the Blink-182 performance, which is less than half an hour away. We step away from the crowds for a few minutes and decide to grab some food while we can. The lines are fairly long at this point, so we pick up a slice from Escape From New York Pizza, which seems to have a short wait. We both go for the pepperoni and wander through the crowds as we stuff our faces.
6:25 p.m.
While downing this delicious, greasy slice, we head toward the front of the stage, where I will eventually go into the pit. Since this is the main event for us—the one we have been waiting for—I just want to enjoy the first song with my man. As the highly anticipated Blink-182 takes the stage, I am losing my mind next to hundreds of other screaming fans who are doing the same. For the first time all day, I feel like a real part of the festival instead of an outsider looking in. "Feeling This" has me feeling it, and there's nowhere else I'd rather be.
6:30 p.m.
I walk over to the pit as soon as the first song ends and get to photograph another crowd-pleaser: "Rock Show". Travis Barker is going so hard alongside Mark Hoppus and Matt Skiba that I am nearly drawn to tears. Never in a million years could I have imagined myself standing here, next to a band I've heard as far back as I can remember, as Karl the Fog rolls in around me.
6:40 p.m.
I finally get to enjoy an entire set, and I couldn't be more stoked—or maybe I could, judging by the man in front of me wearing goggles and white pants who is rocking out and just can't stop feeling the music. You'd think he was famous considering how much space and attention everyone is giving him, but aside from having a slight fear of him hitting me, I fully embrace the way he's getting it. I can feel the fatigue starting to settle in as I stand still for the first time, but nothing can take away the excitement I'm feeling or stop me from bouncing along as I belt out the words to "What's My Age Again".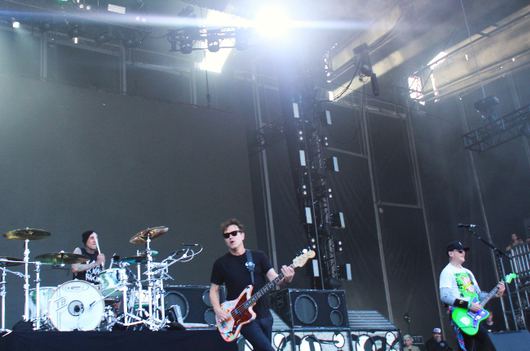 7:41 p.m.
With Blink-182 having finished up (they played one last song after announcing, "We're gonna keep playing music! And do you know why? Because we're contractually obligated!"), the fog has turned into somewhat of a mist, and all of San Francisco seems to be mourning the end of their set.
7:50 p.m.
We make it out of the crowds and realize that I have a full hour before I need to be at the next stage, so we enjoy some much-needed relaxation time. We walk along McLaren Pass toward the Panhandle stage, which is where I need to be before 8:40. With a low turnout so far, we set out the blanket I've been carrying all day and sit down to take a breather. Sitting feels so foreign yet so wonderful, and I never want it to end.
8 p.m.
The space is starting to fill up, which is good news for Luttrell (who is definitely worthy of a packed house) but worrisome for those of us on the ground. After convincing myself for quite some time, I get up on my feet and go over to get something to drink before walking to the next stage.
8:20 p.m.
I thought I'd have plenty of time. Twenty One Pilots and The Lumineers were scheduled to play at the same time, so I thought The Lumineers might not have a huge crowd. Boy, was I wrong. The crowds are already packed in, and I can hardly move in any direction, much less make it to the front. After a slight (major) panic attack and near breakdown, my man directs me toward a staff member to ask for help. We make it to him after a decent amount of effort, and he tells us to head up to the merch tents at the top of the hill, where someone might be able to help us. He says his manager is up there, too, so we feel hopeful.
8:25 p.m.
Holy moly, this is a seemingly impossible task. We have to navigate between the sea of blankets (that the owners are too protective of considering they're sprawled out with no walking path around them) and festival-goers sitting on the ground, so it takes a good
10 minutes to find a path leading to the merch tents.
8:35 p.m.
We find a group of three staff members and ask if we've found the right place, and we have—much to our relief. We assume we will have to separate until I get the photos I need, but we must have found the nicest employee ever, because he lets us both through to the VIP area so I don't have to navigate it alone. After signing a (second) release, I make my way into the pit just in time to catch The Lumineers taking the stage. After such an arduous journey, I find myself nearly alone, and I have a moment to remember how rewarding all the effort has been.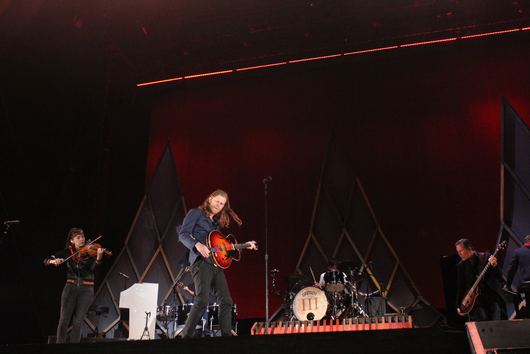 9:15 p.m.
I find my way out of the pit and we immediately leave the VIP area, knowing that the crowds will be insane if we wait too long to make our exit from so close to the stage. Man, is it crowded. We find a makeshift pathway between the bleachers and the grassline, but it's effectively a one-way street. Everyone is pushing past one another, and just when I think it's safe, a woman pushes her way across me and spills some of her drink on my camera. I panic. But it's not that bad, thank goodness. Escaping the crowds feels like a monumental achievement—one that we celebrate by spreading our arms out in front of us for the first time in what feels like a decade.
9:30 p.m.
Since the Twin Peaks stage is on the opposite side of the entrance, we decide to start walking in that direction. Los Angeles–based Flying Lotus is playing at the Sutro stage right near the exit, so we hang out in the back of the crowd for a few minutes as we figure out a game plan.
9:45 p.m.
With a long day behind us, we walk out the gates and up the long hill that takes us five blocks up to the designated Uber pickup area. This is our first time at the festival, so we don't know what to expect when we embark on this trek, but we soon realize it's not going to be easy. We pass five hot-dog vendors who are already set up and blow past two others who are pulling their stuff down the hill in order to take advantage of the mass exodus. Even homeowners stand outside offering chips, ramen, and entire pizzas to the stumbling crowds that surround us.
9:55 p.m.
We finally make it up the hill and call an Uber, only to have to wait 10 more minutes for it to arrive. Grateful for the incredible day but now freezing (thanks, Karl the Fog), we stand on the curb trying to make out any license plate among the blazing car headlights.
Our ride arrives, and luckily, it is shockingly easy to tell which car is ours. Climbing in, we sit on a seat for the first time in hours, and it feels both amazing and painfully tingly. The ride back to BART takes longer due to the crazy traffic leaving the venue, but after half an hour, we find ourselves at the station and on our way home. It takes us a total of two hours to get from the Outside Lands gates to our front door, but flopping down on the couch, we feel everything was worth it and begin planning our three-day music festival adventure for next year.