Planning a wedding is hard work, and the process can become even more complicated when keeping the environmental impact in mind. Decorations can create piles of trash that end up in a landfill for dozens of years, while conventional diamond rings can have negative social and environmental impacts—but your wedding doesn't have to follow in these footsteps. Throwing a sustainable wedding is infinitely more rewarding than simply continuing the classic, harmful traditions. So if you want to have an eco-friendly celebration that is a better reflection of who you are as a couple, be conscious of the major items that are detrimental to the environment: invitations, favors, rings, floral arrangements, and the exit toss following the ceremony. You can also follow these six tips to achieve the sustainable wedding of your dreams.
Buy Ethical Rings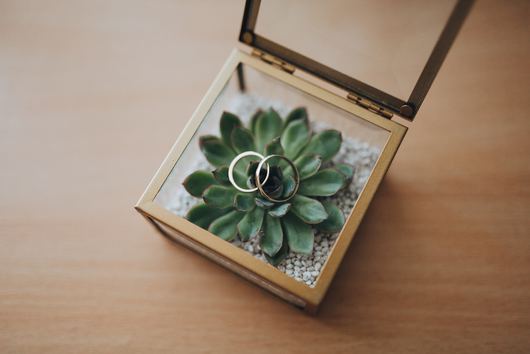 While buying a ring can seem like an innocent task, the fact is that many diamonds are not traced back to their origins and may, in fact, be blood diamonds. We owe the popularity of diamond engagement rings to a marketing campaign from 1947 with the slogan "A Diamond is Forever".
That's right, De Beers is to thank for our diamond obsession which has led to the exploitation of third world countries, but that legacy does not need to live on. There are plenty of alternatives to diamondsーincluding lab created gems, simple bands made of recycled metals, and dozens of other gemstones mined in more sustainable waysーbut if a diamond is in order, there are responsible companies, like Brilliant Earth, who take the time and effort to trace every one of their stones to ensure that the symbol of your eternal love does not come at a high social cost.
Send Invitations That Give Back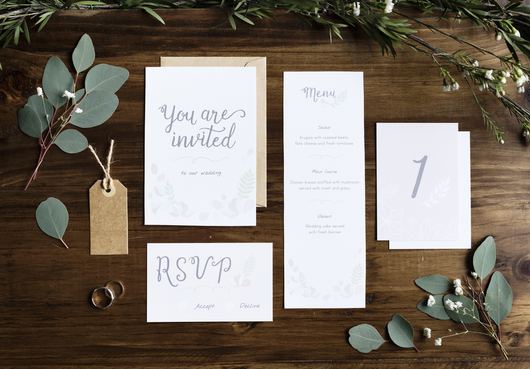 Choosing a design that fits your theme and pleases both parties can be rough, and making a sustainable choice can feel like an impossible task. Luckily, it is not.
Take Millbrae's Paper Culture, for instance, which plants a tree for every order it receives and saves you tons of time (especially if your calligraphy skills are not up to snuff) by addressing the envelopes for you. The NorCal company can also supply you with menus, name plates, and thank-you cards—all of which are made of 100-percent post-consumer waste and wood alternatives—to round out your paper needs.
Similarly, San Diego's ForeverFiances offers an entire line of wedding supplies—including wedding invitations, RSVPs, save the dates, and thank-you cards—created with 100-percent recycled paper using carbon neutral energy, printed with natural plant-based ink, and embedded with wildflower seeds. So when guests no longer have a need for these paper products, they can plant them in the ground and literally watch love bloom.
Have a Sustainable Exit Toss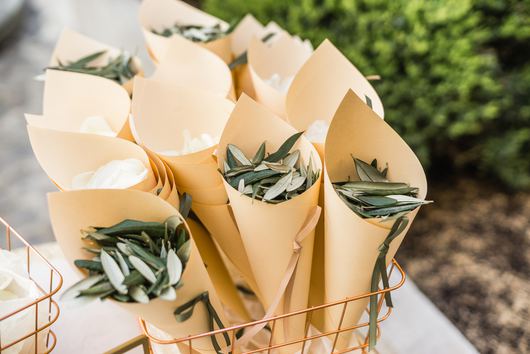 Since marriage represented an expansion and an increase in both wealth and family size, the tradition of throwing rice at weddings began as a symbol of wishing the couple prosperity and growth. While we now understand the harm that rice can cause to birds, the sentiment lives on and wedding guests now toss everything from confetti to bird seed.
While these options sound great in theory, confetti can enter waterways and pollute the environment—plus it requires significant resources to make—and, honestly, who wants to be pelted with bird seed? If you are looking for something a bit gentler but still sustainable, consider dried flowers like lavender or fresh herbs, leaves, or rose petals. If time permits, consider growing these things yourself; plant rose bushes with blooms that match the hues of your wedding colors; incorporate mint, which represents wisdom and virtue; or choose rosemary for loyalty and fidelity. Biodegradable glitter and seed-paper confetti are also creative alternatives, though these may be harder to find and often cost quite a bit more.
Host the Wedding and Reception in One Location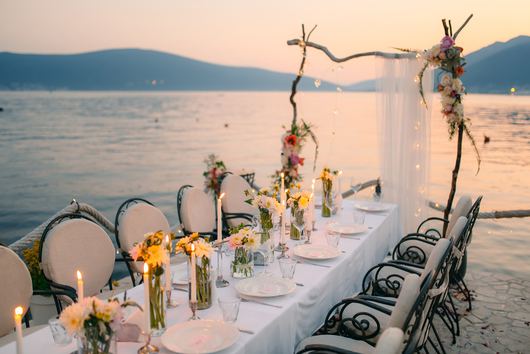 The tradition of hosting the wedding in one place and the reception in another necessitates extra planning, transportation, and energy. Holding both at the same venue is not only less work for you, but also is easier on the guests, your wallet, and the environment. You can reduce the amount of decorations needed, too, as you will only be filling one space rather than two.
(Extra points if the location is also where everyone will be staying the night, as guests will not need transportation after the wedding.)
Incorporate Living Centerpieces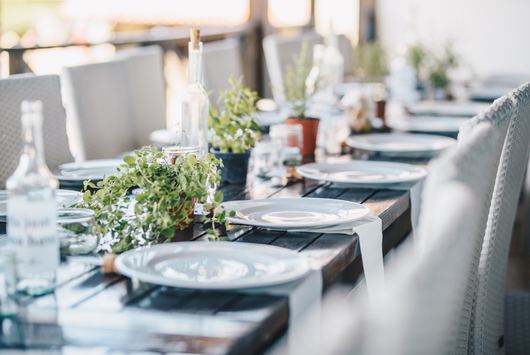 Not only are floral centerpieces pricey, but they can also use up tons of resources if they are purchased from a traditional florist; between the water needed to grow the flowers and the emissions created to ship them across the country, the footprint adds up.
Choosing living centerpieces, however, ensures the plants will live on for much longer and have a reduced impact. Additionally, these plants can be rented rather than purchased—saving you some money—or be donated to elderly living facilities, schools, and other institutions that would undoubtedly love the contribution. They can even be given to guests at the end of the night as wedding favors; writing "help love grow" in calligraphy on the pots instantly makes them look like high-class favors, without adding extra cost and impact to the equation.
Give Intentional Wedding Favors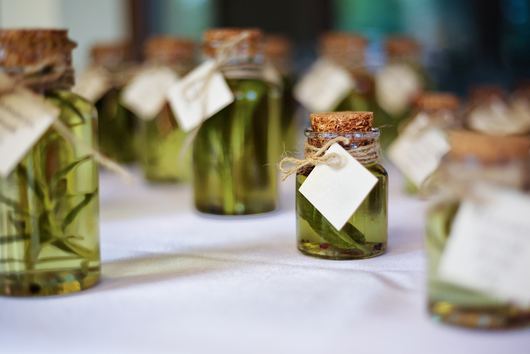 There is nothing sadder than seeing disappointment on the bride's face at the end of the reception. Unfortunately, wedding favors are often left behind, creating this exact situation. Taking the extra time to think about what your guests would actually use (and want) can help to avoid this and leave a better impression at the end of the celebration.
If you opt for living centerpieces as wedding favors, then your work is done. But if you are looking for something else that still represents your sustainable wedding, consider choosing locally made goods like small bottles of olive oil, flavored salts, honey, pancake mix, homemade jam, or another edible gift that your guests are sure to enjoy. Alternatively, consider a local "survival kit" with everything your guests will need to fully enjoy the rest of their stay. For instance: If you're having a Lake Tahoe wedding, it could include essentials like bug spray and a towel, and if you're tying the knot in San Diego, it could include sunscreen and flip-flops.