What comes to mind when you think of the third-highest polluting industry in the world and the second-largest consumer and polluter of water? If you thought of the fashion industry, you would be right. The conflict between natural resources and new clothing has come to light in the last few years, particularly with the mainstream documentary The True Cost, which illustrates the environmental hardships the fashion industry creates—and the ultimatum we may face by 2025: produce clothing or lose supplies of drinkable water.
Luckily, we may not have to choose, thanks to the influx of used, vintage, and consignment stores—which allow consumers to purchase new-to-you items in good condition, at reduced prices, and with much lower environmental impacts.
Perfect-fitting vintage Levi's are a mystical find, the result of hours spent sifting through consignment and thrift stores, but they are well worth the effort due to their high quality—and the fact that choosing a single pair of previously loved jeans saves 1,000-plus gallons of water. Pairing these jeans with a gently used cotton T-shirt (potentially a designer brand that would otherwise be out of budget) can save an additional 700 gallons of water, or the equivalent of 18 full bathtubs.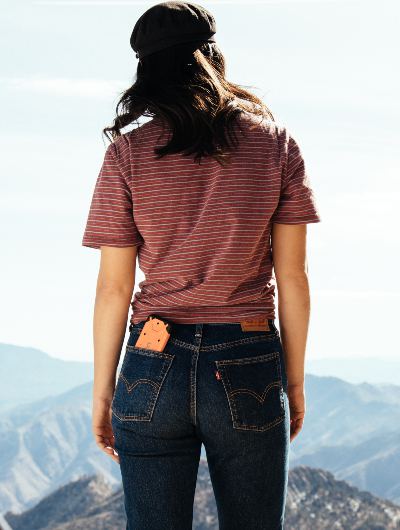 In addition to saving resources, choosing secondhand clothes and taking the time to sort through the ever-changing new finds brings a thrill to shoppers while also helping to save some of the 16 million tons of textiles that would otherwise end up in landfills. While the constant pressures to remain on trend continue to increase, so does the volume of clothing that we throw away; in the past 20 years, thanks to fast fashion, the volume of clothing Americans get rid of has doubled, resulting in about 80 pounds of tossed textiles per person each year.
While the constant pressures to remain on trend continue to increase, so does the volume of clothing that we throw away.
Though the sheer volume of clothing ending up in landfills is astounding, the story gets worse when we talk about the overall environmental impact. Here are some quick facts and numbers:
Fast-fashion garments are made out of oil. Polyester, spandex, nylon, acrylic, and acetate are comprised of nonrenewable fossil fuels—which take between 20 and 200 years to biodegrade, all while releasing such harmful chemicals as BPA, heavy metals, and formaldehyde into the environment.

Synthetic fibers shed plastic microfibers when they are washed. Microfibers are too small to be filtered out, which means that they end up in our oceans and eventually in our food chain.

16: The number of chemicals used in the dyeing process that are approved by the EPA. This represents only 10 percent of the total chemicals used.

2,000: The number of different chemicals used in the processing of textiles.

7.3 million: The number of cars (and their carbon emissions) that would be off the road if 85 percent of textiles were recycled instead of sent to landfills each year.

20 billion: The number of pounds of chemicals used to produce textile fibers each year.
Thanks to companies like The RealReal, ThreadUp, Poshmark, Depop, Crossroads Trading Company, Buffalo Exchange, and Reformation, the fashion industry is changing, and we can reduce our overall impact on the planet. If Tidying Up with Marie Kondo inspired you to cleanse your closet of items that do not bring you joy, but you find that you have nothing to wear for the coming summer months, check out some of the aforementioned companies and join the one in three women who buy secondhand clothing.
The fashion industry is changing, and we can reduce our overall impact on the planet.
While shopping secondhand is one of the most environmentally conscious ways to shop—it reduces each garment's carbon footprint by 73 percent and extends its life by an average of 2.2 years—it also saves consumers a boatload of money. The RealReal and ThreadUp are available through online marketplaces and have strict quality-assurance standards, ensuring your investment will be authentic and free of imperfections.
Whether you are visiting the beautiful beaches of San Diego, the skyscrapers of San Francisco, or the art museums of Los Angeles, a vintage, consignment, or thrift store is sure to be nearby. Try it out, and let us know about your latest fashion find.