It's official: Northern California is the nation's fine-dining capital. The esteemed Michelin Guide awarded stars to 57 San Francisco Bay Area restaurants—the most the region has ever seen, making 2019 a record-breaking year. Of these establishments, seven achieved star status for the first time or had their stars elevated. Additionally, with the advancement of San Francisco's Atelier Crenn and Healdsburg's SingleThread from two to three stars, the area is now home to eight three-star restaurants, maintaining its edge over New York City (which has five).
In Michelin speak, three stars means "exceptional cuisine, worth a special journey". The Bay Area restaurants that kept their top-dog status include San Francisco's Saison, Benu, and Quince; Los Gatos' Manresa; St. Helena's The Restaurant at Meadowood; and Yountville's The French Laundry. One of the new additions to this coveted category, Atelier Crenn chef-owner Dominique Crenn became the first woman to head a three-star restaurant in the United States. The honor bears particular significance, as it highlights historic gender disparities in both professional kitchens and trusted international culinary guides. Though Crenn garnered her first Michelin star in 2012 and then her second the following year, it took eight years for her to achieve three-star status. In the meantime, her French eatery was ranked in the World's 50 Best Restaurants and earned her a James Beard Foundation Award for Best Chef in the West.
The esteemed Michelin Guide awarded stars to 57 San Francisco Bay Area restaurants—the most the region has ever seen.
SingleThread's journey to three Michelin stars, however, took much less time, as the Wine Country restaurant made the jump from two to three stars within two years of opening. Designed around the concept of omotenashi (the "spirit of selfless hospitality, anticipating needs without having to be asked"), the elegant eatery by Kyle and Katina Connaughton serves an 11-course kaiseki menu that often features fresh produce grown on the property.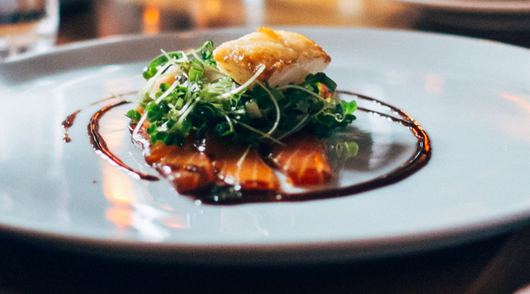 For the following tier, two Michelin stars indicates "excellent cooking, worth a detour". Avant-garde restaurant Coi earned this distinction this year, joining the ranks of other San Francisco eateries Acquerello, Californios, and Lazy Bear—plus Commis, the only Michelin-starred restaurant in the East Bay region.
Finally, the Michelin Guide defines one-star restaurants as "high-quality cooking, worth a stop". The entrants to that category are Birdsong (a San Francisco eatery showcasing Pacific Northwest cuisine), Madcap (a San Anselmo standout serving California-Japanese fare), Protégé (where French Laundry alums craft New American dishes in Palo Alto), and Bar Crenn (Crenn's casual wine bar next door to Atelier Crenn)—all of which are fairly new to the Bay Area food scene. French restaurant Nico also earned back its star after reopening in San Francisco's Jackson Square in 2018.
As you might have inferred, these lauded restaurants are not inexpensive, with multi-course tasting menus often costing at least $300 per person (not including wine pairings, tax, or tip). But if you are looking for a splurge-worthy dinner to celebrate a special occasion or date night, reserve a table at one of these Michelin-starred selections.
Three Stars
Atelier Crenn, San Francisco
Benu, San Francisco
The French Laundry, Yountville
Manresa, Los Gatos
Quince, San Francisco
The Restaurant at Meadowood, St. Helena
Saison, San Francisco
SingleThread, Healdsburg
Two Stars
Acquerello, San Francisco
Baumé, Palo Alto
Californios, San Francisco
Coi, San Francisco
Commis, Oakland
Lazy Bear, San Francisco
One Star
Al's Place, San Francisco
Aster, San Francisco
Auberge du Soleil, Rutherford
Bar Crenn, San Francisco
Birdsong, San Francisco
Bouchon, Yountville
Campton Place, San Francisco
Chez TJ, Mountain View
Commonwealth, San Francisco
Farmhouse Inn & Restaurant, Forestville
Gary Danko, San Francisco
Hashiri, San Francisco
In Situ, San Francisco
Ju-Ni, San Francisco
Keiko à Nob Hill, San Francisco
Kenzo, Napa
Kin Khao, San Francisco
Kinjo, San Francisco
La Toque, Napa
Lord Stanley, San Francisco
Luce, San Francisco
Madera, Menlo Park
Madcap, San Anselmo
Madrona Manor, Healdsburg
Michael Mina, San Francisco
Mister Jiu's, San Francisco
Mourad, San Francisco
Nico, San Francisco
Octavia, San Francisco
Omakase, San Francisco
Protégé, Palo Alto
Plumed Horse, Saratoga
The Progress, San Francisco
Rasa, Burlingame
Rich Table, San Francisco
Sons & Daughters, San Francisco
SPQR, San Francisco
Spruce, San Francisco
State Bird Provisions, San Francisco
Sushi Yoshizumi, San Mateo
Terrapin Creek, Bodega Bay
The Village Pub, Woodside
Wako, San Francisco
Wakuriya, San Mateo