By

California.com
April 01, 2021
As California mitigates health risks during the COVID-19 pandemic, some travel restrictions may remain in certain communities. Call the local and regional tourism offices to learn more about the restrictions in your intended destination. Thank you for reading, and stay safe.
A thin layer of fog cloaks the glimmering bay waters with an alluring mystique that you'll only find in San Francisco. If you haven't visited yet, the City by the Bay will leave you breathless; discover countless gems found throughout the city and beyond.
The Golden Gate Bridge, Alcatraz Island, and the nation's largest Chinatown are found right here. Strolling through neighborhoods will feel like traveling through different worlds. Each spot is densely packed with architectural wonders.
When it comes to outdoor fun, San Francisco is where it's at. Over 3,000 acres of open space encircle the city, placing every resident in close proximity to a park. Given the abundance of lakes, gardens, and parks, there really is no excuse for staying home. So don your sporty shoes and set out to explore these wonderful outdoor activities in San Francisco.
The Best Outdoor Activities in San Francisco

Listen to the Wave Organ
Appearances are deceiving; maybe you wouldn't expect melodic music produced out of an unusual wave-activated acoustic sculpture. Marble and granite come together to carve the Wave Organ—a must-see when in San Francisco. Water vibrations flow through a series of 25 organ pipes, resulting in a mesmerizing sound best enjoyed during high tide.
Peter Richards is the mastermind between this acoustic showstopper. He constructed the Wave Organ with the aim of connecting S.F. citizens to the crashing waves of the Pacific. Since the 1980s, this unique structure has attracted thousands of visitors. The Wave Organ has earned its coveted spot among the best outdoor activities in San Francisco.

Enjoy a Picnic in the Park
Boasting more parks than any other city in the state, San Francisco is the best playground under the sun. The City by the Bay is all about hiking trails and green spaces; indulging in outdoor activities is a must. Take your pick among the Presidio, Patricia's Green, Ina Coolbrith, and many more.
If you're keen on escaping the urban jungle and finding cool places to hike in San Francisco, you're in luck. S.F.'s open spaces boast bustling wilderness, winding trails, and spectacular backdrops.

Go Mural Hunting
Picturesque murals enliven S.F. streets with their creativity and vibrancy. You can easily spend your day admiring one mural after another. Searching for the best photo ops in the Bay Area? Look no further. These exceptional murals are perfect for the 'Gram. So, take to the streets in search of your next discovery and check this free S.F. adventure off your bucket list.

Bike Across the Golden Gate Bridge
The Golden Gate Bridge—in all its breathtaking glory—is a staple of San Franciscan outdoors. Offering panoramic views of the Pacific on one side and rocky seascapes on the other, the iconic landmark is located less than four miles from Fisherman's Wharf.
The striking scenery lends itself perfectly to bike rides and leisurely strolls. Feel the coastal breeze ruffle your hair as you marvel at the iconic San Francisco skyline. The bridge towers—showcasing stellar Art Deco style—are a must-see on your outdoorsy adventure.

Get in Your Daily Workout at the 16th Avenue Tiled Steps
163 steps clad in shimmering mosaic—the 16th Avenue Tiled Steps are a San Francisco attraction you won't bear to miss. Completed in 2005 by Collette Crutcher and Aileen Barr, the hidden gem is sure to captivate you instantaneously.
Don your favorite shoes and rock your inner model; the kaleidoscopic steps are just waiting to be photographed. Handmade tiles featuring animals, fish, and shells lead you up to a luscious green garden. As you make your way up the stairway, mountainous peaks begin to reveal themselves.
Incredible Outdoor Activities Near San Francisco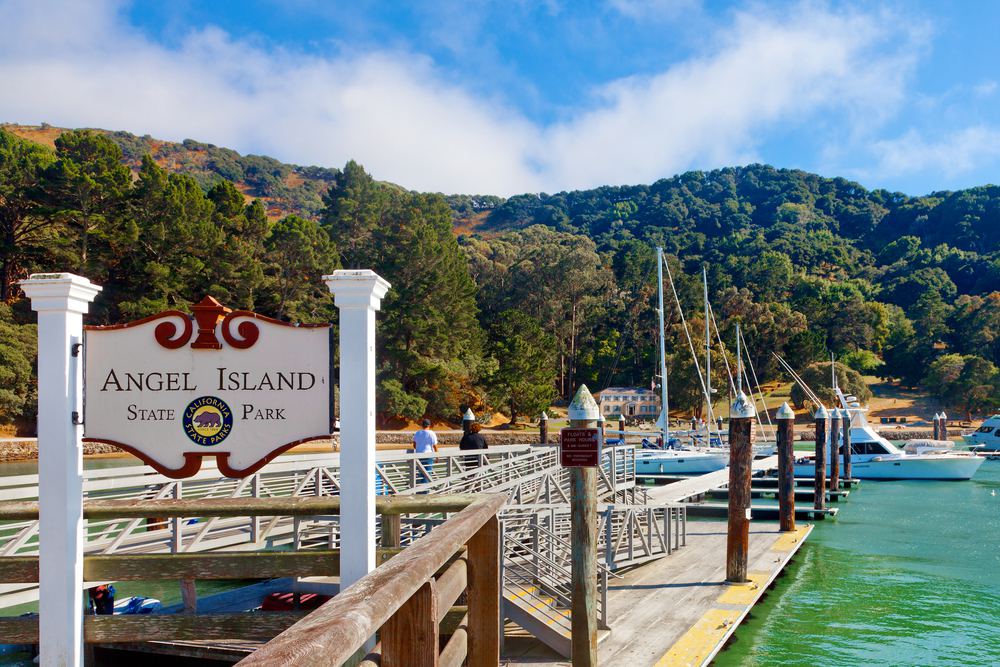 Take a Ferry to Angel Island
A short ferry ride from San Francisco takes you to Angel Island—a majestic island that's home to lush green forests and scenic views of the S.F. skyline. On a clear day, you'll also see Marin County and Mount Tamalpais from a distance. Stretching over 700 acres, the island is a prime spot for hiking and biking.
Wander the trails and discover historical remnants of Angel Island's long-ago days. The island first served as a seasonal hunting spot for the Coast Miwok peoples before later becoming home to the U.S. Immigration Station and then as a military installation spot.

Kayaking on the Bay
If you're thinking of things to do outdoors near San Francisco, paddling the waters is just too fun to pass up. Whether you're a daring thrill-seeker or a family looking for laid-back fun on the waters, you're bound to have a wonderful time. If you're looking for a relaxing ride around the Bay, head to Sea Trek and get ready to paddle away to Angel Island, Sausalito, and Tomales Bay.

Get Lost in the Muir Woods
A short trip north of the Bay Area will bring you to an idyllic grove guarded by coastal redwoods. Exploring Muir Woods—home to the mystique of sunshine and fog—is one of the best outdoor activities to do near San Francisco. As old-growth redwoods shield you from the scorching heat, find your inner peace along a handful of trails circling the rustic area.
A vibrant history envelops the area—learn about it by signing up for one of the park's interpretive programs. The friendly rangers are knowledgeable in redwood ecology.
Travel three miles west of Muir Woods to see that nature's wonders aren't limited to gorgeous foliage. Muir Beach—a serene lagoon hugged by a riparian area—is quite popular among locals and visitors alike. Feel the coastal breeze against your skin at this quiet hideaway and bring your four-legged friend along for an outdoor adventure.
Rent a Bicycle in the City
If you're a cycling enthusiast, don't let San Francisco's hillsides fool you. With pleasant weather and bike rentals abound, get to know the city while getting in a decent workout.
If you're interested in learning about the Bay Area, go for a guided bike tour with San Francisco Bike Tours. Learn the ins and outs of the bay after biking with the locals.
For the thrill-seekers, Marin County boasts plenty of adrenaline kicks on mountain biking trails. It just so happens that Mount Tamalpais is often referred to as the birthplace of the sport. Test the rigors of mountainous hillsides on an adventure-packed getaway to San Francisco.