By

California.com
December 24, 2020
As California mitigates health risks during the COVID-19 pandemic, some travel restrictions may remain in certain communities. Call the local and regional tourism offices to learn more about the restrictions in your intended destination. Thank you for reading, and stay safe.
Exploring San Francisco always sounds like a good idea—when in the City by the Bay, you'll never run out of fun things to do. But if you've already toured the top S.F. art galleries, tasted the famous sourdough bread, and visited the most famous attractions in the city, you might be wondering: What else is there to do? There's so. Much. More.
If you want to experience the city in a way you never have before, embrace the weird things to do and unique places to see in San Francisco. Prepare to be amazed and inspired—fun can always be found here. We promise.
Unique San Francisco Experiences You Won't Want To Miss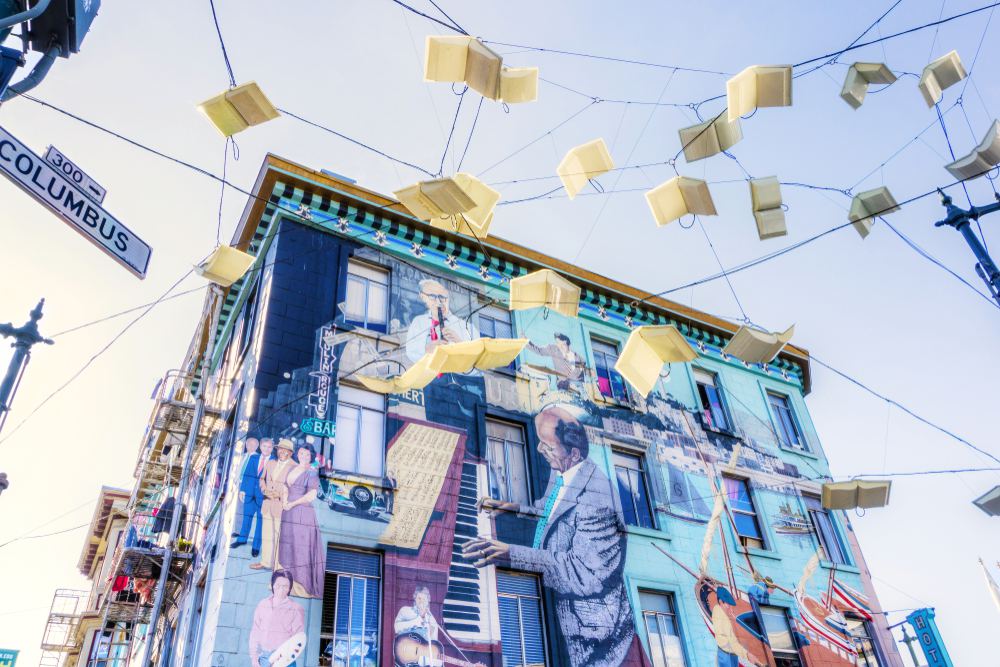 Discover gorgeous murals around the city
If you're looking for a unique San Francisco experience that can be enjoyed entirely outdoors, it's time to go mural hunting. The city has plenty of jaw-dropping murals scattered all around town. Make a day out of discovering the coolest ones—you just might take your most popular Instagram pic yet.

Get in your daily steps at the 16th avenue tiled steps
With 163 steps of mosaic tiles, sweeping views, and a beautiful garden in a charming neighborhood, the 16th Avenue Tiled Steps is a must-see hidden gem in San Francisco. This serene scene in the Sunset District will leave you in awe, so go ahead, it's time to discover this unique San Francisco experience. The 16th Avenue Tiled Steps project was completed in 2005 by Collette Crutcher and Aileen Barr, plus numerous local volunteers. Muster the courage to get to the top, and you'll see San Francisco from an unparalleled point of view.

Listen to the Ocean's Music at the Wave Organ
Constructed in the 1980s, the Wave Organ is an acoustic sculpture located on a jetty in the San Francisco Bay. This experimental sculpture built by artist Peter Richards aims to amplify the sounds of the water—as the waves crash and flow in and out of the 25 organ pipes, the sculpture emits musical sounds. Make sure to head to this unusual place in San Francisco during high tide to hear the music more clearly.
Slide down the concrete slides of Seward Mini Park
This unusual place to visit in San Francisco actually has a history rooted in activism. In 1963, the land that Seward Mini Park now sits on was slated for a development project. Local families were enraged by this, protesting for almost a decade. The neighborhood folks won, turning the lot into a park. The slides were designed by a local teenager; today, you'll find a sign reading "no adults unless accompanied by a child" near the slippery slopes.

Find the labyrinth at Lands End
The Lands End Labyrinth is a simple stone maze following the classic seven-circuit Chartres labyrinth. This strange thing to see in San Francisco was created by local artist Eduardo Aguilera as a shrine to "peace, love, and enlightenment." For unknown reasons, the labyrinth was destroyed and burned on multiple occasions; however, Aguilera and a team of volunteers have rebuilt it each time. If the labyrinth itself doesn't amaze you, we're certain the views of Mile Rock Beach and the Golden Gate Bridge will.

Explore an enchanted forest of light at Golden Gate Park
From early December until the end of February, Peacock Meadow in Golden Gate Park transforms into a magically illuminated forest thanks to an outdoor art installation titled Entwined. This display by local artist Charles Gadeken is set to close out the celebrations of the park's 150th anniversary. Since you have limited time to enjoy this unique San Francisco experience, head over there now and prepare to be amazed.

Visit the oldest Japanese Tea Garden in the U.S.
Another must-see unique location in San Francisco is the oldest public Japanese garden in the U.S., which is nestled right in the heart of Golden Gate Park. Prepare to be enchanted by the tranquility and harmony of this Japanese-style garden created in 1894. Wondering when you should visit? Head to the San Francisco Japanese Tea Garden during the spring to take in the beauty of the blooming cherry blossom trees.
See the Tanner family's home from Full House
The exterior of one of the most beloved houses in American television history is tucked away on a quiet residential street in San Francisco. Anyone wishing to visit Joey and Jesse can head to the Pacific Heights neighborhood for a quick pic and trip down memory lane. (There's a clear "No Trespassing" sign on the front lawn, so make sure to stay off the private property to avoid getting in trouble.)

Smell the Roses at the San Francisco Conservatory of Flowers
The interesting flora found at the San Francisco Conservatory of Flowers has captivated guests visiting San Francisco for more than a century. This unique attraction in San Francisco boasts Victorian architecture, over 2,000 plant species, and is the oldest public wood-and-glass conservatory built in North America.
Discover new directors at the San Francisco Independent Film Festival
This annual film festival has been running for over 20 years and has no intention of stopping. Set to take place in early February, the San Francisco Independent Film Festival plans to screen acclaimed independent features, shorts, documentaries, and animation films in a live movie theater. (Fingers crossed that won't be a farfetched dream in 2021.)

Savor locally made chocolate at Ghirardelli Square
In 1893, Domenico Ghirardelli purchased an entire city block so he could transform it into the headquarters of the world-renowned Ghirardelli Chocolate Company. Today, a stylish collection of shops and restaurants line the chocolate-scented section of the city, making it a pleasant place to stroll and shop—in addition to eating endless bars of California-made chocolate, of course.
Get Lost in the San Francisco Botanical Gardens
Rounding out our list of unique things to do in San Francisco is another Golden Gate Park attraction: the San Francisco Botanical Garden. The approximately 55 acres of land are heaven for horticultural enthusiasts, who will love exploring the 8,000-plus species of plants, including rare giant orange passion flowers, prehistoric ferns, poisonous hemlock, and deadly nightshades.