Rolling dunes, salt flats, and rugged badlands dot the landscape of the hottest place on earth. The horizon is met with the burning rays of the sun, but it is at nightfall that Death Valley shines the brightest; the Milky Way glimmers against the all-encompassing darkness, and hundreds of stars appear in the country's largest "Gold Tier" Dark Sky National Park. Though the name may suggest otherwise—and while you shouldn't expect to see fall foliage here—Death Valley National Park sustains plenty of life and is best seen during the cooler months of autumn.
Located about an hour and a half east of Mount Whitney and the John Muir Trail, between Sequoia National Park and the California-Nevada border, Death Valley National Park has intrigued visitors for centuries. Because it is the driest, hottest, and lowest national park—as well as the home of the lowest elevation point on the continent at Badwater Basin—there is a lot to love about this land.
What You Need to Know Before Hiking in Death Valley National Park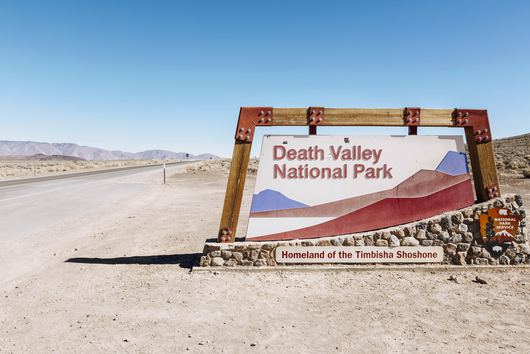 Though there are endless opportunities for hiking in Death Valley National Park, the warm conditions can prove dangerous if precautions are not taken. Plan your trip between November and March for the coolest temperatures, but always be ready for anything. Snow-capped hills, flash floods, and heat waves are all representative of the weather patterns here, meaning anything can happen in the fall.
Weather
It is tempting to go on vacation during the summer months, but when it comes to Death Valley (where the average temperatures are consistently above 100 degrees from May through September), the fall and winter months are more pleasant times to visit. While the weather in Death Valley can be unpredictable, average November temperatures tend to reach a high of 77 degrees and a low of 48 degrees.
Fees
The entrance fees help to protect the wild landscape and renovate damaged property within these federal lands. Whether you plan to visit for a single day or for a week at a time, make sure to pay your dues, and do your best to leave no trace.
Weekly Passes
Vehicle and passengers: $30

Motorcycles : $25

Individual on bicycle or foot: $15

Lifetime Passes
Interagency Lifetime Senior Pass (62 years old and up): $80

Interagency Lifetime Access Pass (U.S. citizens with disabilities): Free

Annual Passes
Death Valley Annual Pass: $55

Interagency Annual Pass: $80

Interagency Annual Senior Pass (62 years old and up): $20

Interagency Annual Military Pass (active duty and dependents): Free

What to Bring to Death Valley National Park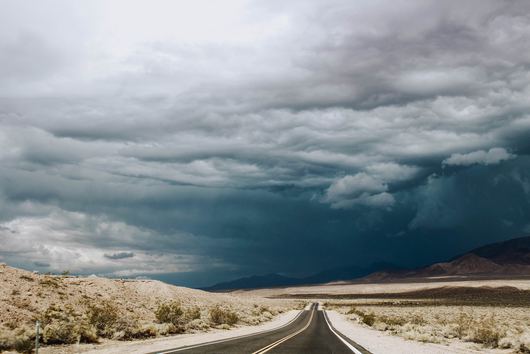 Hiking boots

Light layers of long-sleeved clothing

Fleece sweatshirt or other warm layers

Whistle

LED headlamp (and extra batteries)

Bear canisters (for the burros, not bears)

Three-season tent

Light sleeping bag

At least 1 gallon of water per person per day

Freeze-dried and dehydrated foods

Detailed map of Death Valley and the surrounding areas

Compass

Annual pass or cash to pay for a seven-day pass

Firewood or camp stove*

*Note: Fires are not allowed during the summer months or during high fire danger at Mahogany Flat, Thorndike, and Wildrose Campgrounds. Additionally, all of the vegetation in the park is protected, so bring or buy firewood (available at the Furnace Creek and Stovepipe Wells General Stores); make a charcoal fire in the National Park Service firepits; or use a gas-burning stove or grill while in Death Valley National Park.
Guidelines for Surviving in Death Valley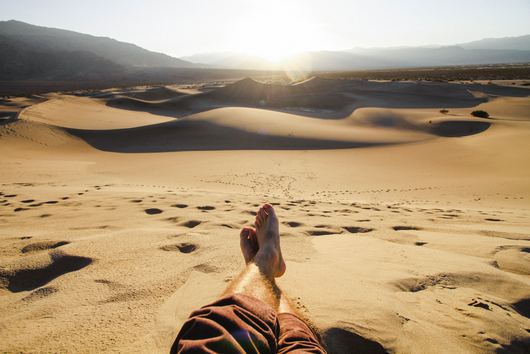 Drink at least one gallon of water per day

Stay on designated trails and roads

Tell someone where you are going

Start your hikes before 10 a.m. (the hottest part of the day is between 2 p.m. and 7 p.m.)

Wear light, long-sleeved clothing

Bring extra layers of clothing to shield yourself from the sun and accommodate cooler mountain temperatures

Wear hiking boots

Bring sunscreen, a hat, and sunglasses

Always take a first-aid kit with you

Carry a detailed map, trail description (available at the Death Valley Visitor Center), and a compass

Never rely solely on GPS or cell service (both are spotty and may lead you off paved roads)

Avoid canyons during rain storms, and be prepared to move to higher ground during storms and floods

Never place your hands or feet where you can't see; rattlesnakes, scorpios, and black widow spiders are common and hide in these cracks

Do not enter mine tunnels or shafts

Do not take anything from the park that you did not bring in

Do not feed the wildlife

Preparing to Hike in Death Valley National Park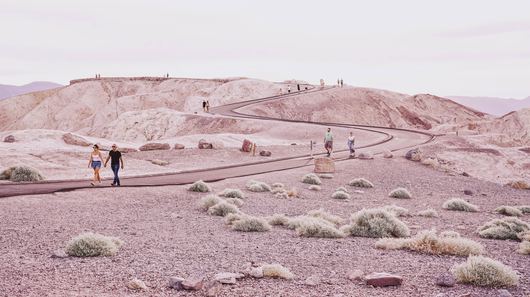 While the drive from Mount Whitney to the park only takes about an hour and a half, when it comes to hiking, the extreme temperatures require an early start. Even with the cooler temperatures in the fall and winter months, it is safer to head out before 10 a.m. If time permits, make the drive over the day before your adventures are set to begin, and stay at the Wildrose Campground or Emigrant Campground.
Whichever campground you choose, try to arrive early in the day; Emigrant Campground has only 10 camping spots while Wildrose Campground has 23—all of which are free but are only available on a first-come, first-served basis. Should these two options fail, there are hundreds of other campsites located within the park, at Stovepipe Wells Campground and Furnace Creek Campground.
In addition to camping, Death Valley lodging includes a few hotels and resorts—such as The Ranch at Death Valley and The Oasis at Death Valley—if roughing it isn't your thing. While they offer more luxurious experiences, these getaways also require about an hour-and-a-half drive through the national park to reach the Wildrose Charcoal Kilns, where our hike begins. But if spots like Zabriskie Point, Artist's Palette, and Badwater Basin are on your to-do list, these hotels offer better access than the aforementioned campgrounds, making them a viable alternative.
When you're ready to hit the trail, make your way down Emigrant Canyon Road, past the 100-foot Mesquite Flat Sand Dunes, and follow the curve in the road as it turns into Wood Canyon Road (unless you stay at Wildrose Campground, in which case you will already be on Wood Canyon Road). From here, follow the road as it travels southeast. When you come across the graveled Charcoal Kiln Road, turn onto it, and drive just over two miles until you arrive at the parking lot to the Wildrose Charcoal Kilns.
These kilns were once used to produce charcoal (by charring wood and other organic materials) for use in two smelters near the lead-silver mines of the Modock Consolidated Mining Company. This company was based in San Francisco and was incorporated by a few men, including William Randolph Hearst's father, George Hearst. Because the kilns are thought to have only been used for two years between 1877 and 1879, the structures appear in incredible condition to this day.
After taking a look around, continue on to the 8.4-mile out-and-back Wildrose Peak trail tucked just to the left of the kilns. Shaded with pinyon pines and juniper trees, this well-defined trail might make you forget you're in Death Valley. Less than two miles in, your efforts reward you with vistas of the valley floor before the switchbacks greet you for the next few miles. Arriving above the treeline is your indicator that you've nearly made it and only a quarter mile remains before the return trip. From here, the views are unobstructed. Take in the panoramic scenes of the Mojave Desert as the mountain ranges undulate along the horizon. When the sky is clear, it's possible to see both the highest and lowest points on the continent; look west toward the 14,505-foot Mount Whitney and east toward the Badwater Basin, nestled 282 feet below sea level. These breathtaking views are more than enough to occupy your mind on the 4.2-mile hike back down the mountain.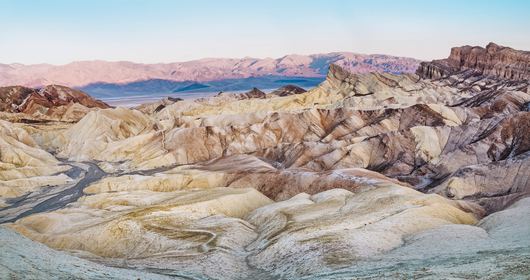 Though the day could easily end here, make time for stargazing like no other. Because of its Dark Sky National Park distinction, Death Valley is one of the best places to take in the night sky without fear of light pollution. Drive out to Harmony Borax Works or Badwater Basin for good vistas, or head to Mesquite Flat Sand Dunes for unbelievable, unobstructed views as the stars melt into the horizon.