By

California.com
January 21, 2021
As California mitigates health risks during the COVID-19 pandemic, some travel restrictions may remain in certain communities. Call the local and regional tourism offices to learn more about the restrictions in your intended destination. Thank you for reading, and stay safe.
Emerald Bay State Park, an oasis of shimmering turquoise waters against a tree-blanketed mountain backdrop, feels like it's straight out of a fairytale. The state park is the most photographed location in Lake Tahoe, and it's easy to see why—its beautiful blue-green body of water protects Fannette Island, the only one of its kind in the entire area.
Experiencing the beauty of Emerald Bay S.P. is surreal. Here, you're offered the most astounding views of Lake Tahoe and an abundance of activities to satisfy your adventurous spirit. A getaway to this aquamarine paradise is precisely what's missing from your life, so don't waste any time planning an epic weekend trip to South Lake Tahoe's prettiest park—pursue your wanderlust and rejoice in the heart of nature.
Everything You Need To Know About Emerald Bay State Park

Lake Tahoe's extraordinary clarity and astonishing depth are a great contrast to Emerald Bay's translucent green, turquoise, and indigo waters. The 1,533-acre Emerald Bay State Park was established in 1953 and—thanks to its striking beauty—was designated a National Natural Landmark in 1969. With panoramic views of grand mountains and glacier-carved granite, Emerald Bay Park soon became the highlight of every Lake Tahoe visit. In 1994, the bay's surrounding water was included in the state park, making Emerald Bay one of the first underwater parks of its kind.
Wrecks of fishing boats, recreational skiffs, and barges from the 20th-century rest at the bottom of the bay. The Maritime Heritage Underwater Trail—the first of its kind in California—allows scuba divers to explore the artifacts used in the lake before the turn of the century. The relics of the bygone era include telephone batteries, old tires, sinks, toilets, an old pier, a diving platform, dories, and two launches. Divers have also spotted two historic barges at the site. The boats found in Emerald Bay were sunk on purpose after outliving their usefulness; now, they're a reminiscence of Lake Tahoe's top recreational area during the 1900s.
Emerald Bay also boasts the only island in Lake Tahoe—Fannette Island—which has been called many different names, including Coquette, Baranoff, Dead Man's, Hermit's, and Emerald Isle. People can access it by boat, canoe, or kayak. The island is home to a small stone building dubbed the "Tea House," which was built by the owners of Vikingsholm, a 38-room mansion situated on the shores of Emerald Bay. The eye-catching structure is regarded as one of the most outstanding examples of Scandinavian architecture in the United States.
Emerald Bay Camping
An Emerald Bay State Park camping experience is a must when visiting; it's one of the best things to do in Lake Tahoe. Who wouldn't want to wake up to views of the sun rays illuminating the glittering turquoise waters? There are two Emerald Bay campgrounds to choose from: Eagle Point Campground and Emerald Bay Boat Camp. Although there isn't a designated Emerald Bay RV park, campers can stay the night in their RVs in designated campsites.

Eagle Point Campground is a popular choice, especially during summertime. Camping here costs $35 per night; premium sites cost $45. There are 144 total campsites—97 of them are standard sites that accept tents, RVs, and trailers while 45 of them are for tents only. Some accommodate four people; others can accommodate up to eight. All campsites are equipped with picnic tables, food lockers, and fire rings, but they don't have hook-ups. Eagle Point Campground also has coin-operated showers, restrooms with flush toilets, tap water, an amphitheater, and a dump station.
If you're looking for a unique Emerald Bay-Lake Tahoe camping adventure, Emerald Bay Boat Camp offers precisely that. This camping area is situated at the site of the old Emerald Bay Resort. There are 20 boat-in campsites here and are only open during the summer, with each site accommodating up to eight people in one boat. The dock at the campground is used only for loading and unloading. Each campsite is provided with a buoy. Water, pit toilets, and food lockers are the only amenities available—there are no showers. The cost of camping here for one night is $35.
Although dogs are not allowed anywhere near the beach, trails, or roads into Emerald Bay, your four-legged pal can keep you company at the campgrounds and picnic areas.
Emerald Bay State Park Hotels
If camping is too rugged for your taste, consider staying at one of the nearby Emerald Bay State Park hotels, resorts, or cabins. PlayPark Lodge is everyone's go-to choice for an overnight stay in South Lake Tahoe. Only a 35-minute drive from the state park, the hotel provides guests with top-notch amenities to make their stay extra comfortable.

Emerald Bay Lodge is another option that's also within close proximity to the state park. Each room features a gorgeous view of the towering pine trees that surround the area. A dip in the outdoor swimming pool might be just what you need to revitalize your soul before exploring Emerald Bay State Park.
The award-winning Hotel Azure Tahoe is a top place to stay for a reason. Located across from the glimmering shores of Lake Tahoe, guests wake up and see the radiant sun reflecting in the crystal-clear waters before making their way to the nearby Emerald Bay.
Fun Things To Do In Emerald Bay State Park
There are so many activities to enjoy at Emerald Bay State Park in Lake Tahoe. You'll find miles and miles of hiking and biking trails, plus plenty of water activities. Once you get the chance, climb aboard a kayak, sailboat, or paddle wheeler and surround yourself with the shimmering blue-green waters. If you desire an Emerald Bay State Park swimming experience, make sure to watch out for boat traffic.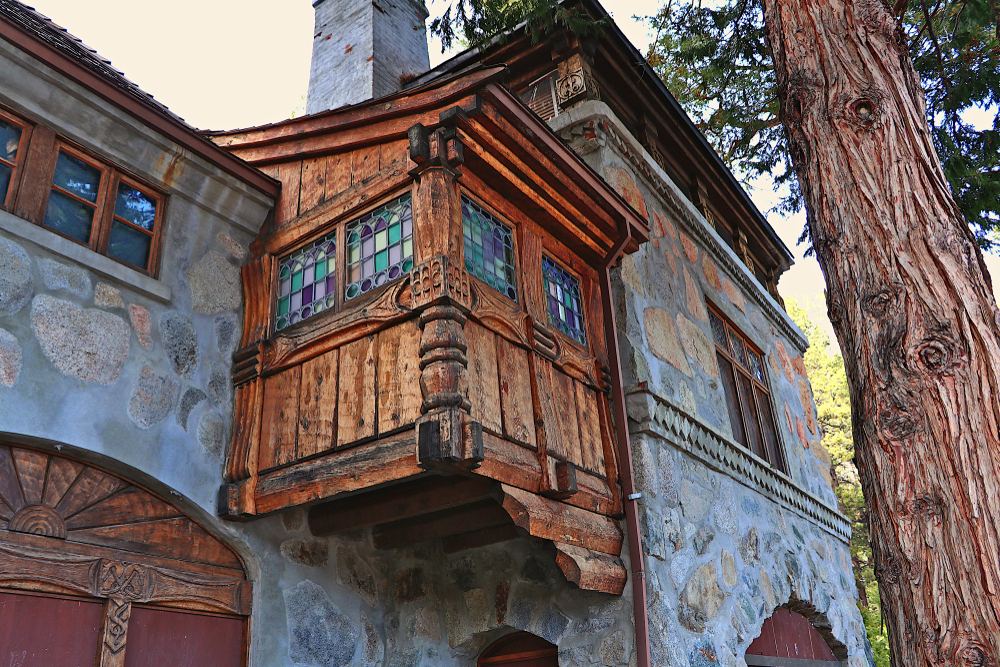 Touring Vikingsholm is a must. The California landmark is one of the finest Scandinavian structures located outside of the Nordic countries. Experienced and knowledgeable guides take you on a 30-minute tour—you'll learn about owner Lora Josephine Knight, who thought that Emerald Bay resembled the fjords. This encouraged her to construct the Scandinavian-style mansion so she could preserve the vibe and atmosphere.
Here's another Lake Tahoe fun fact: the "Tea House" on Fannette Island also belonged to Knight. Visitors can kayak to the island and explore the ruins of the stone building. It's important to note that swimming to Fannette Island is strictly forbidden—boat traffic and extremely cold waters make it dangerous.

Emerald Bay State Park Hiking Trails
You can't go to Emerald Bay State Park and not go hiking—it's basically blasphemy. There are countless Lake Tahoe trails to explore, with each providing views better than the other. Here are the top Emerald Bay State Park hiking trails featuring mind-blowing vistas.

1. Cascade Falls Trail
Level of difficulty: Easy
Round-trip length: 1.4 miles
Time: 30–50 minutes
Route: Out and back
Dogs allowed: On leash
The Cascade Falls Trail is probably the easiest Emerald Bay State Park hiking trail. Leading visitors through forests via stone steps, the hike features fantastic views of Cascade Lake, Emerald Bay, and Lake Tahoe along the way. The waterfall at the end of the hike is a wonderful spot to relax and have a small picnic.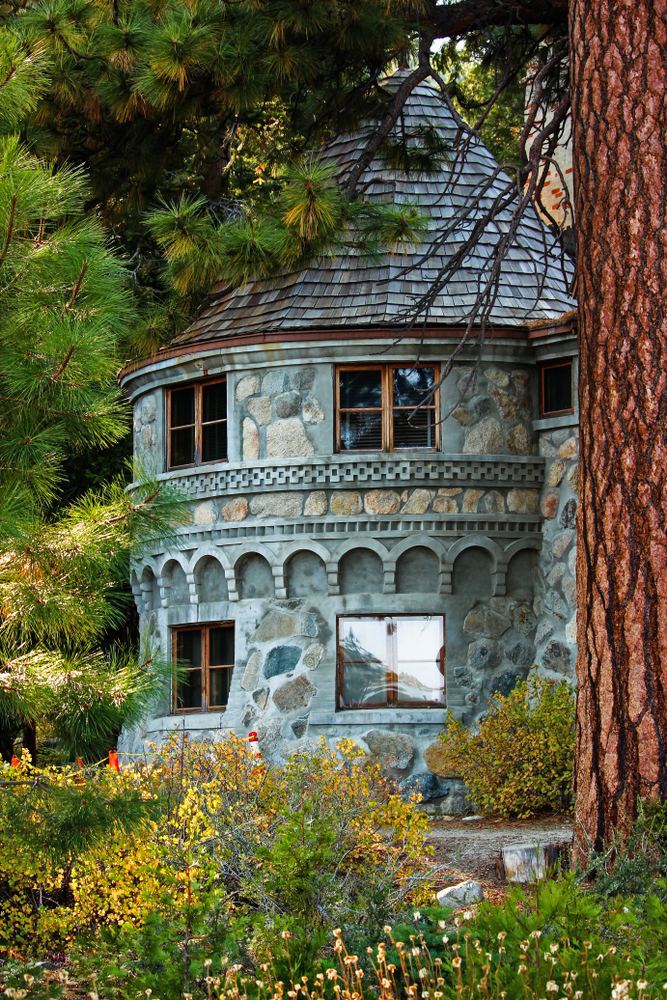 2. Vikingsholm Trail
Level of difficulty: Easy
Round-trip length: 1.7 miles
Time: 30–50 minutes
Route: Out and back
Dogs allowed: On leash
The Emerald Bay hike to Vikingsholm is a popular path that starts from the stone observation area above the bay. The wheelchair- and stroller-friendly trail has a roughly 400-foot elevation change and boasts fantastic geological formations along the way. The Vikingsholm mansion awaits you at the end of the trail.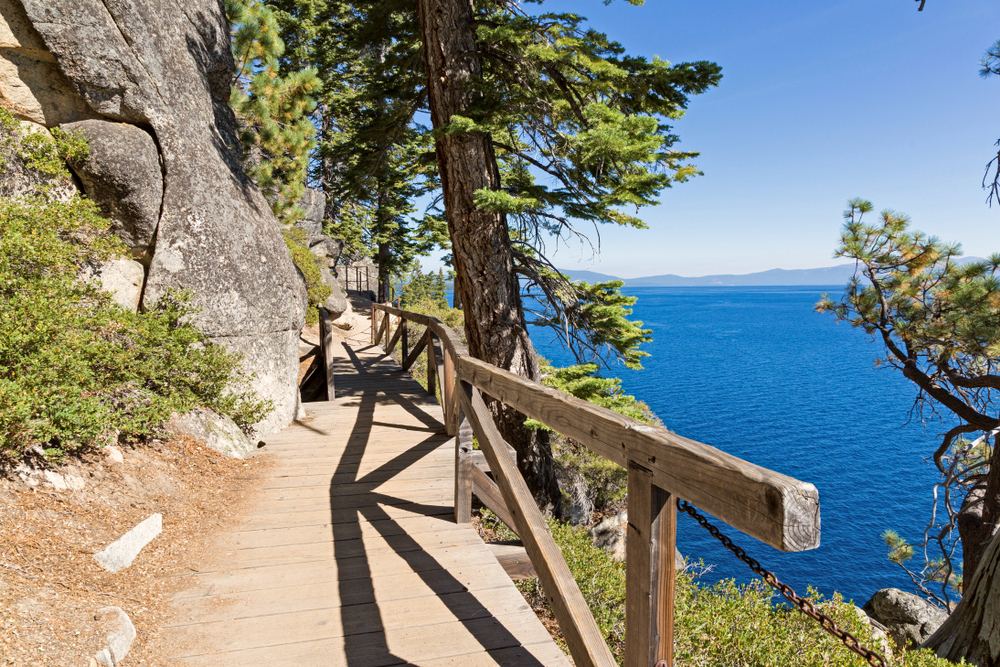 3. Rubicon Trail
Level of difficulty: Moderate
Round-trip length: 22 miles
Time: 7–8 hours
Route: Out and back
Dogs allowed: No
The Rubicon Trail connects Emerald Bay with D. L. Bliss State Park. Don't be fooled by the length of the hike—it's fairly easy and highly rewarding. The trail has sporadic, short elevation gains and drops as well as several twists along shoreline cliffs. You'll come across plenty of alders, black cottonwood, leopard lilies, and yellow monkeyflowers.