By

California.com
March 08, 2021
As California mitigates health risks during the COVID-19 pandemic, some travel restrictions may remain in certain communities. Call the local and regional tourism offices to learn more about the restrictions in your intended destination. Thank you for reading, and stay safe.
Cliff-marked beaches, lush prairies, and towering redwoods abound at Redwood National Park—a serene hideaway stretching 37 miles along the Pacific coastline. The Redwood National and State Parks consist of Redwood National, Prairie Creek, Del Norte Coast, and Jedediah Smith Redwoods State Parks. With a combined area of 138,999 acres, the complex is up to the hilt in the world's tallest trees.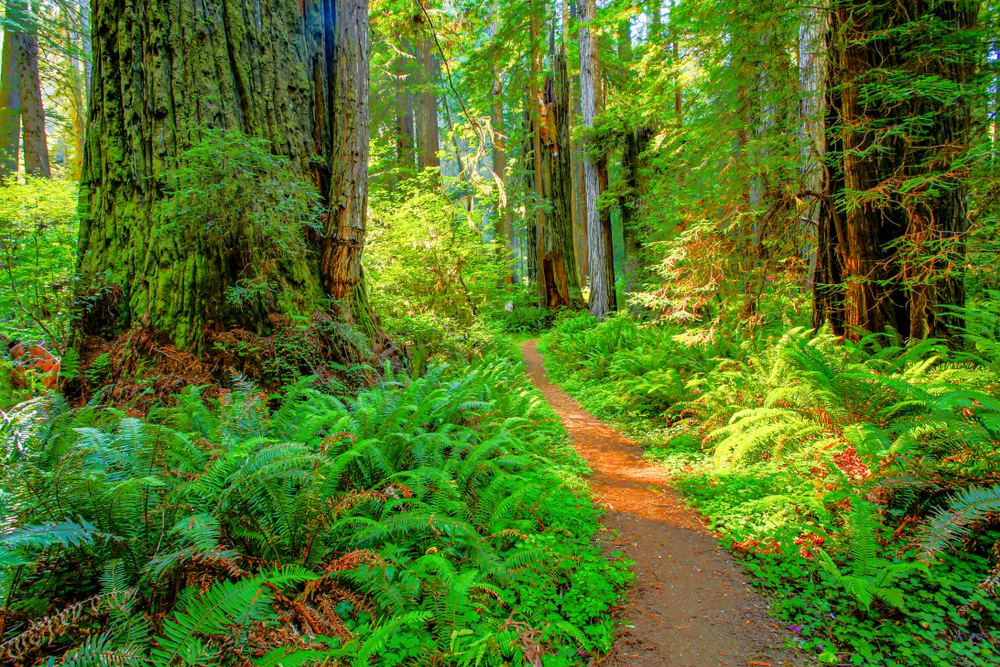 Redwood National Park History
Native American people have long been associated with the redwood forests. In the past 3,000 years, they've revamped the area with exceptional skill and innovation. Traditionally, Native Americans built their houses from planks torn of the fallen redwood—a support beam technique unparalleled for many years to come.
In this region, a house was deemed a living entity, and the redwoods, bodies of the Spirit Beings. In ancient folklore, the Spirit Beings were believed to be a sacred race residing in the redwood forests, possessing ethereal wisdom.
The redwood region was home to many Native American cultures and identities. The Tolowa, Chilula, Yurok, Karok, and Wiyot all lived here. Even though the Yurok were larger in numbers, with around 2,500 inhabitants and 55 villages, no one tribe dominated economically or ideologically. The concept of domination contradicted the values of these cultures.
The villages dotted the coast and bordered several rivers, uniting networks of strong religious and social ties. Even today, descendants of these villagers occupy the region, though in much smaller numbers.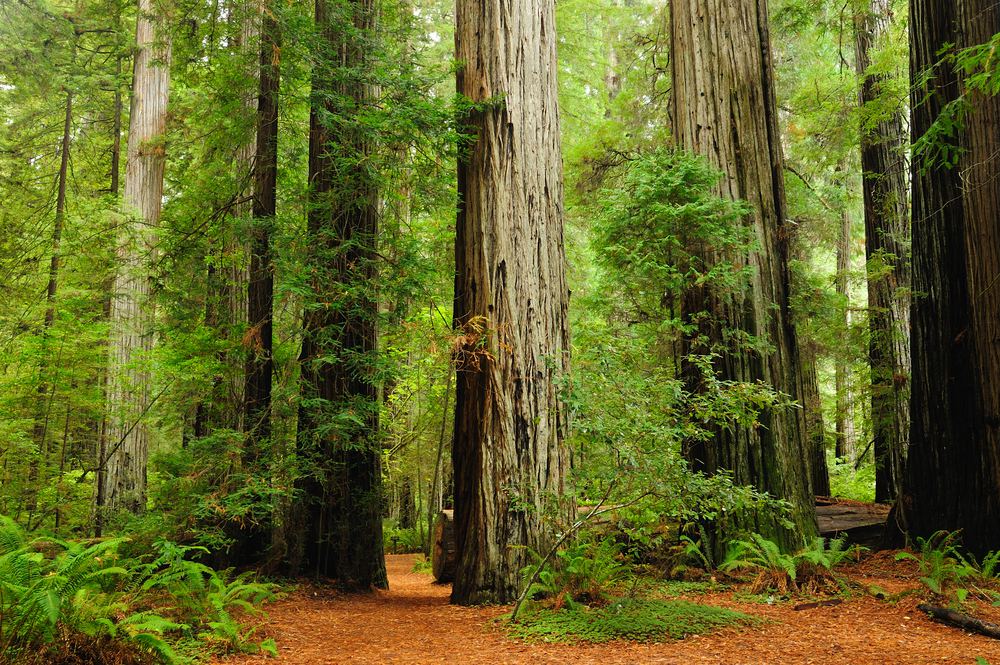 All About Redwood National Park
The tranquility of the area was disrupted with the discovery of gold along the Trinity River in 1850. As outsiders swarmed in, the majestic redwoods were harmed as a consequence. They were only restored in 1910 when conservation efforts began.
Nowadays, Redwood National Park stands as a national testament to a complex history full of culture, perseverance, and natural wonder.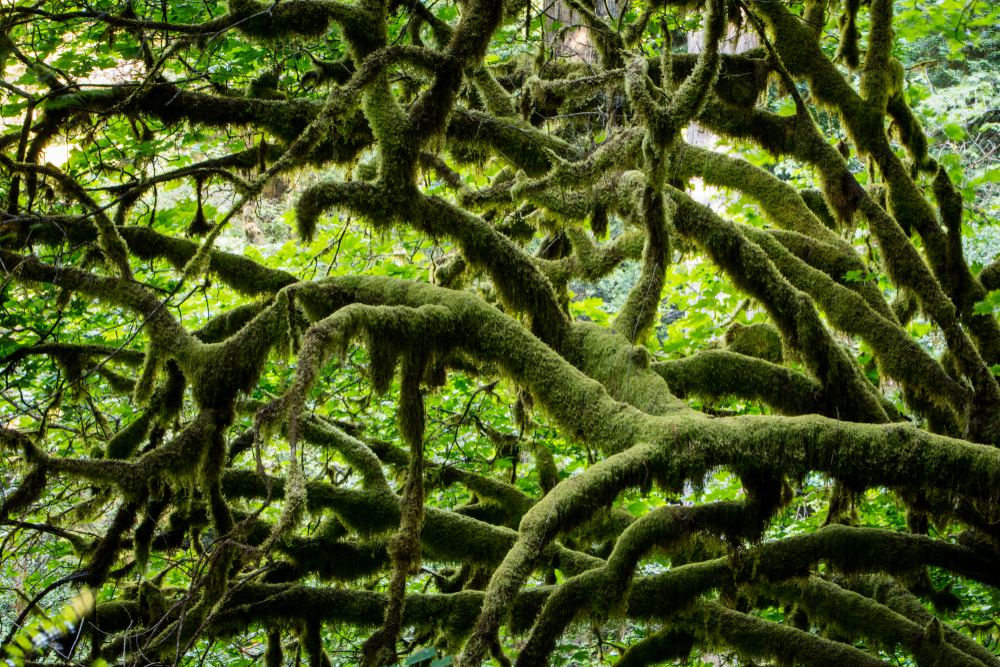 Redwood National Park Weather
Due to oceanic temperatures, the Californian redwood forests have a fairly consistent temperature ranging from 40–60 degrees. This means that rain and fog are expected no matter the season.
If you're looking to experience the best weather at Redwood National Park, consider visiting in the summer. With mild temperatures and a light jacket, you and your family can explore these majestic landscapes in comfort. However, summer is also the busiest season at the park.
Whichever season you choose for a visit, autumn attire and layered clothing are your best friends. Throw in some outdoor gear and sturdy walking shoes and you're good to go.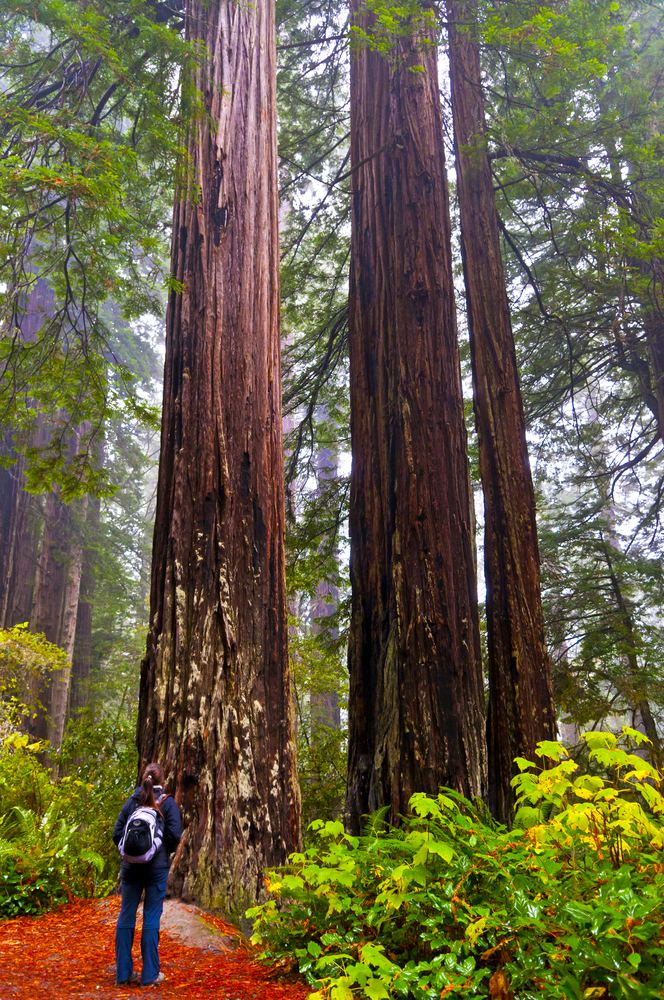 11 Redwood National Park Facts
Redwood National Park is home to the world's tallest tree—the Hyperion Tree towering at 380 feet.

The location of the Hyperion Tree is kept a secret in order to protect it from harm.

There are approximately 200 miles of hiking and biking trails around the park.

The redwood parks were

featured in Star Wars Episode VI: Return of the Jedi in a scene set in Endor—home of the Ewoks.

The park is home to numerous amphibians including northern red-legged frogs, rough-skin newts, and ring-necked snakes.

Redwood National Park became a World Heritage Site by UNESCO in 1980 thanks to its rare ecosystem and cultural heritage.

Invasive species like poison hemlock and knapweed have been spotted at the park.

The highest elevation is 3,170 feet on Coyote Peak.

Several endangered species have been found in the park including a bald eagle, Chinook salmon, northern spotted owl, and Steller's sea lion.

In 1983, the Redwood National and State Parks

were added to California Coast Ranger International Biosphere Reserve.

The Redwood National and State Parks system hosts half of the remaining old-growth redwood trees in the world.
See the best of Redwood National Park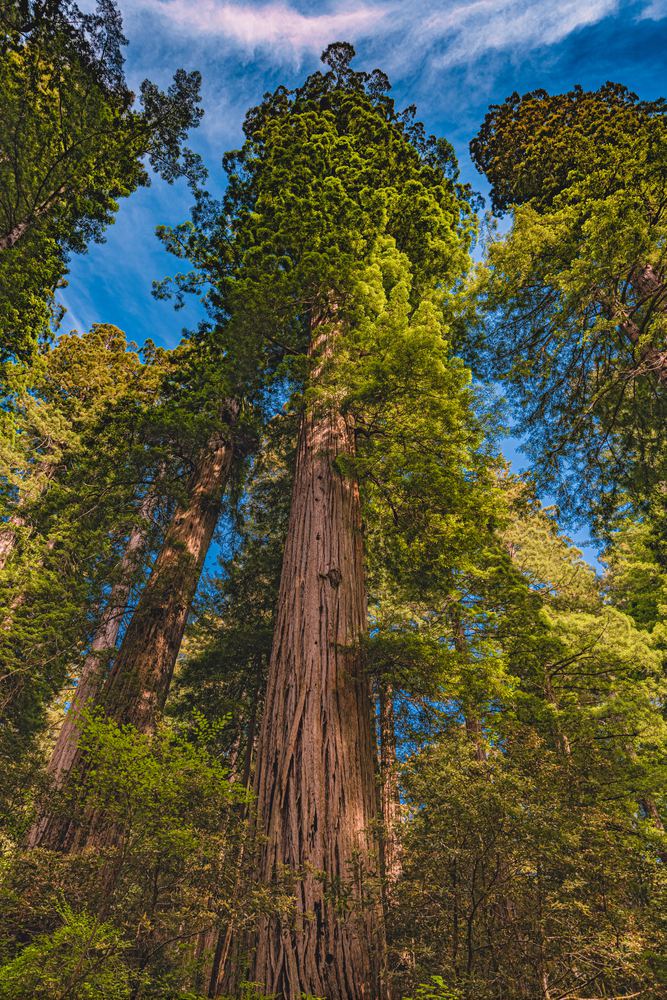 Lady Bird Johnson Grove
Lady Bird Johnson Grove sits atop a ridge over 1,000 feet from sea level. Named after the former First Lady, this captivating trail unfolds among the ancient trees. The grove is as scenic as it gets—ferns and wildflowers decorate the towering redwoods.
The trail begins on Bald Hill Road—a steep and narrow pathway stretching about two and a half miles uphill. A footbridge greets you at the top as you trek this leisurely one-mile loop trail. The hike can easily be completed in half an hour, with enough space for you to marvel at the redwood giants in solitude.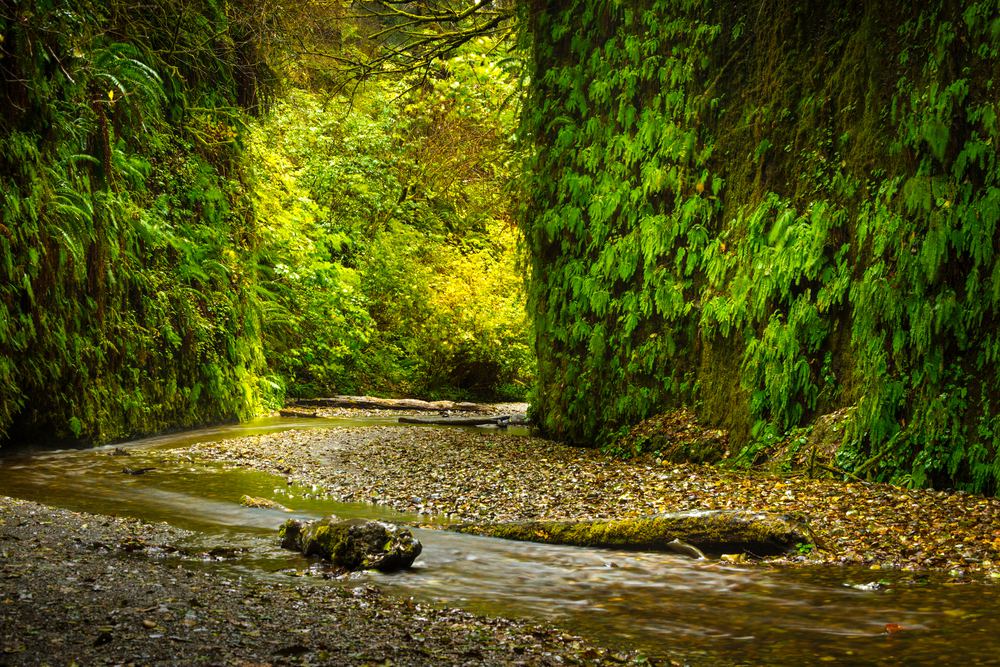 Fern Canyon
Located in Prairie Creek Redwoods State Park, this canyon is a must-see for cinephiles. Home to The Lost World: Jurassic Park's infamous scenes, the picturesque trail transports you into the Mesozoic Era. A series of footbridges lead you to lush ferns, growing ever-so-vigorous as they line a familiar gorge.
The action-packed drive to Fern Canyon might feel as though Steven Spielberg himself directed it. From the town of Orick, drive north along Highway 101 before turning left on Davison Road—an unpaved path on a curving mountain.
Howland Hill Road
A route most scenic— this winding road dashes you through the towering redwoods of Jedediah Smith Redwoods State Park. If you're not one for a hike, enjoy the scenery from the comfort of your vehicle, preferably with the windows rolled down.
Howland Hill Road is relatively narrow—perhaps not the best-fit for RV road trips. The 10-mile unpaved pathway takes you through popular spots such as the Stoute Grove and the Boy Scout Tree.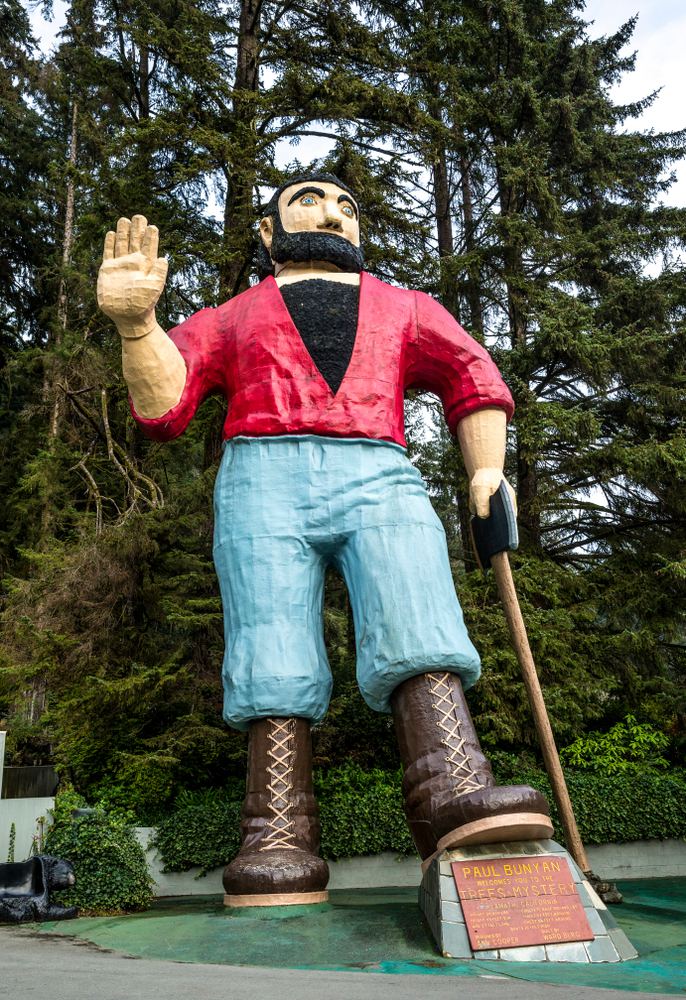 Trees of Mystery
From hiking trails to gondola rides, the Trees of Mystery are home to all sorts of family-friendly activities. The parking lot—located off the main Highway 101—instantly impresses with a 60-foot logger and a 30-foot ox guarding the area.
The guided trail leads you through mobs of fallen redwoods—each more uncommon than the previous. While you're strolling, keep an eye out for woodland creatures running around far and wide. Pay a visit to the Native American Art Museum, make homemade fudge, and purchase some trinkets at the gift shop.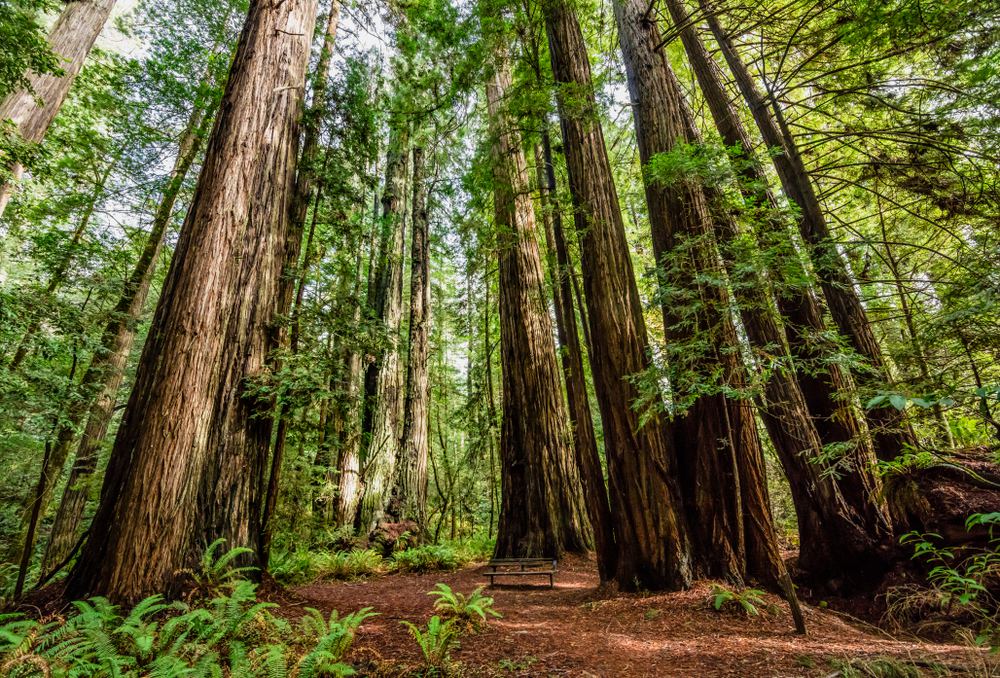 Redwood National Park Camping
Bask in the glory of the redwoods for a little longer and consider camping out at the Redwood National Park—one of the best national parks for camping. Whether you're drawn to the mountains or the ocean, there are plenty of splendid campgrounds dispersed all over the park.
These campgrounds offer unique glimpses into forest wildlife. Nothing quite measures up to the chirp of a hummingbird in the tranquility of this redwood hideaway. However, for every sweet bird or Roosevelt Elk, a black bear is waiting to meddle through your belongings. So, be prepared to rough it out with some animal-proof tents and gear. Do not forget to stock up on food, water, and blast your camping playlist to set the mood.
In the Jedediah Smith Campground, you'll find hiking trails, swimming, fishing, and campfire programs. Situated 10 miles east of Crescent City, this campground lies on the banks of the Smith River surrounded by towering redwoods. Get ready to gather around the fire pit and enjoy some barbeque, all supported by the campground's facilities.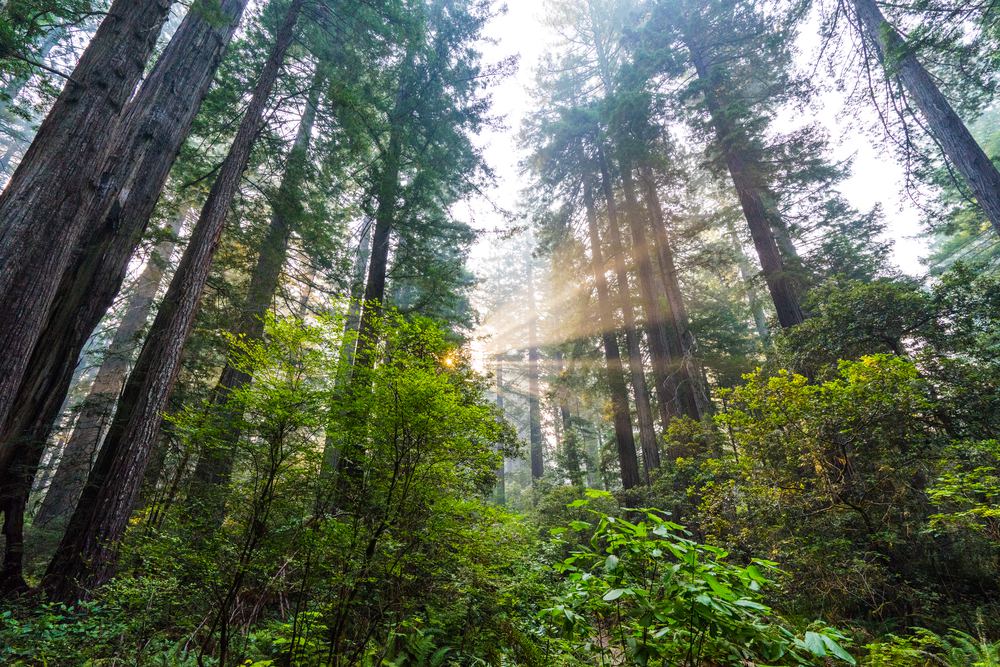 Elk Prairie Campground offers similar facilities to Jedediah Smith—hot showers, picnic tables, clean and accessible restrooms. Visitors commonly take part in seasonal ranger-led programs, with animal sightings and redwood giants stretching as far as the eye can see.
Mill Creek Campground is the perfect spot for sleeping under towering redwoods, stargazing, and getting lost in Redwoods National Park's serenity. If you're traveling around in an RV, make sure to check your vehicle limits, as the campground holds a 28-foot limit.
If seaside rest is what you're aiming for, stay the night at Gold Bluffs Beach Campground—located in Prairie Creek Redwoods State Park. Experience the Pacific coastline in all its glory while keeping an eye out for majestic Roosevelt Elk. The campground offers hiking trails stretching out for 70 miles onto a secluded beach.
Alternatively, if you prefer more homely pleasures, the best rated-hotels around Redwood National park are the Carter House Inns, View Crest Lodge, and Holiday Inn Express Klamath.