By

Mackenzie Hutson
April 30, 2020
As communities across the world and in California mitigate health risks during the COVID-19 pandemic, we are shifting our content focus and will not encourage any travel or social activities during this time. We will, however, continue to shine a light on and celebrate the many beautiful aspects of our State with the intention of being a source of inspiration and joy during this difficult period. We will also be providing tips and resources specifically related to the COVID-19 pandemic safety measures in the coming weeks. Thank you for reading, and stay safe.

California is known for many things, but it may be most famous for its incredible outdoor recreation. With a tremendously varied landscape—from the rugged coastline of Big Sur to the massive redwoods of Mendocino, to the snow-dusted mountains of Truckee to the striking desertscape of Joshua Tree—California is where anything is possible. Whether you want to rock climb, ride the ocean waves, camp under the stars, explore a new bike route, or traverse an off-the-beaten-path hiking trail, there are ample outdoor adventures waiting just outside your doorstep.
No matter what type of excursion you're planning, it is important to find the proper equipment for your trip, and luckily, California is home to numerous outdoor brands that supply everything you could need. Here are a few of our favorite California outdoor companies that provide the best water bottles, tents for camping, sleeping bags, hiking backpacks, and other outdoor gear for your adventures.
1. Patagonia

Based in: Ventura
Patagonia is the trendsetting outdoor company that produces the most Fair Trade Certified styles of any outdoor clothing brand, including the world's first Fair Trade wetsuits. The certified B Corporation grew out of a small business that specialized in making tools for climbers. Today, the Ventura-based company is still excelling in the climbing space but has expanded to include clothing and accessories for skiers, snowboarders, hikers, swimmers, mountain bikers, surfers, fly fishers, and trail runners—all while remaining dedicated to its core values such as building the best products possible, causing no unnecessary harm, utilizing its platform to protect nature, and using innovation as a tool to better the world.
2. The North Face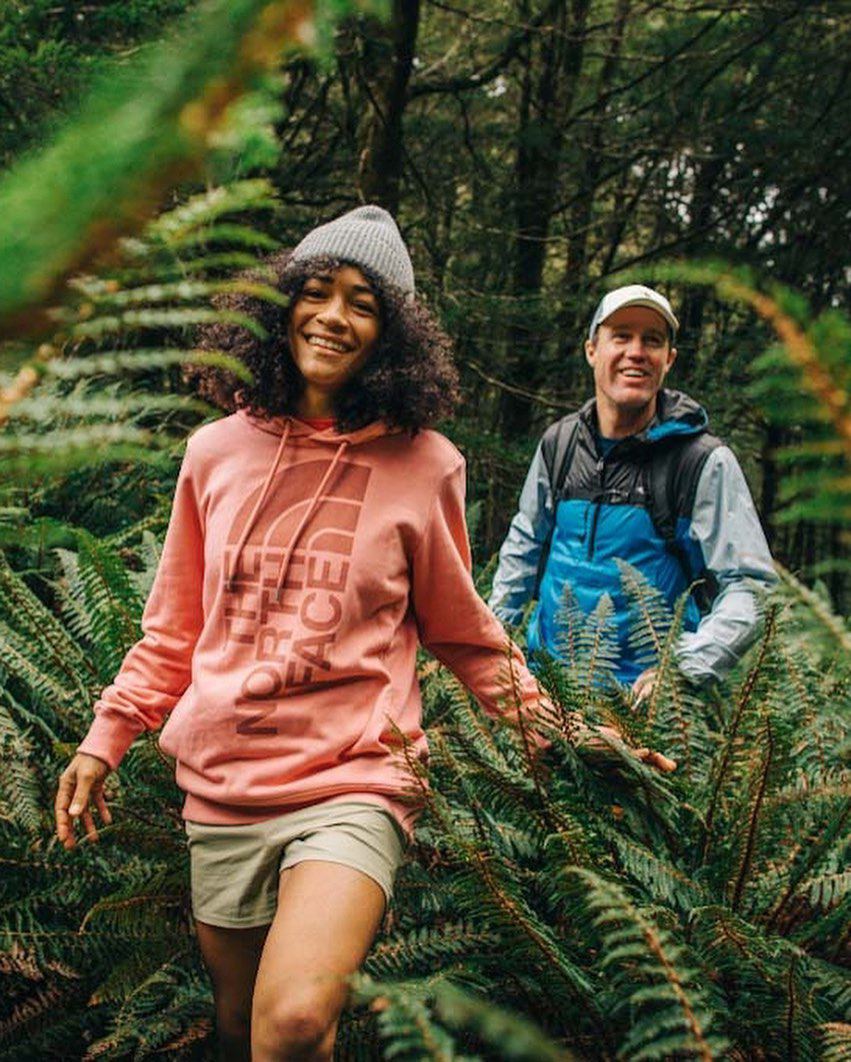 Based in: Alameda
Alameda is home to the famous outdoor brand The North Face, which provides high-quality gear for athletes, adventurers, and nature enthusiasts. The company also strives to preserve the great outdoors and encourages everyone, everywhere to spend more time exploring, touting the belief that travel can change us for the better, challenge us, and help us see the world from different perspectives. This ideology is the driving force behind the brand's mission to protect the planet, improve the environment, and increase social responsibility. From The North Face backpacks and sleeping bags to puffer jackets and hiking shoes, this company's outdoor gear can take you through all of life's adventures.
3. Marmot

Based in: Rohnert Park
It's no wonder Marmot has become one of the most esteemed outdoor companies in the world—the Sonoma County–based company provides everything you need to prepare for your next backpacking excursion, desert hike, epic bike ride, or lakeside camping trip. Marmot is committed to designing the highest-quality performance outdoor clothing and equipment while minimizing its global impact. All Marmot clothing and gear are durable and sustainable (not to mention stylish) to satisfy the expectations of any outdoor enthusiast. The company also promotes fair, humane working conditions and supports several social initiatives to encourage good stewardship in the outdoors.
4. Camelbak

Based in: Petaluma
This Petaluma-based superstar brand is known far and wide for its advanced hydration systems. Camelbak's product line includes traditional water bottles and hydration packs, which allow for a hands-free experience that is particularly advantageous for long bike rides, hikes, and sporting events. While its items are incredibly well-crafted and tested, the company offers a Got Your Bak guarantee that protects all Camelbak backpacks, bottles, and accessories from manufacturing defects over the lifetime of each product. This outdoor company also makes it easy to feel good about drinking more water and cutting down on disposable plastics—and even provides tools (such as a hydration calculator) to help you determine how much water is needed for each activity.
5. Klean Kanteen

Based in: Chico
Klean Kanteen is famous for its insulated water bottles, tumblers, cups, and accessories that serve as safe alternatives to plastic products. The family-owned company is on a mission to replace single-use water bottles with durable, BPA-free, stainless-steel solutions that encourage sustainable living and keep disposable items off of the beaches, away from the streets, and out of the landfills. Headquartered in Chico—the fastest-growing city in California—the certified B Corporation is also committed to preserving and restoring the state's wild spaces, supporting local communities, bringing benefits to the people who create its products, and crafting the best reusable items the planet has ever seen.
6. Deckers

Based in: Goleta
Deckers Outdoor Corporation may be best known for its UGG boots, but the internationally recognized brand also specializes in footwear that embodies the active California lifestyle and supports the pursuit of outdoor adventure. Founded in Goleta, a small town about 15 minutes north of stunning Santa Barbara, the company became a mainstream phenomenon with its surfer-inspired, multi-layered flip-flops in the 1970s and eventually transformed into the global entity it is today, offering an array of innovative, sustainably made footwear fit for adventurers. Whether you're seeking comfortable, durable outdoor shoes for river rafting in Northern California, hiking the Pacific Crest Trail, or hitting the top San Diego surf spots, Deckers has what you need.
7. Infinity Surfboards

Based in: Dana Point
Responsible for crafting 40,000-plus surfboards since 1970, Infinity Surf perfectly embodies the California beach culture. The company opened up shop in Dana Point and takes pride in handcrafting every board in Southern California. Along with shortboards, longboards, SUPs, and many other kinds of surfboards, the company also stocks hats, apparel, and skateboards so you can support all of your coastal hobbies.
What are your favorite California-based stores for outdoor clothing and gear? Let us know in the comments.