By

California.com
November 28, 2020
Contrary to popular opinion, creating a casual wardrobe isn't difficult. In fact, the best winter capsule wardrobe happens to be the simplest one—it's a great way to showcase the potential of your current closet without the complication of too many additions. With many trends to draw inspiration from, the season alone has the ability to motivate people to minimize their consumption of clothing.
There are many tips and tricks to build a versatile closet that embodies your sense of style while maintaining an extremely minimalist wardrobe. From thinning out your closet to purchasing a couple of long-lasting pieces from ethical California fashion brands, here's how to build the best winter capsule wardrobe.

Creating A Capsule Wardrobe
You know when you open your closet and see so many things yet still end up saying, "I have nothing to wear"? The solution to that problem is creating a capsule wardrobe. Downsizing your closet to just the essentials doesn't mean having a boring sense of style. In fact, it's quite the opposite. By mixing and matching your staple wardrobe pieces, you'll end up wearing all of the clothes you own thanks to your versatile minimalist closet. The key point here isn't to go out and shop for an entirely new look. On the contrary, it's about being aware of all the things you own and shopping mindfully whenever needed. With a small and versatile closet, you won't be spending as much money, but you'll have more outfits to wear—buy less, wear more; it's a win-win situation.
When it comes to creating a capsule wardrobe, you must have an understanding of your own personal style. As fun as it is to follow trends and always keep up with the latest fashion craze, it's critical that you know what works best for you and what makes you feel most comfortable. There's no point in buying a cool pair of cropped trousers if you don't feel confident in them. The same mentality applies to paring down your closet—hoarding clothes you don't wear often or haven't worn in a long time is inefficient and unproductive. This is where mindful shopping comes in handy; instead of buying things you want, you only purchase items you need. What you "need" is a practical piece of clothing, while what you "want" is the same bag in another color.
For your core winter capsule wardrobe, you should decide on a color palette. Neutral tones are the ideal foundation for all of your looks because they can be easily blended with other seasonal colors. It's important to remember that your minimalist closet doesn't have to be completely neutral—you just have to add the correct shades that complement your other pieces of clothing and also make your eyes and skin tone pop. Opt for classic pieces over trendy items since they're not as short-lived as the momentary fads.
Curate your closet according to your favorite color palette, and add accents of rich hues by incorporating vibrant accessories. Having a small yet versatile jewelry collection is another important aspect of creating a capsule wardrobe. Many of us are guilty of buying accessories and only using them a couple of times. Minimize your jewelry collection by only keeping the timeless pieces to add dimensions to your look.

Staple Wardrobe Pieces
What defines a staple wardrobe piece? A reliable foundation of clothes that last a lifetime and never go out of style. You probably already own many of these must-have items, so instead of letting them collect dust in the back of your closet, make these essentials the base of your winter capsule wardrobe.
1. Straight-legged jeans: The skinny jean reign lasted a very long time, and now that we're living in an age where comfort is highly valued, there's nothing better than a pair of mom jeans. The high-waisted slouchy denim can look both casual and elegant, depending on the rest of your outfit. They also break up a rather neutral wardrobe by adding color.
2. A pair of ankle boots: Some might argue and say knee-high boots are the ultimate winter shoes, but they're not as flexible and versatile as ankle boots. The classic choice is not only practical; it's also comfortable and businesslike. Whether they're chunky, squared-toed, or heeled, ankle boots add a sense of composure combined with comfort for any outfit. Easily paired with jeans, skirts, and dresses, ankle boots are the ideal option for any winter occasion.
3. A boxy blazer: The solution to all of your fashion problems is a statement blazer. Transforming your casual outfit into a professional one, blazers make you look effortlessly cool. There are no strict rules when it comes to styling; you can pair a blazer with classic trousers, a cocktail dress, and even a plain T-shirt and jeans.
4. A warm coat: Investing in an enduring timeless coat is certainly rewarding. As the fundamental topper for both banishing the cold and looking stylish, coats are staple wardrobe pieces that are always reliable.
5. A classic turtleneck: The best layering piece of a winter capsule wardrobe is none other than a good old-fashioned turtleneck. Adding a touch of sophistication to any look, the closet necessity is the best top to wear with trousers, a plaid skirt, or underneath a dress.
6. A timeless sweater: This classic wardrobe staple can revamp your outfit without any difficulty. Oversized; cropped; ribbed; tight-fitting—they come in many shapes and sizes and add polish to any ensemble.

Winter Capsule Wardrobe List
The main thing to keep in mind while selecting clothing items for your winter capsule wardrobe is to make sure that everything matches. If all of your clothes pair well with each other, you'll never have to worry about creating different looks every time you get dressed. When it comes to putting together a look, just follow the three-color rule—if you're having trouble creating an outfit, incorporating three different yet complementary colors to break the monochromatic style is a great starting point. For this season's capsule wardrobe list, make sure to include these pieces to effortlessly mix and match.
1. Two coats
2. Three pairs of shoes
3. Two pairs of pants
4. One long skirt
5. Two T-shirts
6. Two turtlenecks
7. Two sweaters
8. One basic long-sleeved shirt
9. Two chunky knits
10. One statement blazer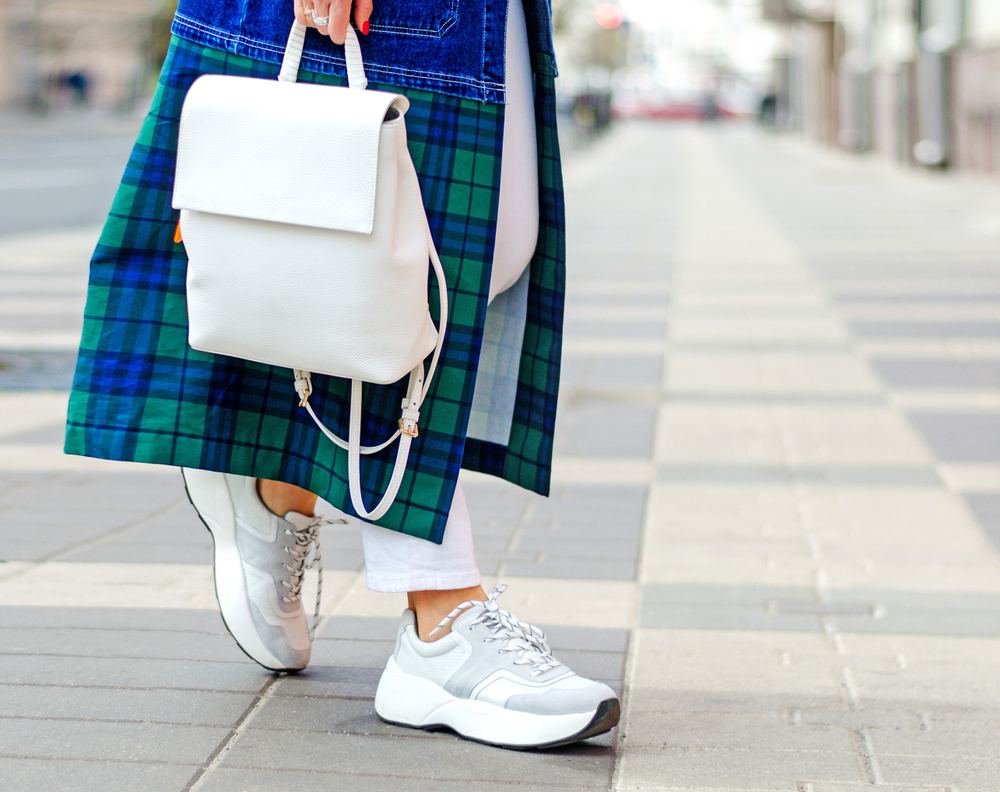 Athleisure Capsule Wardrobe
Athleisure is the perfect combination of comfy and chic. It's possible to have a capsule wardrobe composed entirely of athleisure items. Winter fashion is all about comfort—since activewear's attitude coincides perfectly with winter, there's nothing wrong with building a winter athleisure capsule wardrobe. The effortless, sports-inspired pieces have become an aesthetic and common street-style. Create comfortable loungewear with a fashionable edge for your next winter capsule wardrobe using fleece, bodysuits, leggings, and much more.
1. A classic hoodie: You can't spell athleisure without a hoodie. The perfect way to sport the season is by throwing a hoodie on and calling it a day.
2. A pair of leggings: Who cares if leggings were made for exercising? We're loving them and keeping them around for the long haul.
3. Comfy sweatpants: We're not sure if it's the quarantine talking, but sweatpants have become an essential part of our lives, and we're digging it.
4. Chunky white sneakers: White effortlessly blends with other colors, and chunky sneakers add an edge to any ensemble you're putting together. They basically scream athleisure.
5. A jean jacket: You can wear a jean jacket year-round, so why not style the denim staple and rock it with multiple layers?
6. A puffer coat/jacket: Once Rihanna put on that oversized puffer coat, she made it okay for everyone to do the same. A must-have for winter, puffer jackets are the best way to stay warm in style.