Between dealing with mortgage lenders, real estate agents, and developers, it can be confusing and challenging when selling an old house, buying a new place, or renting out an existing space; but staging the home to attract buyers shouldn't be. After you have taken the time to "Marie Kondo" your home, get rid of the clutter, complete the needed repairs, and update older features, adding a few extra touches will help potential buyers connect with the home. Property managers and real estate professionals can quickly spruce up any space to make it a more attractive purchase, and with these eight tips, you can, too.
Get Plants, Plants, and More Plants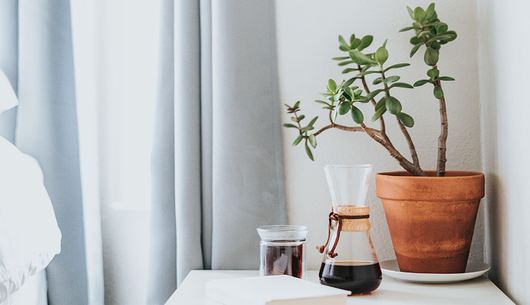 Fresh plants help to cleanse the air and make a space feel alive. Much like books on a shelf, plants will make any home feel inviting and will allow your potential buyers to see themselves living their best lives in this new space. Look into the current plant trends before committing to specific species. Having too many ficuses or all succulents screams outdated, but a fiddle-leaf fig, a few pothos pots, a cactus, and a monstera can make a place feel like home.
Spruce Up the Curb Appeal
Speaking of plants, add a splash of color to the front yard by growing some ranunculus in the springtime, purple cabbage in the winter, or some tall grasses year-round. Putting a fresh coat of paint on the curb or switching out faded numbers to make the address recognizable can also do wonders for the initial impression of the house.
Embrace the Greige
While gray or beige walls may not be your style, they do create a neutral backdrop, which makes it easier for possible purchasers to envision their own decor in the space. These inoffensive colors are universally appealing and allow viewers to look at the bones of the house instead of focusing on the shockingly vivid hues adorning the walls. Additionally, this color scheme brightens the room, making it appear larger without taking on the sterile effect of white walls.
Add a Dash of Color and a Touch of Texture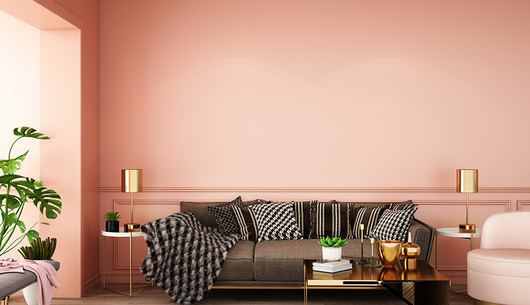 With a versatile wall color in place, it is time to focus on giving the home a bit of character. Adding a few velvet throw pillows, a single focal area of floral wallpaper, a patterned rug, and floor-to-ceiling textured curtains can go a long way. These elements enhance the space and make it feel more inviting; viewers may sit on the couch, lean against the dining chairs, or feel the smooth fabric on the pillows while picturing themselves living in the home.
Let the Light In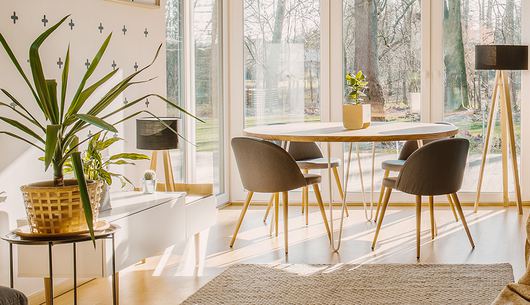 Show off all of the natural light in the space by opening the blinds and curtains. A home can seem cold with only artificial light, particularly in the cooler months of the year, creating a disconnect between the guests and the space. Hang lighter-colored window treatments to make a room look larger, or add a dark curtain to give the space a cozy vibe. Whatever you do, let the natural lighting take center stage.
Make It Smell Good
Using fresh, seasonal scents can draw upon the guests' subconscious and make them feel more comfortable. Simmer cinnamon on the stove during the winter months, burn a lavender soy candle during the spring, or bake fresh chocolate chip cookies in the fall. It is important, however, to avoid overpowering or artificial scents, as they can lead to headaches and an unpleasant experience. Essential oils are a great solution as well and can be sprinkled on pillows, disbursed in an oil diffuser, or dripped onto a filter before vacuuming to make the whole house smell naturally fresh.
Mix and Match Metals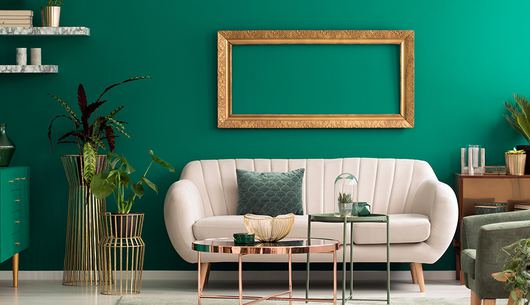 While a cohesive look is vital to creating an inviting space, sticking to one type of metal can make a place appear a bit old fashioned. Combine brushed silver with brass, dull copper with shiny gold, and rose gold with stainless steel for a pleasant mixture of textures, finishes, and colors. Vases, book covers, table legs, and drawer pulls are exciting ways to incorporate these metallic elements without going overboard.
Warm It Up or Cool It Down
The last thing buyers want to worry about when searching for a home is a comfortable temperature. Use your heating or cooling system to achieve the perfect temperature year-round; somewhere between 68 and 72 degrees is comfortable and allows viewers to focus on the house instead of feeling too hot or cold.
With all of the details in place, you are ready for an open house that is sure to wow your guests into making an offer.