Though the idea of eating strictly plant-based foods may not sound enticing upon first thought, the realities of California's vegan cuisine are much more enticing than steamed brussels sprouts, plain kale, or "rabbit food". Imagine all the flavors of nacho cheese without any of the guilt; picture incredibly flavorful marinated tofu tacos that highlight the ingredients instead of overpowering them; envision eating a deli sandwich stuffed with healthful foods, and you will have a better idea of the vegan culinary landscape in the Golden State.
The San Francisco Bay Area is bursting with creative culinarians looking for an outlet, and for some, this means creating entirely vegan eateries where you never have to wonder if a dish includes unwanted ingredients. So prepare your taste buds as we highlight some of the best vegan restaurants in San Francisco, Oakland, Berkeley, and beyond.
Gracias Madre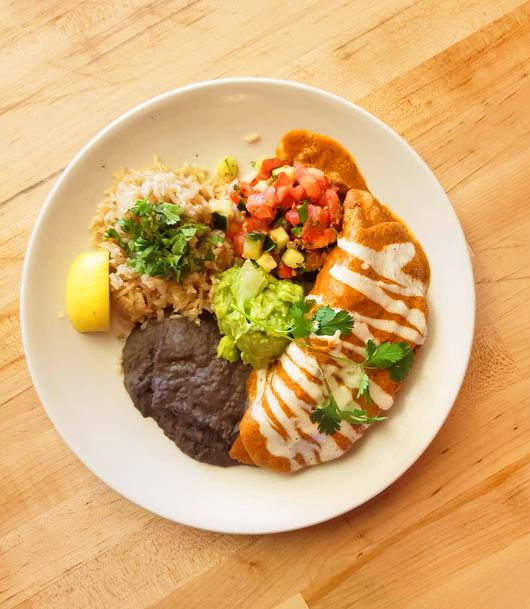 Location: San Francisco
If you are looking for authentic Mexican food that is made from the highest-quality local, organic, non-GMO ingredients—and that also happens to be vegan—Gracias Madre in San Francisco's Mission District is the clear winner. With a seasonal menu determined by what is at the peak of freshness at the Be Love Farm in the nearby town of Vacaville, Gracias Madre always serves up mouthwatering, flavorful vegan cuisine.
Start off with the Gorditas, if available, comprised of perfectly fried potato masa cakes, salsa verde, avocado, and cashew crema—creating a delightfully delicate, balanced mix of textures. Follow that up with an order the seasonal Bowl Uno for an explosion of flavor; tempeh chorizo lies atop brown rice, black beans, and romaine lettuce as fresh guacamole, pico de gallo, creamy cashew cheese, and crunchy pepitas provide colorful garnishes.
Nourish Café
Location: San Francisco
Located in the Richmond District of San Francisco, Nourish Café focuses on creating dishes from wholesome, plant-based, sustainably sourced food. The eatery puts intention behind each and every ingredient, resulting in clean and organic foods that have a low carbon footprint.
Order the avocado chimichurri toast and the blue pineapple smoothie—featuring blueberries, pineapple, basil, hemp seeds, and orange juice—for something light, or opt for the báhn mì sandwich with marinated tofu, sweet potatoes, pickles, cilantro, sea salt, and jalapeño cashew mayo for a taste of something familiar.
Timeless Coffee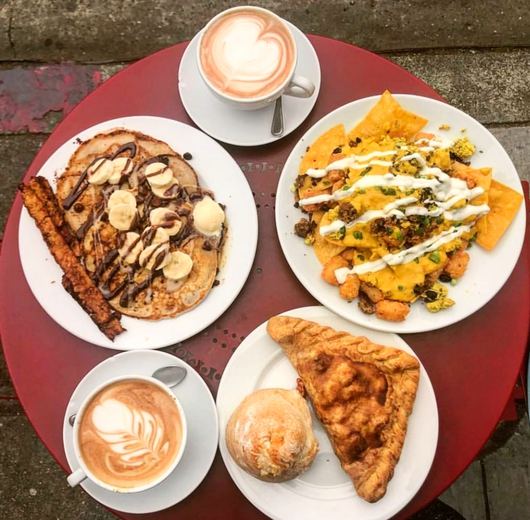 Location: Oakland
Situated along Oakland's bustling Piedmont Avenue, Timeless Coffee provides exceptional coffee drinks, baked goods, and breakfast items—all of which are vegan. Stop in to try the oat-milk vanilla latte and the monthly special (which may be June's blueberry banana pancakes with almond butter, coconut whip, and maple syrup), or just drop by to pick up your custom vegan cheesecake or dairy-free chocolate. From breakfast nachos, to doughnuts, to coconut curry lentil soup, everything created here tastes—and looks—incredible.
Pepples Donut Farm
Location: Oakland
Whether you are craving something sweet or savory, Pepples Donut Farm has you covered with its organic, vegan treats. Start with the plant-based griddled mac 'n' cheese, and continue on with the salted caramel doughnut. So you don't miss out on other tasty offerings, get the lavender Earl Grey, chocolate cookie, and lemon poppy seed doughnuts to-go.
If you visit the Oakland eatery on the weekend, savor the Southern fried chik'n and organic cornmeal waffles before devouring the coconut whiteout or orange creamsicle doughnuts.
Millennium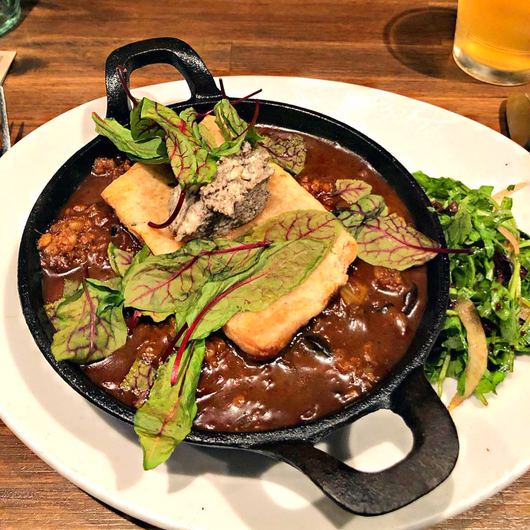 Location: Oakland
For award-winning, globally inspired, plant-based cuisine in Oakland, Millennium is the place to be. The eatery works closely with small, local farms to prepare a hyper-seasonal menu that showcases organic produce at its best. While the farm-to-table nature of vegan cuisine can seem pretentious, it is anything but that at Millenium, where the rustic decor makes the fine-dining experience feel approachable.
Head in for Sunday brunch to savor a luxurious meal. Though the menu constantly changes, it is hard to go wrong with the incredibly thoughtful selections here. Quench your thirst with the Orange Creamsicle—featuring freshly squeezed orange juice, soy creamer, and sparkling water—as you decide which dishes to order for the table. Begin with the curried rugosa squash soup chock full of Indian-spiced cabbage slaw as well as the crispy, pan-roasted fingerling potatoes with smoked pear ketchup. Continue on to the cornmeal-crusted cauliflower sandwich stuffed with French onion–cashew cheese sauce, cabbage slaw, and peperonata for a filling meal that will leave you feeling refreshed. But save room for dessert: The peanut-caramel-chocolate shortbread is to die for.
Sanctuary Bistro
Location: Northwest Berkeley
Stop by this family-owned restaurant in Berkeley to sample the continuously changing menu showcasing high-quality, seasonal produce. While the brunch and lunch options are quite popular, the evening menu will delight even the most carnivorous eater with vegan takes on traditional dinner entrées.
Kick off the meal with the charcuterie plate—complete with black-eyed pea sausage, Dijon mustard sauce, kalamata olive tapenade, seared mushrooms, mixed nuts, and a gluten-free baguette—and the broccoli and bacon soufflé featuring onion, garlic, broccoli, cashew cream, and shiitake bacon. (These dishes may be powerful enough to turn just about anyone into a vegan.) Move on to the spicy blackened portobello accompanied by smashed golden potatoes, baby carrots, avocado-garlic aioli, and spicy stone-ground mustard sauce. End the night on a sweet note with the seasonal cashew cheesecake.
The Butcher's Son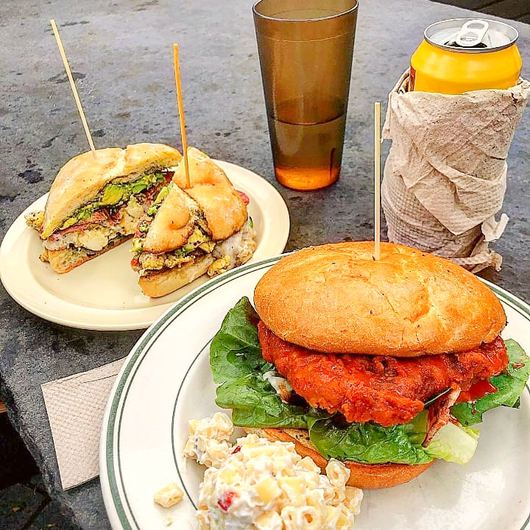 Location: Downtown Berkeley
The Butcher's Son is a vegan delicatessen, but you'd never know it by looking at the food. The eatery makes its own deli-style meats and cheeses, serving them up by the pound and stuffing them into the sandwiches. Though the menu changes frequently, there are a few staples that you need to try such as the buffalo-bacon-ranch fried chicken served on a toasted, garlic-buttered kaiser roll. Add blue cheese if you know what's good for ya, and grab house-made pickles and some potato salad on the side, too. Another incredible creation is the chili garlic portabella sandwich with feta and melted mozzarella; pair it with the bacon macaroni salad and follow it up with the cheesecake for dessert. It will easily become one of your most memorable meals in the Bay Area.
Shizen Vegan Sushi Bar and Izakaya
Location: San Francisco
Tucked away in the Mission District of San Francisco, Shizen Vegan Sushi Bar and Izakaya is taking on the traditionally seafood-heavy Japanese cuisine and reinventing it with a fully vegan sushi bar. Start your culinary adventure with orders of the edamame sautéed in garlic oil and soy reduction and the pan-fried vegetable and tofu gyoza—you may never go back to their animal-product counterparts. Keep the party in your mouth going with the seasonal vegetable tempura or the Asian-inspired brussels sprouts to prepare your taste buds for the star of the show: sushi. If you want to play it safe, share the sesame seed–accented avocado roll or the sweet tofu nigiri topped with spicy daikon, sweet soy, and scallions. Or, you can go wild with the smoked tofu, avocado, and vegan cream cheese of the Philadelphia roll.
Cinnaholic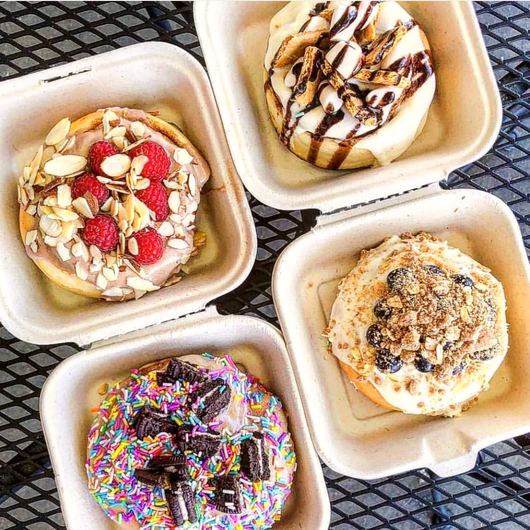 Location: Downtown Berkeley
Berkeley's Cinnaholic takes the classic cinnamon roll to a whole new level, offering 20 frosting flavors and tons of toppings. Make your roll fun with the cake-batter frosting and sprinkles, or go for all-out decadence with the amaretto frosting and pie crumble. Pick up a cup of locally sourced coffee to pair with it, and grab some edible chocolate chip cookie dough for the road.