Blow-dry bars continue to pop up across California, embracing a beauty trend that has only grown in popularity since it took root in 2009. Blowouts—a service that includes getting your hair washed, blow-dried, and styled with fancy products in whichever way you desire (straight, wavy, curly)—have blown up (pun intended) among women of all ages seeking salon-perfect hair in between haircut appointments. Whether it's for a special occasion like a holiday party, a night out with your sweetheart, an important work meeting, or simply an indulgence for yourself, blowouts can give you sleek, shiny, bouncy hair that lasts for up to four days.
Getting a blowout is also a luxurious experience in itself, as most blow-dry bars go out of their way to pamper customers with complimentary champagne, snacks, and other amenities that encourage utter relaxation. Despite the high-end feel of blow-dry bars, many keep their prices fairly affordable in order to attract a wider customer base. The majority of blow-dry salons charge around $45 for blowouts, but others offer the roughly 45-minute service for less. And for a lot of women, the cost of a blowout is worth it, as they're eager to pay for a service that transforms their hair into glossy perfection—and provides them with a bit of a self-confidence boost.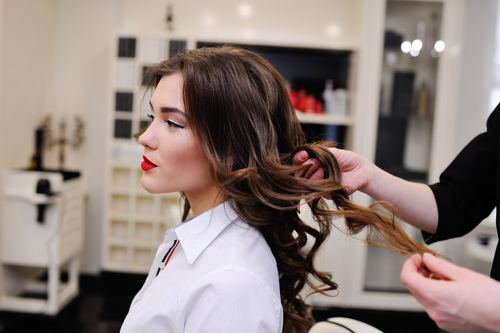 So, it should come as no surprise that the hot hair trend has created a booming salon-industry sector that has seen tremendous growth year after year. In fact, according to a report by Professional Consultants & Resources, the salon industry's leading data source, blow-dry bars and salons saw a 25 percent increase in service revenues in 2017. (In comparison, overall revenues for all salon industry hair-care services grew merely 2 percent in that same year.) They also produced nearly $7 billion in service sales and $2 billion in retail sales.
Want to see what all the fuss is about? Here are the best blow-dry bars in California that can get you looking and feeling salon-fabulous in no time.
Blo Blow Dry Bar
The O.G. of modern blow-dry salons, Blo Blow Dry Bar was the first hair dry–only spot to open in America. After its 2009 debut, Blo's simple premise—wash, blow, and go—and mission to make catwalk-worthy hair accessible to all women quickly caught fire, and now, there are more than 120 locations across the United States and Canada, including eight throughout California. Each of the sleek, pink-accented salons offers seven distinct blowout styles ranging from the razor-straight Executive Sweet, to the runway-inspired Pillow Talk, to the fun and flirty Holly Would, to the classic Red Carpet—all priced between $40 and $45. In addition to giving your mane a makeover, Blo can pamper you with a manicure, pedicure, brow shaping, and other beauty services. You can even make a day of it with your friends, as Blo offers packages for bachelorette parties, birthdays, and bridal showers (free champagne included). So no matter what you're looking for, Blo has you covered and is prepared to blow you away.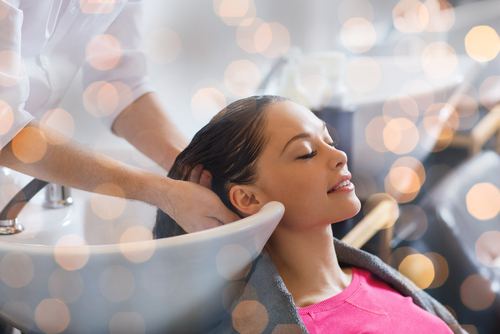 Drybar
Drybar is another blow-dry salon that was early to jump on the blowout trend, launching in early 2010 in Los Angeles. All the blow-dry styles offered here cost $49 and have cheeky names inspired by mixed drinks, such as the Old-Fashioned, Manhattan, and Mai Tai. There's even a $35 blowout called the Shirley Temple for customers ages 10 and under (ringlets not required). Unsurprisingly, Drybar garnered well-deserved attention after its debut, and the salon now has 100-plus locales across the country and Canada—and its growing product line is sold at Sephora, Nordstrom, Ulta Beauty, and Bloomingdale's. There are 26 Drybar locations in Southern California alone and eight in Northern California, but no matter which one you go to, the overall experience and quality of the service is the same. In fact, Drybar prides itself on its consistency. Every salon looks similar and provides snacks and cookies; complimentary beverages such as coffee, champagne, and fruit-infused water; and TVs showing chick-flicks with subtitles. And above all, Drybar always guarantees one thing: That you'll leave feeling refreshed, fabulous, and ready to take on the world.
Halo Blow Dry Bar
Women of the Silicon Valley have long been flocking to this upscale, high-tech blow-dry bar to give their locks a refresh. With locations in Burlingame, Los Altos, and Menlo Park, Halo Blow Dry Bar offers makeup services and brow shaping in addition to envy-inducing blowouts. Whether you want your hair to look straight and sleek, curly and bouncy, or voluminous and glam, the stylists here will have you smiling wider and standing taller when you walk out the door.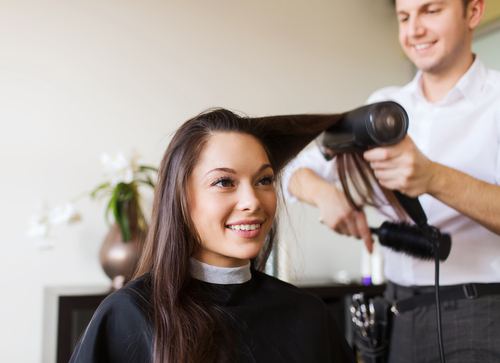 Carmelblo
Situated in the charming village of Carmel-by-the-Sea, this boutique salon is a one-stop shop for all your beauty needs, providing makeup and waxing services, eyelash and hair extensions, spray tans, and—of course—blowouts. Carmelblo offers various types of blowouts, which range in price from $50–$60 for traditional looks to $75–$95 for wavy and curly styles. Regardless of what you choose, this snazzy blow-dry bar on California's Central Coast will give you a swoon-worthy hairdo that you can flaunt for days.
SLO Blowout Bar
Located in the middle of downtown San Luis Obispo, less than a block from the famed Mission San Luis Obispo de Tolosa, SLO Blowout Bar is a local favorite—and for good reason. The cozy-chic salon beckons with its gleaming white interior and vibrant aqua accents, and then delivers with its $40 standout blowouts. From the Straight Up Sexy (smooth and straight), to the Beach Goddess (tousled waves), to the Confidence Booster (lots of loose curls), this blow-dry bar has the style for you. (There's even a treatment for youngsters: The Little Miss Princess gives girls ages 10 and under the royal treatment for $25.) If you want the full experience, you can get your makeup done here, too, and come out looking like a movie star.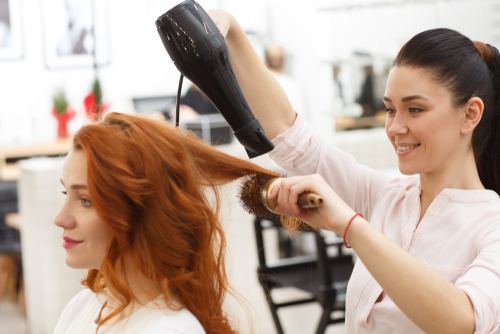 My Blow LA
Need fab hair fast? Head to this small but trendy blow-dry bar in the heart of Beverly Hills (or check out the newer location in Aliso Viejo), where you can get a hot new hairdo in merely 30 minutes for $40. While My Blow LA features a menu of traditional offerings—such as the Slick Lick (stick-straight), Romantic Affair (loose curls), and The Morning After (sexy, boho waves)—you can also create your own custom blowout for any occasion. If you have a bit of extra time and money, you can even upgrade your session with a nourishing hair mask, deep-conditioning treatment, or scalp massage.
Blowbunny
Offering blowouts, makeup application, brow shaping, and extensions, Blowbunny is a one-stop salon for women wanting to look and feel their best. The San Diego hot spot uses ultra-premium hair products for all its services and offers an assortment of $45 blowout styles with cutesy names like Bunny Love, Jessica Rabbit, Show Me the Bunny, and Honey Buns. Whether you are there to treat yourself to some alone time or to enjoy a ladies night out, mother-daughter day, or bridal shower, Blowbunny makes sure you simply sit back and relax with your glass of champagne—and walk out with a hairdo that "everybunny" will love.
With so many blow-dry salons providing picture-perfect hair in less than an hour, you will never have to sport that last-resort ponytail look again.