Nothing screams California quite like avocado toast. But not all toasts are created equal: The perfect avocado toast is achieved by creating a balance between creamy and crunchy textures, acidic and basic flavors, and bright and neutral colors. And the more avocado toast recipes we looked into, the more we realized there are a few ingredients—aside from killer bread and avocados—that can elevate a mediocre avocado toast into a work of art.
While additional toppings aren't absolutely necessary to craft a crave-worthy slice of toast, they definitely help to highlight the flavors of one of California's favorite fruits. Along with high-quality bread and avocado, the most impactful ingredients for your toast include olive oil, lemon juice, sea salt, black pepper, and chili flakes. Of course, it doesn't have to end there: Add a sprinkle of feta cheese, round it out with radishes, or perk it up with pickled onions for a burst of flavor that will please your palate.
What To Look For In Your Avocado Toast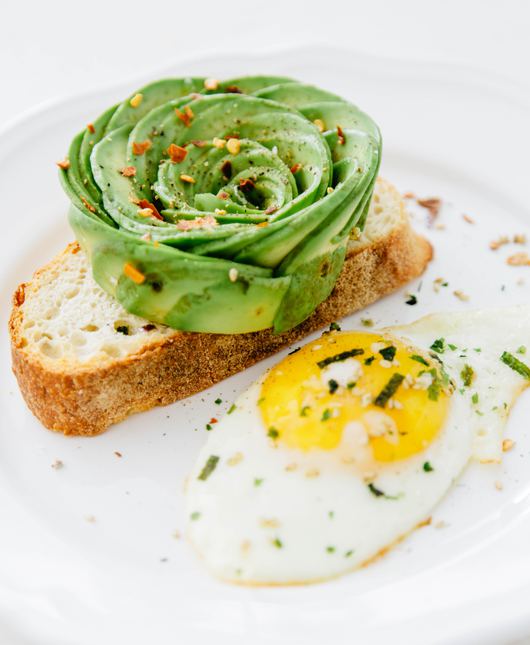 If you're not in the mood to make avocado toast for yourself, lucky for you, numerous restaurants can satisfy your hankering. If you go to a place where you can watch your toast being crafted in front of you, look for these indicators to see if your meal will blow you away:
1. Ripe Avocados
The avocados should be ripe (but not mushy), and the insides should be free of brown spots.
2. Toasted Bread
Thick slices of bread—particularly wheat bread—make the best bases for the rest of the toppings and add textural diversity to the creamy avocados.
3. Salt
A pinch of salt is key; it's glaringly obvious if it's lacking. Sprinkle a bit on top of the toast, if needed—always taste it first. Many eateries include salt in their seasoning blends, so it might be difficult to see it, but there's no denying taste.
4. Properly Prepared Avocado
While this sounds like a given, the avocado should be mashed separately from the toast—if indeed the avocado is getting smashed rather than sliced—so the crunchy bread is not crushed and compromised in the process.
Where to Get The Best Avocado Toast
I've eaten a lot of avocado toast here in the East Bay Area. But instead of solely focusing on my favorite spots, I asked around the office to find the best East Bay eateries for avocado toast that can satiate any craving.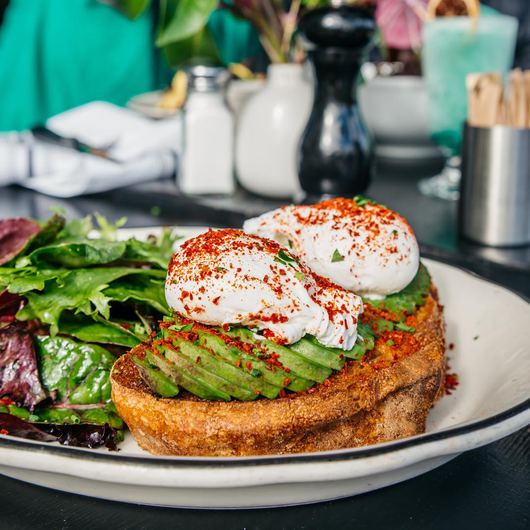 For Avocado Toast With Eggs: Grand Lake Kitchen, Oakland
As someone who doesn't ordinarily get avocado toast at restaurants, it means a lot when I see one that is enticing enough to order. So, it should be obvious that the avo toast at Grand Lake Kitchen in Oakland is unlike any other. This fork-and-knife toast boasts the ultimate balance between creamy avocado, perfectly poached eggs, spicy Aleppo chili, and comforting levain bread. A nice green salad brings even more balance and value to the dish without taking away from the main event. —C., Social Media Guru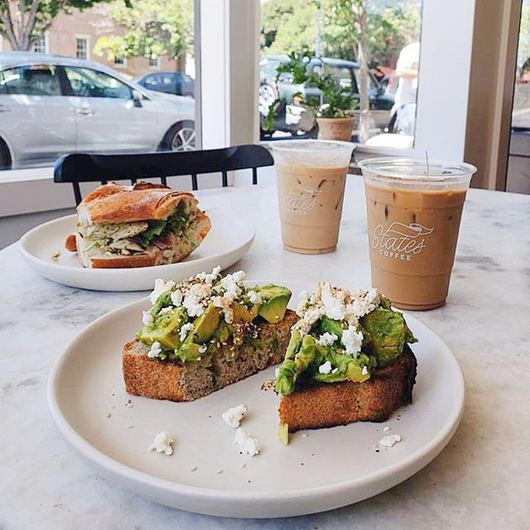 For Simple Avocado Toast: Farm & Flour, Benicia
It doesn't get much better than a slice of freshly baked, toasted country bread from a bakery—until you top it with avocado. Add on house-made everything bagel seasoning, lemon zest, mint, and feta cheese, and you've got an unforgettable slice of heaven. This fairly simple dish at Farm & Flour hits all of the bases in a creative way without distracting from the bread's character. Fair warning: The toast is cut thick, so consider using a knife and fork if you're on a first date. Otherwise, have at it. —H., Administrative Assistant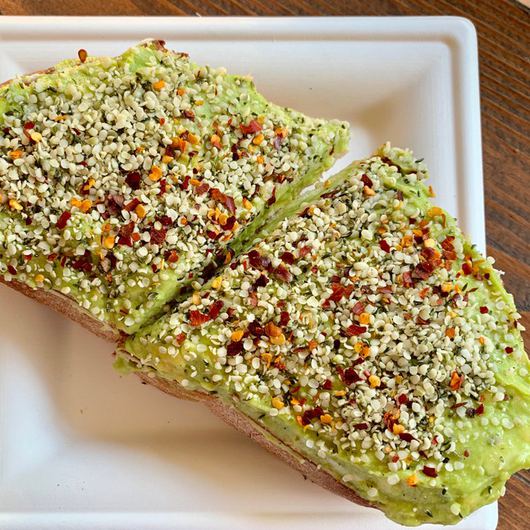 For Vegan Avocado Toast: Rooted Coffee Co, Pleasant Hill
If you're in search of a gluten-free, plant-based avocado toast, look no further than Rooted Coffee Co. Here, toasted gluten-free bread is topped with cashew cream cheese and smashed avocado before being sprinkled with salt, pepper, lemon juice, hemp seeds, and chili flakes. It's so good with the slight spice of the chili flakes, but since it's plant-based, it's also guilt free. —S., Executive Assistant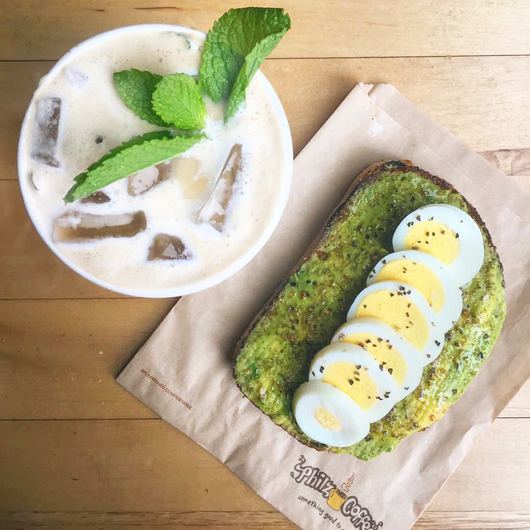 For Loaded Avocado Toast: Philz Coffee, Walnut Creek
The avo toast at Philz Coffee throws it back to San Francisco's roots with a slice of sourdough bread, which is toasted to perfection and topped with smashed avocado, a drizzle of olive oil, a pinch of salt and pepper, a sprinkle of za'atar, and slices of hard-boiled egg. —C., Executive Assistant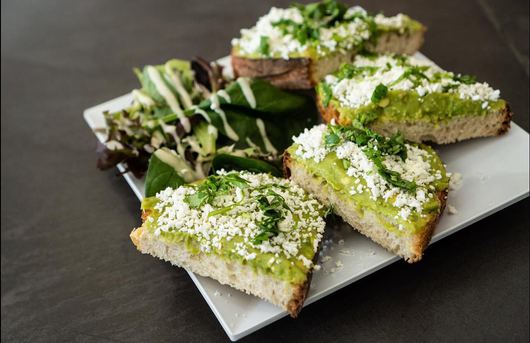 For Avocado Smash & Oat-Milk Lattes: Coffee Shop, Lafayette
Coffee Shop's avocado toast is seriously craveable. Made with simple yet fresh ingredients, this dish is perfect any time of day. The toast features perfectly chewy sourdough bread piled high with smashed avocado, lime juice, cilantro, and queso fresco—all of which is complemented by a bed of lettuce, balancing out the burst of rich flavors. Pair the avocado toast with an oat-milk latte, and there's no better breakfast. —R., Content Manager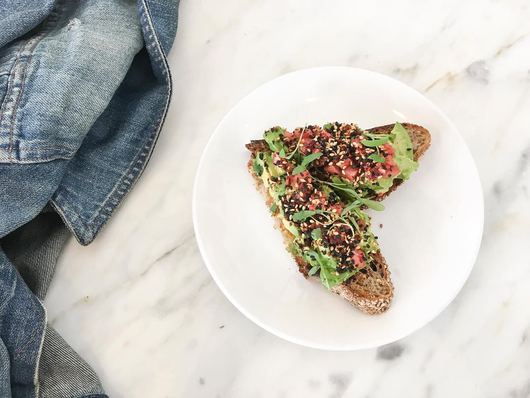 For Avo Toast & Artisanal Coffee: Blue Bottle Coffee, Oakland
While the Oakland-based Blue Bottle Coffee has opened locations across the globe, there is something comforting about knowing the coffee shop's avocado toast recipes originated in California. The Bay Area version reigns supreme, thanks to the thick, seedy bread that supports the rest of the ingredients: mashed avocados, extra-virgin olive oil, kosher salt, lemon juice, and a combo of black pepper and chili flakes for just the right amount of kick. Go pro and put a poached egg on it, and pair it with a cup of single-origin coffee. —M., Staff Writer