While it might seem strange, you can learn about people by the type of chocolate they like. I know it sounds crazy, but chocolate is actually a very divisive topic. Some people prefer milk chocolate while others have an affinity for dark chocolate, and whether or not we'd like to admit it, there's a whole lot of judgement for those who fall on the opposite side of our chocolate preference. To break down the (chocolate) barriers that separate us and to better understand the complicated Bay Area chocolate industry—and each other—California.com organized a cross-departmental chocolate taste test.
This wasn't the most scientific taste test ever performed, but more was revealed than anticipated. Along with providing a unique bonding experience, the experiment exposed the participants to chocolate makers they'd never even heard of before, despite them operating in our own backyards. We chose one type of chocolate from each of the top Bay Area brands, and to avoid any bias, we did not tell anybody which specific companies were involved. During the taste test, each chocolate was placed in identical containers and served the same way. The Bay Area chocolates chosen for this test were:
Dandelion Chocolate
Mission District, San Francisco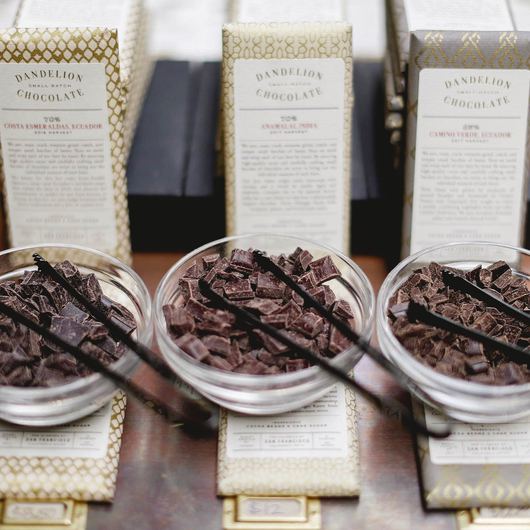 Known for its small-batch, single-origin chocolate bars, Dandelion Chocolate takes pride in sourcing, sorting, roasting, and tempering its beans before molding and wrapping the finished bars by hand. By sticking to these principles and highlighting each origin, the end product is highly nuanced in a way that can't be found elsewhere. Thanks to Dandelion's distinct chocolate-making methods and focus on presenting the unique characteristics of each bean, all of its bars contain a cacao percentage of 70 or higher.
Dandelion Chocolate Taste Test
Gola Rainforest, Sierra Leone (70% cacao)
Ingredients: cocoa beans, cane sugar
Ghirardelli Chocolate Company
San Leandro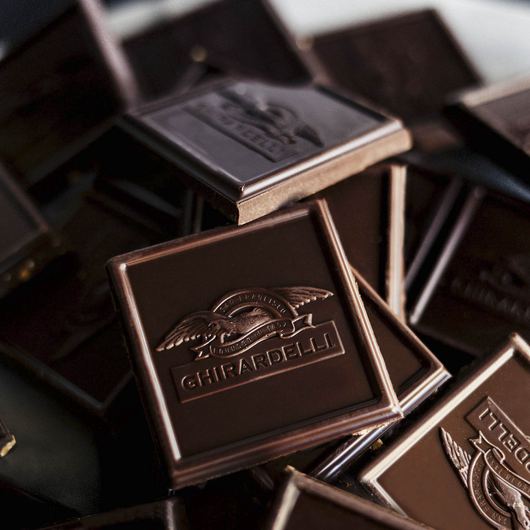 Now one of San Francisco's best-known chocolate makers, Ghirardelli has become a household name since opening in 1852. Due to its incredible location along Fisherman's Wharf, The Original Ghirardelli Ice Cream & Chocolate Shop is a top tourist destination, but its popularity goes beyond San Francisco—there's even a location in Disney California Adventure Park.
Ghirardelli Chocolate Taste Test Contender
Semisweet chocolate mini chips (58% cacao)
Ingredients: sugar, unsweetened chocolate, cocoa butter, whole-milk powder, soy lecithin (an emulsifier), vanilla
Guittard Chocolate Company
Burlingame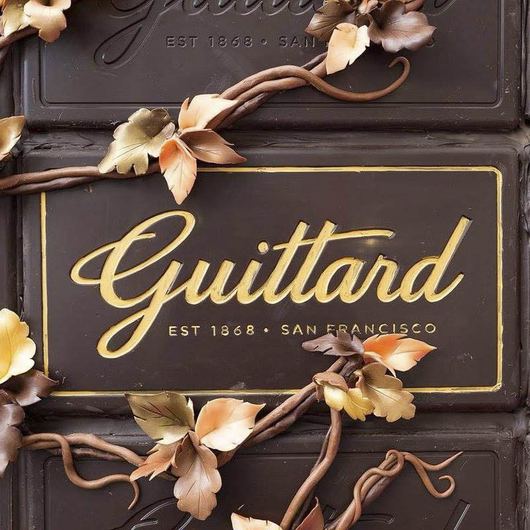 With a multi-generational business, the Guittard family has chocolate-making in their blood. But for Guittard, the responsibility extends beyond crafting quality chocolate. Placing high importance on honoring the cocoa bean also means supporting the farmers and lands that grow it.
Guittard Chocolate Taste Test Selection
Fair Trade all-natural semisweet chocolate baking chips (46% cacao)
Ingredients: sugar, cacao beans, cocoa butter, sunflower lecithin, vanilla
TCHO
Berkeley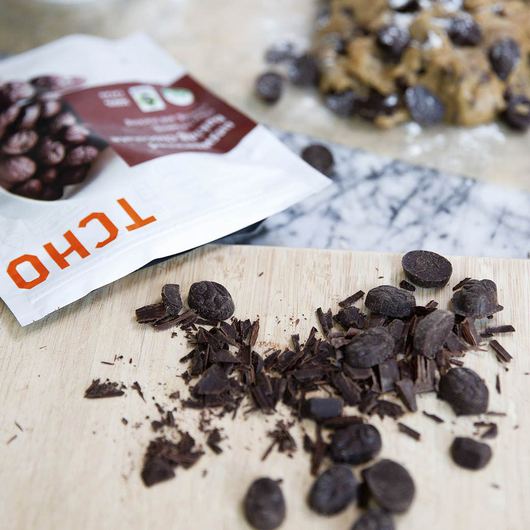 TCHO takes a scientific approach to chocolate which allows the farmers to participate in each step of the process. While many cacoa farmers have never even tried chocolate of any kind, TCHO sets up tasting labs at each origin so the growers can sample their own end products. This allows the company to work in conjunction with the farmers to increase the quality of their product and to refine their palates to better detect flavor inconsistencies.
TCHO Chocolate Taste Test
Fair Trade, organic milk chocolate with toffee and sea salt (53% cacao)
Ingredients: organic milk chocolate (cacao beans, cane sugar, whole-milk powder, cocoa butter, nonfat-milk powder, soy lecithin, vanilla beans), toffee (sugar, rice syrup, butter, coconut oil, salt, soy lecithin, sodium bicarbonate), sea salt
The Best Chocolate in San Francisco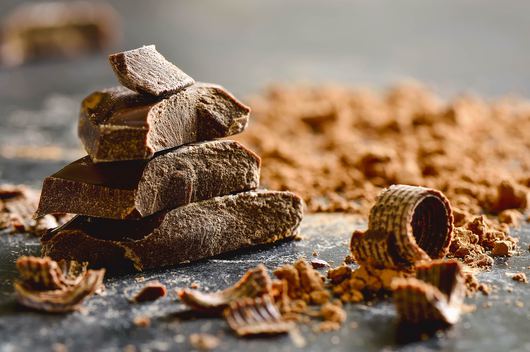 Of course, I couldn't miss out on all the fun, so before we get to the test results, here's a bit of my (biased) opinion: In general, I prefer dark chocolate, so I was thrilled that three of the four chocolates were in the right family. Ghirardelli gets most of the acclaim when it comes to San Francisco chocolate, so the real shining stars like Guittard and Dandelion often get passed up. But without those two brands, we wouldn't catch the scent of chocolate-chip cookies when walking out of the Millbrae BART station or get the unique opportunity to take a chocolate factory tour—and pretend to be in Charlie and the Chocolate Factory—in the heart of the Mission District. Though I tried to leave my opinions at the door (and while TCHO does make killer milk chocolate), there is something about the richness and complexity of Guittard and Dandelion chocolates that have me hooked.
But my opinion seems to be an unpopular one, with less than 40 percent of participants choosing either Guittard or Dandelion as their favorite chocolate. That being said, Guittard earned a similar amount of votes for both favorite and least favorite, while Dandelion's rankings were all over the place (but even those who are not fond of dark chocolate were able to appreciate its quality craftsmanship).
It would appear, however, that my office is filled with milk-chocolate lovers. Nearly 70 percent of taste-test participants chose TCHO's milk chocolate, toffee, and sea salt bar as their favorite of the four—with some unable to contain their exclamations of joy from the moment it hit their tongues.
The largest consensus surprisingly hovered around Ghirardelli. While many participants thought it tasted familiar, most were not able to distinguish how they recognized the flavor. Despite the comfort that the familiar provides, not a single person chose the Ghirardelli chocolate as either their favorite or least favorite. And though the overall opinion was the same, the tasting notes were all over the board, with descriptions ranging from bitter and dark to fruity and milky.
While the responses differed greatly, there was a single order that showed up more than once. Over a quarter of the participants ranked the Bay Area chocolates in the following order, from best to worst:
1. TCHO
2. Dandelion
3. Ghirardelli
4. Guittard chocolate chips
But with so many different opinions to consider, all of the chocolate bars are winners.