By

California.com
August 17, 2019
Crispy french fries are tucked next to smooth sour cream, flavorfully marinated carne asada, creamy guacamole, and perfectly shredded cheese. That's right, I'm talking about the iconic California burrito.
As its name implies, the legendary burrito was created right here in the Golden State. Home to gorgeous waters, ideal surfing conditions, perfect weather, and endless opportunities for outdoor recreation, San Diego also gets to add "creator of the California-style burrito" to its resume—proving yet again that it's the place to be.
While there is some debate around whether the California burrito was invented by Santana's (which has since changed its name to Fresh MXN) or by one of the many Roberto's taco shops, one thing is clear: The California burrito is undoubtedly the brainchild of a San Diegan. Given the dish's deep roots in the area, it's no wonder it has become one of San Diego's most famous and beloved foods.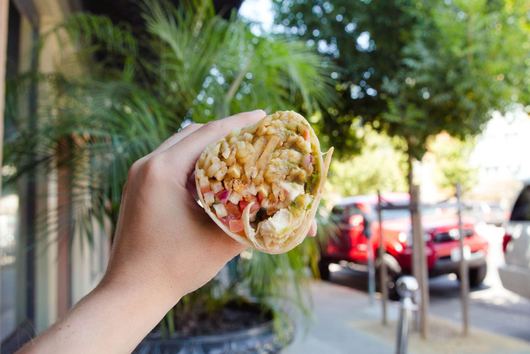 Although the burrito is named after the Golden State, it is rare to find this style (especially done well) throughout the northern two-thirds of the state. But luckily, Los Angeles and San Diego have happily kept the tradition going since the '80s. The California burrito competes with San Francisco's classic Mission burrito—a large rice- and bean-stuffed burrito that originated out of the Mission District—but for many Southern Californians, the meat-and-potato burrito far outranks the rest.
When it comes to mastering the California burrito, a few San Diego hot spots have it down to a science. The next time you find yourself heading south, make sure to check out our favorites.
Nico's Mexican Food
Known for its medium-sized California burritos, this joint has been ranked on many "best of" lists for a reason. Since Nico's has been making the dish for decades, the eatery understands the importance of perfectly combining all of the ingredients so that each bite is as good as the last.
Roberto's Mexican Food
With numerous locations throughout the region, Roberto's is a San Diego classic that has mastered the California burrito. Aside from offering all of the ingredients you would expect in this wondrous creation, Roberto's also gives diners the option to add guacamole (and any other favorite toppings) for the full California experience.
Mike's Taco Club
Mike's is the real MVP when it comes to satisfying textures. Not only does this eatery pile on the sour cream, but it also includes guacamole as a standard ingredient—ensuring the dreaded dry burrito remains a figment of your imagination. Indulge in every last bite of creamy, seasoned perfection that is bound to make you forget your previous burrito-eating ways.