By

Mackenzie Hutson
November 25, 2019
It's hard to believe that Thanksgiving 2019 is nearly upon us. The days spent hiking the Tahoe Rim Trail, floating down the rivers of Northern California, and scouring for the best surfing spots in L.A. feel like yesterday, but the time to celebrate the holiday season has arrived, and we can't say we're disappointed about it. But before we can say "Happy Thanksgiving" to the whole family, there's a bit of preparing to do.
Though the turkey (or tofurkey) is the star of the show, it just wouldn't feel right without some of the best Thanksgiving side dishes. Many of us have a soft spot for classic mashed potatoes and gravy, green-bean casseroles, and stuffing, so there is something challenging about finding new sides to bring to potluck-style Thanksgiving dinners. Picking up pre-made dinner rolls, simple cauliflower mashed potatoes, or roasted asparagus can be simple ways to quell your responsibilities, but we think the following vegetable side dishes make for even better Thanksgiving food. So grab these easy ingredients, don that apron, and get ready to celebrate the holidays with some dishes that are sure to make memories.
Roasted Carrots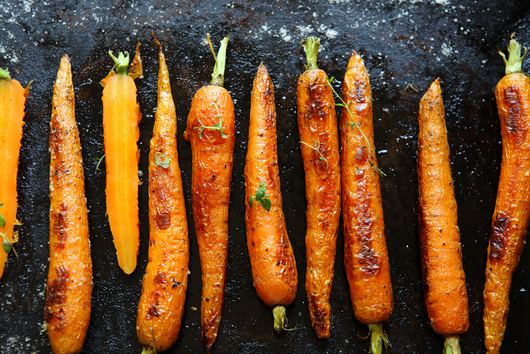 When it comes to keto side dishes, it doesn't get much better than these bacon-wrapped, maple-glazed carrots. This dish is particularly awesome because it can get those at the table who aren't crazy about veggies to eat them.
15 rainbow carrots, peeled
15 strips of bacon
⅓ cup maple syrup
Freshly ground black pepper
Sprinkle of cayenne pepper
Preheat the oven to 400 degrees. Wash and dry the peeled carrots, then wrap each carrot with one strip of bacon. Lay the wrapped carrots on a baking sheet and brush with maple syrup. Dust with black pepper and cayenne pepper. Bake for 15 minutes. Remove from oven and brush with a second layer of maple syrup. Continue baking for 10 more minutes, or until the bacon is crispy and the carrots are tender.
Scalloped Potatoes
While mashed potatoes are typically a mainstay of Thanksgiving sides (and are one of my absolute favorite foods), there is something incredibly elegant about scalloped potatoes. With so many flavorful ingredients, these scalloped potatoes are anything but boring.
2 cups heavy whipping cream
2 tablespoons unsalted butter
3 large potatoes, peeled and very thinly sliced
1 large yellow onion, thinly sliced
4 roasted garlic cloves, minced
1 cup Gruyère cheese
Fresh thyme (for garnish)
¾ teaspoon sea salt
¾ teaspoon pepper
Preheat the oven to 300 degrees. Combine heavy cream, salt, and pepper in a saucepan and heat to just under a boil. Reduce to low heat, cover, and simmer for 15 minutes. In another pan, melt butter over medium-low heat. Add the onions and garlic, cooking until the onions are lightly browned. Layer the potatoes, cheese, and onions in a baking dish, repeating twice. Top with the last of the potatoes. Pour the cream mixture over the potatoes, and gently shake the baking dish to distribute. Top the potatoes with the remaining cheese, place dish on a baking sheet, and bake for 1.5 to 2 hours, or until tender. Top with fresh thyme right before serving.
Crispy Brussels Sprouts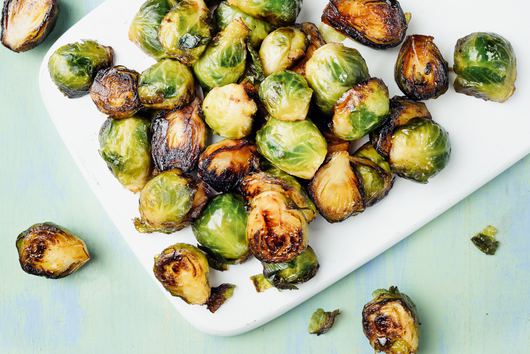 Brussels sprouts are very hit or miss. The idea of soggy brussels sprouts is cringe-worthy for many of us, but a crispy, chip-like consistency actually sounds pretty good. So before you write off brussels sprouts for your Thanksgiving menu, try this creative new take (just don't tell the kids).
2 tablespoons olive oil
1 pound brussels sprouts
⅔ tablespoon lemon juice
½ cup Parmesan (plus more for serving)
Salt (to taste)
Pepper (to taste)
Bacon, cooked and diced (optional)
Chives (optional)
Breadcrumbs (optional)
Preheat the oven to 400 degrees. Chop off the stem of each brussels sprout and toss in the compost. Separate the leaves of the sprouts with your hands and rinse with water. Toss the leaves with olive oil and lemon juice before spreading onto a baking sheet. Sprinkle with salt, pepper, and Parmesan. Bake for 10 to 13 minutes, or until crispy. Finish with more Parmesan. (Feel free to add bacon, chives, or breadcrumbs if desired.)
Candied Sweet Potatoes
Sweet potatoes are a Thanksgiving Day staple. Not only are they one of the more popular fall vegetables, but they also provide a great excuse to eat sweets for dinner. It's easy to make them overly sweet, though, so while there's nothing wrong with tradition, we're doing things a bit differently.
3 tablespoons unsalted butter
3 large sweet potatoes, peeled and chopped into bite-sized pieces
1 tablespoon packed brown sugar
1 teaspoon salt
½ teaspoon black pepper
½ teaspoon cayenne pepper
½ teaspoon chili powder
½ teaspoon onion powder
½ teaspoon paprika
¼ teaspoon white pepper
1 cup pecans, halved
Marshmallows (optional)
Preheat the oven to 425 degrees. Melt butter and toss in a large bowl with the chopped sweet potatoes. In a separate bowl, combine the brown sugar, salt, black pepper, cayenne pepper, chili powder, onion powder, paprika, and white pepper. When mixed, transfer to the large bowl and stir until the sweet potatoes are evenly coated. Spread the sweet potatoes onto a baking sheet, and evenly sprinkle pecans on top. Bake for 15 minutes, then remove from the oven and stir them. Put the sweet potatoes back in oven and bake for another 15 to 20 minutes. (If desired, transfer the sweet potatoes to a baking dish, top with marshmallows, and cover with foil before baking for the last 10 minutes.)
Zesty Cranberry Sauce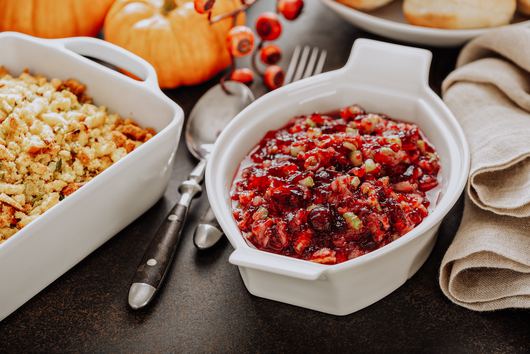 For me, cranberry sauce was always the one thing on the Thanksgiving table that I could do without. It's always a strange color, it jiggles like Jello, and it has those super-appealing can ridges on the outside. No, thanks. But when we started making our own zesty cranberry sauce for the holidays, my world changed.
2 tablespoons water
12-ounce bag of fresh cranberries
1 cup sugar (plus more, to taste)
Zest of 1 orange or lemon (to taste)
Pinch of salt
Rinse the cranberries and empty them into a saucepan. If you would like a chunkier sauce, remove ½ cup of cranberries and set them aside. Continue cooking remaining cranberries over low heat, stirring occasionally. As they are cooking, add the lemon or orange zest, sugar, and water. Once the sugar dissolves, after about 10 minutes, increase the heat to medium. Continue cooking until the cranberries bust open (speaking from experience, you'll want to stand back to avoid getting cranberry juice in your eye), which should take another 10 to 15 minutes. Turn the burner back down to low heat, and add the cranberries you set aside (if you decided to do so), and taste the results of your work. Sprinkle in a bit more sugar or salt, if desired. Cool to room temperature before serving.
With so many side dishes to choose from, there will be plenty of food left over, so bring on the leftover turkey recipes!
Do you have a go-to side dish for Thanksgiving dinner? Share your recipes in the comments below.