By

California.com
May 15, 2020
Heading out onto the water, soaking up the sun, and relaxing on a houseboat next to some of your favorite people is the epitome of California summer days. With the perfect mix of roughing-it and luxurious amenities, houseboats are the floating equivalent of glamping—satisfying every taste. From navigating the waterways and participating in water sports to sunbathing on the deck and taking in all of the scenery, the way you spend your days is entirely up to you. Indeed, the beauty of houseboats is the endless possibilities; you can dock to hike and paddleboard during the day, set sail and cook an elaborate dinner in the evening, and stargaze from the top deck late at night.
California serves as the ultimate houseboat destination, featuring dozens of boating lakes and hundreds of miles of open coastline—not to mention moderate year-round temperatures. Shasta Lake, Lake Berryessa, Lake Tahoe, Lake Don Pedro, and Trinity Lake are just a few of the prime locations for houseboat vacations, but the shores of Catalina Island, Coronado, and the San Francisco Bay offer other salty alternatives. Houseboats are great options for large groups or those who want to take weeklong vacations because they have numerous amenities, serve as lodging, and provide transportation. With enough room aboard to sleep comfortably and to store kayaks, paddleboards, boogie boards, and water sports gear, you no longer have to choose between a luxury vacation and a great adventure.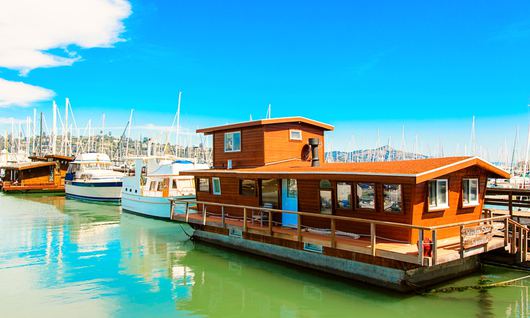 Houseboat Rental Basics
One of the greatest things about houseboats is that nearly anyone can operate them after a short lesson. Most rental facilities require a valid ID and a captain and co-captain who are 21 or older, but California does not require any additional licenses or certifications. Navigation, tie offs, and boat etiquette are typically taught once you pick up your boat rental, making it super easy for everyone involved. Plus, many encourage phone calls should you have questions once you are out on your own.
Since you'll be in close quarters, make sure to assemble a group of like-minded people who can stand each other for long periods of time. Though it is possible to spend time on land and go your separate ways, the majority of the time will be spent together—sharing bedrooms, bathrooms, and common spaces—so prepare yourself.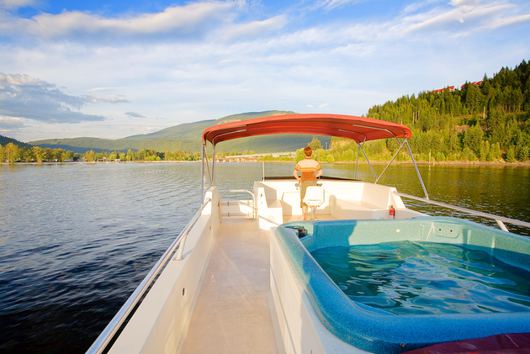 Houseboat Vacation Amenities
While each houseboat rental varies, many include televisions, full kitchens, grills, refrigerators, and even hot tubs. Enjoy all of the comforts of a home as you explore new areas of the unparalleled Golden State. For more amenities and fun, get a huge group together and rent multiple houseboats; you are sure to have a blast paddling from one boat to another, showing off your dance moves, going head-to-head in grilling competitions, and floating alongside one another.
Stop at a grocery store before boarding the boat to pick up all of the necessities, bring a cooler or two to ensure there is enough storage for drinks and food, and try your best to pack light since space is limited. Don't forget the sunscreen and water, either, and most of all, let yourself relax and soak in every minute of the incredible experience.
Houseboat Rentals in California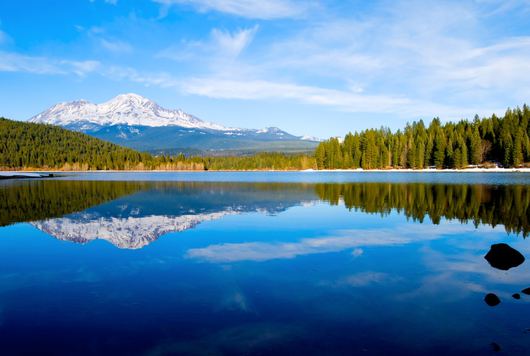 Lake Shasta
Known as the "Houseboat Capital of the World", Lake Shasta is the perfect place to start if you've never been on a houseboat. Shasta is the largest lake in California and is surrounded by beautiful forested scenery, making it one of the most popular houseboat rental destinations on the West Coast. Head out to enjoy the hot days, temperate waters, scenic hikes, and fishing that Lake Shasta has to offer.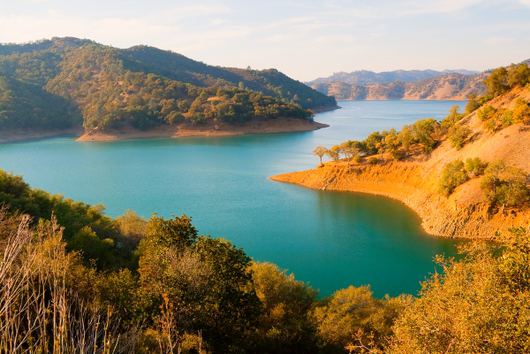 Lake Berryessa
Nestled north of the San Francisco Bay Area, just east of Calistoga, Lake Berryessa provides a serene setting for those needing to get away from busy city life. Take time to lounge on the houseboat and watch the various birds, try your luck at fishing, learn a new aquatic hobby, and take a dip in the lake. With pleasant weather and waters that reach around 75 degrees during the summer, Lake Berryessa is an ideal weekend escape.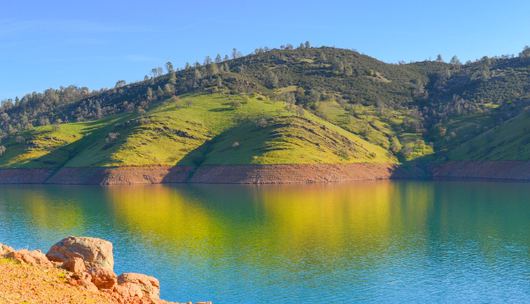 Lake Don Pedro
Tucked away in the Sierra Nevada foothills between Sacramento and Yosemite, Lake Don Pedro is one of the best recreational lakes in California. Hang out by the lagoon, relax on the sands, and cruise along the nearly 160-mile-long shoreline. Prepare to make new friends as you watch fellow water-sports enthusiasts wakeboard, windsurf, kayak, jet-ski, and sail around the shimmering lake.