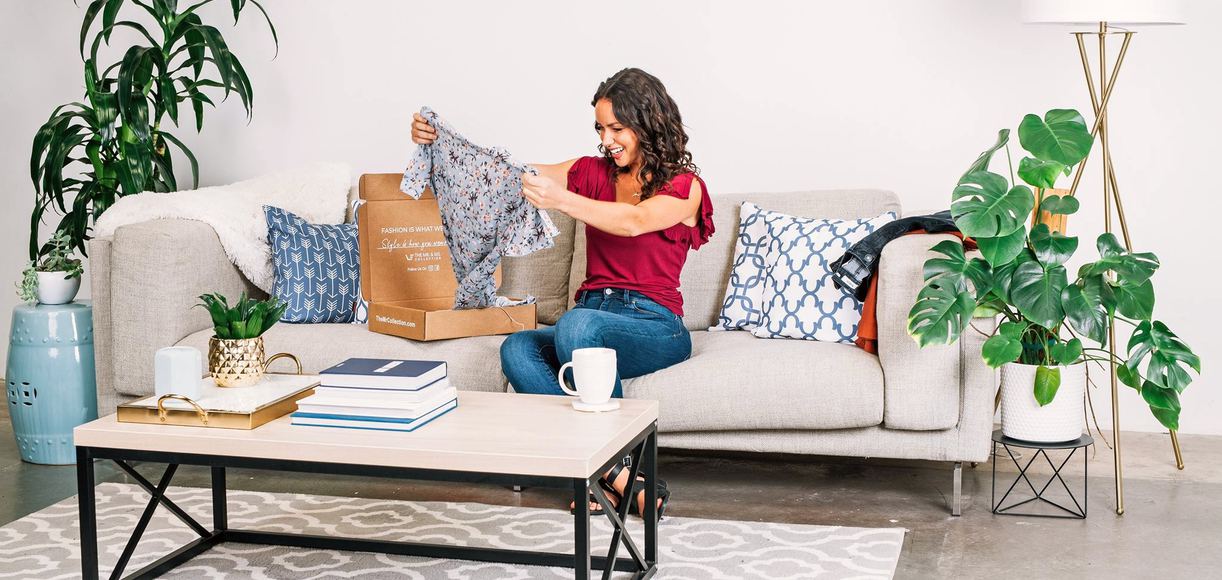 Photo courtesy of the Mrs. Collection.
By

California.com
November 18, 2020
Whether your fall-winter wardrobe needs a slight revamp or you simply want to start fresh and curate the perfect capsule wardrobe, we have a clothing subscription box recommendation (or two) for you. Staying on top of the latest fall color trends while also finding pieces that fit your daily lifestyle can be a challenge. But don't fret—we've compiled a list of the best clothing subscription boxes to make sure you stay on top of your layering game for the fall and winter seasons.
The clothing subscriptions to try next
From cozy knits and stylish coats to cool kicks and warm hats, you can find what you're looking for with these California-based clothing subscription boxes. Discover a new shopping experience and get ready to look fly all season long.
Women's Clothing Subscription Boxes

Stitch Fix
Headquarters: San Francisco
Price: $20 styling fee
Featured brands: Madewell, Michael Kors, Free People, Calvin Klein, Ralph Lauren
Stitch Fix is one of the most well-known and loved California-based clothing subscription boxes—and for good reason. The company provides a truly personalized experience by letting you take a style-determining quiz on the website, set a desired price range, work with a personal stylist, and return any item you don't like in the box for free.
With 1,000-plus brands and clothing fit for various shapes and sizes, Stitch Fix has something for everyone and focuses on evolving with your tastes, needs, and lifestyle. The company offers automatic deliveries every three weeks, every month, every other month, or every three months.

ThredUP
Headquarters: San Francisco
Price: $10 styling fee
Featured brands: Banana Republic, Anthropologie, Kate Spade, Coach, J. Crew
Looking for some style inspo this season? Priding itself on being the largest online consignment and thrift store, ThredUP can give you your monthly fashion fix without breaking the bank or harming the environment. The company's mission is to inspire a new generation of shoppers to think of secondhand clothes first—shop like-new used clothes at up to 90-percent off the estimated retail prices from top brands such as Gap and Gucci.
The ThredUp Goody Boxes are comprised of 10 thrifted items personally selected by one of the company's personal stylists to complement your wardrobe. The themed boxes at ThredUP also change seasonally; themed boxes currently feature fall essentials, comfy-chic clothing, and at-home athleisure.

Men's Clothing Subscriptions Boxes

Menlo Club
Headquarters: Los Angeles
Price: $60 per month or $75 per season
Featured brands: Five Four, Grand Running Club, Melrose Place Apparel
With Menlo Club, you can rest assured that you are supporting a truly local and authentic California business. Based in Los Angeles, the company offers a suite of vertically integrated brands, including Menlo House, Five Four, and Oshenta. Everything the company creates is designed, developed, distributed, and managed exclusively in-house—in the Golden State.
Sign up for Menlo Club's monthly clothing box to receive a package of up to three items from the seasonal collection. Upon joining the Menlo Club, you'll take a short quiz to provide insight into your style. Each piece you receive will then be customized to your size and preferences.

ThreadBeast
Headquarters: Los Angeles
Price: Starting at $55 per month
Featured brands: Levi's, Superdry, Puma, Champion, Staple Pigeon
ThreadBeast makes sure you stay in the loop on the latest trends in men's clothing. Get streetwear items that are both fashionable and wearable delivered to your door each month. ThreadBeast stylists also go the extra mile—if you have an active Instagram profile, stylists will take a look at it to get a true sense of your fashion preferences, curating a box you're bound to love.
Rental Clothing Subscriptions
You know that item you bought and only wore once? You can now do that without the guilt. These California-based clothing rental subscription boxes give you the option to constantly change up your wardrobe for a fraction of the price while reducing your carbon footprint.

The Mr. & Ms. Collection
Headquarters: Los Angeles
Price: Starting at $59 per month
Featured brands: Tommy Hilfiger, Vince Camuto, Original Penguin, Sugarlips
The Mr. and Mrs. Collection gives you the opportunity to have a rotating closet—you'll never grow bored of your clothing again. Featuring a mix of designer labels and everyday brands for both men and women, the company delivers key essentials you'll love at a low subscription cost you'll love even more.
Worried you might become emotionally attached to a piece? You have the option to purchase anything you want with an exclusive membership price. Members can sign up for monthly subscriptions or for an unlimited plan of two to three packs per month.

Banana Republic Style Passport
Headquarters: San Francisco
Price: $75 per month
You already love Banana Republic, so why not sign up for its clothing rental subscription and save the environment along the way? The Banana Republic Style Passport is another clothing rental service that makes putting together trendy and elegant outfits less of a hassle so you have more time for things that matter—Netflix, naps, and binge-worthy podcasts.
You can rent three items at once from the constantly updated collection; the best part is that if you're a subscribed member, you can wear them for as long as you'd like (there's no specific return date). You can either return your items via a pre-paid envelope or purchase the products for a discounted price—a true win-win situation.

Tips on timeless pieces you'll want to wear forever
When building your fall and winter capsule wardrobe, there are a few things to keep in mind.
1. Go for classic and neutral colors that you can mix and match easily.
2. Choose silhouettes that are easy to layer for dressing up and down.
3. Pick a statement piece or two—we recommend accessories like shoes and bags—to add a personal touch to your outfits without overdoing it.
4. Select materials and patterns that never go out of style—leather, denim, flannel, pinstripe—to name a few.
5. Choose durable, ethically sourced, and sustainable clothing.
6. Leverage the company's styling services to make sure you get exactly what you want.